Wahoo's KICKR is the most popular direct-drive smart trainer on the planet, and for good reason: its road feel is second to none, the build is bombproof, and Wahoo stands behind their products with top-notch support. (Then again, I'm a bit biased: I've logged over ~22,000 Zwift miles on a KICKR trainer!)
Today Wahoo launched the fifth generation KICKR which includes three key upgrades from the previous KICKR '18 model:
Power accuracy improved to +/-1% (previously +/-2%)
A proprietary auto-calibration process (no spin down required!)
AXIS feet allow the trainer to tilt up to 5 degrees side-to-side for a more realistic motion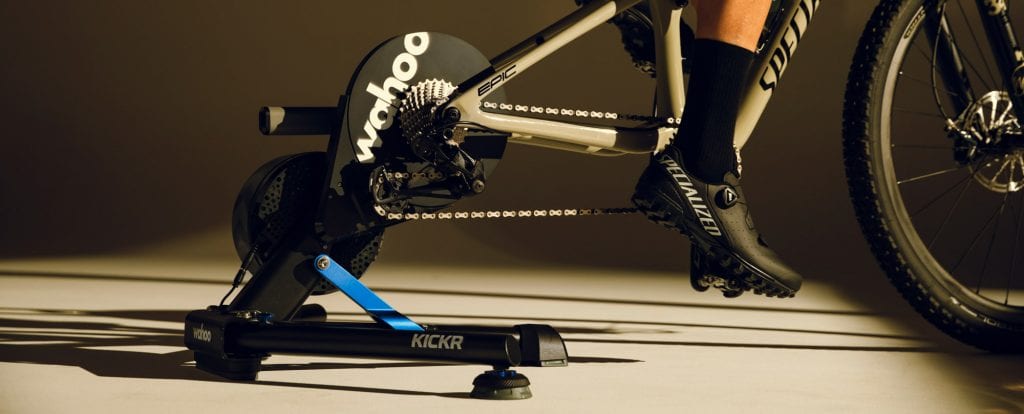 Accuracy and Auto-Calibration
Wahoo's press release for the new KICKR states that it "refines power accuracy to +/-1% from +/-2% by using a proprietary auto-calibration process." So it doesn't appear that any power sensing hardware has changed – rather, Wahoo has integrated an auto-calibration which improves the overall power accuracy. Fair enough. Zwifters don't care how it's done – we just want accurate power! And having it without the need to manually calibrate is even better.
The KICKR's #1 competition is the Tacx Neo 2T, which has always demanded a higher price tag because it claims +/-1% power accuracy without needing calibration. With this update, Wahoo's KICKR now offers the same industry-leading accuracy and calibration-free experience at a price tag that is $200USD below the Neo.
AXIS Feet
Many Zwifters praise the Neo's ability to allow for a bit of rocking from side to side, and the new KICKR addresses this as well with its new AXIS feet. Wahoo says:
These feet allow a bike installed onto the trainer to smoothly tilt up to 5 degrees from side-to-side with each pedal stroke in a controlled, realistic motion.
Three stiffness options let you tune movement to your unique riding style, and the AXIS feet can be purchased as an aftermarket replacement for older KICKR models.
As a big fan of rocker plates, I support more movement! I've got a review KICKR arriving in ~10 days, which will replace my KICKR 18 on several weeks of Zwift sessions so I can put the new feet through their paces.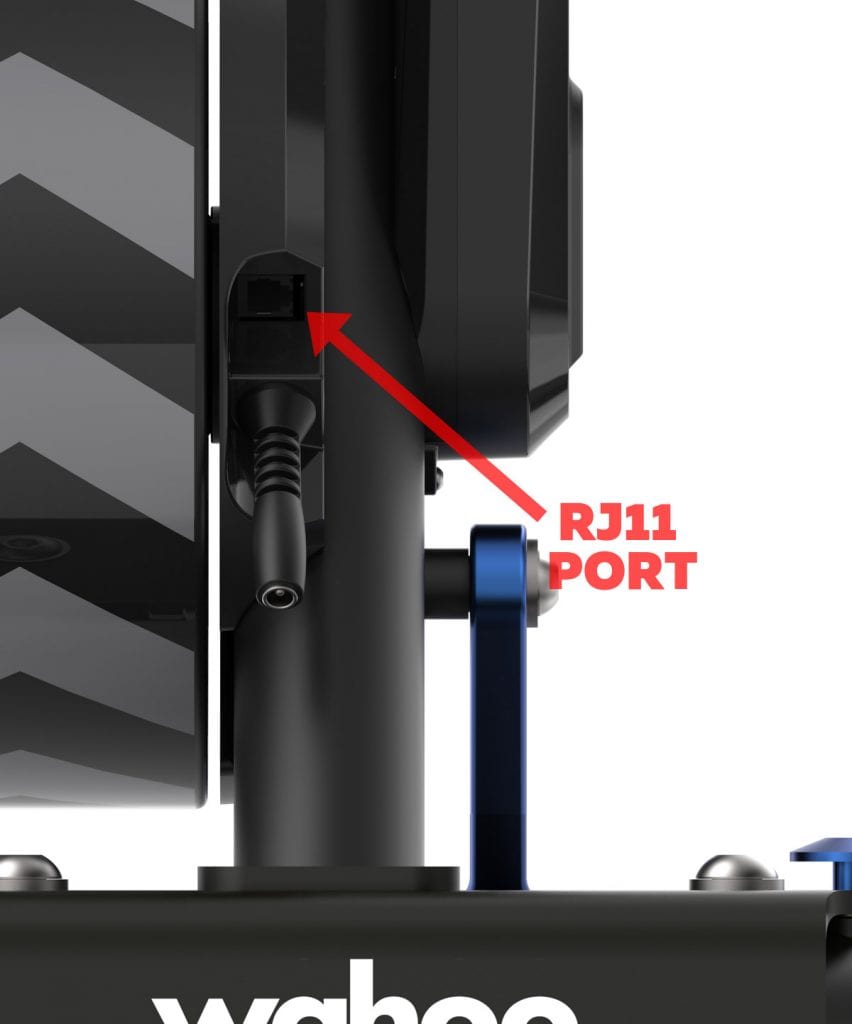 A Wired Option?
Wahoo isn't mentioning it in their marketing, but the new KICKR includes a direct connect wired option – an RJ11 port (aka, telephone jack port). There are no devices or apps which work with that port… yet. But this looks to be the first move toward a wired setup which Zwifters have been requesting for years!
Zwift would need to implement the software changes, while Wahoo would need to release the wire dongle which converts from the RJ11 port to a network plug, so you can plug your KICKR directly into your ethernet. Will it happen? I'd say chances are good, but it may take a while.
Iterating to Win
Here's a quick walk down memory lane to look at what each new KICKR model brought us:
KICKR V1 (2012): the first "open" direct-drive smart trainer, capable of working with multiple software platforms
KICKR V2 (2016): quieter than V1, more responsive
KICKR V3 (2017): KICKR Climb compatible (usually), more thru-axle compatibility
KICKR V4 (2018): even quieter than V3, integrated cadence, up to three simultaneous Bluetooth connections
KICKR V5: (2020): power accuracy improved, auto-calibration, AXIS feet, RJ11 wired connection port
This latest KICKR is far from a major revamp – but why should it be? The KICKR name is proven, profitable, and trusted worldwide. It makes sense for Wahoo to continue iterating on this already-refined platform, finding ways to match or surpass the competition so they can maintain their position as industry leader.
And that's only good news for us consumers. If the new KICKR lives up to its accuracy claims, it will force Tacx to reduce its Neo pricing, or improve the product significantly!
Where To Buy
The new KICKR is available today at wahoofitness.com for the same price as previous generations: $1199USD. (Pro tip: make your purchase through this link and you'll help support the Zwift Insider site!)
I'll update this post with links to additional distributors once I've confirmed they are shipping the new KICKR.
Review Coming Soon
I'll publish an initial review after using the V5 KICKR for a few weeks. Stay tuned! Until then, DC Rainmaker's review has just been published.
Questions or Comments?
Share below!