30+ Twitch Zwift streamers. 147 hours. One purpose: suffering to raise money to fight and cure childhood cancer. It's the third annual "Kilometers 4 Kiddos" fundraising event!
Starting today (Monday, May 22) at 6pm Mountain Time (midnight UTC), more than 30 cyclists (and maybe a few runners) will each livestream back-to-back, 3-hour blocks on Twitch to raise money for St. Jude Children's Research Hospital.
Most of their activities will take place on Zwift, and each streamer will be creating and tackling their own challenges in the name of fundraising. Some might do monstrous climbs to entice you to support them, while others may sprint whenever you donate. Some are adding lighthearted fun to their suffering, like wearing a costume or dancing during their workout for donations. Everyone has created their own form of misery or amusement to make sure every dollar donated is worth your time and money.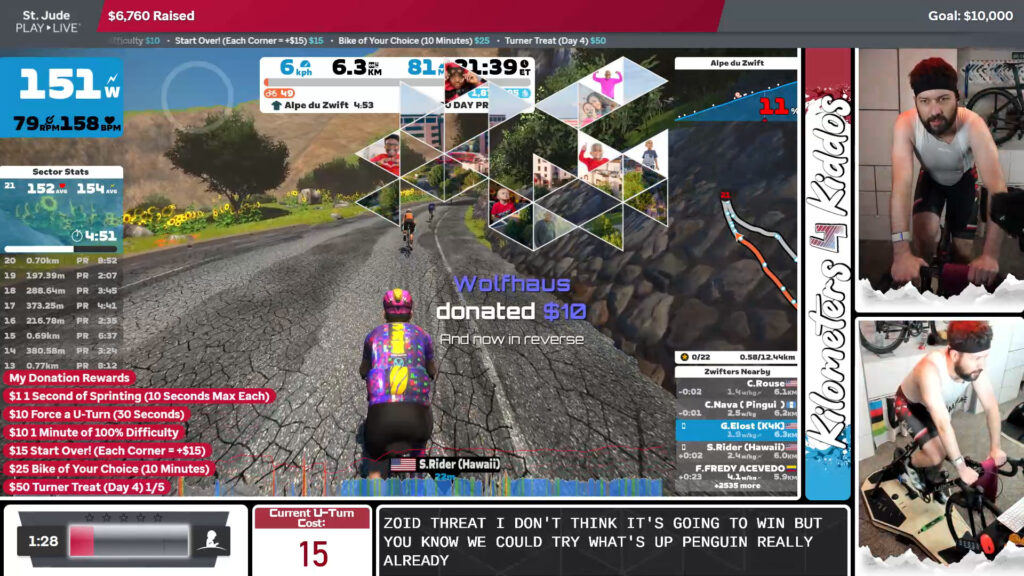 How to Watch
There will be 147 hours of Zwift or other cycling-related content to watch this week, and it's sure to be entertaining. You can catch the action live or after the event by going to any participating streamer's Twitch channel.
To know who is streaming and when, head over to kilometers4kiddos.org and check the schedule on the main page. Click on the link beside a person's name to go to their stream. If you're not familiar with Twitch, you can navigate to twitch.tv and plug in the rider's username after the backslash, or just check out the Zwift category and look for "K4K" in the title. A Twitch account is not required to watch, but joining the chat can make things more fun!
How to Support
Want to help support the cause by donating? Stop by any Zwifter's stream you want to support and look for their Tiltify link in order to donate. Tiltify is a safe third party that works directly with charities to make sure 100% of all money donated makes it to their pocket. You will get a receipt to use for your taxes.
Watching live will let you interact with streamers when you donate, redeeming "rewards" for challenges or something fun. If you don't get the chance to do that, make sure to check out the team page. You can pick an individual rider's campaign to support or just donate to the main team (all funds go to the same place).
Kilometers 4 Kiddos team page on Tiltify >
You can help without donating, too, by spreading the word or just cheering the Zwifters on in their streams.
About Kilometers 4 Kiddos
The streaming marathon was started and is organized by GeneralElost, who goes by that name on both Twitch and Zwift. The previous two campaigns together raised a total of $58,000, and the collective goal for this year is $30,000.
"I've been fundraising on stream for St. Jude for 6 years now," he says. "A few years ago, I felt comfortable to a point where I wanted to bring new fundraisers into the fold. It's best to keep it to what you do best, and at the time, that was Zwift. And I like a challenge."
Each Zwifter has their own reason for joining the fundraiser, whether they're inspired by their own experiences, their loved ones, or just the chance to help a great cause through their love of cycling.
"I had childhood cancer when I was 6, and if I can make sure no other child has to go through what I did, I can feel like I accomplished something," GeneralElost says.
"Cancer [really] sucks and I don't want anyone to have to go through it," says jhardy66617. "I lost my mom to cancer, and I can't imagine a parent having to go through that with a confused kid who doesn't understand why they're in pain and the kids on TV get to go to Disney."
Meet the full team for 2023 here >
About St. Jude Children's Research Hospital
The mission of St. Jude Children's Research Hospital is to advance cures, and means of prevention, for pediatric catastrophic diseases through research and treatment. Consistent with the vision of founder Danny Thomas, no child is denied treatment based on race, religion, or a family's ability to pay. Unlike any other hospital, the majority of funding comes from individual contributions. And thanks to generous donors, families never receive a bill from St. Jude.
Questions or Comments?
Post below!