Justin Wagner is a longtime Zwifter, a strong racer (indoors and out) and a regular Zwift group ride leader. I already knew Justin from his Watts Up with Power posts here on Zwift Insider, but when I heard he won this year's Washington State Cat 3 Road Race championship I figured it was time for an interview.
You've achieved some incredible results on the road this race season, Justin, winning the Washington state Cat 3 Road Race title as well as the BARR (Best All Around Road Rider) competition. Can you summarize what those titles actually mean, and what sort of race results it took to get there?
Absolutely! The state Road Race title comes from the annual Road Race championship put on by the state governing body (WSBA), where they designate a particular race as the "State Championship Road Race" (there is also a State Championship Time Trial and Criterium). The winner of that race in each category is deemed the State Champion that year for the particular discipline.  So I won the Category 3 race which gave me the title of 2017 WSBA Cat 3 Road Race Champion, and a cool jersey to show for it.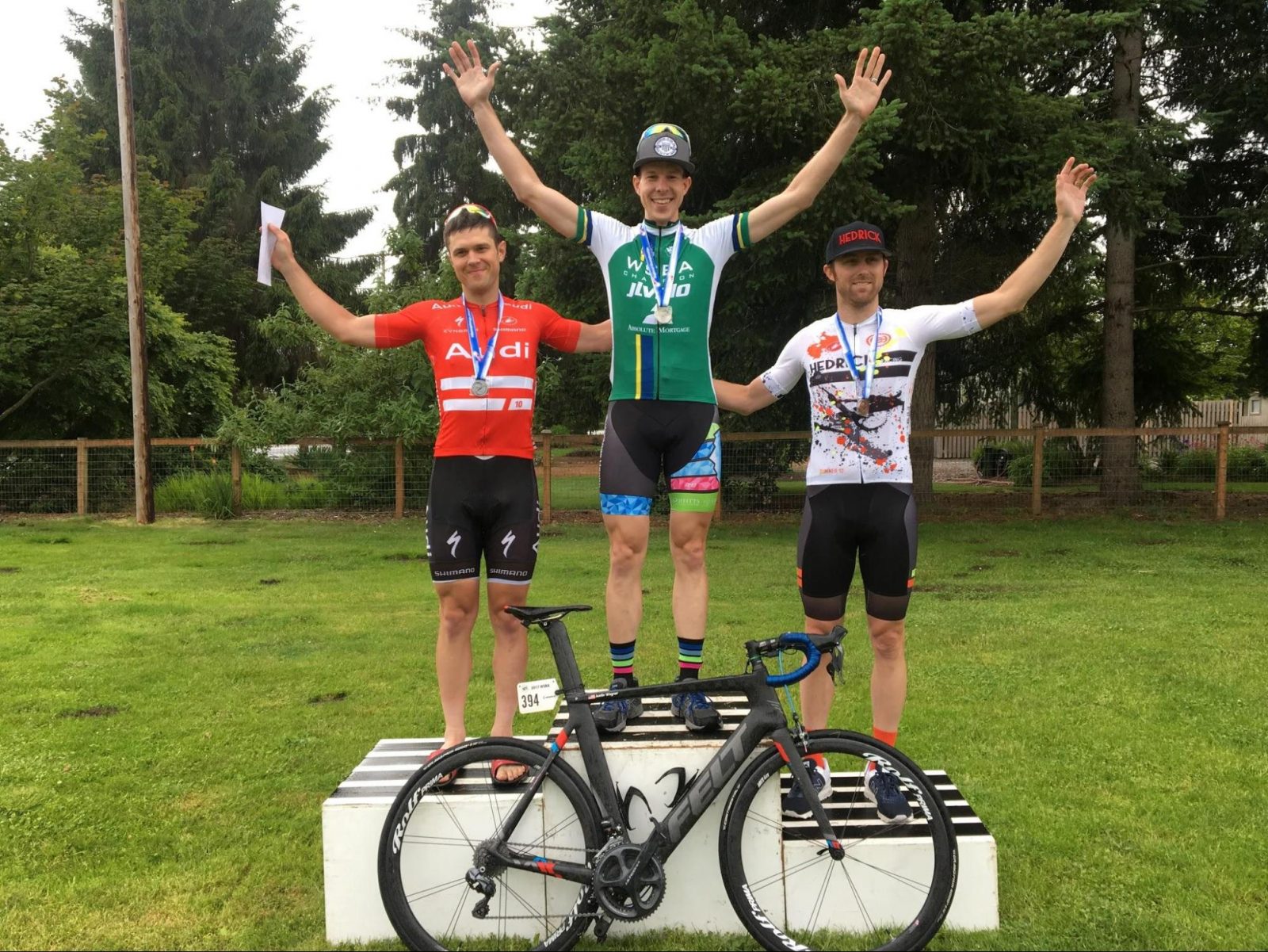 As far as the State BARR (Best All Around Road Rider) competition goes, this is a points-based competition across several events in the year, of all the 3 disciplines (TT, Crit, Road).  You get points for each race based on your placing, and then the person who amasses the most points throughout the year is deemed the Best All Around Road Rider, which I won for Category 3 this year.
Every road race is a story in itself with a new cast of players, a different course, your own varying level of fitness, strategic decisions, mechanicals, and more. Can you tell me a good story from one of your races this year?
Wow, yeah, there are so many stories I could tell, and plenty of them end with me not doing as well as I had hoped.  In fact a good way to improve is to keep trying and learn from mistake or failures.  I'm sure every success story has many failure stories that lead up to it.  That being said, I'd like to share the story from the this year's Cat 3 State Championship road race.
It's June 17th, 2017 and I find myself driving alone for 2 hours to Rochester, WA where the race was going to start.  My wife and kids had graciously agreed to come to the Seattle area with me for the weekend (about a 5 hour drive from home), but they weren't about to sit around and wait for a 90 mile road race to complete, and I don't blame them!
All was going exactly how I planned it in my mind, and I was arriving with plenty of time to get a short warm up in.  I pulled into the parking lot where I expected race staging to happen, and it was completely empty. My heart sank. What went wrong? Did I miss some pertinent info from the race organizers?  Where is everybody!?!  A whirlwind of thoughts raced through my head, and luckily the thought came to start driving the course and look for volunteers at the first controlled intersection so they could point me in the right direction.  Phew, that worked!  I got the details for where staging was happening, and drove as fast as I could to staging (without surpassing the speed on any posted speed limit sign, of course).
I finally arrived at staging and saw that the Pro/1/2 race was lining up to leave, which meant I had very little time to get ready, as Cat 3 started shortly after they did.  After getting dressed faster than I ever had before I got to the start line, and still had some time before the race started, phew!  I found a competitor that I'd met over the several races that year (since I didn't have any teammates in the race) and asked him to take a look at me and tell me if I had forgotten anything important.  Now clearly this was a risk, as he may have been motivated to not tell me something like "Hey, you don't have any water bottles," but fortunately he was a rather nice guy and graciously helped verify that I was ready to roll.  I think he probably now regrets giving me that help… thanks Mark, I owe you!
For those of you interested in all the details of where breakaways happened, and how long they lasted, check out the FlyBy on Strava.

In the first 20 miles there were 2 solo breakaways, which didn't stay away for very long, and the pack worked together nicely to bring back in.  At a little over 40 miles into the race a particularly dangerous breakaway with several strong riders got away, and as soon as I saw what was going on, I went straight to the front to help in the chase.  If that breakaway got any daylight, my chances of winning would be zero.  There was a rather inexperienced rider who had a teammate in the break who was attempting to "disrupt" the chase at the front of the peloton, but his tactics were dangerous at best, and he almost caused several accidents.  After some stern words to that rider (who later got penalized by the officials for his dangerous tactics) we were able to get the chase together in earnest and bring the break back.
So here we sat, just over 50 miles into a 90 mile long race, we were on a long and rather uninteresting part of the race course, and the pack seemed content to just roll at a fairly low speed, and chat it up.  For awhile I was ok with this, as I needed some recovery from working to bring the last break back, however the pace was REALLY slow, and just about everyone in the pack was chatting it up with their neighbor.  I knew that my strong suit was in really long endurance, and that it would play to my benefit to get the pack rolling at a faster speed so that not everybody would be getting recovery.  So I went to the front and slowly pulled the pace up a few miles per hour, and after a pull I rolled off to let the next guy hold the pace.  Nobody held the pace, and we went immediately back to the slow pace.  So I tried again, but with a slightly different tactic, I accelerated quickly to the faster speed (it certainly wasn't what I'd call an "attack") to get a small gap between me and the pack, and force them to respond and go at the faster speed.  [crickets] [crickets] [gap grows] [crickets].
I'm now just under 30 miles away from the finish line, I have a small gap on the field, and they don't seem to care one bit that I'm off the front.  Probably because they haven't raced against me very often (I'm on the opposite side of the state from most of the pack), and they weren't aware of what I was capable of.  I was feeling good, and the gap was growing fast, so I decided to go all in, and see if I could make it stick.  I settled into the "puppy dog paws" TT position, found a rhythm, then said to myself "They are going to regret this!" To my benefit the course was rather curvy at this section, so I got out of sight of the peloton rather quickly, however I know there were individuals in the pack watching the gap grow, and they started to get very nervous.  From the Strava FlyBy we can see that there was essentially zero response from the pack until the gap was around 30 seconds, and it continued to grow as they started to get their act together, and it maxed at around 60 seconds.
With three climbs remaining in the race, I knew I had to conserve somewhat on the flats, so that I could go deep on the climbs, and minimize my loss to the pack on the climbs.  This strategy worked, and although I did lose a little bit of time on the first two climbs, I was able to extend the lead again when nobody in the pack wanted to drive the pace between the climbs.
With about 10 miles to go in the race, a competitor well known for his strong TT ability (David VanBolt) decided that enough was enough, and he had to try and bridge up to me solo.  He managed to close the gap to me down to 20 seconds at the top of the final climb, but most importantly, he wasn't working with the pack (to my benefit) and the rest of the pack started to get smaller and smaller as they worked to try to bring us both back.
I was homefree! No more climbs remaining, and I had 5 miles from the top of the final climb to the finish, and a decent portion of that was a non-technical descent.  I couldn't help but look back a few times to see how big the gap was, and luckily I couldn't see anyone very clearly (probably because I was cross-eyed from the long solo TT effort).  The finish line came into sight, I knew I had the victory!  I sat up, let out a victory yelp, and raised my hands as I crossed the finish line.  Second place came in about 30 seconds later, and the pack was about 10 seconds behind him.
Now I found myself 2 hours away from my family, and hungry.  After getting fed, filling up on gas, and driving back to meet up with my family, the kids were already asleep, and I'd have to wait till the next day to tell them all about it.
Accomplishing big dreams and goals usually costs you something, and for me this cost (other than hundreds of hours of training) was that I didn't get to be with my kids that day.  At least they felt somewhat a part of the journey since they got to travel to Seattle and see their grandparents, but I'm definitely aware that every big race I decide to do takes a toll on the family, and I'm so very thankful to my wife for supporting me in this adventure.
Striking the ideal bike/family balance can be a challenge for sure. You put in lots of hours on your bike this year–your Strava for 2017 shows ~280 miles per week. But you've got a real job, a wife and kids… how do you do it?
How do I do it? One pedal stroke after the other.  Ok, sarcasm aside, it's simple I wake up early and train while my family is still asleep.  Zwift enables that early morning training, as it's typically very cold that early and dark making riding outside less enjoyable and dangerous at times.  Then on weekends my wife and I find the right balance of when I should ride longer in the mornings, or when I spend time with the family instead.  Without the support of my wife it definitely wouldn't happen.  She has sacrificed many hours of potential evening Netflix binging with me, so that I can get to sleep early to wake up at 4am.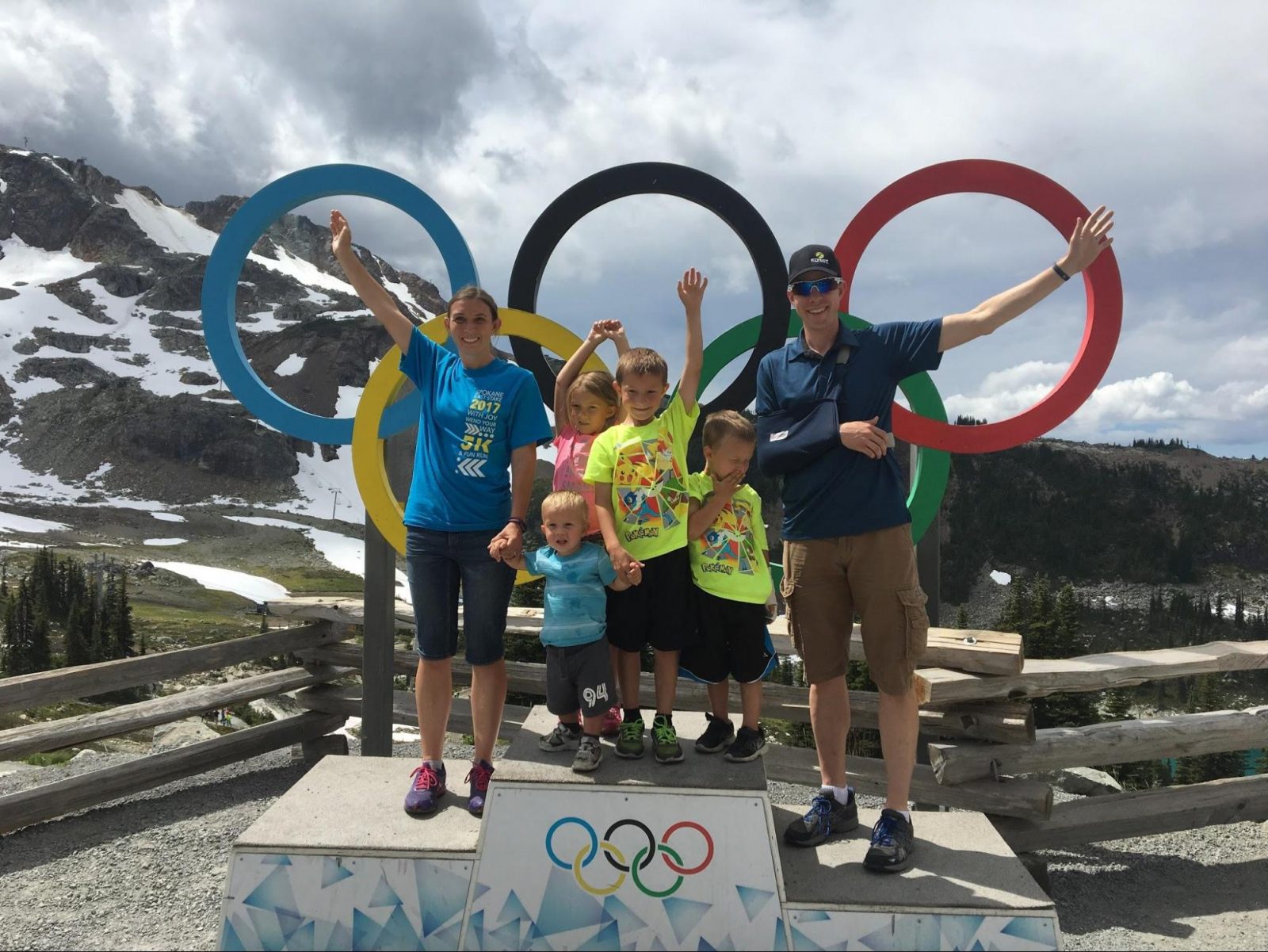 You're a key part of TeamODZ on Zwift. How has being a part of this "virtual" team helped you as a cyclist?
The key benefits that I get from being a part of TeamODZ are camaraderie and motivation to train when I otherwise might not.  I'm sure that any "virtual" team can provide such a benefit, but clearly I'm biased in thinking that TeamODZ is particularly awesome in this regard.
So what do I mean exactly by camaraderie and motivation to train?  I mean friends who are there for you to support you when you are having struggles, as well as being there to humble you when you are getting obnoxiously proud (not that I've ever fallen into this category…but I have a "friend" who has).  They cheer for you when you are happy, even if they have no idea why you are happy, but they know that cheering will continue to motivate you to push on.  I mean friends who do a workout "alongside" you virtually, and give you the motivation to press on, just because you know that they haven't given up on the workout yet.  I'm a very social person and I always want to interact with people when I'm training, so Zwift and TeamODZ have made it possible for me to feel part of something "bigger" and stay motivated when I can't get outside to train.
You broadcast live while leading some TeamODZ rides on Zwift. What are the details of those rides, in case folks want to join you for a spin?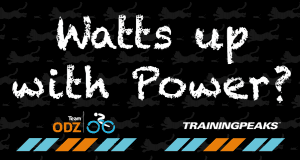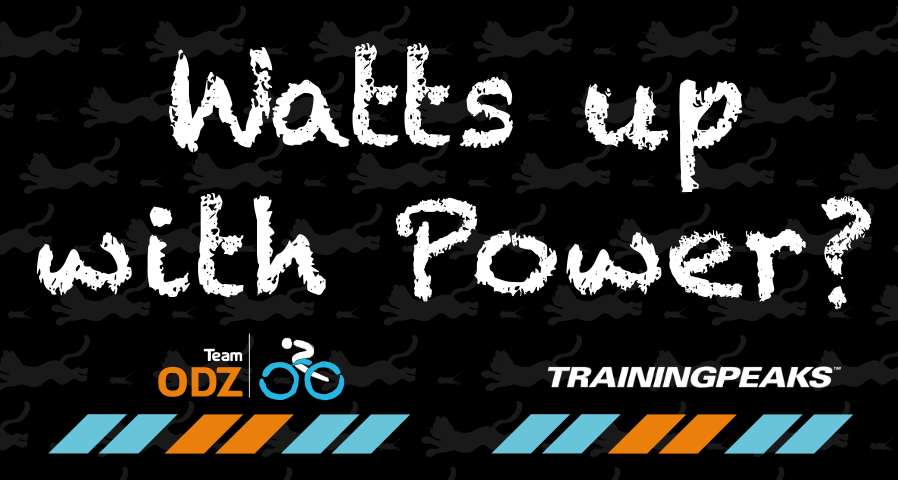 On Wednesday's at 6:30am Pacific I lead the "Watts up with Power?" ride where we have a very chill spin, and a live presentation on Zwift LIVE by ODZ talking about the basics of training with power, and anyone is welcome to attend and ask any questions they have.  Look for the ride in the Zwift Event list.  We bring in guest coaches and get a good variety of viewpoints on the show.  Previous episodes are archived to the TeamODZ YouTube Channel, and to The Endurance Lab Podcast for those who couldn't watch live. Just look for WUWP on those channels.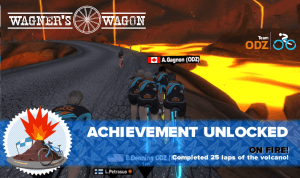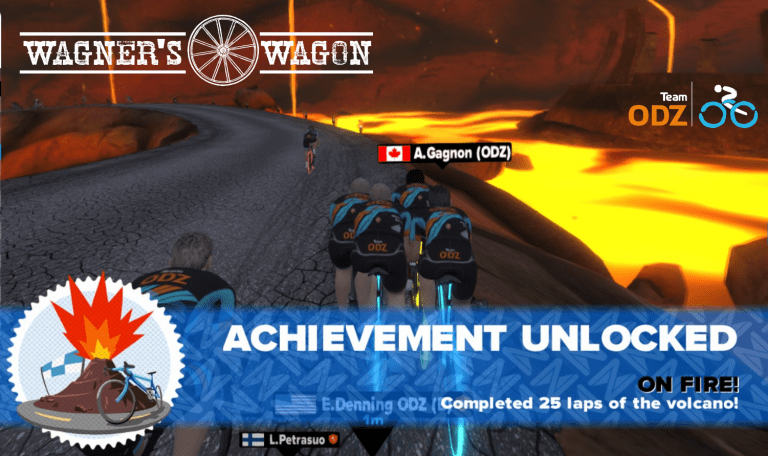 On Thursdays I lead the Wagner's Wagon endurance ride, where we make the monotonous yet highly beneficial task of zone 2 endurance riding enjoyable.  The ride is scheduled at 3 hours long and people come and go as their schedules and workout routines permit.  We call it the wagon because people can come and "draft" my steady pace… and that alliterates well with Wagner.  I stream that ride on my Mixer channel.  Since people come and go throughout the entire 3 hours of this ride, it's not listed in the Zwift Event list, as those events only allow for up to 30 minutes of late start ability.  I've requested they extend that period, but am still waiting…patiently…
I'd like to hear more about your origin story. When did you become a "serious" cyclist, and what drove that decision?
In 2012 I started commuting to work (4 miles each way) as I was 255 lbs and needed to lose weight.  I borrowed my dad's MTB, but stopped shortly after because buying a house and getting injured in basketball got in the way.  In 2014 I bought a hybrid bike for my birthday and started commuting again, this time from the home we had recently purchased, which was a whopping 4 miles from work. From there I picked a 62 mile event as a target to train for, which then led to training for a 100 mile ride the month after, then a 200 mile event the following summer, and then I started racing in early 2015.  I won my first 2 races (cat 4-5 mixed fields) in late 2015.  I guess I'd have to say that I became a "serious" cyclist when I entered my first race.  What drove that decision? I'm competitive.
Winter is coming… and already here for many of us. What are you doing in the next few months to prepare for the 2018 racing season?
This winter I'll be doing structured training in The Endurance Lab to prepare for the 2018 racing season, where I'll be competing as a Cat 2.  The Endurance Lab is a community based training program where a group of individuals participate in the same base training plan so they can share the experience of the training plan together, while at the same time having access to several certified coaches who put the plans together and answer questions as the lab progresses.
The next lab starts in early December 2017, and if you want to participate in it, watch the TeamODZ Facebook Group for more details.
Can you share some of your key 2018 goals with us?
Being that I just recently upgraded to Cat 2, I'm sure there is a big learning curve ahead, so at this point my goals are rather simple: Don't die, race hard, have fun.