Peter Castrop is a Zwifter who has organized a new racing league, and today at 11AM Pacific the first race of that league is going to be held… in Richmond… on a London day! This is a historic event, since it is the first time a race has been held on a different course than the daily calendar dictates.
Here is a link to today's event. I chatted with Peter about his new race series… read the full interview below.
---
Tell me a bit about yourself…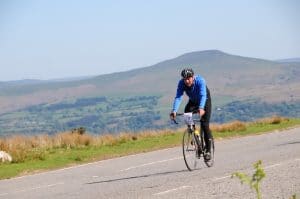 My name is Peter Castrop. I am 55 years old and I am married to Diana. We have two children, Stijn and Judith. We live in the Netherlands in a small town called Hattem. I started cycling when I was 16 years old and I did criterium races in the Netherlands, sometimes in Belgium. I have always enjoyed cycling.
I started Zwift in December 2017 and I am really hooked. This year the hayfever is really taking away the pleasure of riding outdoors, and Zwift is a great alternative. It keeps me fit in a fun way.
Peter, you've created a new race for Zwifters. What sets your series apart from the races already on the calendar?
I try to do a lot of races on Zwift because I really enjoy them. The thing I do not enjoy so much is that, being a tall and therefore heavier rider, I always get dropped on the hills by the lighter riders. They are strong as well, so kudos to them, but I never get a chance to sprint for a top 5 result.
Once I did a criterium on the Richmond flat course, and all of a sudden I could be in front of the race. There are no hills on that course, so I didn't get dropped. I messed up the sprint, but it gave me a great feeling to be able to finish in the first group. The only thing is that we only ride in Richmond two or three times a month. That changed when I read in the latest release about the world swapping feature for events. Events can be held on courses that are not in the current world. That gave me the idea to organise weekly criterium races on the Richmond flat course, because I think there are many more riders like me who get dropped on the hills. On the Richmond flat course not only the lightweight riders can win. Tactics become more important, as well as teamwork. I think that makes racing a lot more interesting.
I'm personally very excited to see that this is the first set of races to be held of "off" worlds. That's a big deal in the world of Zwift! Did you have to twist Zwift HQ's arm to make it happen?
On the contrary. Henry Loud and Jordan Rapp from Zwift have been very helpful to get these races on the calendar. It all went very fast, and the first race will be on Thursday June 21 at 20 PM (CEST).
Tell me more about HetisKoers, as I see they're helping to make this league happen. Who are they, and what is their involvement?

Hetiskoers.nl is part of the Hetiskoers.nl Association. They are non profit and their goal is to offer great stories about cycling, written for and by enthusiasts. Stories about the romance of cycling and opinions about everything that goes on with cycling. They also organize activities such as Cinema Het is Koers, with documentaries about cycling, a cycling quiz, and a podcast called De Rode Lantaarn, named after the rider who is last in the standings of the Tour de France. Their website has over a million visitors per year. They also host the Dutch website for Zwift, zwift.nl.
They are very excited about the new league, in addition to their Friday evening social ride on Zwift off season. Their involvement with the criterium series is that they will host the website for the league in the near future. They will help in setting the league up and contribute ideas about sponsorships. It would be great if we can have some prizes for the riders in the league.
ZwiftPower is still down at the time of this article. How will the league scoring work without a site like ZwiftPower to record results and crunch the numbers? What will change once ZwiftPower goes live?
Until ZwiftPower is online again it is not possible to have a league scoring. Until then we have separate races. Once ZwiftPower is online again we will announce of how many races the league consists of. When the results are on ZwiftPower, I will do the numbers myself each race to create the overall standings. I'll probably just use Excel for that.
If people want to participate in your races, do they need to do anything special (register somewhere, etc)? Or just join the race event like any other Zwift event?
There is no need for registration. They can join the race like any other event using the Zwift Companion app or on zwift.com.
---
Learn more about the Richmond Flat Criterium League at https://flatcriteriumseries.wordpress.com/