I first noticed DIRT (Dads Inside Riding Trainers) a few months ago as I was browsing Zwift-related Facebook groups. What first grabbed my attention was their amazing team name, but what kept my attention was the team's consistently positive voice and family focus. As a dad of two young kids I know what it's like to juggle work, family, and exercise… and I could see that the DIRT dads were striving for that elusive balance as well. Solidarity!
So I reached out to Jason Stern to learn more about all things DIRT, and was surprised to find that his story mirrors mine in many key ways. Perhaps you can relate?
---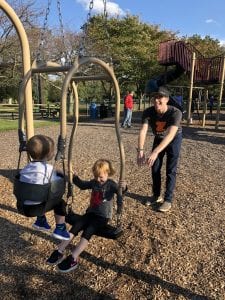 First off: tell me about yourself. How long have you been riding, and what's your background on Zwift?
I just crossed my one year Zwift anniversary! I started Zwift in October 2017 after a 5-year hiatus of being completely sedentary. One day I decided to completely change the trajectory of my life. I walked into the bike shop and said I wanted to Zwift. That day I bought a Wahoo Kickr and the most entry-level bicycle they had. Since then, I've ridden over 10,000 miles, lost 25 lbs, and become a completely better person. When I tell people I'm not a real cyclist, it's immediate disbelief. I haven't ridden a bike outside in over 6 years. I'm purely a Zwifter.
You're obviously a family man. Give me a picture of your family situation.
I have been married for 6 years and have 2 kids. My daughter is 3.5 years old, and my son is 1.5 years old.
You're a part of the DIRT Zwift Team, which is a fairly new (yet very active) team on Zwift. When and why did the team start, and what is your role in it?
DIRT organically grew out of the same riders showing up every day at the same hour for months. I would show up to group rides or group events almost every day at the 5:00am hour. There are not many American Flags at that hour. So we started naturally reaching out to each other and regularly riding together. I started DIRT with an email to my Zwift riding partners, Doug Mastroianni and Ken Nowell, in August 2018. From that one email, it evolved into an email chain between the 3 us to brainstorm how to proceed and grow this group. We call the original 3 'The Founding Fathers'. In less than 2 months, we've grown to over 175 members on our Strava and Facebook groups!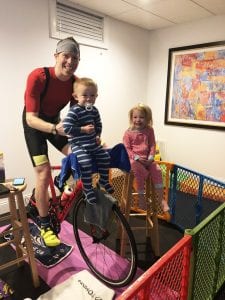 Would you say DIRT is primarily a racing team? A Zwift club? Or something else?
DIRT is much more than racing. We are a band of brothers navigating our way between work and family for our own well-being. DIRT dads tend to focus our time solely around family and work but there needs to be time for us too. Zwift provides that third arena where we can bond with other like-minded guys who are in the grind every day with each other. Waking up daily before the sun comes has changed my life drastically. I've become a better father, a better husband, and just a better person in general. DIRT is a way for us dads to say we are in this together. We are not the best riders, but we are absolutely busting our asses on the bike just as much as those top A riders.
I first noticed DIRT when I saw your hip logo and giggled at the acronym. Tell me about the genesis of the team name and logo.
We wanted something that can be fun to capture who we are. On our short list we had: Dad Bod Zwifters (DBZ), Dawn Patrol Dads (DPD), Dad Zone Zwifters (DZZ), Middle-Aged Men in Lycra (MAMIL), and Middle-Aged Dads (MAD). Ultimately we went with Dads Inside Riding Trainers (DIRT). We joke about one day getting our own jerseys with either a tuxedo or a bathrobe and slippers. Very dad-esque!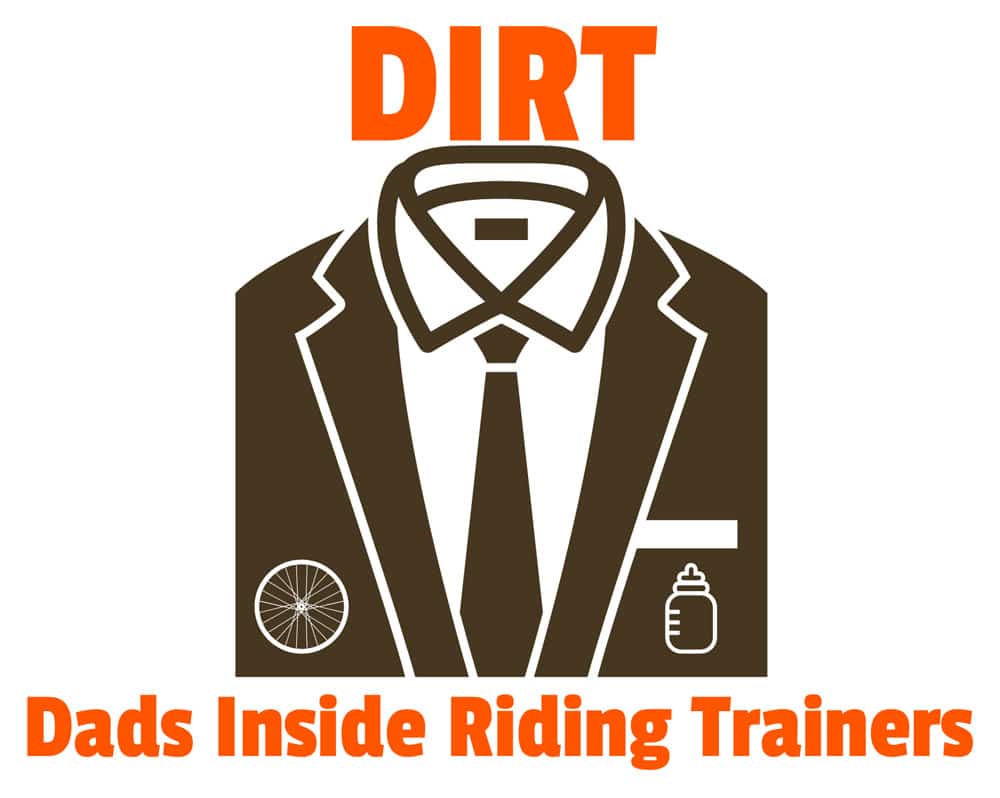 Obviously, you're a dad with kids at home. I know Zwift is a godsend for many time-crunched cyclists… is that the case for you?
As a dad, life is all about balance. Zwift balanced out my life like so many others. Once I had my first child, it became a constant motion of going to work and taking care of the baby. There was no balance in my life. Now, I can wake up around 5:00am, go into the basement, and hop into the bike. That small hour from 5:00am-6:00am added more value to my well-being than I could have dreamed. My hope is to bring together all these dads on Zwift with this common bond.
Take us through your Zwift setup in terms of equipment used, room setup, etc.
I have a Wahoo Kickr v2 with an entry level Specialized Allez. We have a small workout area in our basement with a treadmill, an elliptical, and my bike. Most mornings at 5:00am my wife is on the treadmill while I am Zwifting.
My kids are old enough (12 and 15) that I don't have to work around them much anymore. But what advice would you give to Zwifters who are parents of young kids?
To any new parents out there, I would tell them that we are in this together. We are all trying to find that balance between work, family, and ourselves. It's important to make time for yourself and find fulfillment outside of work and family. Whether it is early in the morning or very late at night, get on the bike and make time for yourself. All of us at DIRT are grinding it out together. Find us, reach out to any of our members, and we'll immediately welcome you into the fraternity of dads!