Today Zwift rolled out a server-side change to Clubs, giving Zwifters more freedom to join Clubs and grow the Clubs they manage:
Clubs were previously limited to 100 members. That limit has been increased to 10,000.
Zwifters were previously restricted to joining only 3 Clubs, including Clubs they owned. That limit is now 10.
See the forum announcement from Zwift >
This is great news, because as noted in our recent "10 Features Zwift Could Add Today To Make Us Smile" post, most Zwift teams (and many IRL teams/clubs) were well over 100 members before the release of Clubs tools, which meant Zwift's Clubs implementation couldn't actually support larger existing Clubs. Because a partial Club is no Club at all.
It also means we can finally start inviting people to the Zwift Insider Club. So without further ado…
Join Zwift Insider's Club!
Now that the limit has been increased… we've got room for you! Join the Zwift Insider Club for easy access to our upcoming events and other fun Insider stuff like members-only giveaways and experimental events.
We've even got our first official Club event planned – the "Ask Eric Social Spin". Join Zwift Insider's Eric Schlange on a social spin on Watopia's Waistband as he answers your Zwifty questions… and maybe asks a few questions of his own. Details here >
Small Bug
There's currently a minor bug if someone clicks to join your club via the shareable zwift.com link instead of joining via the Companion app. That person still joins your Club, but the page says "An error occurred" so it's not apparent that the signup worked unless they check on the Companion app.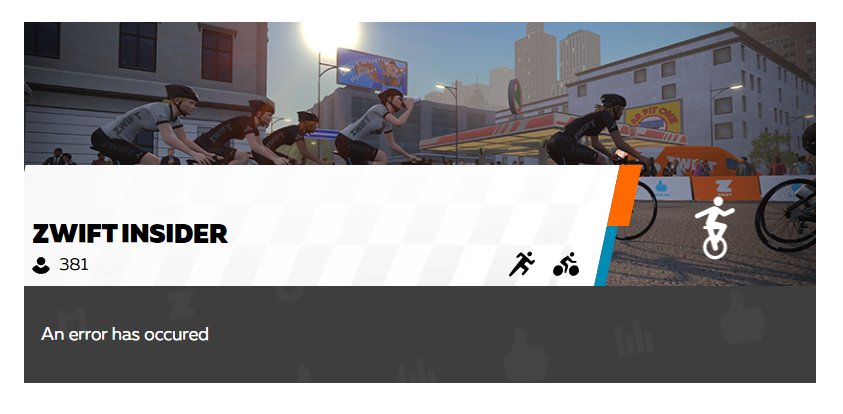 Zwift knows about the issue (and will get it fixed soon, we hope).
Implications
We hope the pivot from "let's keep Clubs small and membership exclusive" to allowing very large Clubs is a signal of a more "open" Zwift. Many Zwifters, including ourselves, simply want to see limits removed and horizons expanded on our favorite virtual cycling/running game.
CEO Eric Min has said repeatedly over the years that the Zwift community wants to create amazing content on the platform (content=events, basically) but Zwift needs to give them the tools. Let's be honest: Clubs releasing with a 100-member limit was just silly. But give Clubs the space they need in order to do big things, and we think they'll do just that.
Now as Clubs expand in membership, we predict Zwifters will begin clamoring for more Clubs event functionality. Club workouts, races that integrate with ZwiftPower, time trials, automatically repeating events – there's a lot still to be done. But today we took an important step forward.
Your Thoughts
Share below!