If you only arrived on the cycling scene in the past few years, you might be forgiven for taking our many training luxuries for granted. Power meters, in-depth metrics, connected tracking apps, Zwift itself… all of these are readily available today, but were completely inaccessible to the everyday cyclist 20 years ago.
Hunter Allen is the head coach at Peaks Coaching Group, and he has been on the frontlines helping to develop many of the training tools we use every day. Are you training with a power meter? He literally wrote the book on it (with help from Andrew Coggan and Stephen McGregor). Need metrics to track your training? Hunter helped develop those too (see his story below). Connected apps? Hunter is one of the founders of TrainingPeaks. Zwift? Hunter wrote some of the very first workouts and training plans available in game.
I wanted to learn more about Hunter's full story, and take a peek into the development of the key cycling metrics I use every day. I emailed Hunter requesting an interview, and he happily obliged. What you see below is the result. Enjoy!
---
First, tell us a little about yourself. Where do you live, what is your cycling background, and what do you spend your "work" time doing?
I live in Bedford, Virginia, near the Blue Ridge Mountains. I started racing when I was 11, and started in BMX. I raced BMX until I was 18 and then started racing MTB. I had the skills for mountain biking but not the cardio system, so I bought a road bike and formed a collegiate road cycling team at Randolph-Macon College with my best friend, Adnan Kadir. He and I did a ton of training on the road bikes and it turned out that I was pretty good and much better than I ever was on the BMX bike.
By senior year in college, I was a Cat 1 and dominating the local and regional races. I moved out to Santa Cruz, California after graduating and won three Pro/1/2 races that year (1991). I got an invite to race on the Kaiku-Gurelesa team in San Sebastian Spain for 1992, so I packed everything up and headed to Spain for the year. That was a hard year of racing, let me tell you! All mountains and no flats! We had Abraham Olano on our team and he won every race, seriously, every race from February to April, when Festina finally picked him up. He was amazing and of course went on to win the Vuelta and be World Pro Champion on the Road.
In 1993, I returned to the US and raced on the top amateur team on the East Coast at the time, Race Pace out of Baltimore. We crushed it every weekend and had a blast racing up and down the East Coast. In 1994, I turned Pro for the Navigators team and raced in '94 and '95 as a pro. My favorite win was the A to Z 120 mile Road Race from Athens to Zanesville, Ohio. What a great race, point to point and rolling enclosure, it was special and I won solo, after attacking the 12 man breakaway about 5k from the finish.
I decided I had "slain my dragons" and started my coaching business in 1996. One of the first ever to have a coaching website in 1997! I didn't know what a website was in 1997!
Nowadays, I spend a lot of time answering emails, working on proposals to various companies that are partners of ours, planning cycling camps, organizing and working with my team here at the home office of PCG and lastly, writing articles and books (editor's note: including the recently-published 3rd edition of "Training and Racing with a Power Meter").
I love cycling and still ride as much as possible. Sometimes this is one day a week and sometimes it's five days a week, it really depends on how far behind I am.
When I first joined Zwift 3.5 years ago I remember seeing your name quite a bit in relation to workouts… so you've been in on the Zwift thing since the early days. How did you first get involved, and are you involved in any ongoing capacity at this point?
Mike McCarthy and Charlie Issendorf have been longtime friends and fellow racers and they asked me if I would create some training plans for Zwift. I was skeptical at first, so they had to do a little convincing, but we got "Hunter's Challenge", "Your first century" and "Winter training program" in there. So, if you do those plans or workouts, you'll see a little Peaks Coaching Group logo in there.
People send me regular emails about how they really like them and how hard "Hunter's Challenge" is, which makes me smile because that means they are getting stronger and faster! I am not really involved at this point, these guys are killing it and full steam ahead.
You've helped develop some very popular and powerful training metrics and tools for cyclists. Can you sketch out that history for us here?
When we (Kevin Williams and I) began developing CyclingPeaks Software, which became TrainingPeaks WKO software, we were learning so much and so quickly about power training. I quickly realized we needed a "Score" to give each ride that would account for time and intensity. KiloJoules was the closest thing we had, but it didn't account for intensity. Dr. Andrew R. Coggan was helping us in an advisory role and I was always chatting with him about some of the new things we were learning and did this theory or that theory have any basis in exercise physiology.
One day, I said
"Andy, I need a score. I way to quantify each ride and how hard it is on the athlete. Then if I can do that, I'll be able to start predicting performance and eventually plan by that score so that your entire season is built around it and we can better predict success."
So, a couple of weeks go by and he calls me up and yells, "Eureka! I've got it! It's called Training Stress Score and it's based on time and intensity as it relates to your FTP. I also came up with Intensity Factor which is just a decimal percentage of your intensity as related to FTP. And I had to come up with this thing I am calling Normalized Power. This is the power you would maintain if you pedaled smoothly the entire time. It takes into account the metabolic cost of the workout." So, right there, TSS, IF and NP were born.
We played with them for a while, tweaked them and made them better and finally released them on the world in 2003 with CyclingPeaks Software. Since then, we have come up with the Performance Management Chart which was one of the ultimate finishing lines to reach from the beginning because it takes that "score" (TSS) and helps you to understand your peaks of fitness as it relates to your chronic and acute training load and of course how fresh or fatigued you are.
Recently, we came out with Gross Power Released and Gross Power Absorbed to better understand the individual left and right power outputs. Functional Reserve Capacity, modeled FTP, Pmax and Time to Exhaustion are also recent metrics in the power world. We discuss all of these in our third edition.
Just a note of clarity. I was one of the founders of TrainingPeaks Software and an owner until 2014. Peaks Coaching Group has grown alongside it and is my coaching business. These get confused all the time and people think that we are TrainingPeaks and TrainingPeaks gets emails thinking they are Peaks Coaching Group. I now solely own and focus my time on Peaks Coaching Group.
"Training and Racing with a Power Meter" (co-written with Dr. Andrew Coggan) is one of the key books for cyclists interesting in digging into modern-day training methods. It taught me so much when I first got a power meter and began using that data to train! It has been revised three times now. I'm curious: how have you seen interest and methods of power-based training evolve over the years?
We have moved through the entire life cycle of the product and ideas From the early adopter phase to now it's basically ubiquitous on any serious bike rider's bike. It's an essential piece of equipment, just like your head unit on your handlebars now. It took a circuitous and unconventional path to everyone's bike though!
At first, the early adopters were all of the Master's riders in the category 3 and 4 races. Those guys were primarily engineers, computer programmers, math geeks in their real jobs. By 2004-2005, they knew more about training with power than any of the pros and most of the cycling coaches.
Around 2006, when our 1st edition came out, more and more people gained the opportunity to utilize the principles of training with power that we created and soon you started seeing more and more power meters on bikes in races. Around that same time, some of the power meters began making it on pro's bikes. I had a lot of pros and their coaches emailing me trying to figure out how to use them, it was a bit comical, to be honest. Normally, when new tech comes out, it's a "trickle down" to the masses from the elites. Think of Formula 1 racing. They had "electronic/paddle shifters" back in 1995. It wasn't until 1997, that it showed up in the first street Ferrari, the model 355. It's taken 20 years to trickle down to Hondas, Toyotas and normal everyday drivers. In the power meter world, it went the opposite way! It went UP from the everyday amateur and master racers to the pros. Pros were the last adopters and it took a lot of convincing for teams to allow them to use power meters in races, especially if they had other crank or wheel sponsors.
Around 2009, all of the cycling magazines and websites had pictures of pros with power meters on their bikes and that was the start of the traditional "trickle down" of tech, as amateurs saw them on their bikes and decided they needed a power meter as well. That further accelerated the adoption of power meters.
From then on, we were able to access pro data from the Grand Tours, classics and every race in between, which allowed us to further learn about the demands of the event and train athletes more specifically.
In 2009, our 2nd edition came out and that expanded on the "Performance Manager Chart" which again was one of the goals from the beginning. The 2nd edition was translated into seven languages besides English. I have taught in Peru, Argentina, Brazil, Germany, Norway, Denmark, New Zealand, South Africa, and 10 other countries.
At this point, cycling is growing in many up and coming countries like China, while power meter sales are relatively flat to slightly growing in the US, and only continue to grow as new cyclists enter the cycling world or buy a second/third/fourth power meter for their other bikes. So we have reached what I would call the "mature and stable" stage here in the US and also in Europe for power meters. One area that is really growing also is indoor cycling!
Zwift growing in popularity with its watts-based engine must have revved up even more interest in the "training with power" topic, right? Of course, power meters are also getting cheaper and cheaper…
Absolutely, and a smart trainer with a built-in accurate power meter has been critical to this new growth. People that do not have power meters on their road or mountain bikes now have smart trainers and are training with wattage, which is exciting. We have seen many riders that bought a smart trainer for their winter training, go out and buy a power meter for their outdoor rides because they see the value in it.
A power meter is perfect for indoors, as there are no distractions, no rolling hills, no wind or any other factors that contribute to making cycling highly variable. This allows the rider on the indoor bike to execute perfect wattage-based intervals with no excuses.
It's fun to see all of the new people coming into indoor cycling that haven't used a power meter before and they instantly "get it" and recognize how easy it is to understand their strengths and weaknesses along with seeing their improvements.
I'm sure many Zwifters could benefit from some coaching, but they aren't sure where to start. Tell us a little about Peaks Coaching Group and why folks may want to jump on board with your coaching team.
When I started PCG back in 1996, I wanted to create a collegial group of coaches that could each benefit from each other's knowledge and expertise. We have 50 coaches now with an incredible diversity of expertise from sports psych to RAAM to the Tour de France to amateur masters riders looking to kick butt on the Saturday group ride.
It's a great group of coaches and each of them is an expert in training with a power meter of course and I do a lot of continuing education with them as well. We are constantly learning and staying on top of the latest in tech.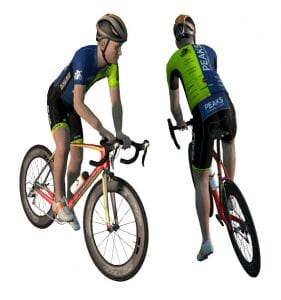 We coach athletes to improve using Zwift and have over 1000 workouts now that we have built in a "structured workout format" that creates a .fit or .zwo file to be used inside Zwift. This really allows us as coaches to build a progressive, rational and periodized approach to performance improvement. No matter what your goals are, we can help build a plan based around your unique physiology and time constraints. We have coached riders that have wanted to win the CVR World Cup and riders that want to crush it on their Saturday race inside Zwift. Our coaches are well versed on the "ins and outs" of Zwift and we ride in there regularly as well. You'll see the half blue/half yellow jerseys of Peaks Coaching Group on many of our coaches and clients.
The best way to get started with one of our coaches is to email our coach/athlete coordinator, Lee Sandstead and he will talk with you and work for you to find the best coach for you. It's important that we match you with the right coach, as that coach/athlete relationship is so critical in order to create success. Email Lee@peakscoachinggroup.com, and check out our coaching website at www.PeaksCoachingGroup.com.
We also offer pre-built training plans if you aren't ready or interested in a personal coach. These are a low-cost way to get a structured and progressive plan that I personally wrote using all of the workouts I use with my personal athletes. I have written nearly 300 different training plans now over the past 20 years, so there is something for everyone and you can "string together" my plans for over 3 years without repeating a plan and keep increasing your FTP! They come in the "Structured workout" format which again, you just load directly into your Zwift account.
You can find them all here.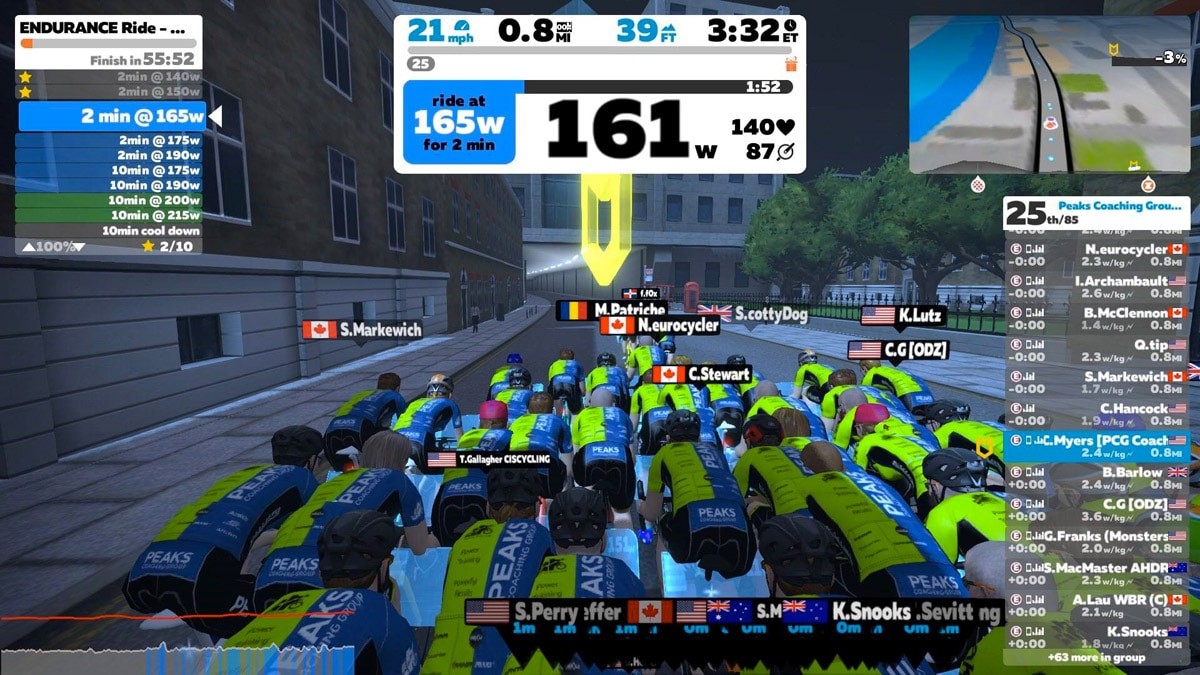 Finally: as a coach, what three bits of advice would you give to Zwifters who want to get stronger/faster?
Focus on riding near or at your FTP at least 2x a week. Riding at what is called "sweetspot" (88-93% of FTP) is highly effective to improve your FTP. Cycling is an aerobic sport and the higher your FTP, the faster you'll go.
COOL yourself! Big fans, cold drinks, towel, and a cold room. It's critical that you cool yourself while riding indoors if you want to gain any real improvements in fitness. If you are not cooling yourself, you are fooling yourself.
Don't race every day or just do random workouts. Have a plan. If you want to race in the winter, pick one race a week to race in and then go for it. I can promise you, those that race every day or 2x or 3x a week all winter, will be crushed and burned out come April. I saw it this year and it will happen again. Buy a training plan that's well thought out by a reputable coach and then stick to it.