There's something that comes over me when I'm riding on Zwift. It's unlike any other part of my life. If I'm painting a room, I've been known to stop and finish it a couple weeks later. If I'm reading a book, I'm okay with finishing it at a later time. But when I tackle a challenging Zwift course, there is no quit or "I'll try it again another time" in me. There's a stubborn determination that suddenly possesses me, and it doesn't matter how many hours it takes. I may not break any land speed records, but I refuse to quit the ride. However, at the same time, being as I am a mere human, I accept there will come a day when my body will not keep up with my determination. I was hoping this was not that day.
I'd been wanting to ride the 13 mile, 5000 feet in elevation Ven Top/Mont Ventoux course in France since it came out, but at the same time, I'd been dreading it. I was waiting for a Saturday where I had nothing urgent planned and where I could spend as many hours as needed tackling this course. I figured I would have to take a few breaks because my 65-year-old body has osteoarthritis, primarily in both my knees and my back, and I had a feeling they would both be giving me some trouble on this climb.
I also needed something to get me out of the headspace I was in. About a month ago a really good, long-time friend of mine passed away and it kind of took the wind out of my sails. It really threw me. I lost the usual joy of doing the things I usually love to do. I thought this attempt up Ven-Top might be just the thing to try to get me back into the swing of life.
A few months ago, I had started a YouTube channel called Zwifting with Granny and Coach Morgan. (Coach Morgan is my very cynical dog who portrays my cycling coach.) It's a mixture of humor, Zwift, and cycling in general. I created the channel to encourage anyone to ride, especially seniors for whom a bike may be the perfect exercise because it is low impact and Zwift is such a social platform. Previously, I had been having fun creating a video and posting it almost weekly. But because of the somewhat depressed state of mind I had been in, I hadn't posted a video for several weeks because I just didn't have it in me to do. On a whim, just before the climb, I decided to record this attempt for my channel. Here's the link if you'd like to see the video of what I am about to describe:
Finally, the planets aligned on Saturday morning and I was all set to tackle this beast they call Mont Ventoux.
There was a Haute Route event on this course that day. but France was on the calendar as well. I have a tendency, when in a Zwift event, to treat it like a race and I don't seem to be able to hold myself back. I knew if I didn't pace myself in the beginning of the ride, I would be in trouble near the end. With this thought in mind, I chose to do my own ride.
With a nervousness I hadn't felt before on Zwift, I began the climb. For the first 2 miles I was fine. Around 3.5 mi, the elevation suddenly rose to 10%. The doubt started creeping in. I started having back pain and my hands were going numb from gripping the handlebars so tightly, which is a bad habit of mine when I climb hills. I started wondering, "Will I actually get through this? Could I keep pushing for 10 more miles at 10% and above?"
The chat was lively. There were plenty of dad jokes and typical humorous comments made on rides such as this. To get my mind off the pain, I decided to ask if anyone else was doing this for the first time. A really nice guy named Ravi responded yes, he was, and was doing it with a hangover. I literally laughed out loud and this gave me encouragement. He wasn't that far ahead of me. We wished each other good luck and I pushed on.
This is the beauty of Zwift. I was not alone in the unknown of the course. There were others suffering as I was. There were people in front of me as well as in back of me. I felt like a part of a collective force of determination. Everyone was in pain, but we kept pushing through the pain. I wasn't doing this by myself. WE were doing this. To tell my doubts to shut up and to solidify my determination, I entered into the chat that I "was not quitting, no matter what."
I repeated this to myself as the incline rose to 13%. Progress was slow but I was moving forward, albeit at a snail's pace of about 3 mph.
Shortly after the 4-mile mark, I was in a lot of pain. My back started feeling really tight. I kept myself engaged in the chat to take my mind off how I felt, but I knew I was going to have to get off and stretch. I felt so frustrated since my legs felt pretty strong and my heart rate was staying low.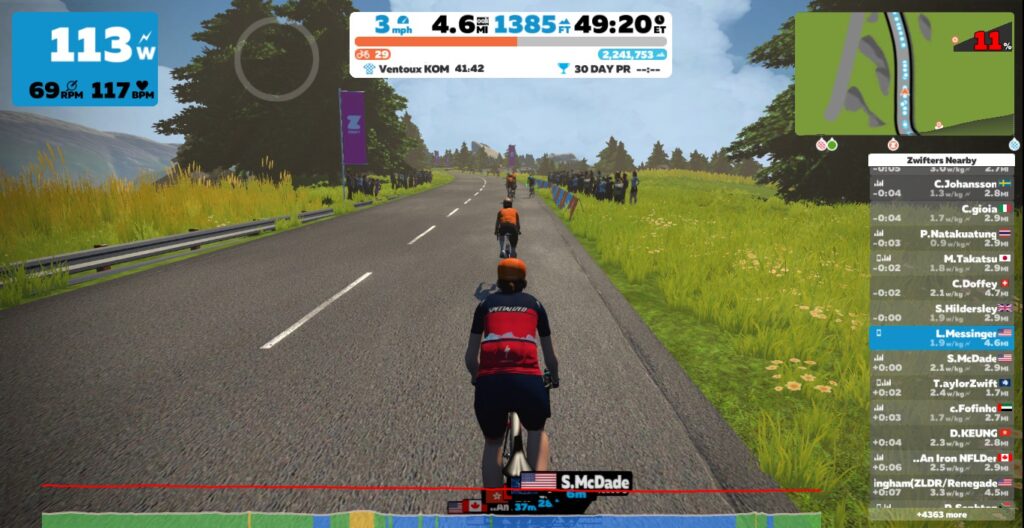 At the 5-mile mark, I had been climbing for almost an hour. Again, the doubts started creeping in. Could I do this for 3 to 4 more hours? It became a total mind game from this point forward.
There was no real pacing myself that I could do at this point. I was in my lowest gear, 34×28, and pushing 65-75 RPM. I did suddenly get a feather power up at the first thumbs up sign on the road, and that boosted my morale a little. But at the same time, it started feeling like it was going to take me about four and a half hours to finish this.
At this point, both my back and my knees were hurting. Again, I was asking myself, "Are you really sure you can do this? Maybe you can't." I told my brain to shut up and I kept pedaling. My knees and back thought otherwise but I just kept grinding. Each tenth of a mile felt like it was taking forever to click over to the next tenth of a mile.
Many riders were giving ride on bombs. The thumbs were flying, or as it is referred to, it was a thumberstorm. All of us knew what the other person was going through as they passed us, or as we passed them. But I was really starting to feel the fatigue and the beginning of the lack of muscle coordination. My hands were going numb so much that it was actually hard to push the arrow for the Ride On bomb on the Companion app.
Between the 5 and 6-mile mark, the chat gradually dwindled to total silence. Everyone was in another world in their minds and focused on the task at hand. Also, around this time, a local friend of mine who is on Zwift, Mary Mease, happened to give me a ride on. The timing was perfect. It made me smile and took my mind off the pain for a little while. I pushed on.
At around the 6-mile mark, I was in tremendous back pain. It was a 12% to 13% gradient at that part and I started looking for a place to take a break where the gradient was less so it wouldn't be so difficult to start up again. At 6.4 miles, the gradient suddenly went down to about 6%, so I decided to take advantage of the break and readied myself to get off the bike.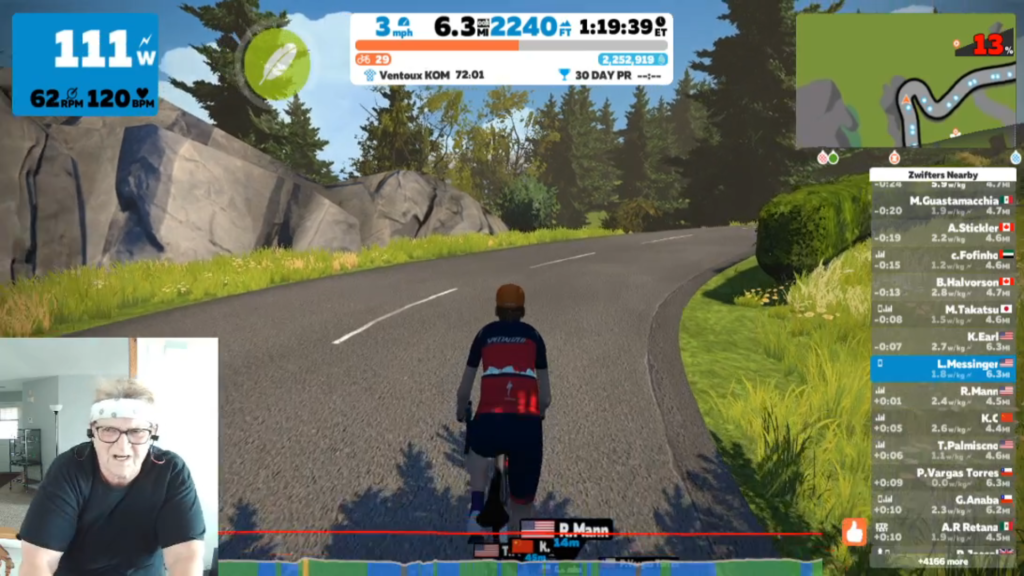 I remember groaning in a lot of pain as I dismounted. Nerve endings all over my body screamed at me. I ended up taking an 8-minute break which included letting the dog out, who of course, didn't really have to go out. My sit bones were in such pain by that point that when I got back on the bike, I actually put a folded towel on the back part of the saddle to add padding, and that seemed to really help. Yes, I have had my bike professionally fitted and I have a good saddle, a Specialized Mimic, and really good shorts. But I had never before strained my body this much for this long in this position. I have never needed to do this towel thing ever before, but this ride was a whole different ball of wax. I was willing to go to any lengths, no matter how ridiculous it may have looked. I clipped in and pushed onward.
The break seemed to really help to reset my mind for a few tenths of a mile. But that started fading away pretty quickly.
At around the 8-mile mark, my mind became so focused on the course that I sort of hallucinated that I was actually on the course. I felt like I had been sucked into the TV. I WAS the avatar; I wasn't just watching the avatar. It was like I was watching myself ride for real, and watching others ride for real. None of us were in a garage, or basement, or custom pain cave. We were all together on that mountain, supporting each other on that mountain. Each of us was facing their own battle, and each of us was hoping we would emerge victorious.
I continued giving ride on bombs every time someone passed me. I got as many in return, although that's not why I gave them out. I gave them out to encourage others to push onward as well as for me to focus on something else besides the pain. The reciprocation of the riders who passed me cemented in my mind the feeling that we were all in this thing together.
At around the 9-mile mark, the world absolutely faded away. There was no Covid, no political discord, no bills; none of life's usual problems. Even the room I ride in disappeared. The world simply slipped away. Only this climb existed. Nothing else mattered or even felt real. Only the pain was real. I lived in the pain. It became who I was. I became the pain. I knew the pain was really affecting me both mentally and physically. At the 10-mile mark I decided that I had to take another short break to dull the back and knee pain for a few minutes.
After about 5 minutes I got back on the bike. I suddenly realized I only had 3 miles to go. That was the first time I thought to myself, hey, I've got this. I really got this. I told myself I already did 3 miles of hell a few times on this course, so I can do a final 3 more.
The mind game became much more intense. As the tenths of a mile very slowly ticked down toward the finish, everything in my body kept screaming to stop. That stupid voice in my head told me just pull over for a little bit. I told it no. My brain said, "Just coast for 5 seconds; you'll feel better." I said no. I pushed on with a determination that I had never felt before. If I had been determined going up the Alpe, I was twice as determined now.
Suddenly in the clouds, the beautiful sight of the finish line became visible in the distance. I was almost in disbelief that I was that close to finishing. Pedal stroke by pedal stroke, I was slowly crawling closer and closer to the end of this journey.
Then all of a sudden, I was actually there. I was mere feet away from the finish line. I took in that moment to realize what I had accomplished. When I actually crossed the finish line at just over 3 hours, which was a lot faster than I thought it would be, I did a fist pump and suddenly felt a rush of tears. I choked them back, but inside me, I was overcome with emotion. I was very glad that I had decided to record the ride, because if I ever doubt myself in the future, all I would have to do is watch this video, and know that I have it in me to do that which I doubt I can do.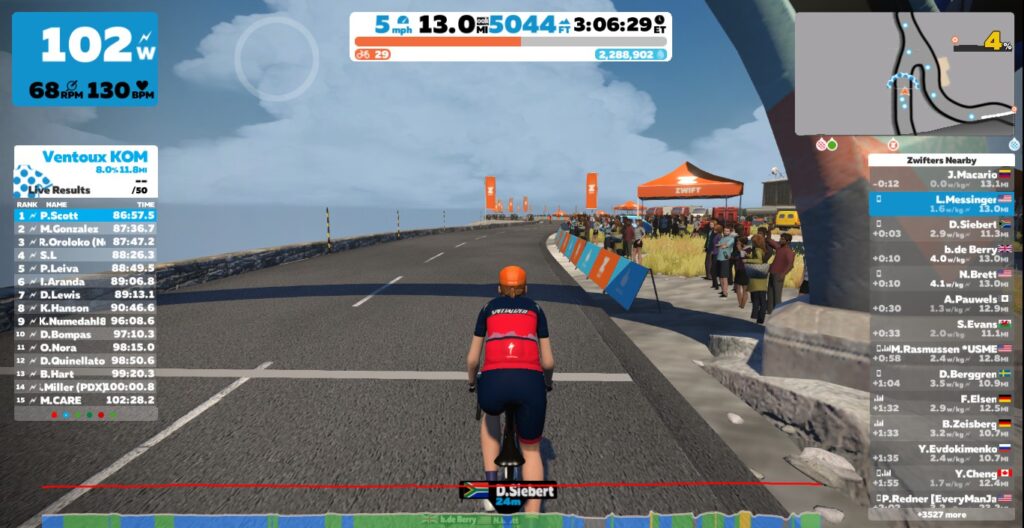 I wanted to scream to the world in triumph to not quit anything that you wanted to finish. I wanted to exclaim to everyone that you can put your mind to anything you want to do. You may not do it as quickly as everyone else. You may do it at a different pace than everyone else. You may do it in a different way than everyone else. Age does not matter. It's just a number. But if you genuinely want to cross the finish line of anything in your life that you doubt you can do, don't listen to that doubt. You can do it.
With a renewed feeling of happiness that I hadn't felt in weeks, I turned around and gave myself the reward of flying back down that mountain. I had truly won. I won the attempt at conquering the mountain, and I had won back my joy.
See my ride on Strava
See my ride on Zwift
Share Your Thoughts
Have you conquered Zwift's Ven-Top yet? How do you win the mental battle on a challenging ride? Share below!