In the Zwift Hot Topic series we focus on popular discussions, controversies, questions, or creative ideas in the Zwift community. We'll share a couple of different perspectives, but we want to hear your thoughts, too. So read on and chime in below!
This summer, a group of Zwifters raced in an Olympic Esports arena to show the potential of virtual cycling competition.
Now, the president of the International Olympic Committee (IOC) has announced that the new IOC Esports Commission is studying the creation of Olympic Esports Games.
Is Zwift ready to host a contest for those coveted gold, silver, and bronze medals? Let's look back at the test event.
The Olympics Esports Week showcase was held in Singapore in June. It culminated in the Olympics Esports Series Finals, which featured more than 130 players competing in 10 different virtual sports, cheered on by a live audience. According to the IOC, the series generated more than 6 million live views across all channels. Including qualifying events, more than 500,000 people participated!
Cycling was represented by a multi-stage Zwift race, where four teams of four Zwifters competed in three short events. Each team, comprised of two men and two women, had its own platform with four Wattbikes and screens. As the men and women swapped turns, teammates cheered and encouraged each other.
"I absolutely loved competing in person with teammates next to me," said Alice Lethbridge, a competitor with Team Lava. "The co-ed format was one of the things I praised in my feedback. It made it more exciting."
James Barnes said racing alongside other riders – even just getting to meet them in person – was "awesome." He was on Team Fuego, which began communicating as soon as the teams were announced, setting up a WhatsApp group so they could talk and strategize.
"I am hoping this happens more often," he said. "(It was a) serious feeling of meeting old friends who just had not seen each other in a very long time. Reporters could not wrap their heads around that this was the first time we all met each other, and we were not on the same Zwift team."
For the first event, "The Eliminator," all four riders from each time rode an elimination race. In "The Sprint," each team fielded its best sprinter for a points race. Finally, "The Climb" set each team's best climber against each other. The race events were short and engaging, and different riders got their own chances to shine.
Other sports featured included archery, baseball, chess, dance, motorsports, sailing inshore, sailing offshore, shooting, taekwondo, and tennis. Each of the competitions took place on virtual platforms like Gran Turismo, Just Dance, and even Fortnite (where participants shot at targets instead of other players).
Many of the sports, like cycling, imitated the physical demands of their non-virtual counterparts. Taekwondo athletes competed using virtual reality headsets and full-body controllers that tracked their movements.
"It provides opportunities for so many more people, and it makes high-risk sports safer," Lethbridge said. "No risk of head injuries in sports like cycling, taekwondo, or boxing. That's a huge win, especially for young athletes."
Bumps In The Road
The event wasn't without its problems. At the start, some of the athletes had trouble using their virtual gearing – especially Team Titans, who were located farthest from the receiver. It worked fine in rehearsals, but race day came with an audience and probably a lot more signal interference.
Vicki Whitelaw, who raced for Team Titans, said more needs to be done for eSports cycling to have credibility as an Olympic sport. In addition to the shifting problems, one rider on her team could not even get into the starting pen for their first race.
"Athletes who have spent hours upon hours of their time in Olympic cycles to get to the live event should not be disadvantaged based on the distance that they are positioned from the receiver," Whitelaw said in the Zwift Racers Facebook group.
There was also a moment of confusion when a "photo finish" – which didn't involve any photographs – reversed the announced result of one of the races.
Multiple participants said their screens showed Marlene Bjärehed of Team Fuego in first, and Lam Kong of Team Lava in second. Kong's teammates said she knew she had placed second. But for a few minutes, the broadcast showed and announced her as the winner.
This experience isn't new to Zwift racing. Riders (and spectators) may see their avatars in a slightly different position than what Zwift's server has calculated.
Lionel Vujasin, of Team Lava, said creating an event-specific build of the Zwift program might help prevent confusion.
"The biggest point in my mind is Zwift is yet to find a good interface (for the broadcast) and showing the data viewers actually want," he said.
Whitelaw said positivity is great, but addressing these issues is more important.
"Otherwise it will only be seen as the social platform," she said, "rather than one where serious competition can be taken seriously at Olympic and World Championship levels."
Photos by James Barnes
Racing Toward The Future
Organizers of real-life races can have these kinds of mix-ups and problems, too. Lethbridge pointed out that in some outdoor races, drivers have ignored roadblocks, motorcycle communications have been lacking, and results declared at the line have been corrected later.
"Overall I thought it was an incredibly well-run event," she said. "Of course there will be teething problems the first time through."
Zwift and IOC officials worked quickly to fix some of those problems, she said. In rehearsal, when the riders pointed out that their powerful sprints would move the Wattbikes around, officials anchored the equipment by drilling into the stage.
Barnes and Vujasin mentioned that other eSports had bigger technical problems than virtual cycling. The taekwondo competition had to pause several times to adjust body sensors when their virtual legs flailed out of place.
Vujasin stressed the need to have a setup that's connected with cables and said to "avoid wireless at all costs!"
"Zwift is far in advance compared to other platforms of other sports," he said. "We tend to be hard on Zwift, but for real, we are pretty lucky."
In the end, Team Fuego took first place in the series, Team Epic placed second, and Team Lava filled out the podium in third, ahead of Team Titans in fourth place.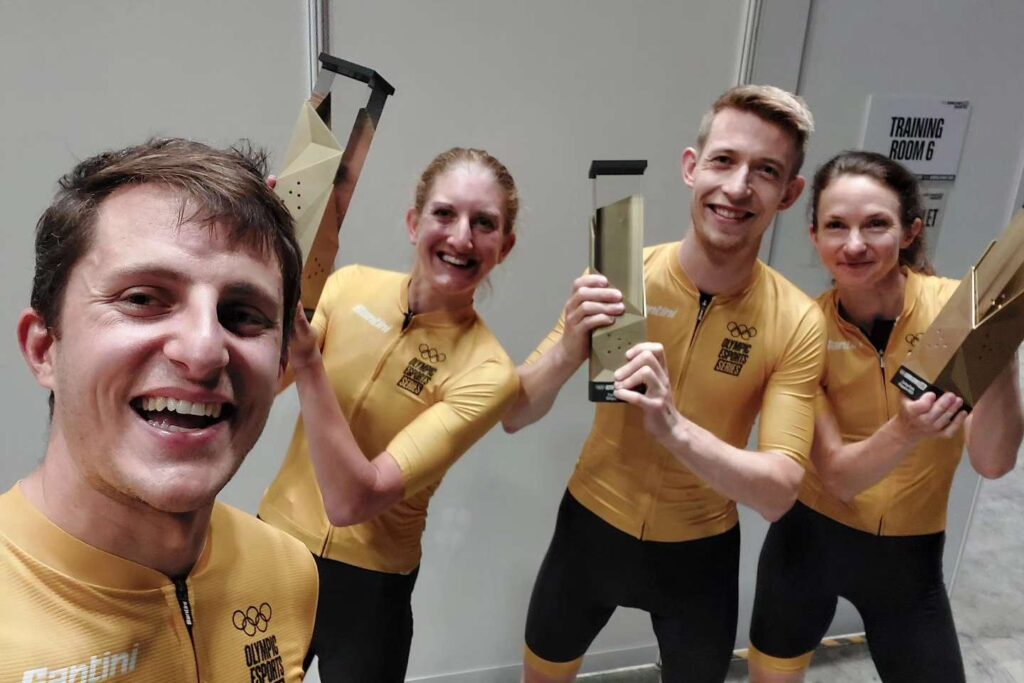 Zwift has some work to do to be ready for the Olympics, but this showcase was a good display of its potential, especially compared to some other sports. For the athletes, it was a taste of the real Olympic Games that might be coming soon.
"Words can't describe the experience, to be honest," said Vujasin. "Once you participate in the opening ceremony, you can definitely feel the Olympic spirit, and it's awesome!"
Your Thoughts
What do you think? Is Zwift ready for the Olympics? Share below!