In the latest World of Zwift episode, lead game designer Wes Salmon chats with OJ about "Hide the Display Mode" – a new feature that appears to be releasing in Zwift's next update.
The feature isn't live, but Wes gives us a sneak peak which includes this screen that pops up when you choose to hide the display: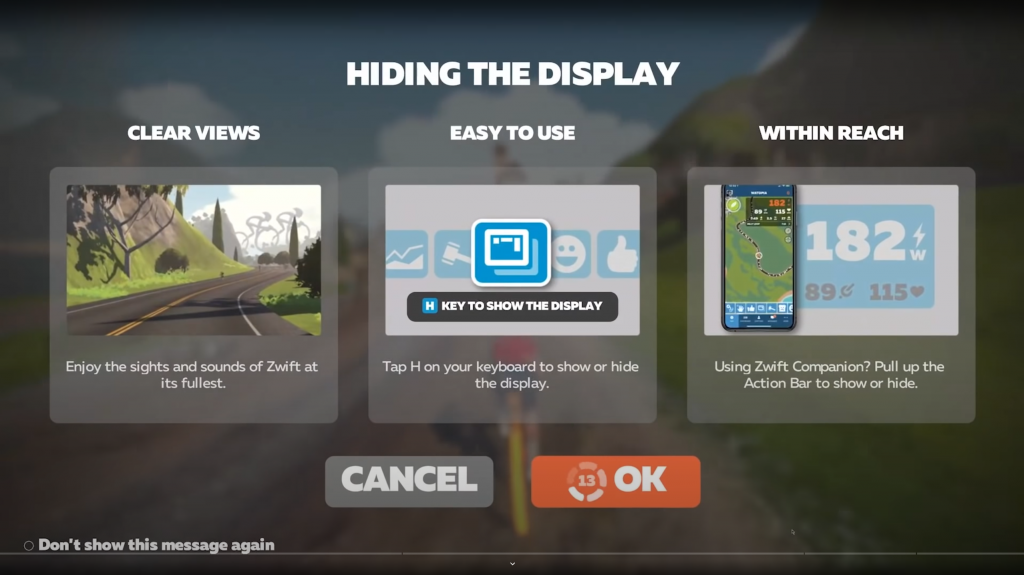 The end result appears to be the same as the "minimal UI hack" that PC and Mac users have had access to since Zwift's early days. That is – all of the heads up display (HUD) elements leave the screen, so all you see is the virtual world. Here's what your screen would look like in "normal" mode, then with the display hidden: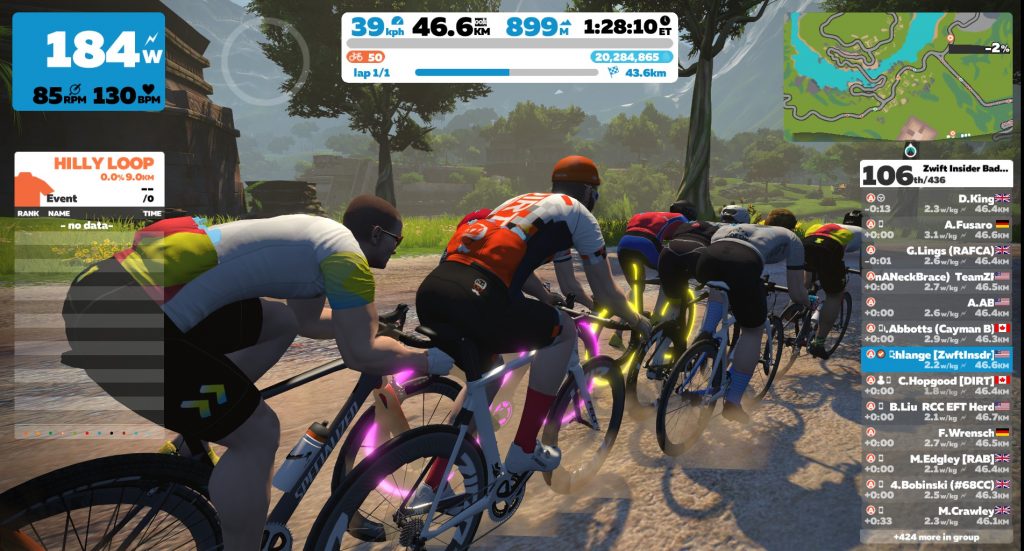 I've written previously about racing with all the HUD elements hidden. It's a super-cool experience that definitely forces you to pay closer attention to other riders as well as the terrain.
Zwift's pending update for both the Companion app and the actual Zwift game will make it easy to toggle the HUD on and off whenever you'd like. PC users can just hit "H" on their keyboard, or you can use a new button in the Companion app's action bar to accomplish the same.
Next Level
Of course, I wouldn't be a Zwifter unless I requested more after seeing the preview of a new feature. 😊
Zwifters have talked for years about how they'd like to customize Zwift's HUD elements to display the data they want, in the location they want. Perhaps we've all been spoiled by our customizable bike computer screens? "Hide the Display Mode" will be a nice first step, but hopefully in the future we'll see some additional functionality, including:
Turning off specific HUD elements while keeping others visible
Moving HUD elements around so we can have our screen laid out just how we'd like (especially handy if you're on a large screen)
Modify font (and overall) size of HUD elements: this a request we've seen from farsighted Zwifters, as well as those with large screens.
Change the actual metrics displayed: perhaps I want to see average power, average speed, calorie burn, TSS, etc while Zwifting?
Your Thoughts
Share below!