Basketball, Empty Heads and Bucket Lists
My love for cycling started in the spring of 2013. I played basketball since I was 6 years old, but in the last years of my career I started struggling with my knee, my ankle, … whatever you could think of. Actually, every joint in my body that suffered from jumping was well damaged. After another injury I decided to stop. Although I had a race cycle for many years, this time it was getting real. I had to use it, so I pushed myself to get on this dusty bike to stay a bit in shape.
In my opinion you could see cycling as the perfect yoga session.
But soon this personal obligation turned into a love for my new sport. No other sport succeeds better in combining a fresh nose with the feeling of freedom. Every ride is a new challenge and every ride you discover new nature spots, even if you take the same routes. But that's not the real reason why I got addicted. As a busy entrepreneur it is the perfect tool to empty my head while suffering and pushing my own limits. The simplicity of the sport, is the beauty of it. Pushing away the pedals while reloading yourself…
Recently I became a father and suddenly my time to spend in the saddle is shrinking fast. Combine that with my position as managing partner at Bundl, an innovation agency, and my free time gets more and more precious. Meanwhile, my cycling ambitions for 2017 go up. This year I have put the Ronde Van Vlaanderen, Les 3 Ballons and the Cinglé on my bucket list.
This left me with only one question: how can I maximise my bike fitness while minimising training time?



The One and Only Solution?
First thing that popped into my mind was indoor cycling. "No shit, Sherlock", is probably what you're thinking. To be honest, I was quite critical in the beginning as well. Why would I start with this? You can't enjoy the 'outdoors' while riding, this has to be fucking boring. But I felt that I didn't have a lot of other options, so I didn't give up and I started with some research. I first asked some of my friends for their opinion, but they all confirmed that their indoor trainers became practically unused after some time. Conclusion? Useless investment. So I became a little discouraged. Force of habit made me continue my quest. I couldn't believe that this well-known problem 'indoor cycling is boring' wasn't inspiring others to create innovative concepts. It turns out people did see this as an opportunity and have done their best to solve it, so let's share some of the ones I spotted: Soulcycle, Peleton and Zwift. I took a subscription of the last one and I haven't regret it ever since.
I decided to run some experiments and the plan is to use my own body as a laboratory.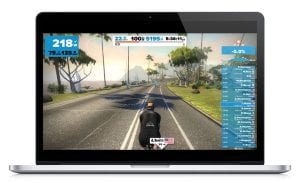 Zwift merges indoor cycling with multiplayer online gaming. As a result, over the last few months every Saturday morning I'm virtually climbing the Box Hill near London together with a huge amount of other Zwift cyclists from all over the world. So, on the one hand it brings in a social aspect, while on the other hand the gamification keeps you motivated because of the segments and real time rankings while riding. This for only 10 dollars a month!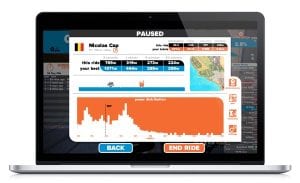 In contrast to Peleton, with Zwift you ride with your own stationary trainer. As I didn't have one yet, I had more fun diving into this topic as well. I quickly fell in love with the Tacx Neo Smart. An impressive product manufactured in The Netherlands. I listed some of my highlights below.
Hill climb simulations feel realistic because of the direct drive system
Stylish and elegantly designed with no surprises while unboxing in real life
A dummy proof product, installing the cassette was the only challenge for me
No worries for waking up sleeping babies while riding it (unless you would go for a 1000W sprint)


Adopting a Get On, Get Off Attitude
Finding the right gear is only the first step, much more important is what you do with it! Here is one big lesson I experienced already while running this experiment. Never 'just ride'. A lot of people waste time pedalling at low efforts. As they say on the Zwift blog, many cyclists have heard of the benefits of traditional base building (those long endurance sessions racers perform in the winter months to prepare for racing in Spring and Summer). But, what many don't know is that unless you've got the kind of hours to dedicate to training that racers do, you won't reap the benefits of traditional base building.
For time-crunched amateur racers and enthusiasts, traditional base training is waste of time, says Jim Ruthberg, Carmichael Training Systems Coach.
Currently I'm testing the following three rules of thumb that I came across while reading about how to train the right way indoors. It's maybe a bit too early to come to a conclusion already, but so far, so good. It's fun, it pays off and my time in the saddle stays limited.
Go hard, not long: training sessions of 60 to 90 minutes should be enough.
Be consistent: 3 to 4 training sessions a week is perfect, my minimum is 2 sessions.
Then go harder: if you want more bang for your buck, a key session in your training program should be Sweet Spot Training (SST).
Triggered? Keep following my Instagram or strava to stay updated on my bike fitness hacking-experiment!