Last Monday I got a text from my dad: "I'm riding my first group ride at 11:15 today. It's the Adidas Runners Group Ride."
Ride on, Dad! He's been on Zwift for a couple years now, but this would be his first attempt at a group ride. Since I didn't know anything about this particular event, I looked it up in Companion to make sure it was a pace my dad could enjoy. The ride's description was very odd, though:
Especially in times like these, when many have to live in isolation or contact distance, we can meet and train together online.
The group is held together by an invisible rubber band, so that every level can keep up.
Let's ride together for about 90 minutes, connect and have fun with the movement and effort.
"Held together by an invisible rubber band"? This happens in group workouts, but I'd never heard of it happening on normal group rides. Viewing the ride on ZwiftHacks Events App I noticed it had a setting you don't see in Companion: TEST_BIT_10.
Now I was intrigued. I told my dad I would be jumping into the ride from here at my desk, using my Zwift Insider test setup to temporarily "participate" in the event. At 8:15am my time (11:15 his time) the ride began… and here's what followed.
Video 1
I recorded this early in the ride. There are a few things going on here:
Everyone is being rubber-banded together, similar to a group workout feel
The group speed is unrealistically slow – anywhere from 25-30kph. No group rides on Zwift roll that slow! Again: this artificial slowdown is similar to group workouts.
Riders from outside the event are "leaking" into the event, which is odd. I've seen this happen before, but I want to mention it here because it's a bit confusing seeing the blob moving together, while some riders fly through us.
It takes a few minutes, but eventually people start messaging, asking how the rubber banding works, why the group is so slow, etc.
Video 2
I decided to do a high-wattage test (using an ANT emulator), to see if I could break away from the group. In this video you'll see me start off the back of the group, up the power to over 1400 watts, then move to the front of the group. Zwift flags me as having inaccurate data (nice work, Zwift!) but I keep the watts up to see what happens.
You'll see I keep moving through the group (much slower than I would in a normal ride), but once I get to the front, I just sit there at 26-27kph on flat ground, holding 1413 watts!
Video 3
Finally, for the third video, I wanted to test how low my power could be while still hanging with the group. So I drop my wattage to 94W, then 63W, 31W, 19W, and 13W. When I drop it 6W the group suddenly rides away from me, so the threshold is somewhere between 6-12W.
Was It Good?
Based on this one experience, it's clear this TEST_BIT_10 enables similar settings as Zwift's group workout mode, resulting in a rubber banding effect for group workouts. I'm not sure what those settings are, but I've never liked the way they alter my speed in group workouts – which is why I haven't done a full group workout on Zwift in years.
Would I participate in a group ride with this setting? Only for the sake of science. The artificially slowed speed was aggravating, and the speeds would sometimes increase or decrease dramatically for no obvious reason. Overall the experience felt unrealistic and overly slow – nothing like a typical Zwift group ride.
But all of this is based on a single test ride, on a single event using what I can only assume is some sort of test (beta) setting. Perhaps Zwift will dial it in so the experience is more enjoyable and natural in the future.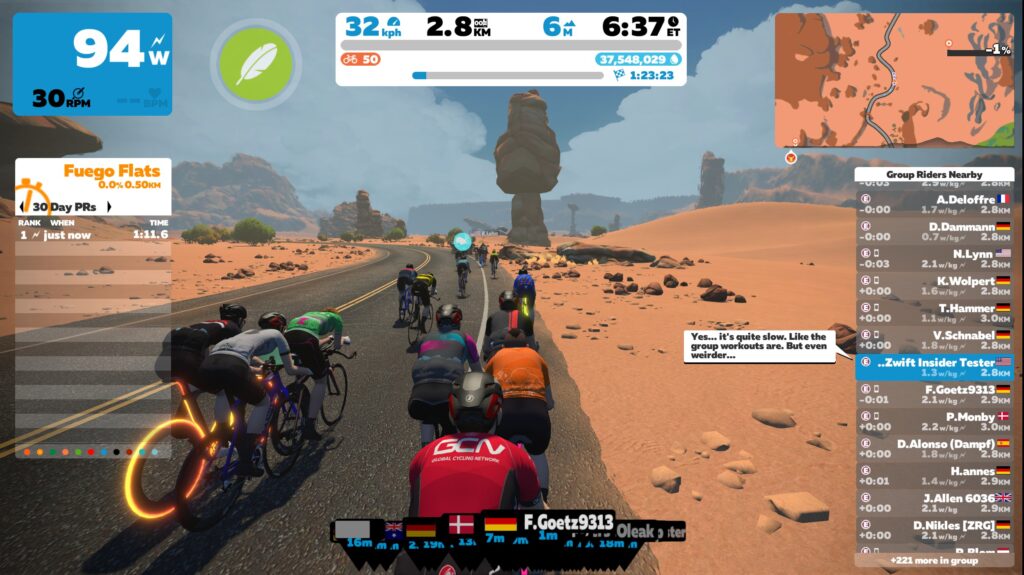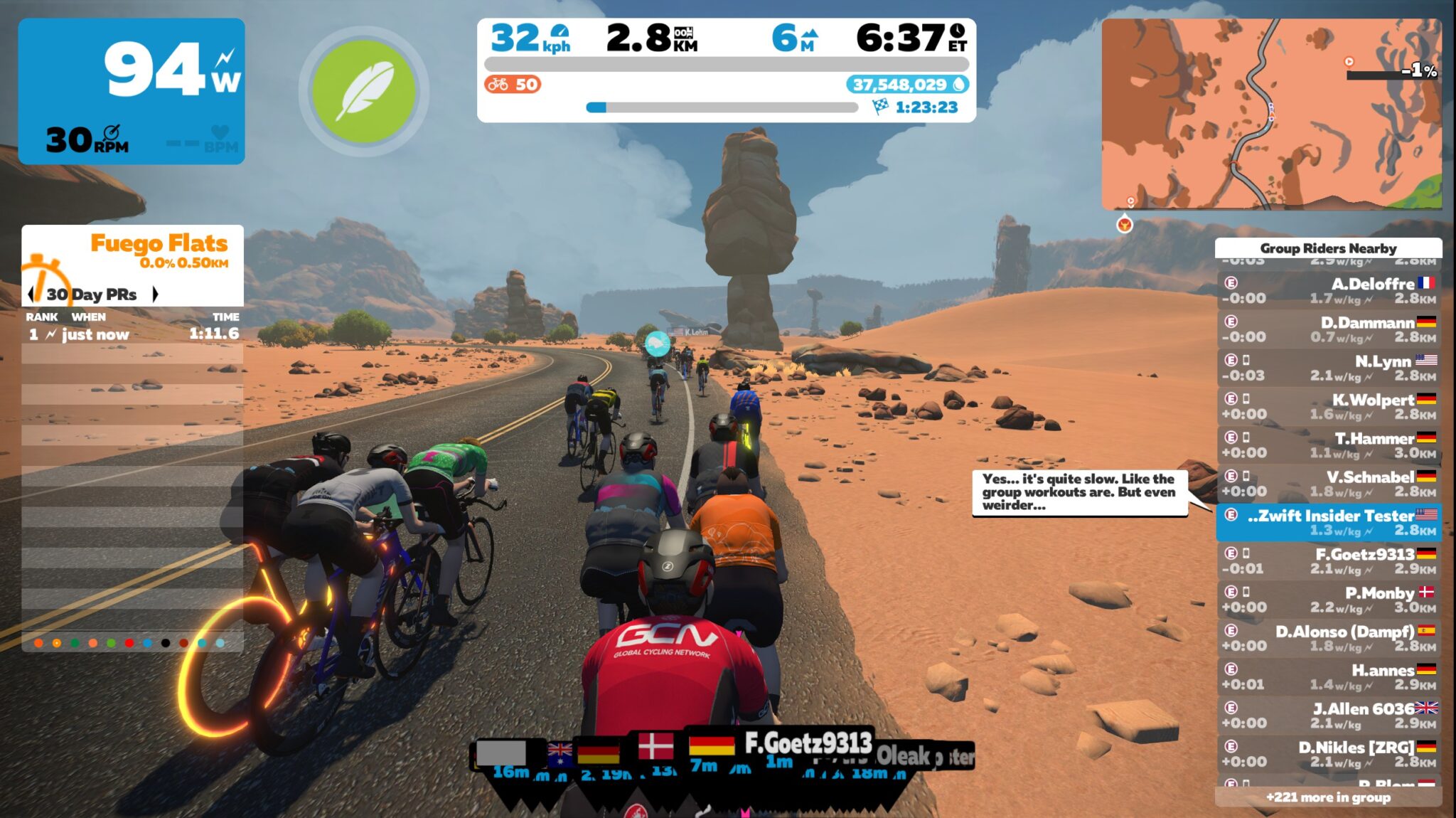 What Would Be Better?
Zwift's TEST_BIT_10 has half of the rubber-banding solution done: riders aren't able to jump off the front (even with massive watts) or get dropped (even with paltry watts).
But they haven't cracked the speed side of the challenge yet, as far as I've seen. Speeds in group workouts and this particular test ride are much too slow, and they also change incomprehensibly (at one point our group speed dropped to ~15kph on flat ground).
The ideal solution would keep the group together (strong riders could still push big watts at the front, and weak riders could hang in with low watts) while moving at a speed that modulates naturally with terrain and group effort levels, and doesn't feel too slow or fast.
Basically: it needs to feel like a natural group ride, except you can't jump off the front or fall of the back.
There are lots of ways this could be done, on paper. Implementing any of it, unfortunately, is above my pay grade. I'll leave that to the Zwift game developers who will need to use some combination of air density, draft strength, power averaging, and black magic to make it all work in a way that makes riders want to come back for more!
Your Thoughts
What do you think of the group ride rubber banding idea? Is it needed? How should is work? Share your thoughts below!