Editor's note: here at Zwift Insider we've been reaching out to women's Grand Prix teams, inviting them to write race recaps for each round. This week we're featuring Aeonian Racing Team, with an article written by Karla Williams. Enjoy!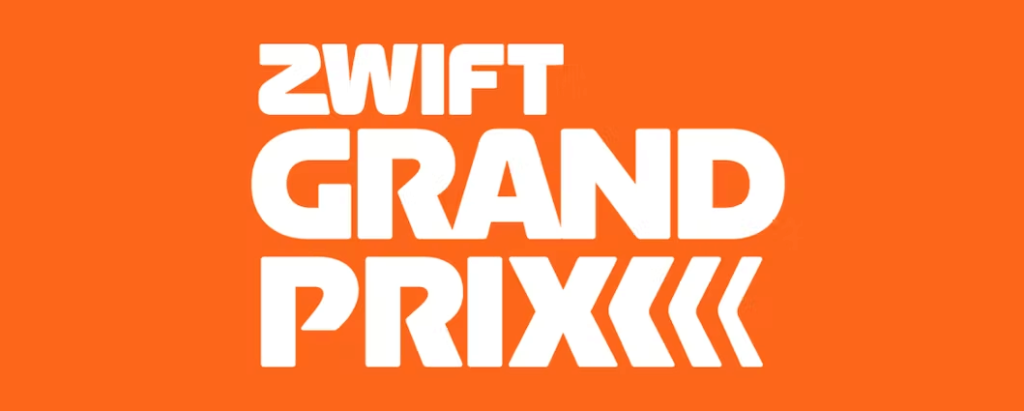 Aeonian Race Team was created with the focus of promoting, encouraging, and supporting women's cycling in every category. We are proud of our 90 powerhouses from A to D, competing in community and elite level. 
In our 2 years of Aeonian, we have found a passion for developing riders, providing them with a high level of support, giving them the necessary tools and comprehensive knowledge.  
There is always a sense of pride and satisfaction seeing our riders understanding the Zwiftcraft we are teaching and seeing the evolution in each rider as an e-racer.
Round 4, "Points Elimination Reverse"
The Points Elimination Reverse format is aimed at driving strategic decision-making from the moment the riders leave the pens. Teams had to work together to determine whether to clock up points early or gamble on securing higher points at the end of the race where they could be left empty-handed. The race had 5 intermediate points locations which awarded a different number of points, in addition to a limited number of points available at the finish line. If a rider got points at any intermediate segment, they were removed from the race. 
Read all about how the Points Elimination Reverse, aka "Points Hunter" was set up >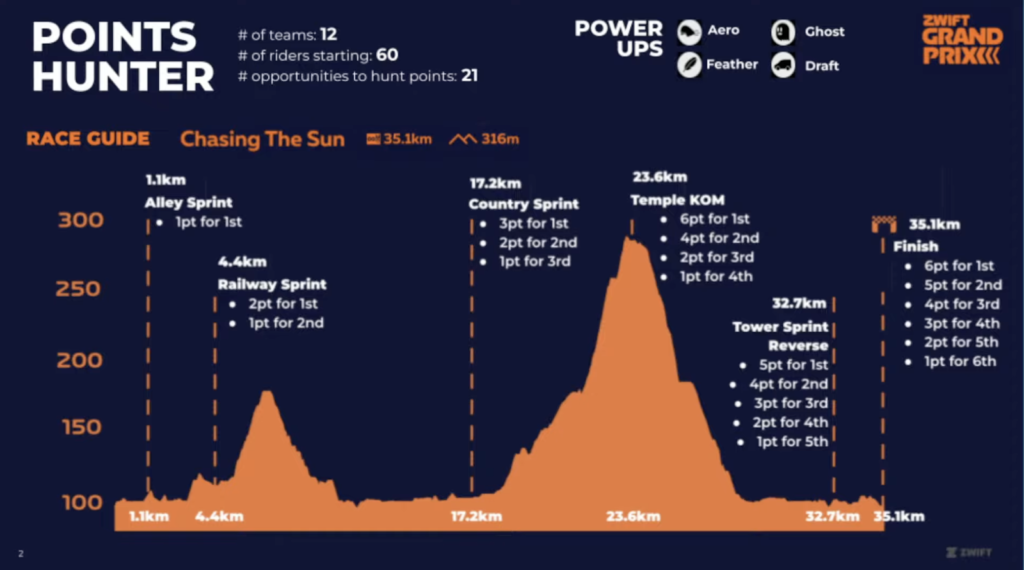 Our tactical plan for this race involved different scenarios and most riders had specific goals in mind. However, given two of our strongest riders are straight out of their off-season break and a shock to the system in Round 3, we had to be flexible and adapt. We wanted Polona and Loes to go for points prior to the Temple KOM and Arielle, Vicki and Eva to get points on Temple and following sprints.
How did it work out? We led for most of the race and our plan, with slight adjustments, was going well.
What worked according to plan: Polona and Eva
Ghosts in the second sprint messed up our plans for Polona, but she completely dominated the third sprint. Bonus points for the viewers with her adorable kids enjoying their mummy doing well.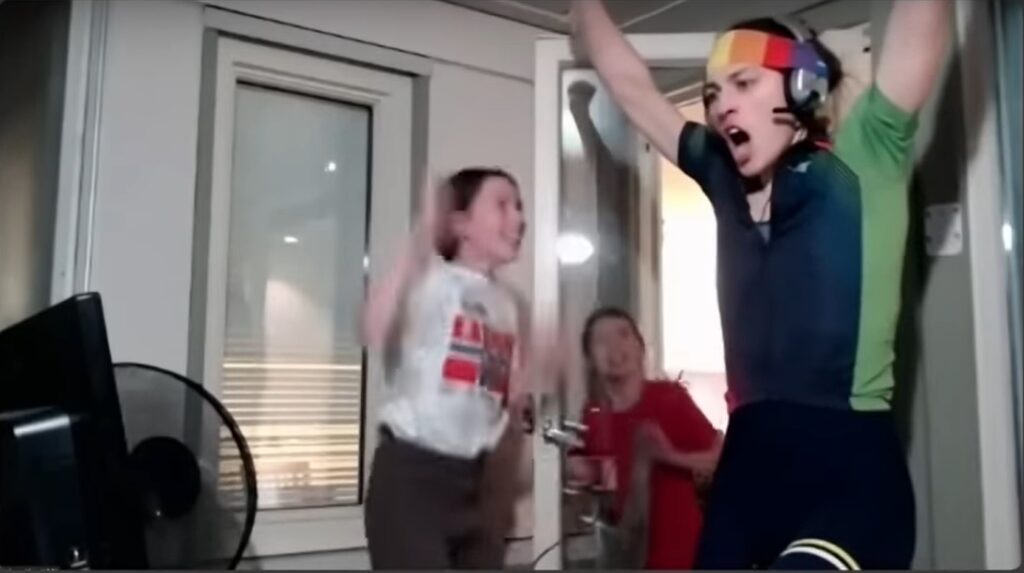 Eva managed a very convincing performance on the Temple once again (after winning Sea to Tree in Round 1 prior to the off-season) even though we didn't exactly know what to expect from her so soon after her break. Her anaerobic jumps on the climbs are a beauty to watch. True entertainer!
What didn't work according to plan: Vicki, Arielle, and Loes 
The plan for Vicki was to hold onto the pack on the Temple and get points in the final intermediate sprint (Tower Sprint). Unfortunately, she had an off day and lost the main group on the climb. Given how ambitious and competitive she is, we're sure she'll be back to her best for the next race.
With Arielle, we wanted to go for 4 points or more on the Temple or drop back in the pack if that seemed unreachable, since we were confident in her sprinting prowess. Once she started feeling sick towards the end of the Temple though, she made the quick judgment of getting points while she could still pedal and not risk a complete collapse further ahead. Quick thinking and a great decision by one of the most analytical racers out there, but not 5 minutes went by before she regretted this. A few pages of exchanges after the race and she still thinks she should've carried on… while being sick! Completely expected from someone who did extremely well in her first World Championships against all medical orders, only weeks after nearly losing her life. 
Loes couldn't manage to get points in the third sprint, but it was a nice surprise for her to hang onto the main bunch on the Temple KOM. Her legs are coming back! Not studying the finish, bad timing, and not having an aero powerup meant she only got 1 point in the final sprint, though. So many powerful sprinters had waited for that final sprint that most just ended up neutralising each other.
Our hopes weren't that high for this race to begin with, but as the race went by it seemed our chances for a win were fairly high for a while. We went from 1st to 3rd in that final sprint though. A satisfying 3rd place once the disappointment went away, and we're still second in the General Standings. Congratulations to Wahoo Le Col who won the round and is currently leading the series!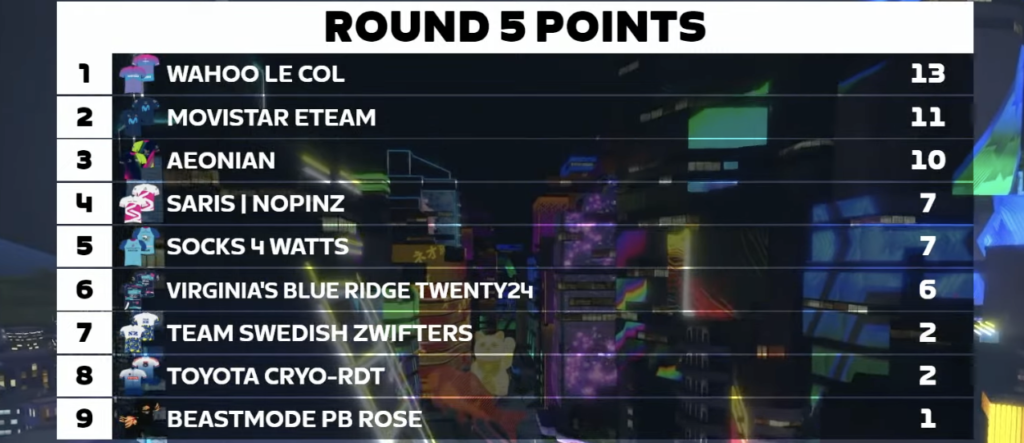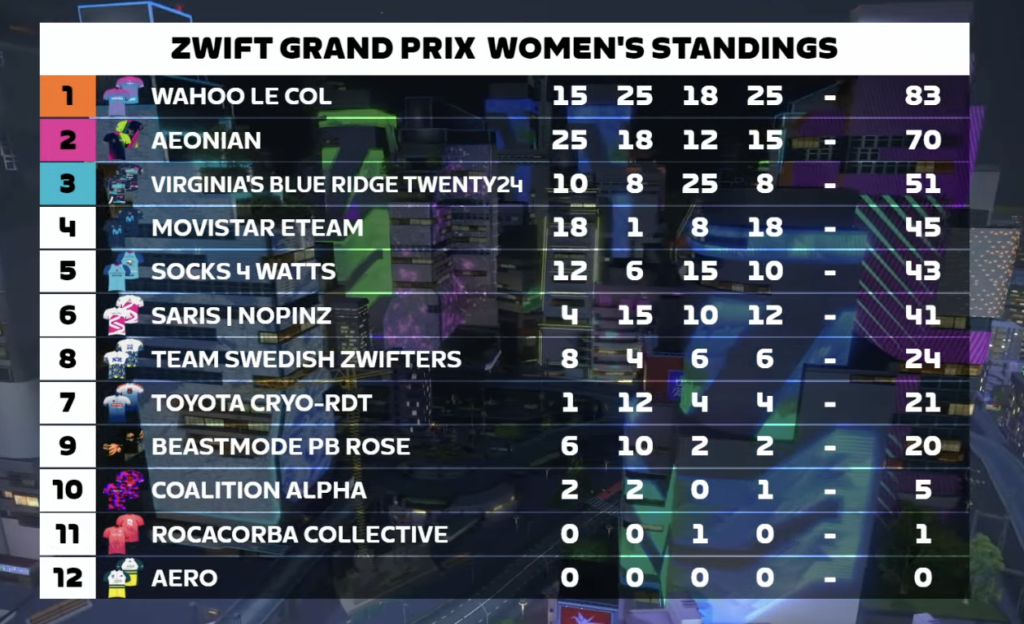 As you can see, these formats can make your plan go out the window no matter how much you prepare for it, and hitting or missing your targets can affect some more than others. We're definitely learning more about ourselves than during past elite races and we're proud of our racers for how they're handling it, given how challenging these new formats are both physically and psychologically.
All in all, a rather interesting and teachable experience for us, as we transition and adapt to formats that are not our cup of tea. We always excelled at blob dynamics and being consistent. Having to race small blobs, taking risks and initiative is something we're still struggling with. Getting over the fact we still lack power in the longer intervals is a blockage and instinctively we still go for the safer choice of staying in the bunch. We're improving in that aspect though and several of our racers qualified for Worlds by being more courageous than usual. We're slowly getting out of our comfort zone. Exciting times ahead!
We would like to share how the race unfolded from our riders' perspective.
Polona Itkin – Slovenia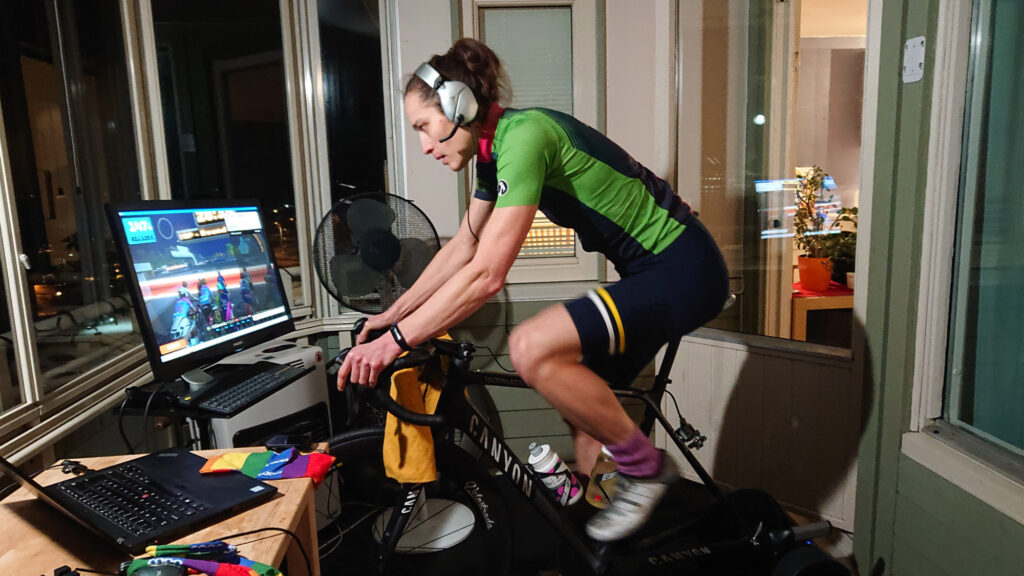 This was a very tough race to nail. After the manic race the men had to endure last week, we were very excited about how it would play out for us. My task for the team was to score some points on one of the early sprints. We wanted to stay flexible, save strength, and did not want to commit to any attacks.
I launched on the Railway Sprint, but it looked like I could only get second at best. Karla and Becca, our DSs shouted at me to stop on Discord – that really was the smartest thing to do. I had to latch back on to the group and get over the Rooftop KOM. No intermediate points there today – pace up was easy – luckily for me!
Afterwards there was only one thing to do – to take it all on the Country Sprint. A few riders wanted to get us sprinters into trouble and attacked early. But the roads were flat here and we had no problems closing in. We approached the sprint at a very high speed. I had the perfect powerup, so I braced myself and mashed on. There is so much jerking, that my headphones sometimes fly off my head when I build up my cadence. Quite distracting as you might imagine. Today I strapped them to my head with a buff. Now I could focus solely on my muscle work. It was such a rewarding feeling to see my avatar gliding past the others and under the arc first. Three points for AEO! 
Arielle Verhaaren – USA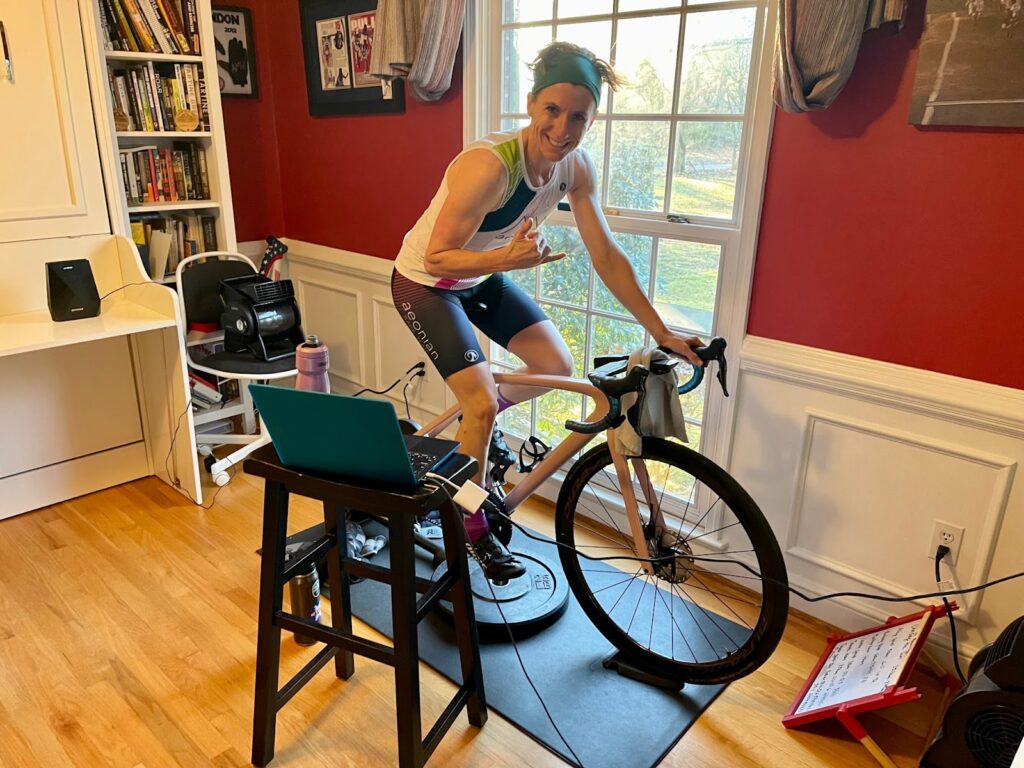 Thanksgiving marks the biggest domestic BMX event of the year and I'm usually in Tulsa, Oklahoma coaching, but I made a last-minute decision to stay home and cook for my family and friends and use the live broadcast to assist my riders. This meant I had the opportunity to line up with my AEO squad! Aside from the fact it was a bit rude to make us Americans race the day after one of our biggest holidays of gluttony 😉  I didn't anticipate how hectic this would be for me hosting a feast for 20 and juggling 6 competing athletes who needed a lot of my time and attention along with trying to navigate the weigh-in window and kids home from school and tactics with my team for a very different race format, so my stress levels were pretty high as I hit the pen to start.
On my end the race went as planned until the Temple KOM. I was thrilled to see Polona grab the win on the Country Sprint and as we hit the climb I felt ready to stick with the lead group. About midway up my phone kept ringing from BMXers in Tulsa so I was fumbling to shut that down without dropping Discord or myself from the pack. There were a few riders off the front including Eva which was planned and I had been instructed to sit in if I wasn't in contention for top 2 points in order to try and maximise points later.
With about 500m to go I found myself on the front of the bunch and closing in on the top 3. With my HR over 200 and feeling uncharacteristically sick and not thinking rationally I surged forward, assuming 3rd would give me 3 points instead of 2 and that two of my strong teammates still in the bunch behind me would get points later so I took the third and was "eliminated" from the event. Once my heart rate came down and I realised my error I was pretty disappointed in myself for deviating from the plan. Normally I would have been pumped with 3rd place points up that difficult climb, especially with the talent of women we are racing against, but instead I was left feeling disappointed that the format dictated I could no longer keep racing and I felt like I didn't maximise what I was capable of and let my teammates down.
I can appreciate that the organisers are trying new things to keep the racing exciting and I also know that not everyone will like every format—this one definitely wasn't my favourite. I loved racing in Makuri though and thought the course was a great one and I'm proud of my teammates who dug deep to keep us on the podium for another round.
Eva van Agt – Netherlands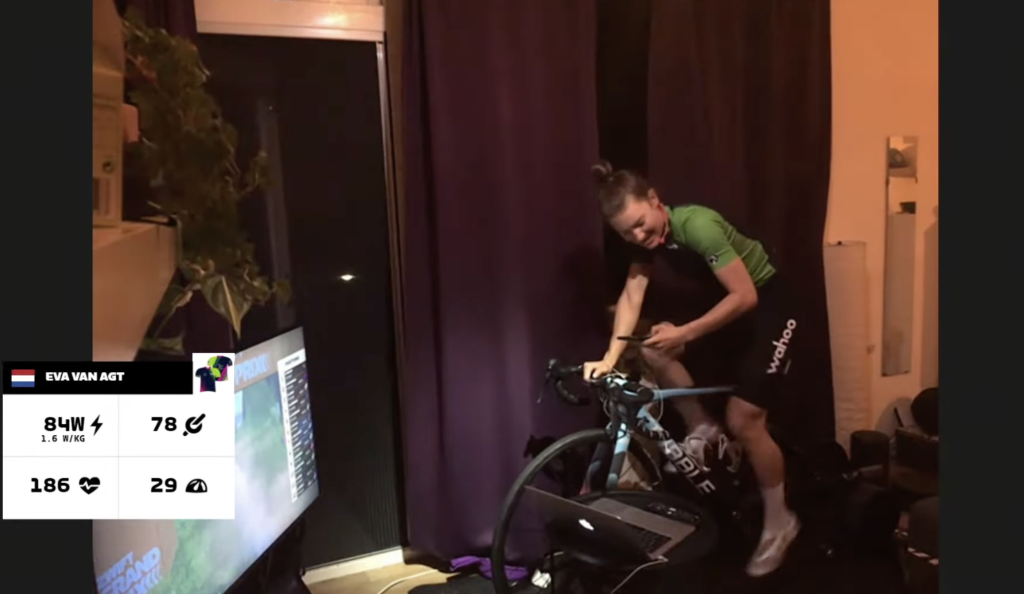 My job was to get points on top of the Temple KOM. I knew the climb from my race in round 1 which I managed to win, but since then my shape hasn't been so good due to some time off the bike. Especially after looking at the starting list I realised I should be happy if I could score any points at all for the team!
But after the first three sprints my legs felt surprisingly good. Kulchinsky and Cassie broke away early on during the climb, but I didn't panic and bridged to them, not bringing anyone with me. From that point I just focussed on everything our team tactician has taught me. It was hard but with the encouraging words of DS Karla you forget about the pain in your legs.
On the last steep part before the 300m flat section, Cassie deployed a feather and I was unable to match her speed. I had saved an aero for the last flat part, but due to a lack of coordination at a heart rate of 190 I totally missed the space bar and wasted my chance to get back to her. I came second and was somewhat happy the gap with Cassie was too large anyway, otherwise I would have been more frustrated. All in all happy to have scored some points for the team and to feel the shape is coming back.
Loes Adegeest – Netherlands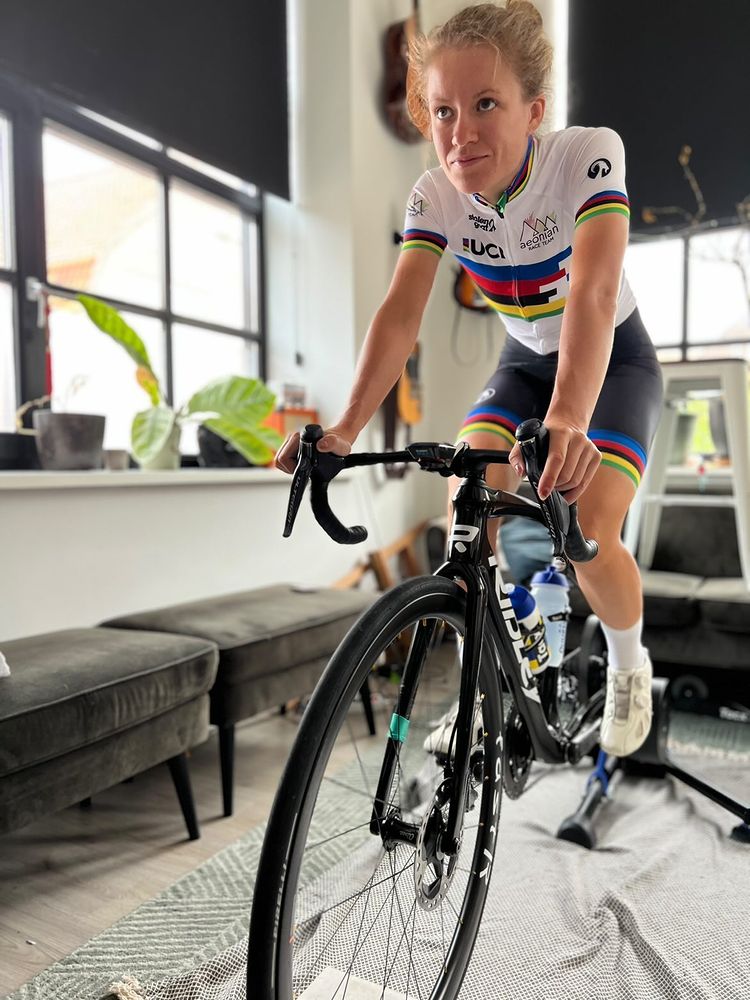 Another new racing format was waiting for us. We did multiple course recons and spoke about tactics scenarios thoroughly, but we knew it would be all about adapting to the situation during the race. For me the focus was on the first part of the course, as I would try to get points in one of the first sprints. I rode this part again twice just before the race, to freshen up my memory. But before the second sprint I didn't have a good power-up, so it was all-in for sprint 3. The same for my teammate Polona, who won this sprint with some mighty high watts. For me it was a point to immediately adjust the plan and focus on the climb which was ahead, as I just missed out on getting points.
This was the hardest part in my race, a 5-minute climb just after I did an all-out effort for the sprint. Luckily the encouragement and tactics helped me to stay in the right place and I topped the climb in the first group. As Eva and Arielle took points on the climb and were out of the race, I was the only Aeonian rider left in the group. Now I could recover a bit and go for the finish sprint. 
I only wished I would have studied the finish just as well as the other sprints. My timing was a bit off. In the end it was a chaotic but nice race where fast thinking and good legs were required!
Watch the full race broadcast: