When I heard a while back that strong and well-known Zwifter Rachael Elliott had a stroke while Zwifting, all kinds of heart strings were pulled! I've been keeping tabs on her from afar, but recently was able to connect with her and get the lowdown on just what happened that day. We also find out how she's doing now, how Glen Knight has been and is supporting her and how we can get involved as well.
If you've never heard of Rachael here's a quick synopsis: Rachael is from Berkshire, UK where she works as a Research Manager in a financial business, BCMS. She's also a semi-professional violinist and an award-winning cyclist. In 2017 alone she won individual national gold and silver medals in time trials, and also broke her old 30-mile national record of 1h0m34s. Besides racing she also organizes multiple events every year and sits on a number of cycling committees because, as she says, she "can't say no to anything!"
The Day of the Stroke
Here's how it all went down, on February 21st, in her words: "I was in my second session of the day and had got on my bike after dashing home from work. My fitness has improved a lot recently after hiring a coach, and I was 15 minutes into my warm-up on Zwift when I suddenly felt dizzy. I thought I was just fainting, so got myself off my bike and lay on the floor. It was then I realised it was something more severe as my vision started going double and I felt very severely dizzy. I called 999 for an ambulance (I live on my own) and they came quickly. I was rushed to hospital where a CT scan revealed I'd had a stroke caused by a large bleed in the centre of my brain at the end of the brainstem. At this point, survival prognosis was around 50/50, and I was in a real panic. I remember staring at the wall in the accident and emergency department and thinking I wouldn't make my 40th birthday in a couple of weeks. I can't remember it, but I set about phoning people from all walks of my life – family, close friends, music, real life cycling and virtual cycling – which naturally was Glen Knight, my good friend and leader of the KISS Racing Team."
Because of the recent uptick in heart/health-related issues in strong cyclists I asked Rachael if there was anything that happened that day that she would have done differently. Her doctors have assured her that the stroke was in no way related to the cycling and have assured her that being very fit will allow for a better recovery.
Rachael's Recovery and Long-Term Prognosis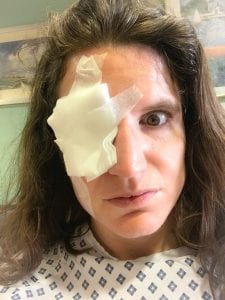 Rachael was in the hospital for 4 weeks after the stroke, with most of her gains made in the first couple of weeks. When I asked about her recovery and what cycling will look like now, here's what she had to say: "I still can't walk without a stick, I have strange taste sensations and my sleep/emotions are badly affected due to the location of the stroke. My vision is also a big inhibitor. One of the most dramatic things which happened during my stroke was I developed a condition called Parinaud's Syndrome which has caused palsy of my eye muscles. My eyes don't look where I want them too(!) and spasm uncontrollably. The worst thing is I can't look upwards! The eye patch helps to ease problems with double vision.
"My cycling on Zwift is a big part of my recovery and I've slowly built up my mileage to be about 2/3rds of what it was pre-stroke. The major difference is I'm not allowing myself out of zone 2 (even though the doctors say it is safe for me due to very low blood pressure). No-one knows what the outcome will be long-term until the bleeding has gone down in my brain. I'm having another MRI done in May (which is three months after my stroke) and they'll have a better look around then. All strokes are different."
Rachael's Cycling Plans And The Future
"I am back to riding every day, although I don't go hard at all and try and set up social rides for at least 50% of my riding. My old days of using Zwift as a training and racing tool have switched to using it primarily as a social tool – and I love it! I love riding and want to be able to ride outside again which I'll only be able to do if my vision improves. Despite being a prolific racer, the thing I miss the most are the rides I used to do in beautiful places in Britain and abroad, and this is what I want to get back."
Rachael also shared that while she's still able to play her violin she is having difficulty reading music. Her next orchestra concert is in June where she'll play (but not as a leader this time) and have music printed in an extra big print. She's also had her home modified to make it easier to get around (stair rails, grab rails, bath, etc) and offers to buy coffee for those friends who will so kindly come pick her up and take her for a visit. She is unable to return to work for now but hopes in a month or so she might be back at it, maybe even from home to begin with.
Glen Knight
Now let's switch to Glen Knight and his awesome efforts for Rachael. Many know Glen as one of the founders of the KISS Race Series, as well as the team manager for KISS Racing Team (KRT). He and his lovely wife and their children (whom he adores—an 11 year old and twin 6 year olds) are from the Cotswolds in the UK. Glen is an IT Manager at a school and in his spare time works on the ZwiftPower team.
I first asked Glen how he and Rachael came to be friends. In his words: "I first caught sight of Rachael at roughly the same time as other Zwifters who have been around for a while, when she destroyed the field in a KISS Race in January 2016. [We eventually connected] in November/December 2017 when I was having a hard time as part of the Zwift Community; Rachael was an unexpected shoulder. Providing support through a tough patch and also helping me to rediscover the love of cycling by taking on the role of my coach. I'm not easy to coach and I learnt quite a bit about why I'm not a very good cyclist.
"Over the next few months we became really good friends talking a lot about TT racing, Zwift and cycling generally. We share the same life philosophy and are involved in similar real-life communities so it was an easy friendship. One that just seemed to work without any real effort. We talked virtually daily as she was my coach and helping me to recover fitness after a series of illnesses and injuries, including a fractured knee at the end of last season."
Glen's Efforts To Help Rachael
As a good friend of Rachael's I wondered how her stroke affected Glen. "I was actually talking to her 20 minutes before the stroke and being so far away and totally helpless when I received a garbled message from her asking for help was a massive shock, to say the least. Then when it transpired what happened it affected me for quite some time. Someone I know, who is super fit, doing something I enjoy doing and is a similar age (20 days separates our 40th birthdays) makes you assess yourself and ask some pretty difficult questions. I actually couldn't bring myself to even look at my bike for about 2 weeks. And even when I did, I couldn't finish the ride.
"Since Rachael's stroke I've tried to repay her kindness and generosity by being a friend and helping to bring different sections of our community together to try and help her recover but also to show that the Zwift groups can do something positive.
"Rachael and I were discussing how we could raise money for a charity centred around stroke support which involved Zwift and also a challenge for me as part of my recovery.
"Every year with the exception of 2017 (due to my fractured knee) I've ridden the Prudential Ride 100 event in London. In 2016 I was unfortunate to crash out after 20+ miles. We decided that riding this event for the Stroke Association, being part of Zwift roads, something we both get a lot of pleasure from, seemed to tick all the boxes as it brought 3 elements of our lives together.
"The Stroke Association is the UK's leading charity for stroke research. But possibly more importantly than that they provide help, guidance and support for sufferers of strokes and their families/loved ones in the recovery process."
How Other Zwifters Can Get Involved
We love the idea of supporting Rachael by supporting this charity and Glen's ride, appropriately called #wattsforrachael! Glen told us they are hoping to raise a substantial sum of £1500 (~$2100USD), but I think we should blow right past that number! People can contribute any size donation here: https://www.justgiving.com/fundraising/wattsforrachael
Rachael and Glen's Acknowledgements
Rachael: "The support I've received from the community has genuinely carried me through. I don't think I could have got here without the love and support which has been masterminded by Glen. I can't be thankful enough, and his idea of doing a ride for the Stroke Association was incredibly touching. They've helped me so much and I wanted to do something to raise money, but aren't in a state to do so – so Glen's filled that void and I think it's wonderful."
Glen: "The wider community on Zwift have been fantastically supportive of Rachael. But the one thing that has been great, is seeing how KRT (KISS Racing Team) have bonded and come together to provide support on every level for Rachael. Showing that even though we are a virtual team the scale and scope of being part of that team is just as strong, if not stronger than a real life team."
My Final Thoughts
This, my friends, is why to so many Zwift isn't "just a game." For these two Zwifters it's meant new and better lives! It's a community and it's friendship! Ride on. Together.