(Note: if you're unsure of the difference between a smart trainer and a dumb one, read this post first).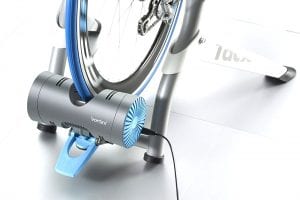 Many strong riders are Zwifting right now with dumb trainers and a power meter. If this is purely a budgetary decision then so be it, but I've heard several such riders talk about how they're "perfectly happy" with their current setup.
All I can think is… ignorance must be bliss. Because I'm convinced that anyone who tries Zwift with a smart trainer will never go dumb again.
I know this because I did it. I started on my rollers, because that's what I had. Then I borrowed a friend's dumb trainer as well. For me, adding the Zwift experience to my dumb trainer riding barely improved on my miserable indoor training experience. Sure, I was riding on a course–but it didn't feel real at all. My pedaling seemed to have little connection with what was happening on the screen.
I'm not the only one who feels this way, either. Again and again I see posts from folks who started Zwift with a dumb trainer, then moved to a smart one. They say things like, "Why did I wait so long? This makes the experience 100x better!"
In a world where many cyclists drop hundreds of dollars on gear without blinking an eye, investing in your indoor training by purchasing a smart trainer is an easy choice.
If you can afford it, get a smart trainer. You won't regret it.