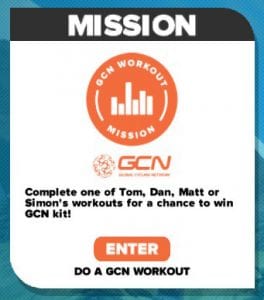 ZwiftHQ has rolled out a new mission for March: the GCN Workout Mission. Sponsored by our hilarious and helpful friends at Global Cycling Network.
How to Enter
Click "Enter" for the GCN Workout Mission on the game startup screen, then choose one of the GCN workouts to complete. Complete any GCN workout to enter. Multiple workouts will not increase your odds, and successful entry is acknowledged by an email to your Zwift account address.
There are 33 GCN workouts in game… check out the GCN workouts list at whatsonzwift.com >
Prizes
Five winners will be randomly chosen on April 5th to win a full GCN-branded Assos kit (jersey and bib shorts) in their size.