Editor's note: Friendly Competition is a series where Bereda Training explores how endurance athletes help each other improve through Peer Connections. In their first episode, they cover Justin Wagner's transformation from a 255+ pound cycling commuter to State Champion, and how the TeamODZ community supported him along the way.
---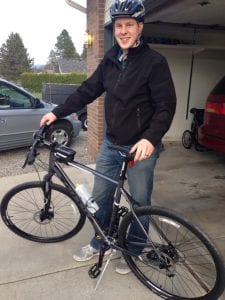 Justin Wagner: 32 years old, husband, father of 5, Computer Engineer, originally from Spokane, now living in the Salt Lake area.
When he started cycling in 2014, he weighed 255 pounds.
But through cycling, and more specifically, the cycling community, he's not only lost significant weight (now 180 pounds) but transformed his life in the process.
He's a leader and organizer of the online training group TeamODZ as well as the host of the internet training show "Watts Up With Power".
In only a short amount of time, Justin has become an accomplished cyclist, winning the Washington State Cat 3 Cycling Championships in 2017, and was subsequently invited to race in professional events the following year.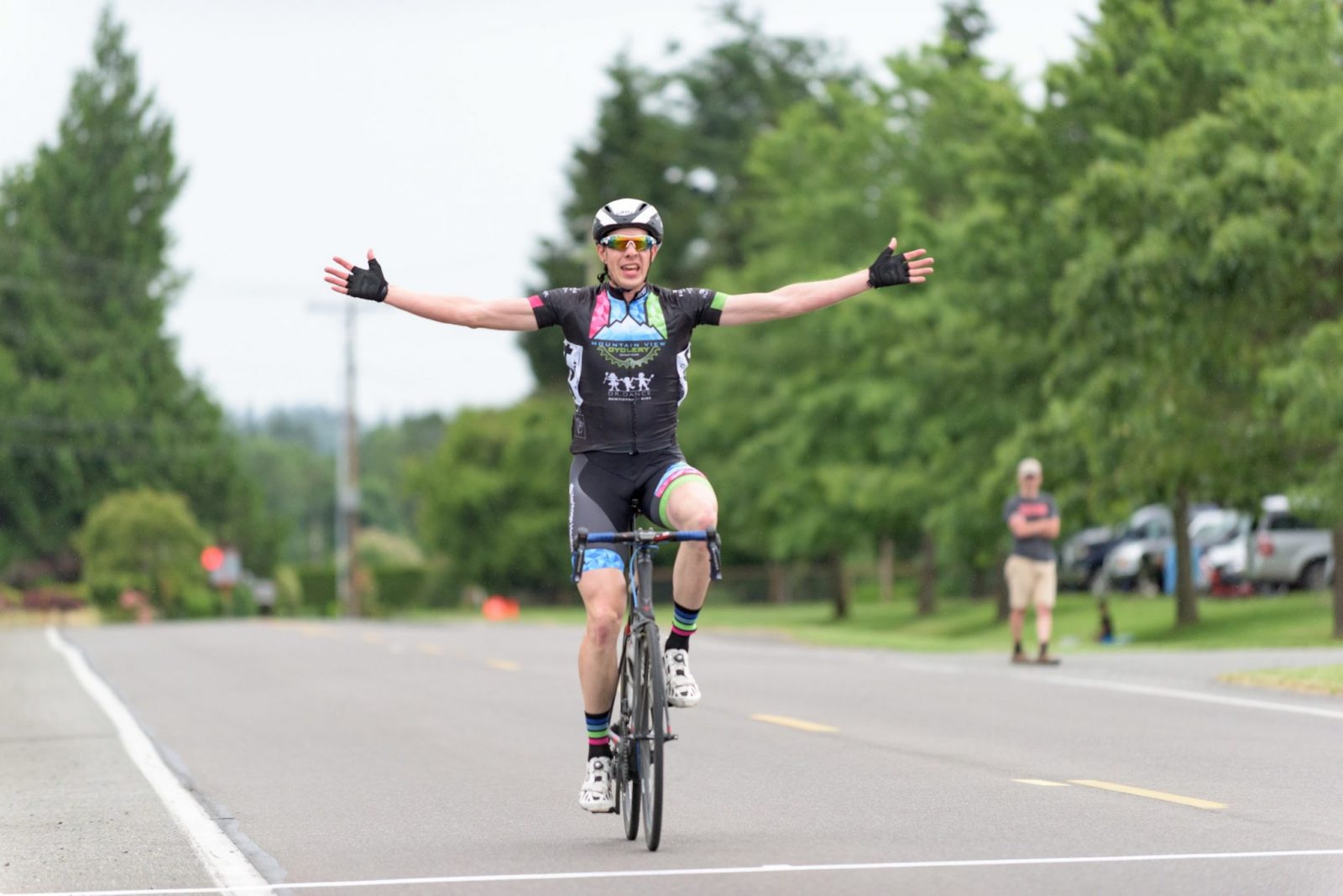 But even with all his success in cycling so far, the result that Justin was most eager to share didn't even happen on the road, it actually happened on the indoor trainer, and it really brought him and the entire TeamODZ community closer together.
It was Justin's win at the 2017 Virtual Worlds.
Winning a Virtual World Championship
It wasn't long after Zwift started that people started saying, "man, this racing thing is awesome… well, we've gotta have a World's event, right?" as Justin put it himself in our recent phone interview.
The vision was clear: everyone in the Zwift racing world, one event, all coming together to do one epic race.
"It was normally in the November time frame and people were signing up and committing their teams in March. I mean, we're talking months and months of preparation for this one race."
It was a blast and the best part was just the fact that because you had all these teams who were planning and strategizing for months, like, that's an awesome thing that really brings a team together, right?"
Teams were meeting ahead of time and doing preparation races to get to know each other's strengths and weaknesses, just like a real-world team, but all happening virtually.
All motivated by a big, common goal.
Not your standard Zwift Race
There were four different pelotons (A, B, C, D), and while the numbers have grown since then, at the time an astonishing total of 700 people were registered.
So many, that at the time it would crash Zwift's servers.
Justin took the start line at 2 AM.
"They were trying to get Europe as well as the East and West Coast. I mean, you can imagine trying to line that up!"
He'd be racing, on his trainer, for the next three hours.
"There was this really strong guy coming in the last 10 kilometers or so," Justin said, "his name was Philipp Diegner and he attacked and had a super significant gap on the peloton. But like you can see this in that three-minute clip, he's up the road quite a ways and then in the last three kilometers he had a power drop!"
"Ya, you can see his power numbers go to zero, and I'm not too sure exactly what he typed into the game because Zwift filters it, but all I saw was four stars come across the screen… he was apparently not happy."
Tense Finish, Full of Support
Everyone thought the race was over, but all of a sudden the leader was absorbed and the peloton continued to charge forward to the finish.
"But then, finally his power meter picks back in and he's drilling it and with a kilometer and a half to go he attacks AGAIN and goes off the front of the peloton!"
Justin's teammate, Matt Johnson, who was in the earlier breakaway, covered the move and let Justin sit in the pack to see if it would all come together at the finish.
"I know that like my sprint is pretty legit from about, 20 seconds. So you know if that's somewhere around 400 meters to go I've got a good shot," Justin recounted.
"Anyone can act a fool for 20 seconds, so just go bonkers," Justin said, reflecting on the win. "I mean, the timing was perfect, I dropped my aero power up, and apparently I broke away from the pack and I caught those two guys and ended up getting the win. It was pretty awesome."
How awesome? Check out the victory pose: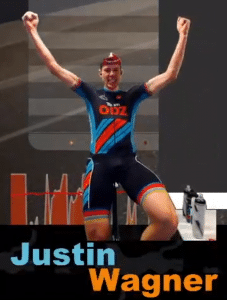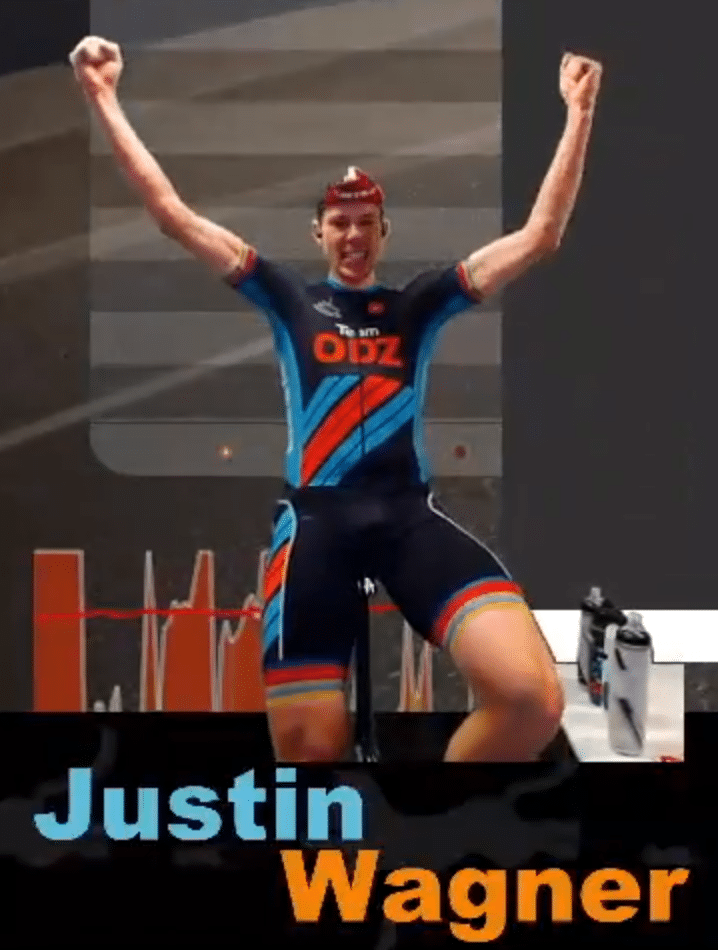 And if you listen to the recording of the race finish, you can get a sense of just how close the TeamODZ community is. Justin had the voices of a dozen or so members of the team screaming in his ear as he started his sprint and passed the leader with only 50 meters to go to the line.
It was a win at a Virtual World Championships, and it was a moment that brought their online training community closer together.
Champion? He Started as a 255lb Commuter.
But believe it or not, Justin wasn't always mixing it up with professional racers online. In fact, he was pretty unhappy with his fitness level only five years earlier.
Justin had some endurance sports experience from running on his high school track team and was even running in the 17-minute range for a 5k, but once he realized that he wasn't going to be making a living as a runner, he decided to focus on the next phase of his life.
He served a two-year mission for his church in Brazil and then focused on school and getting his degree so he could support his young family.
"Once all that stuff fell into line, and my weight went with it… getting married, having kids, getting my Master's degree… I was like, you know what? We need to get back into some serious athletic exercise."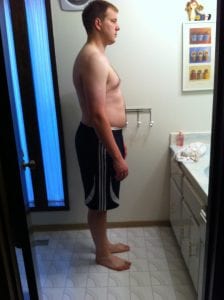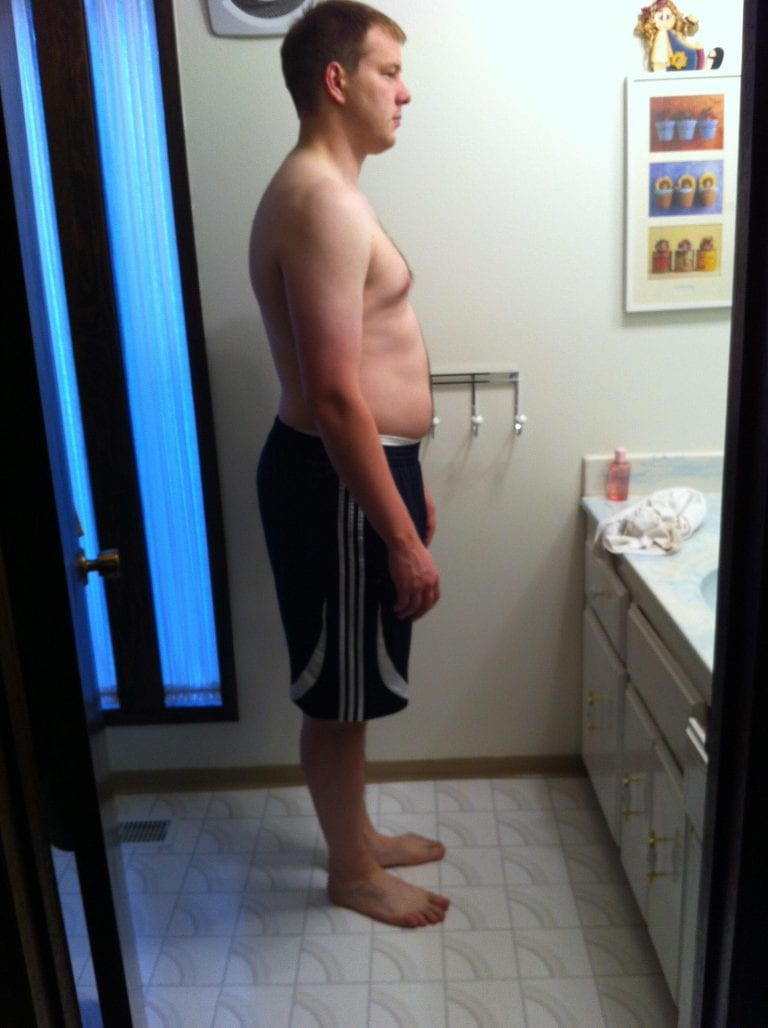 When he graduated from his Master's degree in 2012, he was 255 pounds.
"We were living with my parents while we were house hunting and my dad had a mountain bike that he never rode and we were four miles away from work, so I just started commuting back and forth."
No fancy bike. No software subscriptions. Justin just got started.
"There was this hill to my parents' house; it's probably like, I don't know, maybe two, three hundred feet. Not a massive hill by any means, but you know but I was 255 pounds and I was on a mountain bike and I tell you, I was wiped every time I got home but the pounds just started flying off from there."
Justin eventually bought himself a hybrid bike.
"You probably have our time believing this, but at the time I thought road bikes were for sissies and I needed something that could do a little more off-roading, you know? Do some trails with my kids. So I got a bike that sucks at mountain biking and it sucks at road biking! It's the worst of both worlds!"
Finding Peers, Tech, and Friendly Competition
Once Justin moved into their new home, and with a bike of his own and he found a friend at his church who was riding in the mornings.
Justin recounted: "he and I would go ride in the mornings and we were getting addicted to Strava. I was like: 'man these segments are awesome!'"
And here begin two themes that run throughout Justin's entire transformational story: Peer Connections and using Technology to get the most out of them.
Justin was finding local people riding on Strava and got motivated to compete against them on segments, even on a hybrid bike!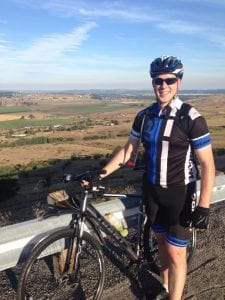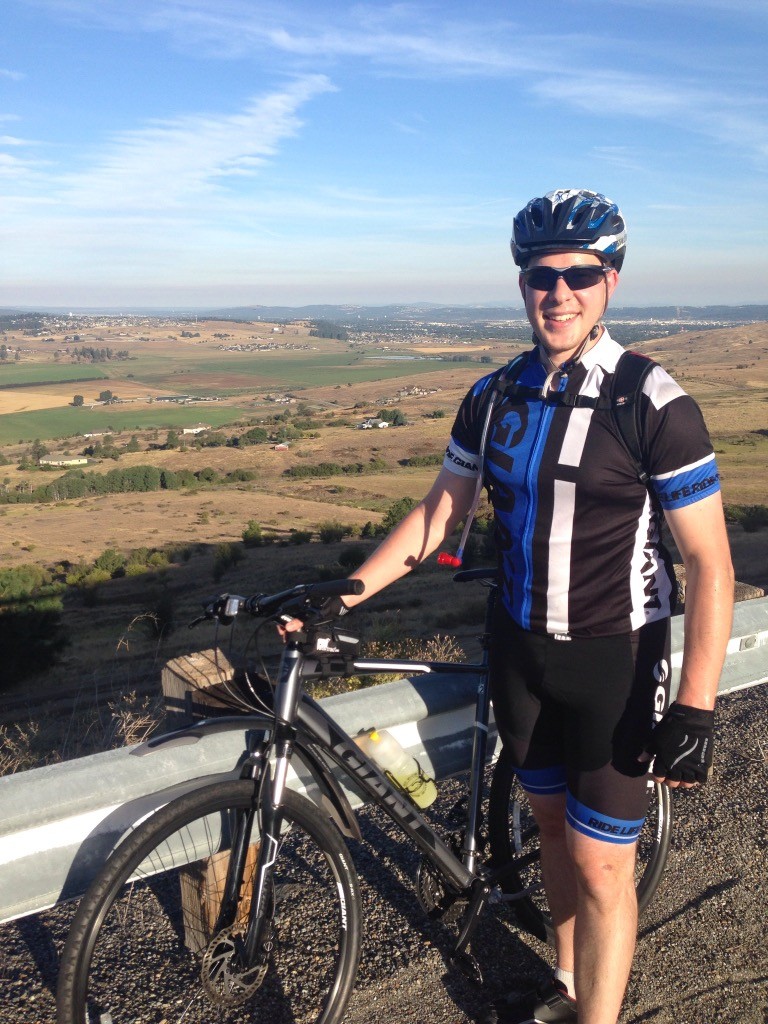 "Yeah, I mean obviously at that point it became competitive. All of a sudden I wanted to I wanted to see what other people were doing I wanted to one-up them and I wanted to get better than them, right? So it evolved and that competitive spirit started to come out…"
It wasn't long before Justin took his hybrid bike into a shop to get fit and reported that he was doing 150 miles a week.
"I'm sure they looked at me like: 'this guy's a complete nutjob… he's doing 150 miles a week on a hybrid bike?? What the crap!'" Justin joked.
"And I even printed off on my Strava stats and showed them my average speeds and they're like… long story short, I bought a road bike from them not a couple weeks later!"
Discovering the Indoor Training World
But it wasn't long before Justin discovered Zwift, the next important app in his progression.
"What's really been a big shift for me in training really was… I mean, wintertime came and we couldn't do outdoor rides together so we needed to ride another way. So I said, hey look, this Zwift thing is happening and hey, we even figured out a way that we could talk to each other," Justin said, introducing yet another way he's used technology to connect with his peers to support his training.
"We learned about this thing called Teamspeak. It's how we did our audio chat at the time, and the video we learned from was posted was by a guy named Chris Haskell."
They downloaded the app, got set up, and the very next morning when they logged into ride, "Lo and behold, THE Chris Haskell was in the chat room and we were like: 'oh man! what are the odds?'"
Chris suggested that they should check out the ODZ group rides, which were happening around the same time they usually rode, and as Justin put it: "They looked fast and fun. A ton of people get on Teamspeak and I was hooked."
But what exactly IS TeamODZ?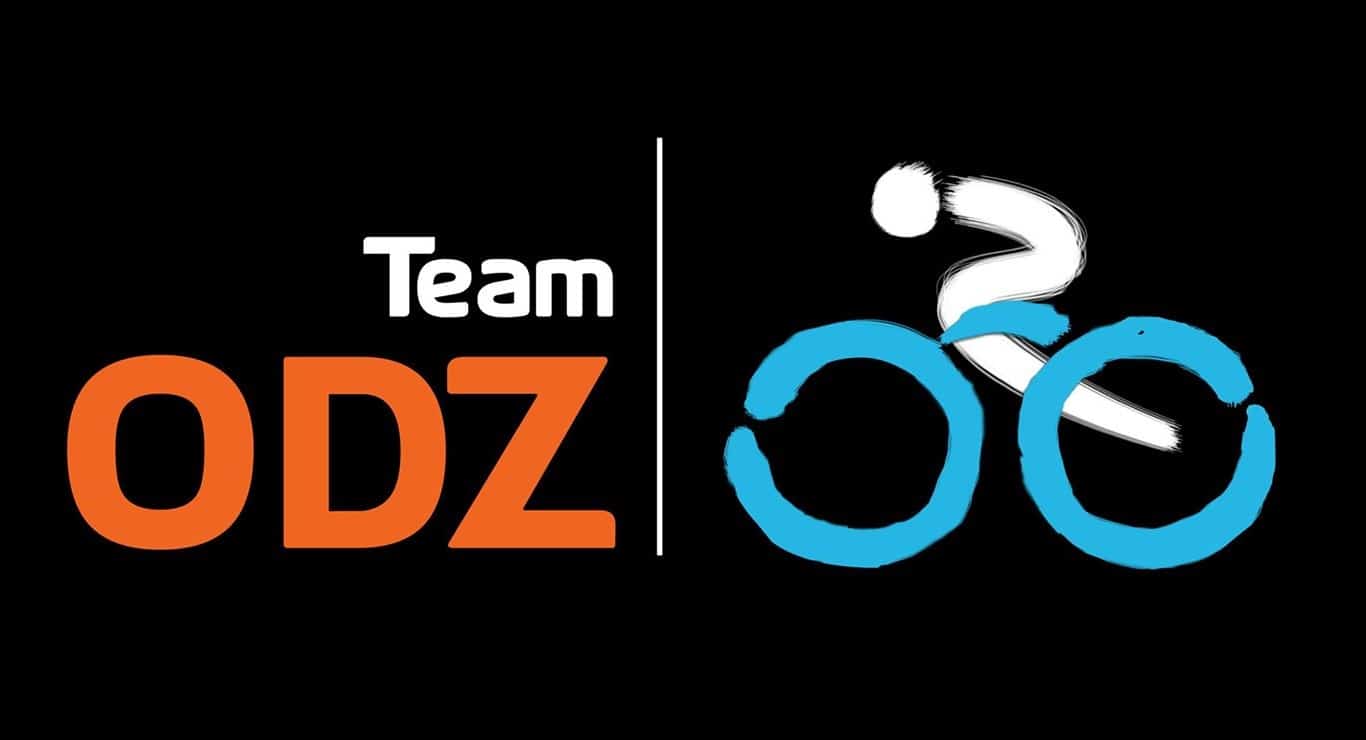 In our view, TeamODZ was Justin's next important step in his journey to build a network of peers around him.
Justin was trying to figure out what he should be doing in his training and he discovered a community that was sharing knowledge and helping each other improve.
This is what Justin had to say about the team:
"ODZ is an online community of cyclists and triathletes. Basically, we're all about having a good time while he trained online. I mean, number one, a lot of us are in the same category where training indoors, online, is a necessity for us and we want to have fun while doing it. We want to help each other learn and grow, and so there's a lot of different aspects of how that comes into fruition."
For example, Justin himself ended up creating an internet video series called "Watts Up With Power" where he shared the information he was learning on his own about training with power and invited professional coaches and industry thought leaders to join him.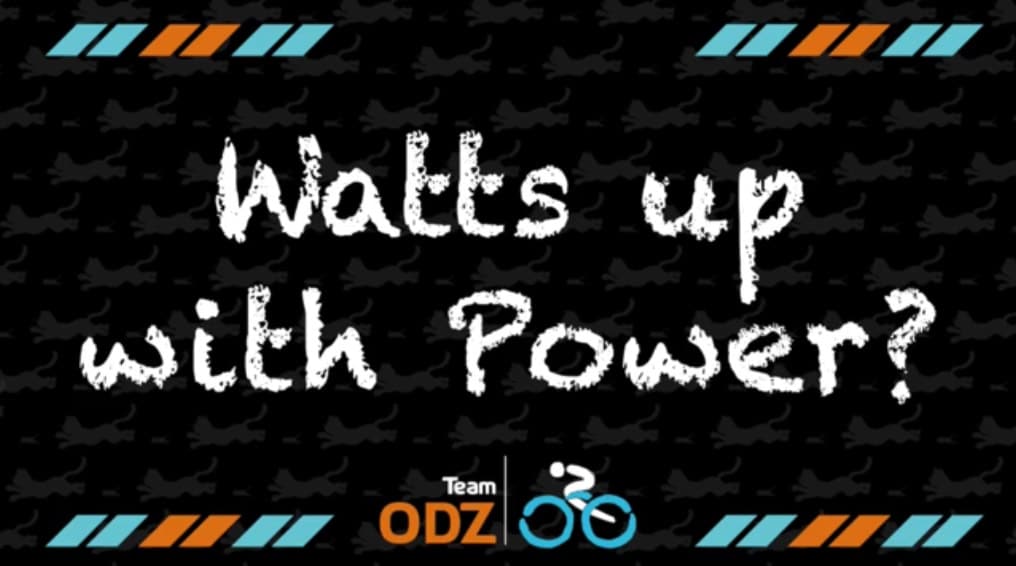 One of ODZ's coaches, Ian Murray, has done a show he calls the "Skills and Drills Ride" where they teach people the basic tactics of riding in a peloton, bridging to the breakaway, attacking, etc.
And one of ODZ's founders, a man by the name of Jason Flores, did a show he called "In the Feed Zone" where he shared his knowledge about diet supplements and helped people understand different dietary myths.
"The key point there is that members of the community basically help others by just sharing the information they have and we all kind of improve ourselves through learning from one another," Justin summarized.
"That's kind of its kind of one of the big things about ODZ, really. It's just a great community."
The Helpful Beginnings of the TeamODZ Community
But how does a community like this start? Justin mentioned one of the ODZ founders, Jason Flores, and we got in touch to hear just how all this started.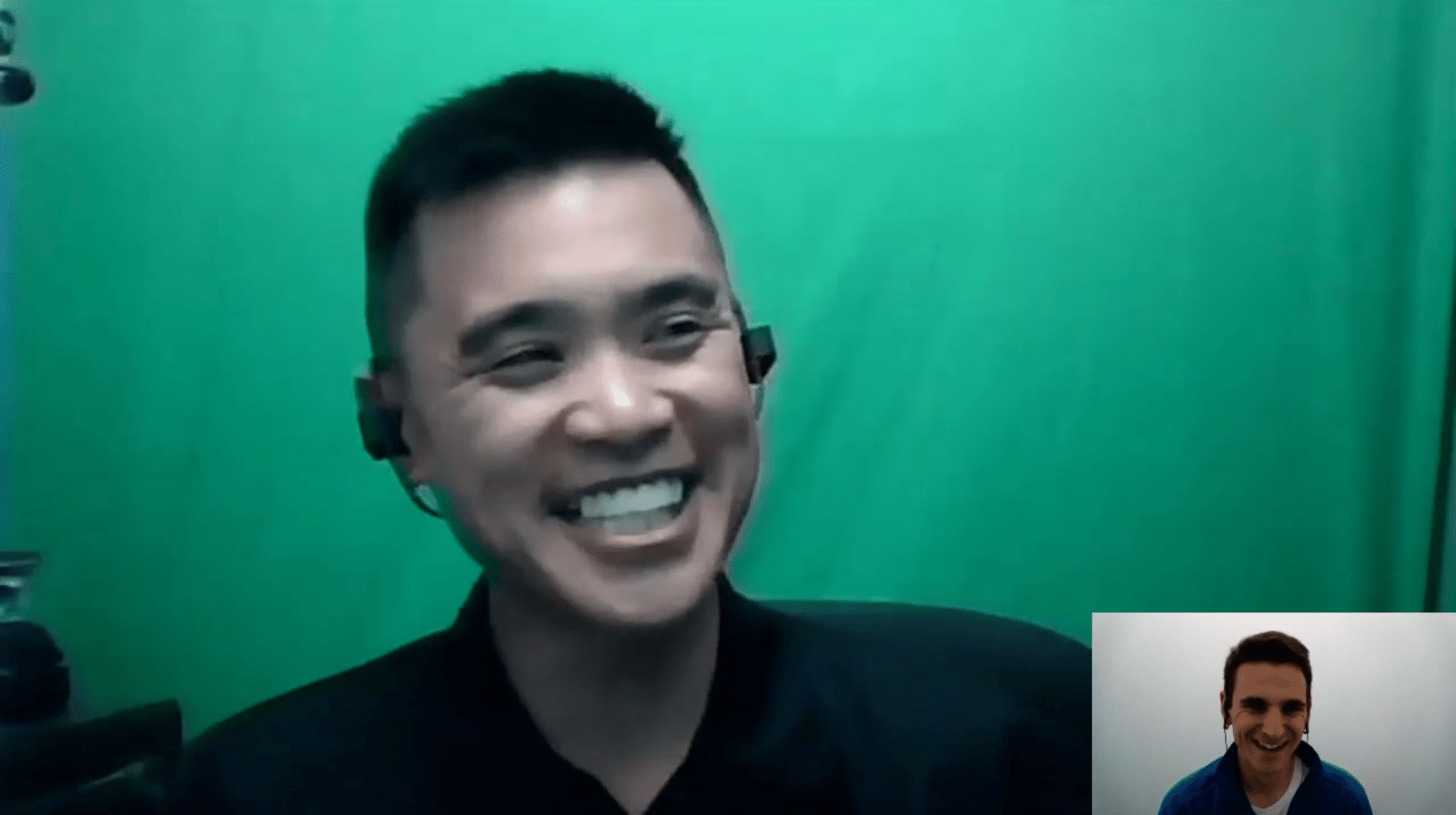 "So, it was it was a crazy journey," Jason began,  "you know Justin's definitely a big person that you see out there with the name, and we're really proud of that, but really how it started was myself and another rider by the name Quan Nguyen."
Jason and Quan are both optometrists by trade, and in the early days of Zwift there was a lot of East Coast-centric rides starting at, so it was quite early for those on the West Coast.
"We just committed together saying, 'hey let us try to get together on this island, this Watopia,' and we would just meet up."
At the time there were no starting areas in Zwift, this was still in the beta days where groups would meet up at the start line and wait for the ride leader to send a message that said: "Go!".
"It was the same way that you would meet up at a coffee shop. You would start chatting up people and be like hey we're headed out in five minutes, we're going to do five minutes, we're going to do five laps and we're gonna do this pace," Justin explained. "You know, follow this ride leaders name and we just did that!"

As the started to do more rides in the West Cost time window, they ended up gathering more and more riders that were in that time window and that ended up being part of their group.
"The name TeamODZ is actually a play on our profession. We are both optometrists which are OD's, and we are just OD'z out on course, and it was funny and it just kind of stuck and it was something that everyone has kind of now put their own spin to what the letters mean," Jason chuckled.
I told him that I had already heard a few variations…
"Ha! Ya, Justin is not shy to share what they all are, you know, anything from 'OverDosing on Zwift', to, 'Overly Dominating on Zwift', to, really whatever we can come up with!" Jason joked.
"But it's essentially evolved into: what does it mean to you as a rider? And really, it just means, for us, community. It means a place for you to go to ask questions."
At the time, they were some other Facebook groups where you were able to ask questions and Jason commented that you may get kind of sly remarks or answers but the ODZ group would always try to be very honest.
"We were very simple from the very start. We offered very well curated rides at a few time zones where we just were kind of focusing on people who could ride in our window we weren't trying to serve the whole population of Zwift but just when it was convenient for us and one of the things we've always had as kind of our mottos is we want to do what we do that makes it that makes it fun and when it stops being  fun then it's something we take out of the schedule."
Helping people join the community, one set up at a time.
Another reason TeamODZ took off, rather than other groups at the time, was because of their willingness to help riders get set up with the technology they were using at the time to have voice conversations while they rode.
"That was a time when Teamspeak and discord were kind of coming into fruition," Jason told us, "and I'd like to say that we're one of the earlier teams that got involved and adapted people to using that Teamspeak at the time to be able to use that audio portion of it where we were stuck we weren't texting anymore and we were able to just talk more naturally that like you would in a ride."
TeamODZ is so technical, well organized and systematic that we had to wonder if at the start they had a big plan and vision for this team or if it was just something that kind of happened…
"Not at all!" Jason told us, "It wasn't something that I was looking to say hey like I want to build this group it was just a group of friends that grew. We created a group to really just answer questions for setup. We're a very technically inclined group so as people came up with 'oh I'm having trouble with this, I'm having trouble with that,' we'd be able to honestly answer questions and help people with setups."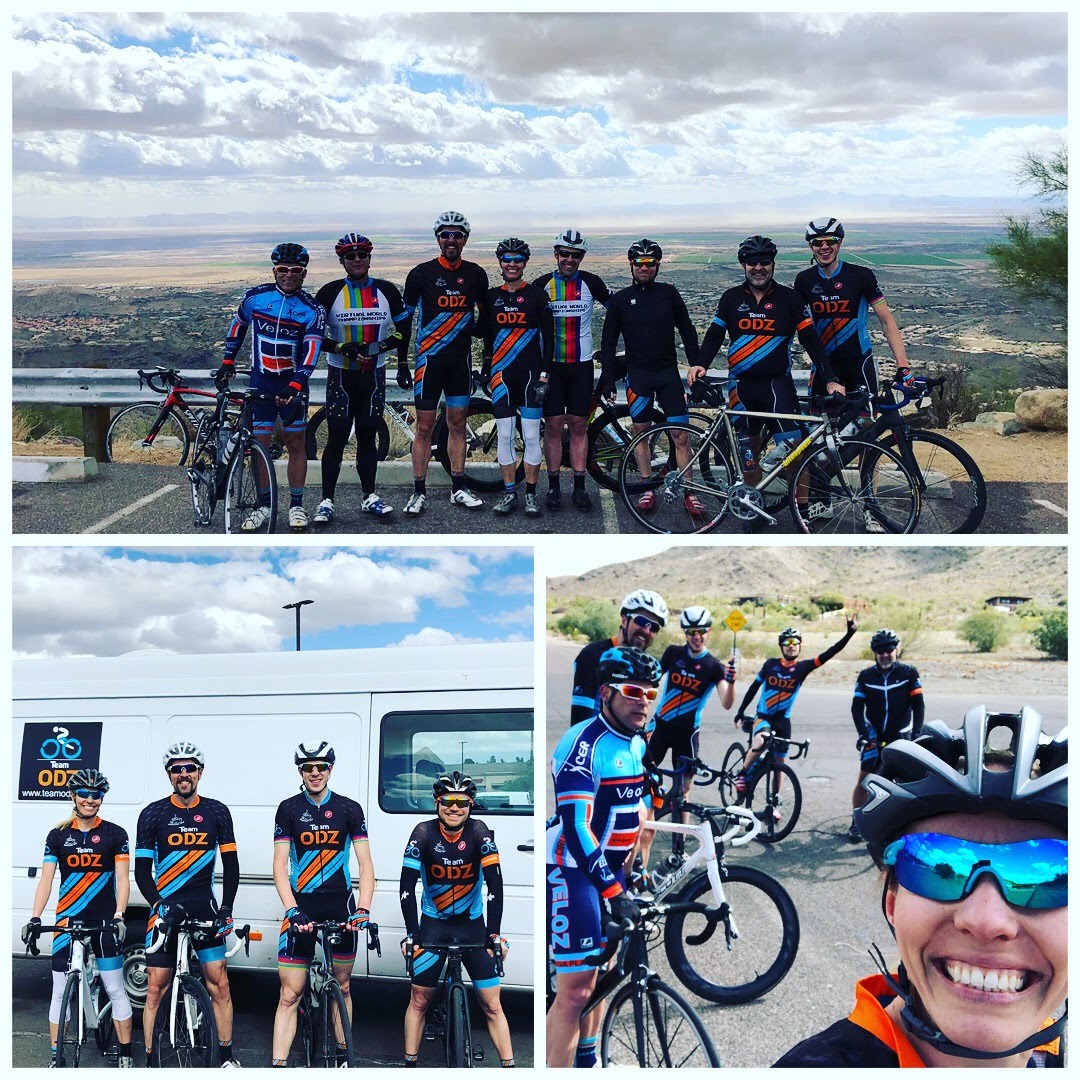 The ODZ community has a very inclusive and helpful culture. It was very interesting to hear how it was not only there at the very beginning, but really, it was this helpful approach that's exactly how TeamODZ grew.
"How many stories we have of people where we'd say, hey, you know, I think your setup's messed up. Can we take a look?" Jason recounted. "You know, they're some of our strongest right leaders today and they're some of our best, most outspoken spokespeople for the team and on the Facebook group."
When talking about ODZ's racing focus, Jason quickly said: "You know, obviously it's a game and we don't take ourselves too seriously. Maybe once a year for the virtual championship which a lot of us take a lot of pride in, I'm sure Justin told you a lot about that."
"That's really what kind of bonded our team. We were representing the US. I guess it was like, a Nations team, essentially, and it was a hodgepodge of everybody that was racing in the US and that's where ODZ was bonded as a team."
ODZ's Common Goal: Ride Well Outside
One thing that really brings TeamODZ together is the fact that they have a common goal, and that's to ride well outside.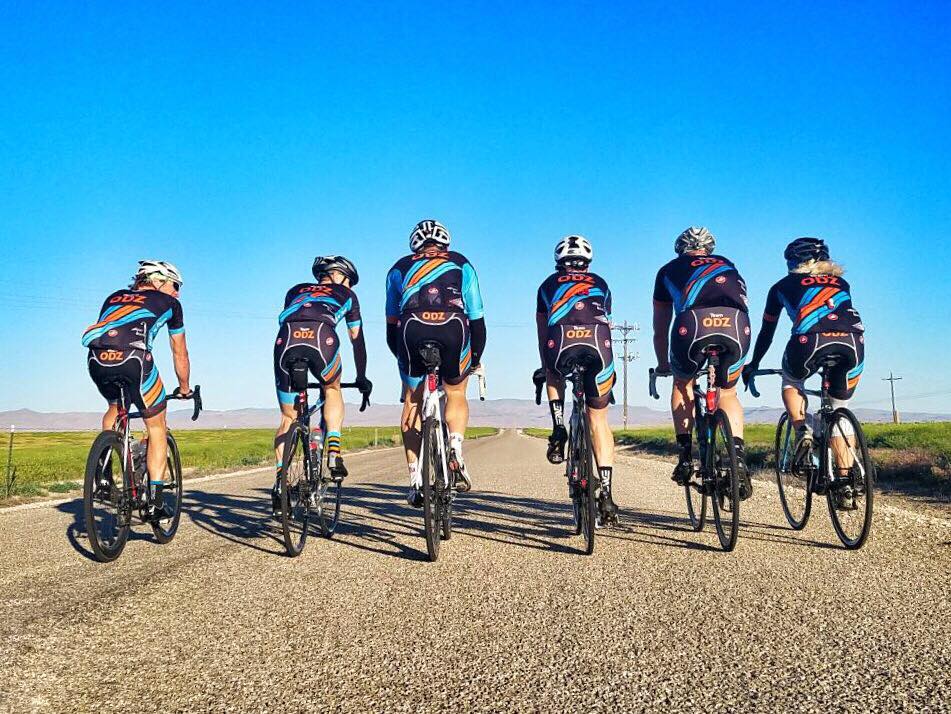 In order to improve the team members need guidance, but they also have to enjoy riding, which is especially hard because they're always riding inside!
But as we saw before, TeamODZ has a lot of different training shows and content so it's members aren't only riding together, but they're learning together as well.
"It's all about, for us, indoor training so we can perform outside. You know, there's probably some groups that are just like, hey, we just do indoors and they love it and that's all." Justin told us. "We understand it's a means to an end for outdoors for us."
Justin isn't shy to share how much this group means to him:
"Having a community… like, I have FUN when I ride the trainer. There's just so many people that I talked with that I've met and I know over the years that like… it's fun! We tell a lot of stories and it's efficient, you know?"
And he really feels that with TeamODZ, he's found something quite unique and rare:
"Obviously my end goal is to be good outdoors and just because I can't ride outdoors that I'll do indoors, but it's been a HUGE thing for me to be able to do some really focus training in the winter time with a community that supports me."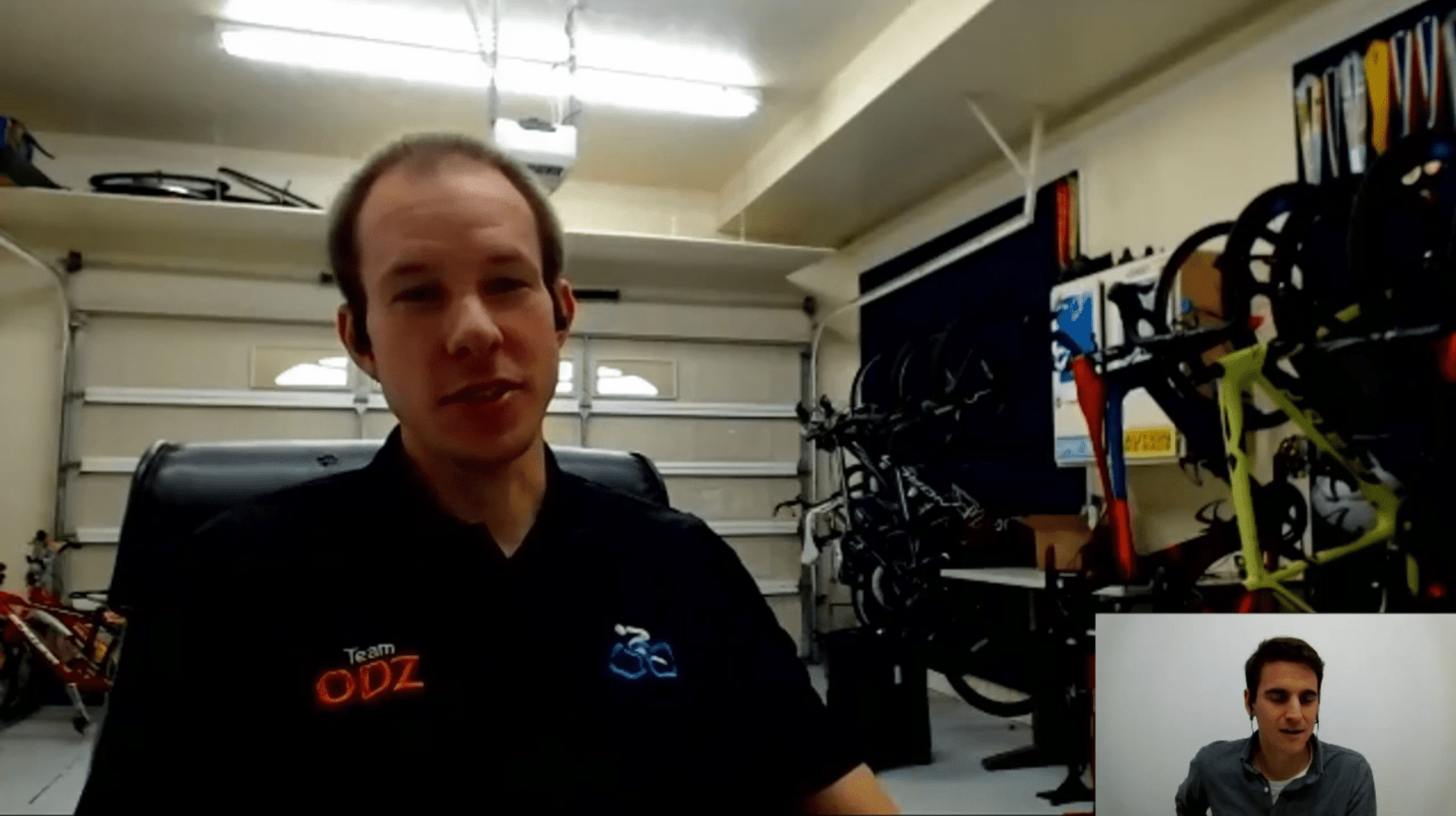 "You know, I feel like because it's just such a community of people that have gotten to know each other, like it's, it's really hard to have a really close-knit community that lives really close to you that has the same goals objectives or is just as crazy about whatever specific thing you're crazy about, right? And so having this community, where I can talk about and learn from them or share in their experiences… we share, you know when things happen in life and you may not be performing on all cylinders. At some point your life something may happen… there could be a job change, you may have to move to, you may have shoulder surgery, all these things happen, sometimes all in the same year, [note: this actually all happened to Justin this year] and so you basically you keep motivated by seeing other people in the community. You basically feel motivated to keep going because you see them and you know that's awesome and, you know, I want to keep going."
Learning from a Community
"So, I'm a self-starter" Justin told us, "so I told people: 'hey, I'm gonna Self-Coach' because I was too cheap [to hire a coach] and they said: 'you need to read Training and Racing with a Power Meter or you're going to fall flat on your face'"
So Justin got the book and started reading it and he would take the things he would learn and go talk to others in the community.
"There were plenty of other power gurus," Justin said. "There was this guy out of Boise that I talked to, his name is Eric Denning. Total power nerd. And so I'd be like, hey, you know, I basically bounced off of him while we're doing these workouts together with the concepts that I had just read about in the book. And you know, basically he would correct some of my misconceptions and things I misunderstood  and I learned."
Relationships that help ODZ Athletes Improve
The remarkable thing is that Justin isn't only gaining fitness, but relationships, by learning from others and being involved in each other's training.
With ODZ's common goal, I asked who really embodies that in the team.
Justin had no hesitation before mentioning Patrick Verissimo, or Paddy the Pedal, as he's so affectionately known by his teammates.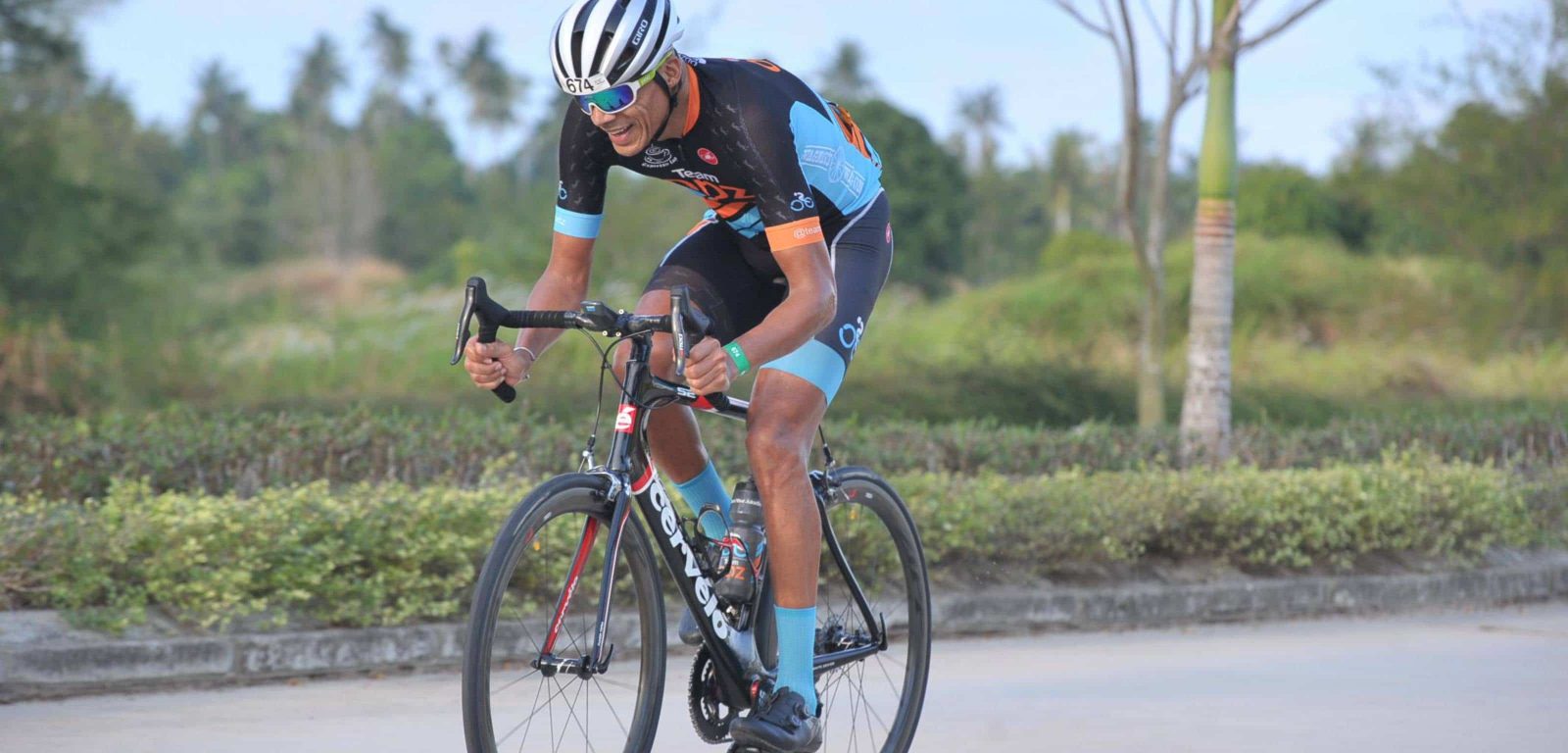 "He actually lives in the Philippines," Justin said, "so there's nobody geographically close to him ODZ wise, but he likes to travel to different master's category stage races all over Asia, and for him, he could actually ride outside all year long, but because of his schedule or what have it he does certain workouts on Zwift and he connects with us! And he's a huge staple in the community."
Riding indoors when you could ride outside year-round sounds crazy to most, but Justin explains:
"Using Zwift and connecting with that bigger community helps motivate him to get to the level he wants to be able to go off and compete in these stage races, you know?"
Another Commuter turned Competitive Cyclist, finding Community
So we got in touch with Patrick and asked him about his background and how he got into cycling.
"I've been cycling basically all my life," Patrick said, "but more in terms of you know commuting."
He would use the bike to get to and from university, not really for fitness. His sporting background was actually in football (or soccer, he said), but once that stopped he felt like he needed to get going.
"I still wanted to have a little bit of physical challenge so it was quite convenient you know to combine what I had been doing all along in terms of cycling and regained a little bit of the competitive edge, so I started to really enjoy the competition, you know? It's something that I discovered, or rediscovered."
Cycling has also given him an opportunity to discover and get to places that he hadn't been before. He's lived in many different places, but with cycling, he says, you think to go well beyond your known radius of home and workplace.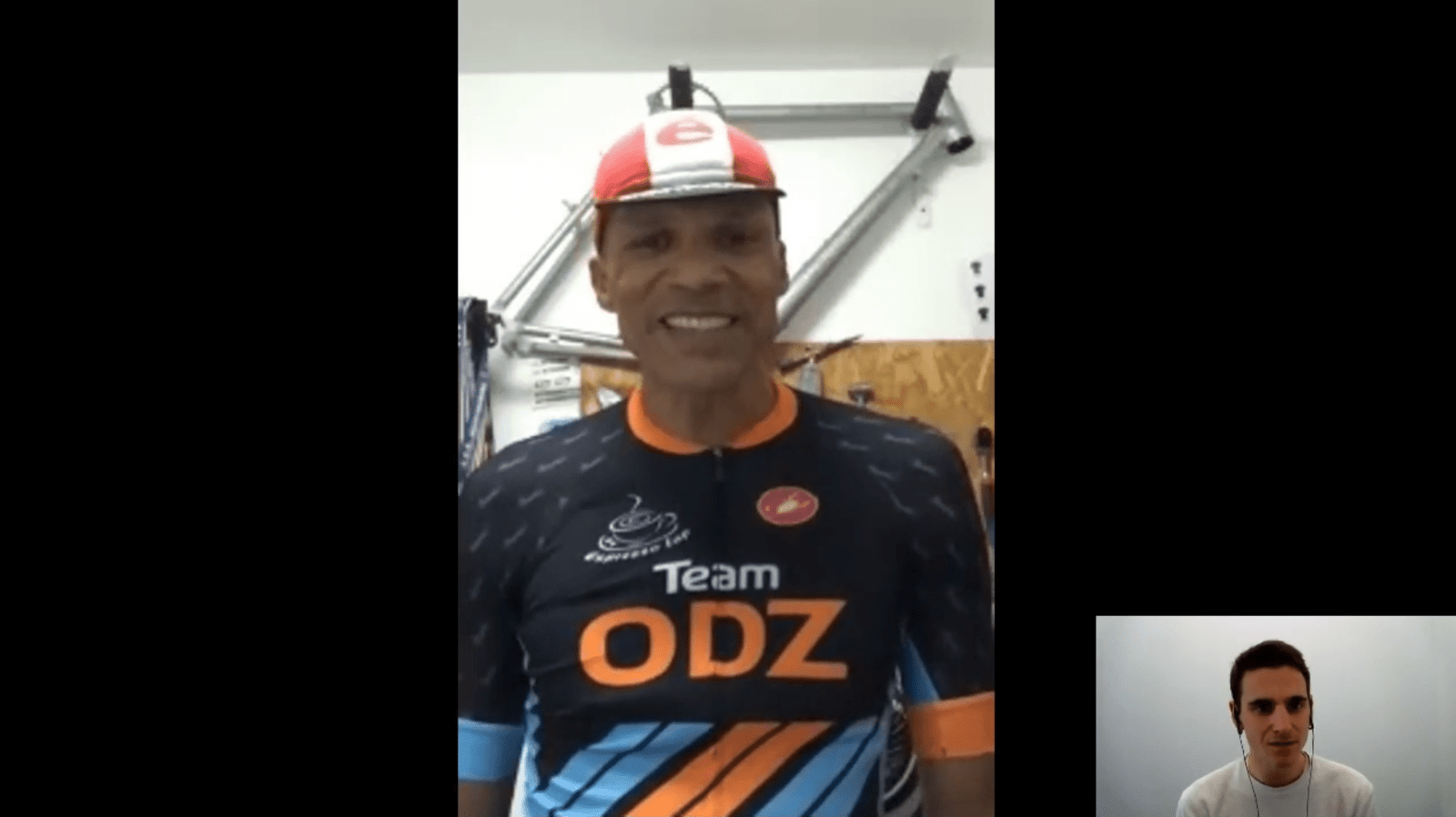 "You really go to the countryside and you meet people, you know? You meet people and you connect with them irrespective of their background or their professional standing, irrespective of their age, irrespective of their gender. You know, it's that sense of togetherness and still being able to compete with your peers that I found extremely attractive."
He discovered also that when he raced the Southeast Asian circuit that it's always the same people, from a varied background, that come together and that do those races.
Patrick expanded on this: "And we stay connected from one race to the other and sort of motivate each other, using platforms like Zwift or Strava to see what the other one is doing and how we're progression, you know?"
And even though he meets up with people at races from around the world, it's his global community of ODZ that he's never met in person before helps him get prepared for these big events.
I asked him specifically about his relationship with Justin.
"Ya, he's a really cool cat," Patrick admitted.
"I've been a regular on the wagon [Justin's Thursday group ride he leads for TeamODZ] and I discovered that a great cyclist and the interesting thing about him is actually that I don't think that he's been a cyclist at that level for such a long time. I think he came to cycling, at least at that level, only a few years ago but he's been like, you know, a shooting star, so to speak."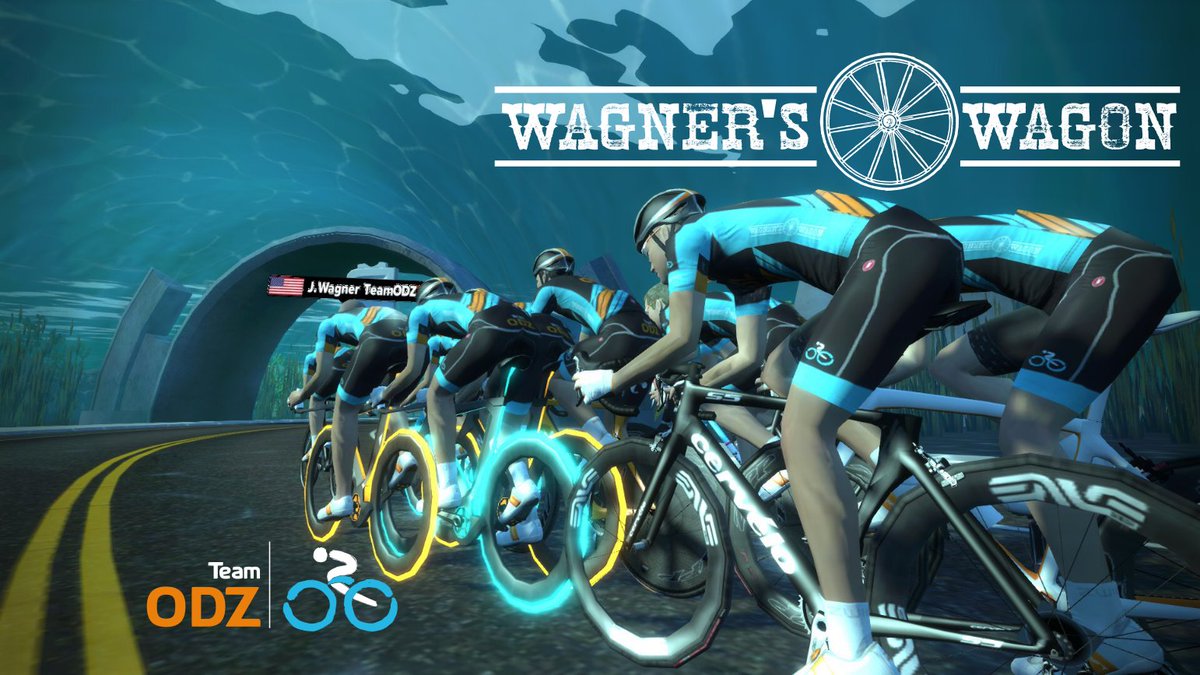 But it's not only Justin's cycling abilities that Patrick respects.
"He's very good, he rides a lot he trains but he also shares a lot of his knowledge. He shares a lot also of his success with others," Patrick joked, "because of course, he's very proud of what he has achieved."
"But what I like about him, is as successful as he is with cycling, and as much as he's invested also in the TeamODZ community, cycling is not everything, you know? He's very much a family person. He very much has a life outside of cycling as well and that's that's what I like with a lot of people on TeamODZ. It's not it's not this obsession, you know? It's just really for pleasure."
They're on opposite sides of the world, they've never met each other before, but they have the same mindset, the same goals and TeamODZ provides an environment where they can help each other improve and be successful.
Justin confirms the sentiment:
"Exactly, yeah, I mean I'm doing outdoor races and I've gotten up to the cat 2 level so I'm starting to race in my state, neighboring states, and I branch out a bit and try to get just some bigger races if I can, but yeah, and so completely different walks of life, different places, but just happens to work out for us that the time of day we train or whatever… and you know, we connect online and we develop that friendship and we help each other get to those goals."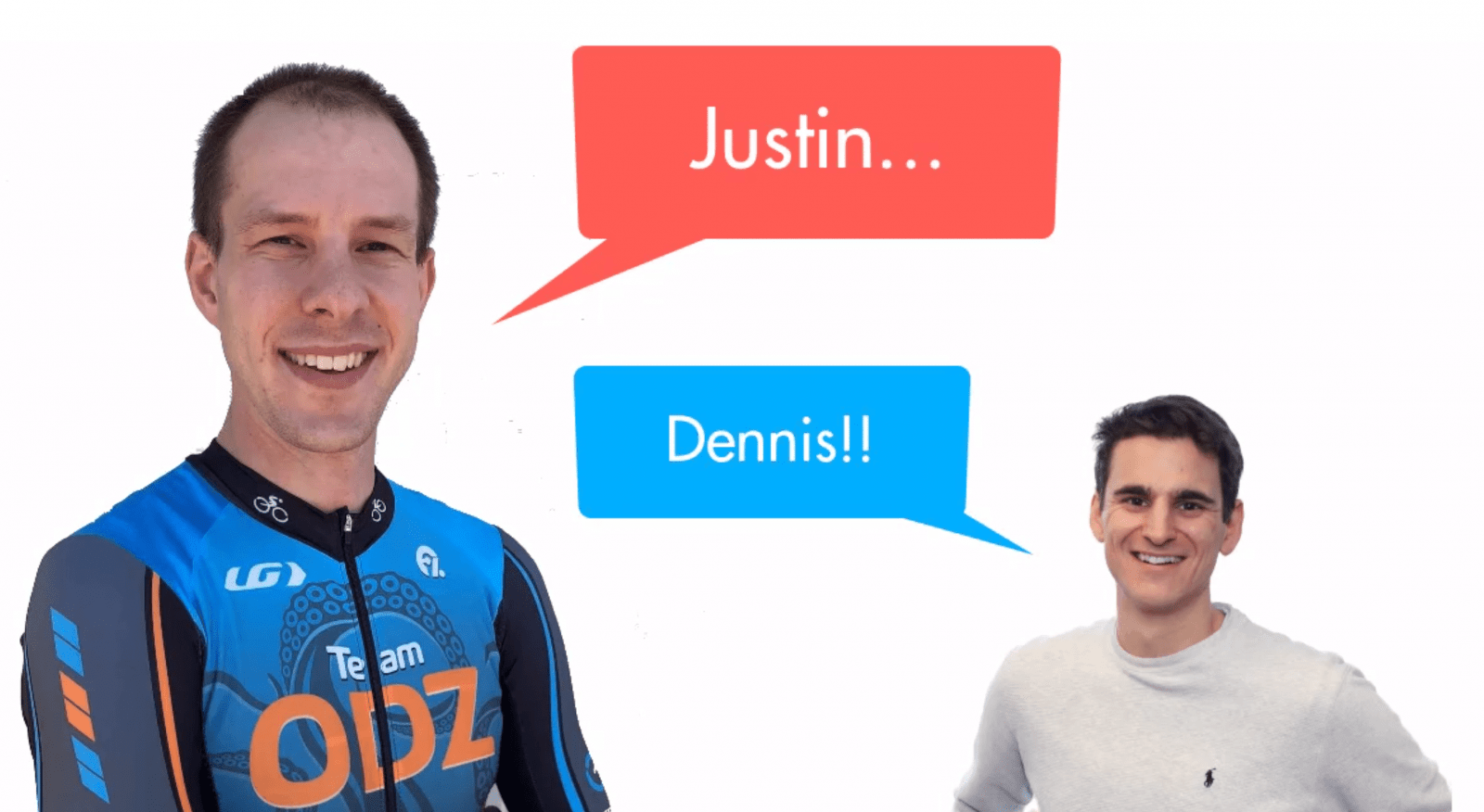 I had a pretty good idea of what TeamODZ was all about before starting this story, but in the process, I got some insights into just how powerful and meaningful the relationships being formed in this group really are to their success.
They really know each other and are involved in each other's training, leading to great results and great experiences along the way.
What's next for TeamODZ?
I had a lot of fun putting this story together and I couldn't help but ask what TeamODZ has planned for the future.
Justin told me, "Our goal has always been to make the best online community for training and so we're pretty adamant about just trying to make fun engaging activities."
We're known by no means married to any platform," he added, "so whatever platforms help us do that the best, to help people be engaged, we'll explore those avenues."
"We also want to encourage people to race their bikes outside. We think that's a sustainable part of… it's part of the sport that needs to exist." Which of course, is in line with ODZ's common goal.
ODZ has been registered with USA Cycling and British Cycling so people can affiliate with the team if they want to race with the colors in real life.
"But ya, that's definitely what we want to do. Just encourage people to be able to push themselves to the next level through great online training and getting out and racing outside too."
"And doing it through the strength of a good community," I added.
"Totally, yeah," Justin said, finishing up our interview. "Learning from the community, that's honestly, like… you know, there's no one major guru of everything. And if you have a community of a lot of different people who are awesome in their particular field, and the community can help direct people in the right way, you can really learn a lot."