The lunch ride at Specialized HQ in Morgan Hill, CA is a daily event where employees are pushed to get up from their desks, get outside, and get active. And years ago, Friday's ride evolved into a sort of "lunch ride worlds" where the victor received the one-of-a-kind jersey from the previous week's winner, so they could wear it for the next Friday.
Pros would stop by and take part. Good-natured rivalries developed. And sometimes, certain staffers got to win on their birthdays. Here's a fun video short all about it:
Beginning this Friday, Zwift + Specialized are hosting "Specialized Friday Lunch Ride" events on the platform. It's our chance to do what Specialized employees have habitually done for years: get away from the screen. Stand up. Kit up. And head outside for a competitive effort with friends.
Is This a Race?
Make no mistake: these aren't casual group rides. They are designated as races, with standard FTP-based mixed categories A-D and an E category just for the ladies. This first week's races are going to be super-competitive, with nearly 1000 riders signed up in total across the three events at the time of this post's publishing!
Schedule and Courses
Rides take place at three different times to accommodate riders worldwide:
12:30pm China Standard Time
12:30pm Central European Standard Time
12:30pm Pacific Standard Time
Events are only scheduled for the last two Fridays of June at this time, but it sounds like this may become a part of Zwift's weekly calendar if the events are well-attended:
See upcoming Specialized Friday Lunch Ride Events >

Kit Unlock and Event Equipment
All riders will be placed on the Tarmac SL7 for these events, using the new Roval Rapide CLX wheels. So effectively, every rider's setup will be equalized, giving newer Zwifters the same in-game equipment advantages and disadvantages as more experienced Zwifters.
Complete any of the lunch rides and you'll unlock the new Specialized SL Bicycledelics kit. Here's what it looks like IRL: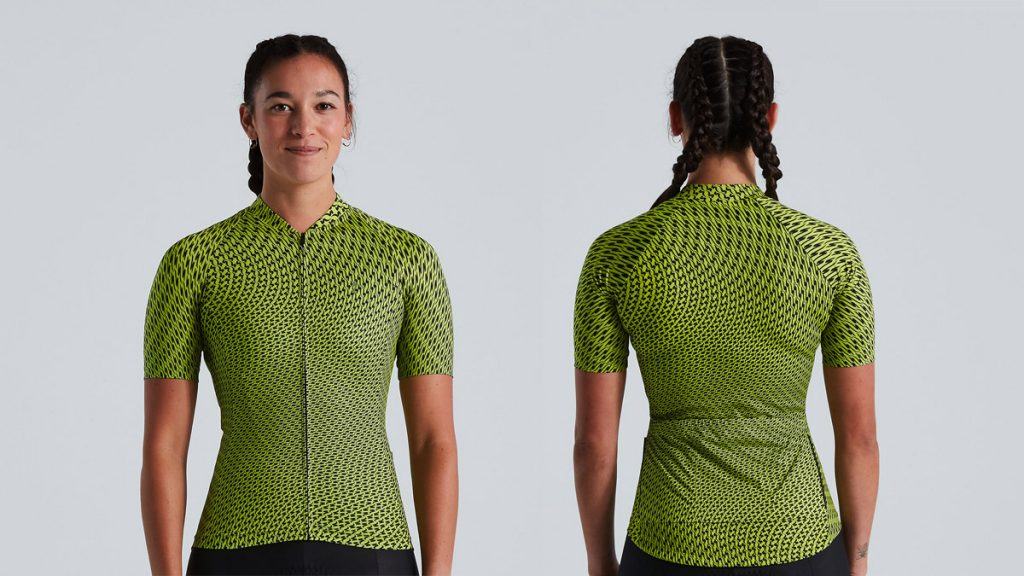 Questions or Comments?
Post below!