The biggest news in tech for the past 7-8 months has been AI, and the huge leaps made in this space with the release of ChatGPT and other tools. While the jury's still debating whether these leaps are bringing us closer to Utopia or our Matrixish demise, it's clear that AI can be used in simple ways today make our lives better.
Recommendation engines are one example where AI has been used for years to surface the things we're looking for (think Amazon's suggested items or Netflix's suggest viewing). This week Zwift released their new "For You" home screen feature, which is essentially a recommendation engine for your Zwift session. First announced in December 2022, "For You" is a row of activity recommendations (or as Zwift says, a "personalized collection of experiences") based on how you Zwift.
Let's dig into how this works, and where it may go next.
Personalized Recommendations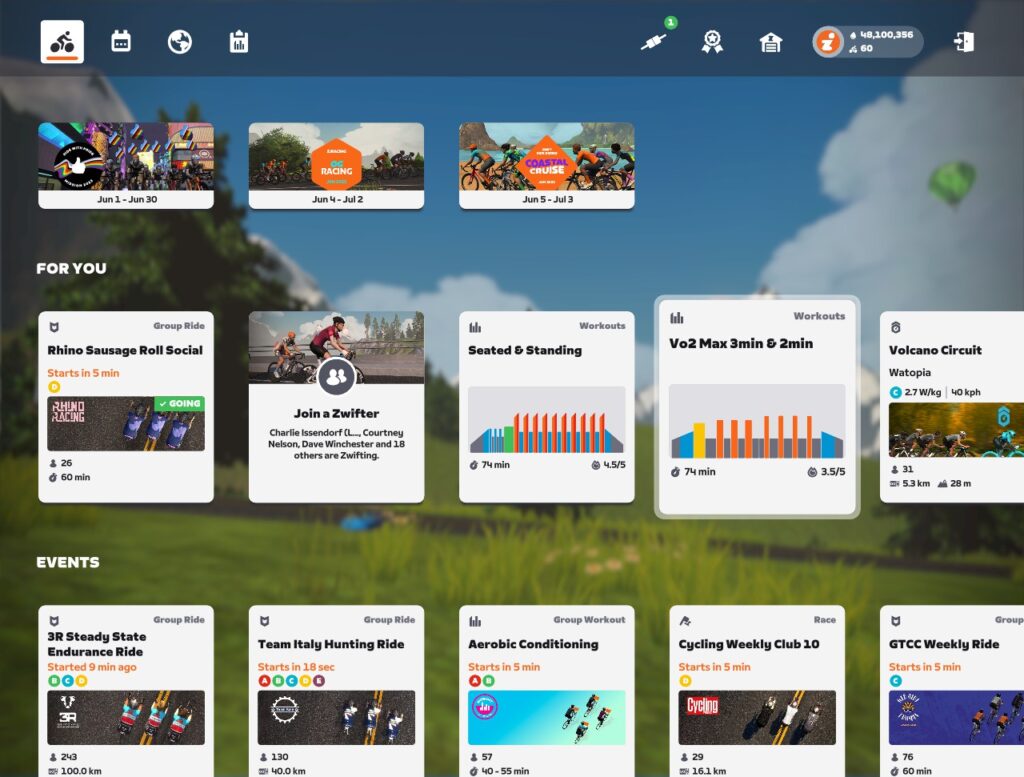 The new "For You" sits near the top of your home screen, just below the featured event boxes. It includes the following items:
Upcoming events you've signed up for (but only those starting soon)
"Join a Zwifter"
Recommended workouts, including your workout for today Today's Plan or TrainingPeaks
Recommended RoboPacer groups
A recommended route to ride
"For You" may also include other items – one of our test accounts included a box linking to the main Training Plans page.
Seven Ideas
Zwift says, "This is a feature that will evolve over time. In its current phase – it's designed to encourage exploration of the many types of Zwifty activities."
After taking a quick look at my "For You" row, here are several ideas I have for the next evolution of the feature:
Today's Training Plan workout: the carousel already shows today's workout if you're connected to TrainingPeaks or Today's Plan. Why not show the next scheduled workout if you're signed up for one of Zwift's Training Plans? Big miss, but an easy fix.
Route badge recommendations: I'm not sure how Zwift is deciding which routes to recommend for free rides, but it clearly isn't based on whether I have the badge or not. Recommending routes that roughly match up with what I typically ride each week on this particular day, and whose badge I haven't yet earned, seems like a great pick.
Event recommendations: create a profile for the type of events I tend to join on a given day, then recommend upcoming events that match.
Hide "Join a Zwifter" if none are online: if none of my friends are online, hide this box to make room for better recommendations. (Currently it just shows any pro riders who are online.)
Better RoboPacer picks: it appears the current RoboPacer recommendations are based on my power history, not my RoboPacer history. (I assume this because it is recommending Jacques, a 3.0W/kg bot I haven't joined in months, while not recommending the lower-powered Maria Maria who I've joined in recent weeks.)
Recommend more: the "For You" carousel currently appears limited to just 7 boxes. Why not 10 or 15? If each item has a good reason to be there (see below), it doesn't hurt to include more. Just keep the most relevant ones to the left (and maybe make it easier to scroll horizontally…)
Tell me why: it would be great to see why Zwift recommended a particular experience. Mouse over a free ride route: "You haven't earned this route badge!" Mouse over a recommended workout: "This will help boost your dismal VO2max!" 😊
Where To Next?
Zwift has so much content (think events and the workout library) that it can be hard to pick what you should do on any given day. I hope "For You" is just the tip of Zwift's recommendation iceberg.
Imagine if the system could become truly intelligent, recommending workouts like a skilled coach and picking races that match your typical race activities. It could even look at your recent activities to determine how fresh your legs are, recommending recovery activities on easy days and races/workouts/tough group rides on hard days. The game could interview you about your goals, then make recommendations to help you get there.
There's much potential here, and Zwift is only scratching the surface. If they can hone the game to become a better training partner/coach, everyone wins.
Questions or Comments?
Got other ideas for improving "For you? Chime in on this forum post to make sure your input is seen by Zwift staff. Got questions? See the You may also comment below!