Zwift continues to new features for runners on a regular basis, and recently hosted its first ever group run event.
Looking to join a group run? These events are available at zwift.com/events along with cycling group rides and races. You can also access them in the Zwift app in the upper right corner.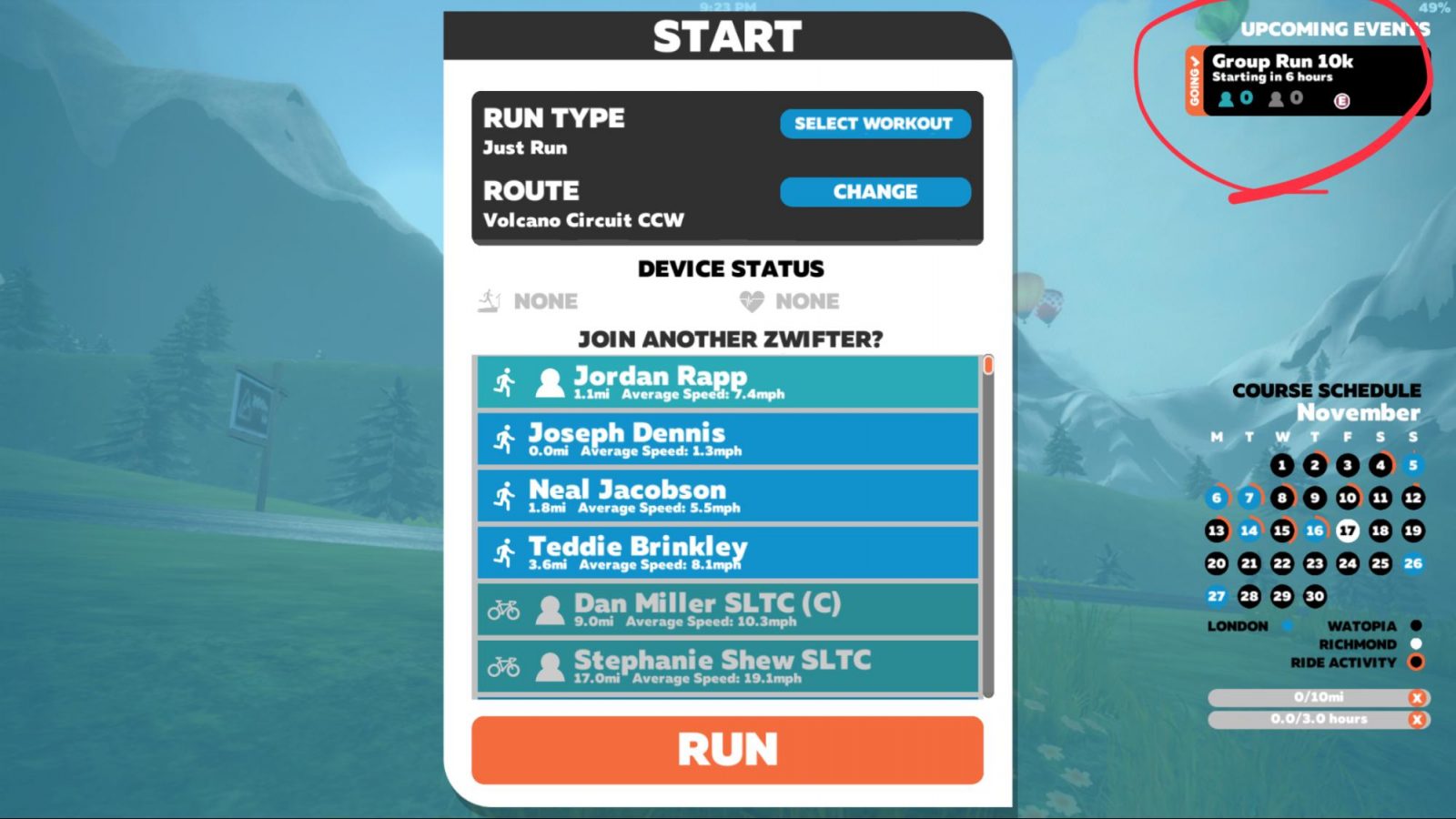 On November 18th, 2017 Zwift had their official first group run. The event was called "Run in the Park 5K" using a portion of the Volcano Flat route. 14 runners attended with 2 spectating.
Here are some comment from runners in the attendance from the first group run:
Kevin Spence- "Clearly has huge potential and really enjoyed the first official group event. In much the same way as the cycling helps you to keep pushing due to a little bit of competition the running works in much the same way."

Russ Crowder- "I use to run competitive when I was in my teens. Running for Jersey. Then I became hooked on cycling. I Would not of started running again if it was not for Zwift. I am now loving running again and in the real world too. Was on holiday in France this Summer and ran everyday. all because of the Zwift effect!!"

Jon Hancock- "That was great."

Jesper Rosenlund Nielsen- "

It was fun to run with others in an organised event – it gives you someone to chase. In my opinion it also really does make a difference to be starting from the start pen, waiting for the beeps, and then go off. Besides that it is always cool to try the new things in Zwift. I am sure that we will eventually see run events with hundreds of runners in them."

Martin Beastall- "Running on Zwift has been really fun. I've been using Zwift for just over a year now as a cyclist, but joining as a runner has given me the enjoyment and real sense of community that early Zwift cyclists on

Jarvis

Island must have had. Participating in the first official run, accompanied by

Jon Mayfield

(who was touchingly humble in expressing his worries that everything would work as planned as the countdown clock neared zero), felt like the culmination of months of genuine enthusiast participation."

Jon Hancock- "It was great to see Jon Mayfield joined us along with all the regulars. The beacon I was given as run leader was a nice touch that I wasn't expecting. The event was run in the same spirit as always with the group sticking together until the sprint point when I think a few max HR's were reached."

Jon Mayfield- "Having that first big group together really let me see the first real glimpses of how this will all turn out. So much fun. The following Monday I told more coworkers than I'd like to admit about my valiant sprint finish (which I lost)." (Jon was in attendance running even with a cold but he had to be there to try the new feature. He's uploaded run on Strava here. Jon is a runner himself, so the future of running on Zwift looks bright. )
The Zwift Running community gathers on Facebook in the Zwift Runners group, so be sure to follow that page for more information as running develops on Zwift. #StrideOn!