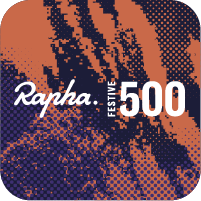 Ready to end the year with a festive feat?
For the first time ever, your Zwift rides will count toward the Rapha Festive 500 Strava challenge!
Every year since 2010, Rapha has challenged cyclists to ride 500 kilometers between Christmas Eve and New Year's Eve. The Festive 500 started in the south of England, and over the next 10 years it grew to become a global challenge. According to Strava, cyclists around the world have ridden a total of 130 million kilometers since the challenge began. In the past decade, 500,000 people have participated and 126,000 have completed it.
Find out more about the Festive 500 at rapha.cc/festive500.
The Challenge
Your task is to ride 500 kilometers (310.7 miles) in eight days, from December 24-31, 2020. Outdoor bike and handcycle rides count toward the total, and this year so do virtual rides, as long as you upload them to Strava.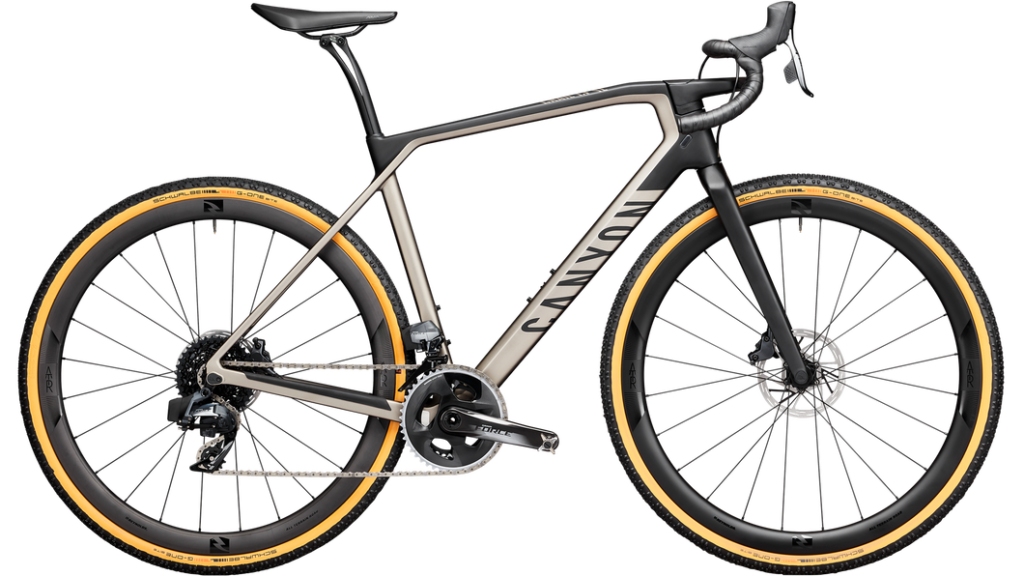 The Prizes
If you complete this Strava Challenge, you can enter to win a brand new Canyon Grail CF SL 8 eTap gravel bike.
You also could win more top prizes in the Spirit of the Festive 500 Awards.
For a chance to win daily prizes from Rapha's limited edition Festive 500 collection, follow Rapha on Instagram and share your ride using #Festive500.
How to Enter
Easy! First, sign up for the 2020 Rapha Festive 500 Strava Challenge. Then remember to claim your prize entry on the same page once you've finished!
2020 Rapha Festive 500 Workout Series
To help you get ready for the challenge, Rapha have created the Rapha Festive 500 Workout Series on Zwift. The series includes 60-minute structured workouts that you can do individually or as part of group events.

The focus of the workout series is on improving your endurance, by training in a smart way: plenty of varied efforts in and around Zone 3 (Tempo), suitable for any rider wanting to improve their general fitness and endurance.
The workouts were designed by Matt Rowe, founder of Rowe & King Coaching. With 25 years of cycling experience, Rowe coaches amateur cyclists all over the world to achieve their personal goals.
The group workout series finishes its first round this week with Workout 6. The second round starts the week of Monday, Dec. 7, but it will only get through Workout 3 before the challenge starts. Each session runs three times per week – once each in the evening for Asia-Pacific timezones, European and African timezones, and American timezones.
Miss some sessions? You can always do the workouts on your own. Find them by selecting "Training" at the login screen and scrolling to the "2020 Rapha Festive 500" workout folder.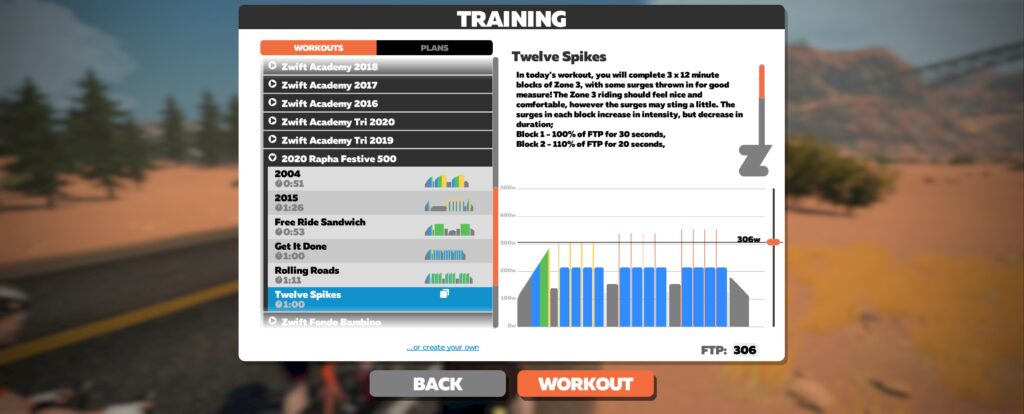 Check the event schedule and sign up at https://zwift.com/events/tag/f500.
Group Workout Details
Rapha was founded in 2004, hence the name of the first workout of the series.
You will complete 2 x 15 minute blocks, each containing a 10 minute ramped effort, followed by a short block of 'Over-Unders' where we tip above and under your threshold before a big 30 second push at the end. You will spend a lot of time during today's session just below your threshold power, with a small amount above your FTP – an efficient way to help improve your endurance.
3 x 12 minute blocks of 'Tempo – Endurance' – this should feel nice and comfortable as you alternate between Zone 2 and Zone 3.
At the end of each 12 minute block, there is a 1 minute 'free ride' – depending on your current level of fitness, you can either drop the hammer and give it your max effort, or take some extra recovery. Today's workout is one of the purest type of endurance workouts there is – no nonsense, keeping the chain tight and getting it done.
3 x 10 minute blocks of effort. The first and third blocks are at 88% of FTP (top-end of Zone 3), with the middle block a Free Ride, so you can ride as hard or easy as you like (target being to complete another Zone 3 block).
This is another purist way to develop your endurance – no free wheeling and consistent muscle tension.
3 x 12 minute blocks of Zone 3, with some surges thrown in for good measure! The Zone 3 riding should feel nice and comfortable, however the surges may sting a little. The surges in each block increase in intensity, but decrease in duration:
Block 1 – 100% of FTP for 30 seconds,
Block 2 – 110% of FTP for 20 seconds,
Block 3 – 115% of FTP for 15 seconds.
At the end of each 12 minute block, there is a 1 minute 'Free Ride' – depending on your current level of fitness, you can either drop the hammer and give it your max effort, or take some extra recovery. The significant volume of Tempo riding, coupled with the surges will help develop your endurance.
3 x 15 minute blocks of Tempo, made up of short ramps (lower through to upper Zone 3) to offer some variety to the effort. Remember, Fun is Fast!
At the end of each block, you will complete a 10 second sprint, just to keep in touch with your top end – you don't want to become too one-dimensional.
(Rapha Cycling Club (RCC) was founded in 2015, hence the name.) A 15 minute 'Free Ride' and 5 x short blocks of Threshold (Zone 4) before finishing with a ramped effort right up to Zone 6.
This is a really varied workout to keep your mind engaged and body working hard. The key block is the 15 minute free ride – will you push hard, or take it steady? Your answer should depend on how much you want the Festive 500? If you want it – go hard, to give yourself a big training stress in this final workout.