You've probably heard of Derek Boocock, a fellow Zwifter, ride leader of many WBR (World Bicycle Relief) rides, and an ultra-cyclist living in the Netherlands. If you haven't heard of him you've really missed out as he has the most incredible life story!
It all begins when he was diagnosed with cancer in his thigh at the age of 14. It grew quickly and he was told they'd have to amputate. He loved to run and so his mother championed the doctors to keep his leg. By the time his surgery was done he was told he would never run again and would probably have to wear his brace the rest of his life. A year later he ran his first marathon for charity. He also began cycling seriously.
When he was 21 he joined the army where he found that he was made for endurance sports. Running, climbing, mountaineering and skiing were a huge part of his life.
After the Army he was fascinated with rock climbing, and found that mountain biking was a good way to get to the more remote areas to do so. As he rode more he and a friend set up the West Yorkshire Rough Riders, which continues to flourish to this day. He eventually moved over to road cycling, which opened up more possibilities of ultra endurance events.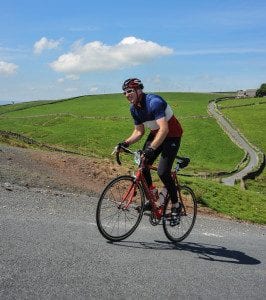 In 2005, at the age of 48, Derek's cancer struck again. This time it was in his prostate and he had a procedure done to rid it. Within weeks of the procedure he was the unofficial trainer for a small group of riders who planned to do a 1,000 mile (~1600 km) LE-JOG charity ride. Because he had just had surgery he was unable to sit on a saddle, so he decided that on their first 100-mile (~160 km) training ride he would do as much of the ride as he could, completely out of the saddle. True to his nature he did the entire 100 miles out of the saddle!
While he was receiving treatment and gaining back strength he also rode in a charity challenge of 970 miles (~1560 km) in 4 days, raising money to send a friend to the Philippines on a mission. He also rode the Marmotte where he gained the gold standard for his age group.
In 2007 his wife Caroline was diagnosed with breast cancer and they responded by running their own event to raise funds for cancer research. In late 2009 she was diagnosed with secondary stage breast cancer and was given just 12 months to live. She died 9 weeks later. Derek's world fell apart and he fell into a deep depression. He quit taking care of himself, let his business slip and shut out the world.
During this difficult time he found his cancer had spread to his lungs. He beat it again, but lost most of his left lung in the process. His lung cancer is terminal and in October 2012 he was told he had 12 months to live. He decided to go cycle touring. When his doctor asked him where he'd go he said to the roof of the world. The doctor laughed and told him it would be impossible to breathe up there. He replied "I like impossible!"
He took the next few weeks to sell his house, business and car. Everything else he gave away to charity. His only worldly possessions were now in his bike panniers. He made it to the roof of the world, cycled the Pamir Highway and sent the oncologist a postcard that read "nothing is impossible."
Continuing on his tour he ended up cycling across Canada where he met the love of his life, Hilke, also an avid cyclist. Derek spent much time with Hilke and on club rides trying to gain his fitness back. During the winters Derek needed a training system that kept him inside due to his poor immune system and that's when he found Zwift. By the beginning of 2016 he was back to decent fitness and completed 410 kms (~250 miles) in the New Year 12-hour Time Trial. In October 2016 he broke the Zwift distance record, cycling 1,620 km (~1006 miles) in 52 hours, 37 minutes and in December he scored the highest mileage in the World Bicycle Relief charity event that raised funds to send buffalo bikes to Africa. Derek continues to lead rides on Zwift for TeamWBR, to help Zwifters in their training. TeamWBR also offers races on Zwift as one way to get awareness out about the Buffalo Bikes that WBR sends all over the world.
Most recently Derek has been training for the IRL Transcontinental Race coming up on July 28th where he will be raising funds again for World Bicycle Relief. On June 18th, 2017 Derek was taking a rest after a grueling 600km (~372 miles) audax as part of his training. He was sleep-deprived and left his bike for 60 seconds to grab a snack and his bike and most of his kit were stolen. He had been training for the Transcontinental for over a year and had worked very hard to get the proper kit for it. He was devastated.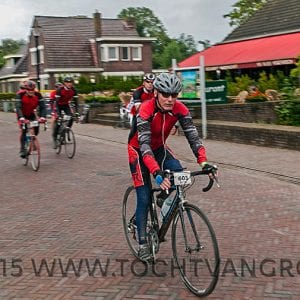 He, and some of his friends from the virtual TeamWBR have been working to get the funds back to replace everything so he can continue with the plans to race on the 28th. Stephen Tweed, a fellow TeamWBR mate is heading up a fundraiser which has gone quite well. Specialized has offered to loan him a demo bike with the option to purchase it should he be able to raise sufficient funds. The Zwift world has currently raised £1,620 (~$2100) of the £6,000 (~$7800) needed, supporting not just Derek, but also all of the charities he raises funds for! Stephen Tweed told us that the support Derek has seen through being on the receiving end of a charity has given him a real desire and determination to give it his all at the Transcontinental Race.
If Derek is able to collect all of the monies he needs to put his kit back together he'll go on a long overnight ride to finalize and test his equipment in preparation for the race. In the meantime, he'll keep riding his Giant aluminum training bike on Zwift. If you see him out there, give him a Ride On and then head over to the fundraising page and help a generous man get back on his mission!