With more big events than ever in our virtual cycling paradise, it's easy to miss some really cool rides! Here are 5 events this weekend that you won't want to miss.
Special thanks to Jesper at ZwiftHacks with his Events app which provides powerful event filtering tools so we can narrow the weekend list from 400+ events to just a handful.
Ride with Mike in Support of World Bicycle Relief

Join EF Pro Cycling's Mike Woods for a spin on the World Bicycle Relief (WBR) Buffalo Bike. We are aiming to contribute 100 Buffalo Bikes to World Bicycle Relief. Let's show the strength of this diverse and international community by chipping in for an awesome cause. Every $147USD donated is one bike provided to a healthcare worker. All amounts are welcomed.
Donate via the fundraising page: https://bit.ly/3bPmdKP
Saturday, 3 pm BST / 10 am EDT / 7 am PDT
Sign up at zwift.com/events/view/673185
Matando O Corpo ZESP by SARIS

This popular long group ride is hosted by ZESP, the largest Spanish Zwift community. This week's ride is 72 miles long, and you have 4 different pace categories to pick from, so you can find one that fits your ride goals!
Saturday, 9 am BST / 4 am EDT / 1 am PDT
Sign up at zwift.com/events/view/673128
SAS – Virtual Endure for a Cure 12 Hour Ride

Endure for a Cure is a 12-hour 'real world' ride organized by Children's Cancer Institute. This year due to COVID-19 the ride was re-scheduled from Friday 1st May 2020 to 16th October 2020. TEAM SAS decided to have a 'virtual' Endure for a Cure ride on Zwift so all their members and friends worldwide can join in on the action!
To donate directly to SAS Childrens Cancer Institute page go to: www.endureforacure.org.au/my-fundraising/359/sas-cycle-club
The aim of this ride is to raise $50,000 with the challenge of as many laps of 'Tempus Fugit' on Zwift in 12 hours. The ride is being led by multiple Ultra World Marathon Champion and SAS Ride Leader Chris 'HOPPO' Hopkinson. Chris told us, "I am leading and the silent assassin Dennis Menchov, ex-Giro and Vuelta Champion is riding for SAS."
Sunday @ 5 am BST / 12 am EDT / Saturday 9 pm PDT
Sign up at zwift.com/events/view/680549
The Alpe Dash by Herd Racing League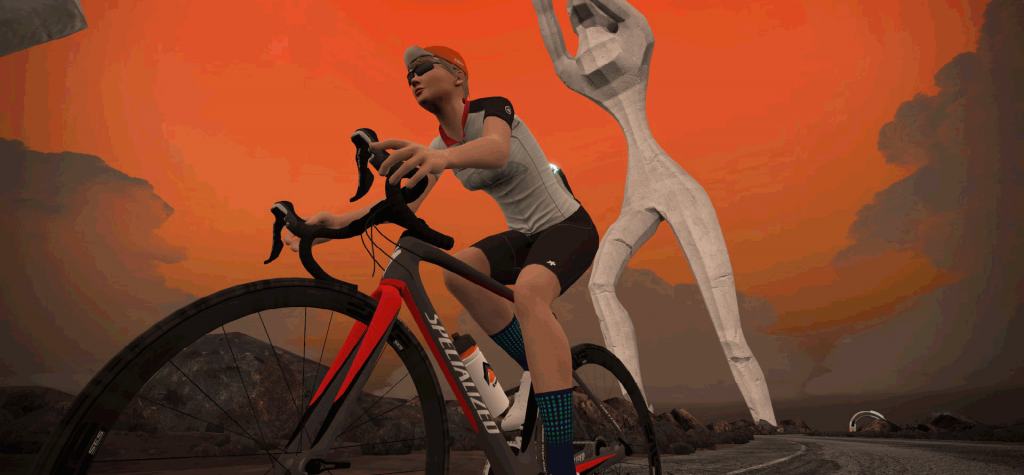 Join the Herd Racing League for different sort of Zwift race: a race up the Road to Sky route in a staggered starting battle to the top of Alpe du Zwift!
Each category will start ten minutes after the next, so Category A Racers will start 40 minutes after Category E. Who will get to the top first?
Sunday @ 4 pm BST / 11 am EDT / 8 am PDT
Sign up at zwift.com/events/view/680643
Canyon ZCC Piece of Cake Ride with Claudia (Ladies Only)

Ladies: join Canyon ZCC's Claudia Behring for a 1.5-2 w/kg ride for 60 minutes. Claudia is a top racer and excellent ride host! Join her to share lots of positive vibes, make new Zwift friends, get Zwift tips from the experienced Zwifters, share baking ideas, and, most importantly, to have fun!
Saturday @ 2 pm BST / 9 am EDT / 6 am PDT
Sign up at zwift.com/events/view/654576
Your Thoughts
Got other events that stand out this weekend? Share below in the comments! And if you participate in any of these events, let us know how your ride went.