Events are a big part of what makes Zwift special. Yes, you can use it for solo training efforts as much as you'd like, but many Zwifters find that working in a group is more motivating and engaging.
And while events are a blast, they vary widely in terms of pace, time, route, and group size. How do you find the right event–one that ticks all the boxes for you?
Here's a quick introduction to the 6 tools Zwifters use to browse and sign up to events, followed by a comparison table showing the features each tool includes.
Zwift Companion App
The most popular tool for browsing and joining Zwift events, the Companion app is free on iOS and Android and includes some basic event filters, easy event signups, and detailed signup lists so you can see who else is in your group. All from the convenience of your phone!
When combined with all the in-ride functionality it provides, there's really no reason why a Zwifter wouldn't have Companion installed on their smartphone.
Zwift.com/events
If you're on a large computer screen, zwift.com/events provides a useful way to view an event's basic info and share a link with a friend.
Sadly, Zwift's events list lacks detail or any significant filtering/search abilities, making it one of the least useful tools in our list, unless you already have a link to the event in question.
In-Game List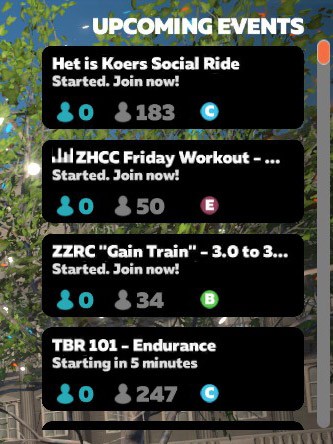 The list of events in-game isn't very user-friendly, but it's better than nothing. The list only shows the first ~20 characters of the event title, and does not include event details.
On the plus side, you can easily click and join an event.
Hopefully the imminent UI update will include big improvements to the in-game event browser!
ZwiftHacks Events
The first website to offer truly powerful Zwift event filtering/searching, ZwiftHacks' Events App makes it easy to find what you're looking for with filters for event type, world, organizer, time of day, and much more.


The only downside to the community tools (ZwiftHacks and ZwiftPower) is that you can't sign up to the event directly from within the tools, since they're not integrated into Zwift's systems. But they do both include links to Zwift.com, where you can sign up for the event. So it's just two clicks away!
ZwiftPower


ZwiftPower's events list has many of the same filtering abilities as ZwiftHacks, although there are some upgrades: filters are powerful and focused on racing, you can save multiple searches which stay just a click away, and you can view the list of registrants (provided they are signed up for ZwiftPower).
ZwiftPower isn't as quick/simple as ZwiftHacks, but it provides more in-depth data. Therefore, we tend to use it when we want to really drill down into an event (perhaps a race)–especially when we're curious about who we're racing against!
Alexa "The Jarvis Tree" Skill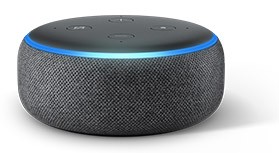 This Alexa skill built by Zwiftalizer's Mike Hanney makes it easy to hear about upcoming events from your Echo Dot or other Alexa devices.
Alexa, ask the Jarvis Tree when's the next race…
In practice, it's a little sterile and doesn't provide the immediate level of detail we're usually looking for, but it's a fun tool to have around anyway.
Pro tip: after hearing the event summaries, you can say 'details' to hear the route distance and elevation info, 'next' to get the next 3 events, or 'cancel' to hear Hank play the banjo.
Read more about The Jarvis Tree here >
Event Tools Feature Comparison
Here's a comparison checklist of the tools listed above.
| | Companion | Zwift.com | In-Game List | ZwiftHacks | ZwiftPower | Jarvis Tree |
| --- | --- | --- | --- | --- | --- | --- |
| Basic Event Filters | ✓ | ✓ | | ✓ | ✓ | ✓ |
| Advanced Event Filters/Search | | | | ✓ | ✓ | ✓ |
| Saved Searches | | | | ✓ | ✓ | |
| Read full event description | ✓ | ✓ | | ✓ | ✓ | |
| See hidden event tags | | | | ✓ | ✓ | |
| Route detail links | | | | ✓ | ✓ | |
| See signup count | ✓ | | ✓ | ✓ | ✓ | |
| See signup list | ✓ | | | | ✓(1) | |
| 1-click signup | ✓ | ✓ | ✓ | | | |
| Mobile-friendly | ✓ | | | ✓ | | |
| Calendar reminders | ✓ | | | | | |
| Shows all events (2) | ✓ | | | ✓ | | |
| See workout details | ✓(3) | | | ✓(3) | | |
Thanks to GDPR, ZwiftPower can only shows the names of event registrants who are also registered on ZwiftPower.
Most of the search tools only show X days worth of upcoming events, in order to speed up the loading of page data. This is fine until you're looking for something perhaps a week or more out! That's why ZwiftHacks is our preferred tool when looking for those further-out events.
Companion shows complete workout details, including interval length and power levels. ZwiftHacks shows a simple image of the overall workout, so you can get some idea of what you're in for. None of the other tools show any information about the workout!
Your Comments
What tools do you use to browse or join Zwift events? How could those tools be improved? Share your thoughts below.