Events are a big part of what makes Zwift special. Yes, you can use it for solo training efforts, but many Zwifters find that working in a group is more motivating and engaging.
And while events are a blast, they vary widely in terms of pace, route, and group size… and thousands of events happen every week. How do you find the right event – one that ticks all the boxes for you?
Here's an introduction to six tools Zwifters commonly use to browse upcoming Zwift events, including quick summaries of each tools' key features.
Zwift Companion App
✅ Basic Filters
✅ Full Event Desc
✅ Route Details
✅ Signup Count
✅ Signup List
✅ 1-Click Signup
✅ Calendar Reminders
✅ Shows All Events
✅ Workout Details
The most popular tool for browsing and joining Zwift events, the Zwift Companion app for iOS and Android includes some basic event filters, easy event signups, and detailed signup lists so you can see who else is in your group.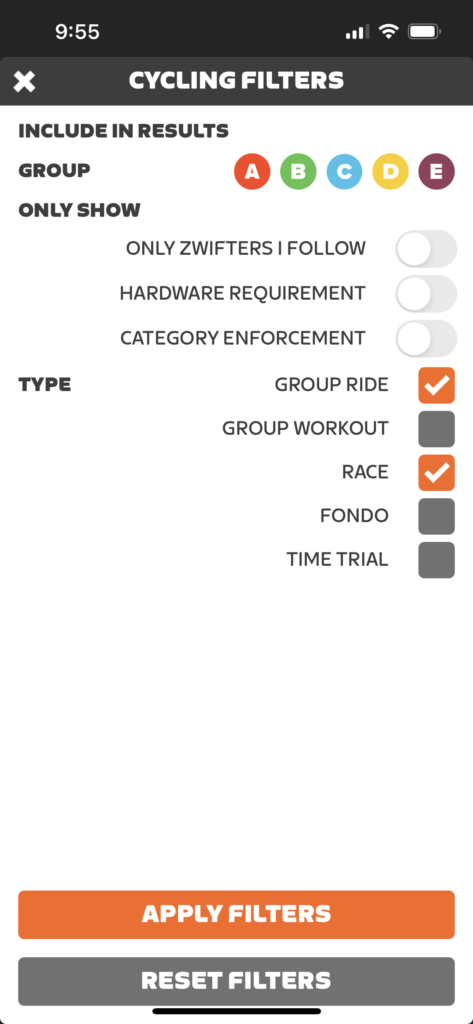 When combined with all the in-ride functionality it provides, Zwift Companion is a must-have app on every Zwifter's phone.
Zwift.com/events
✅ Basic Filters
✅ Full Event Desc
✅ Signup Count
✅ 1-Click Signup
✅ Shows All Events
If you're on a large computer screen, zwift.com/events provides a useful way to view an event's basic info and share a link with a friend. It includes similar filters as the Companion app (plus a few more), but there's a lot of crucial info it doesn't show, including workout details, signup lists, and route names.
Pro tip: the #zTags listed on ZwiftHacks (see below) can be added to zwift.com/events URLs to create a custom events listing. For example, see all Zwift Insider-tagged events at zwift.com/events/tag/zwiftinsider
In-Game List
✅ Basic Filters
✅ Full Event Desc
✅ Signup Count
✅ Signup List
✅ 1-Click Signup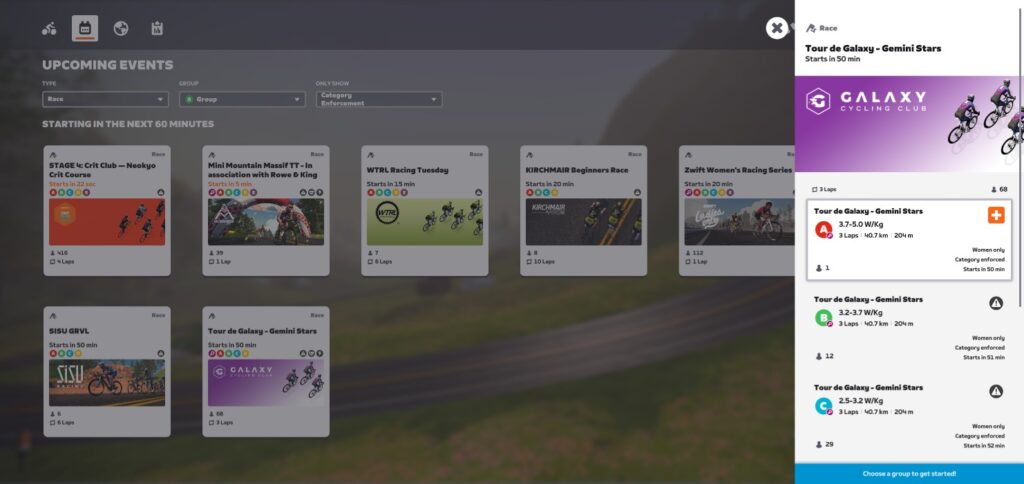 The in-game events listing is a really easy place to sign up for events, and it got a big upgrade with the launch of the new homescreen last year, which gave us basic filters and the ability to click and read event details. But it could still be much better!
What's it missing? Route details and workout details are what we'd like to see, plus the ability to see events more than 60 minutes in the future.
ZwiftHacks Events
✅ Basic Filters
✅ Advanced Filters
✅ Saved Searches
✅ Full Event Desc
✅ Route Details
✅ Signup Count
✅ Shows All Events
✅ Advanced Event Info
The first website to offer truly powerful Zwift event filtering/searching, ZwiftHacks Events makes it easy to find what you're looking for with filters for event type, world, organizer, time of day, and much more.
Creator Jesper Rosenlunch Nielsen updates the site with new features regularly. It's super-powerful, and we use it daily.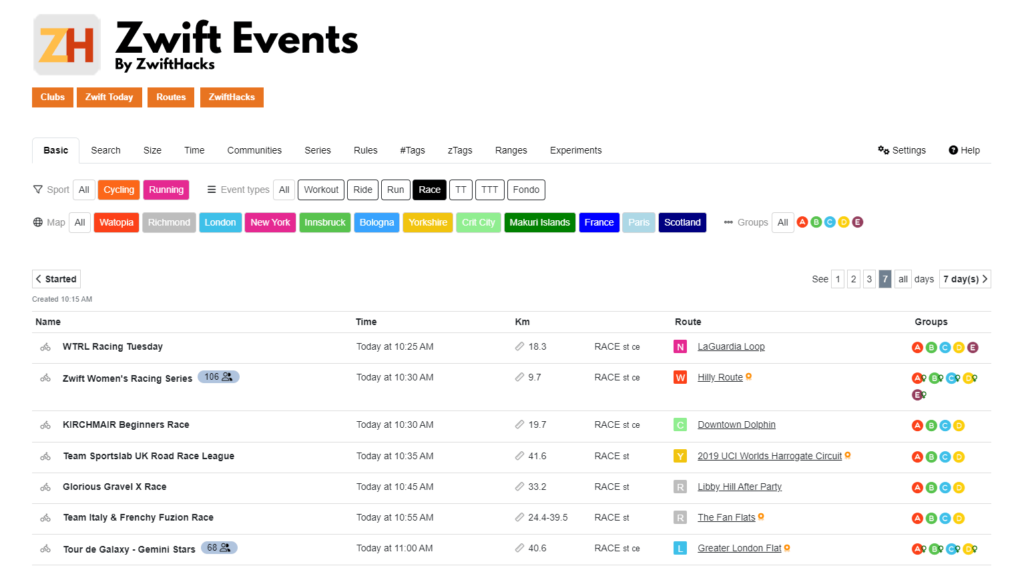 ZwiftHacks shows event details no other tools share, like custom powerup mixes for races and the event tags Zwift uses to define how the event behaves.
The only downside to community tools like ZwiftHacks and ZwiftPower is that they're not integrated directly into Zwift's systems, so you can't click to sign up for an event or see the signup list. But they do both include links to Zwift.com, where you can sign up for the event. So it's just two clicks away!
Pro tip: if you find the ZwiftHacks events search to be moving a bit slowly, it's probably because you're loading the entire list of Zwift events. Change the number of days you're seeing at the bottom-right of the filter bar to 7 days or less and you'll find the site performs much more quickly.
ZwiftPower
✅ Basic Filters
✅ Advanced Filters
✅ Saved Searches
✅ Full Event Desc
✅ Route Details
✅ Signup Count
✅ Signup List


ZwiftPower's events list has some of the same filtering abilities as ZwiftHacks, although there are some upgrades: filters are focused on racing, you can save multiple searches which stay just a click away, and you can view the list of registrants (provided they are signed up for ZwiftPower).
ZwiftPower isn't as quick/simple as ZwiftHacks, but it provides more in-depth signup data. Therefore, we tend to use it when we want to really drill down into a race – especially when we're curious about the competition!
WhatsOnZwift Group Workouts Listing
✅ Basic Filters
✅ Route Details
✅ Signup Count
✅ Workout Details
If you love group workouts on Zwift, WhatsOnZwift's Group Workouts page shows upcoming events and includes the TSS of each workout – a feature we haven't found in any of the tools listed above.
Additionally, clicking an event gives you the detailed view of the workout – a view that is better than any other tool listed above!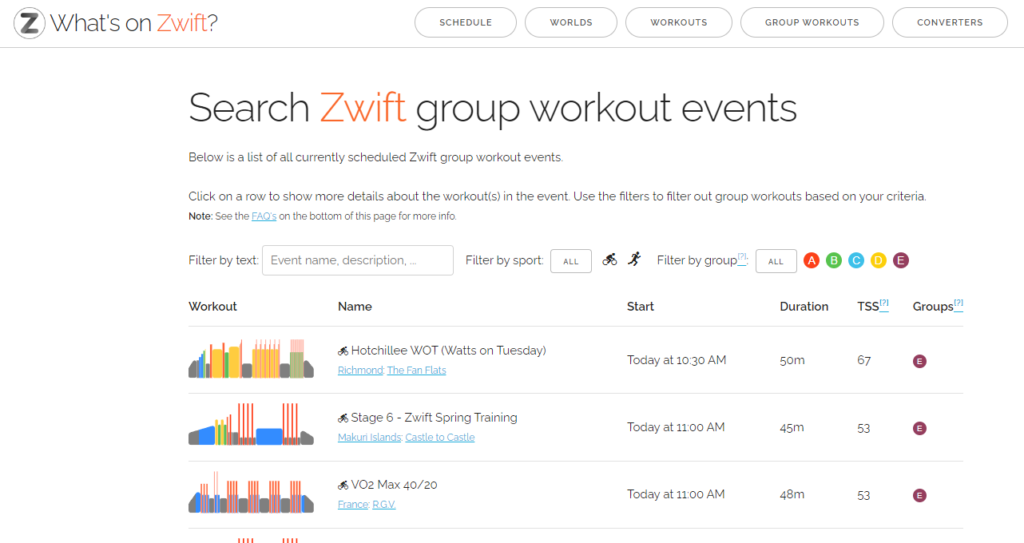 Pro tip: not seeing TSS on your phone? Rotate it to landscape mode.
Your Comments
What tools do you use to browse or join Zwift events? How could those tools be improved? Share your thoughts below.