If you Zwift on Mac or PC and love participating in group rides and/or races, you've probably had it happen: running late to your event, clicking to boot Zwift, and the "Updating" dialog pops up. Noooo!!!
Zwift, it seems, feels our pain. So after some testing in limited releases, yesterday Zwift announced the rollout of their new "defer update" feature to the Zwift launcher. (The Zwift launcher is the small program that handles authenticating your account, starting up the Zwift game, and updating the Zwift game, among other things.)
Here's what the feature looks like on Mac and PC (note: only logged-in users will see the "Update Later" option):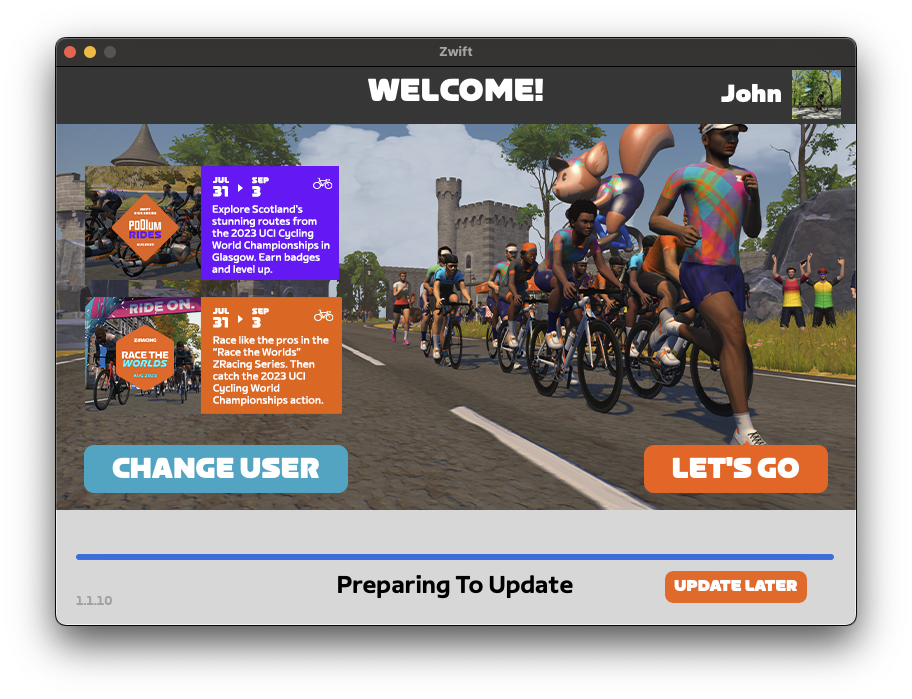 If you click "Update Later", the update will begin once you finish your Zwift session.
Requirements
To get deferred updates on your Zwift setup, you'll need two things:
A PC or Mac running the Zwift game app
Launcher app v 1.1.10 (download here). If you're on a version older than v1.1.9 (here's how to check) – download and manually install the latest version.
What about iOS/tvOS/Android?
These platforms don't force a game update like Windows and macOS, although many Zwifters have updates set to install automatically. You can opt out of auto-updates in App Store settings for iOS/tvOS/Android at the cost of missing improvements if you don't update manually. In that case, you may eventually get a message in-game telling you to install the latest update.
Questions or Comments?
Read more about this update in the Zwift forum, or share your comments and questions below!