Zwift has just launched a revamped my.zwift.com dashboard, and it looks great! Here's a quick video tour:
Key Features
The new dashboard basically replicates the functionality we have in the Companion app's "Activities" feed, but in a beautiful, full-screen layout that works great on a computer monitor.
With the new my.zwift.com you're able to:
Browse activities of those you follow and favorite, as well as your own activities
Click an activity for details. Details include:

Distance, time, elevation, calories
Achievements (leaders jerseys, PRs, etc)
Animated map
Ride Ons given (only the first ~100 or so Ride Ons given seem to be stored on Zwift's servers for these animations)
Heart rate, cadence, speed, power, and other data
Screenshots taken during the activity

Give other Zwifters a Ride On for an activity
Post comments on activities
Edit your activity's name and privacy settings (see below)
Download your activity's fit file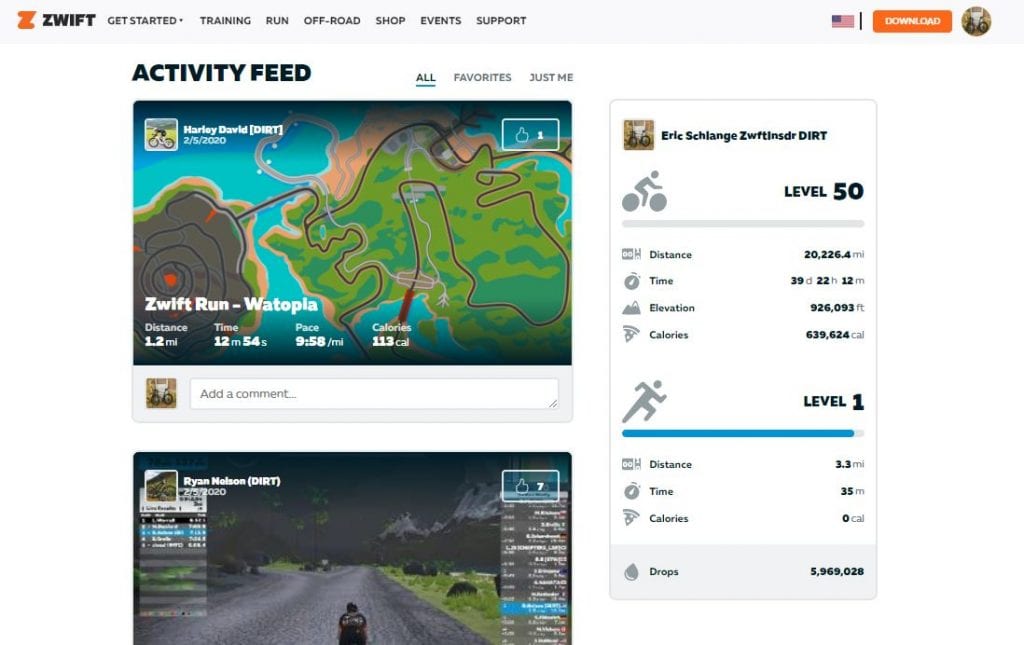 Activity Privacy
Each activity now has a unique URL. Here's an example: https://zwift.com/feed/477602430079045312
If your activity privacy is set to "Public" (like the above activity) anyone can view it via its unique URL, as long as they are signed into a Zwift account. You may also set your activity to be visible only to Followers, or Private (where only you can view it).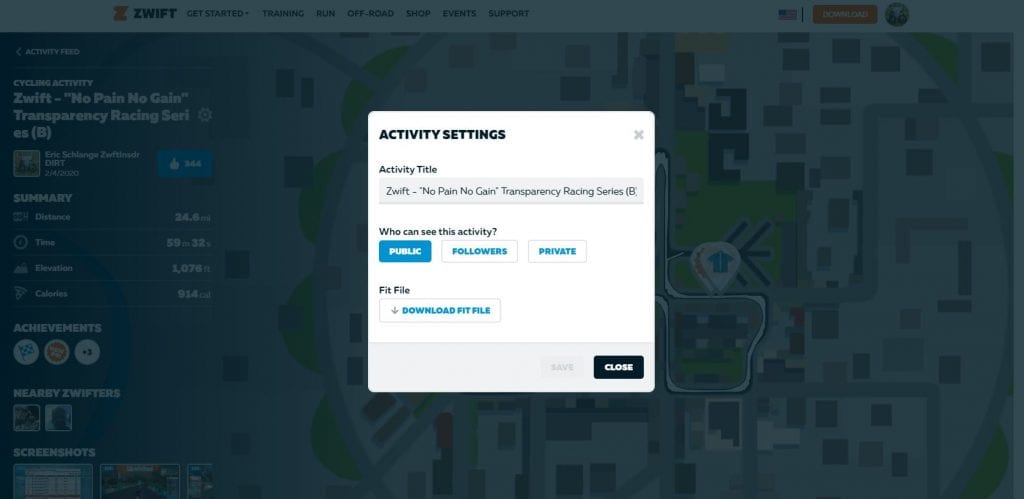 Profile and Other Settings
The tools for modifying your profile, billing info, etc don't appear to have changed with this update. Once you're signed into my.zwift.com, click your profile image at the top-right and click "My Profile" to access the following:
Your profile settings (name, weight, country flag, etc)
Change password
Modify connections to third-party apps/sites
Change email subscription settings (change which emails you receive from Zwift)
Modify billing info
ZwiftPower Link
James Hodges over at ZwiftPower has added a link in event results to view each rider's activity details. Quick work!
Share Your Thoughts
Check out your upgrades dashboard, then chime in with your thoughts below! Did I miss any new features?