Cycligent has announced London's first live CVR Certified virtual cycling competition. The race will showcase top cycling talent brought in from around the world, and riders will compete against one another in Zwift's online course environment.
The race will consist of two teams: U.K. versus the World. Five cyclists representing the UK will race five cyclists from around the world, including the US, Ireland, Australia, the Netherlands, and Poland.
Win a Trip to Race in London!
For the first time ever, Cycligent is inviting all Zwifters to participate in a race in order to win a spot in the CVR World Cup London event. Cycligent will pay for your flight and hotel! To enter you must race in this Thursday's XRS Thursday Night Race (5:30PM UTC, 10:30AM Pacific).
You need to be eligible (have a valid passport if traveling from outside of the UK) and must register here: http://worldcup.cycligentrankings.com/enter/. Cycligent Admin staff will email you to confirm that your entry has been accepted prior to the Thursday Night Race.
Learn more about the Race-In here >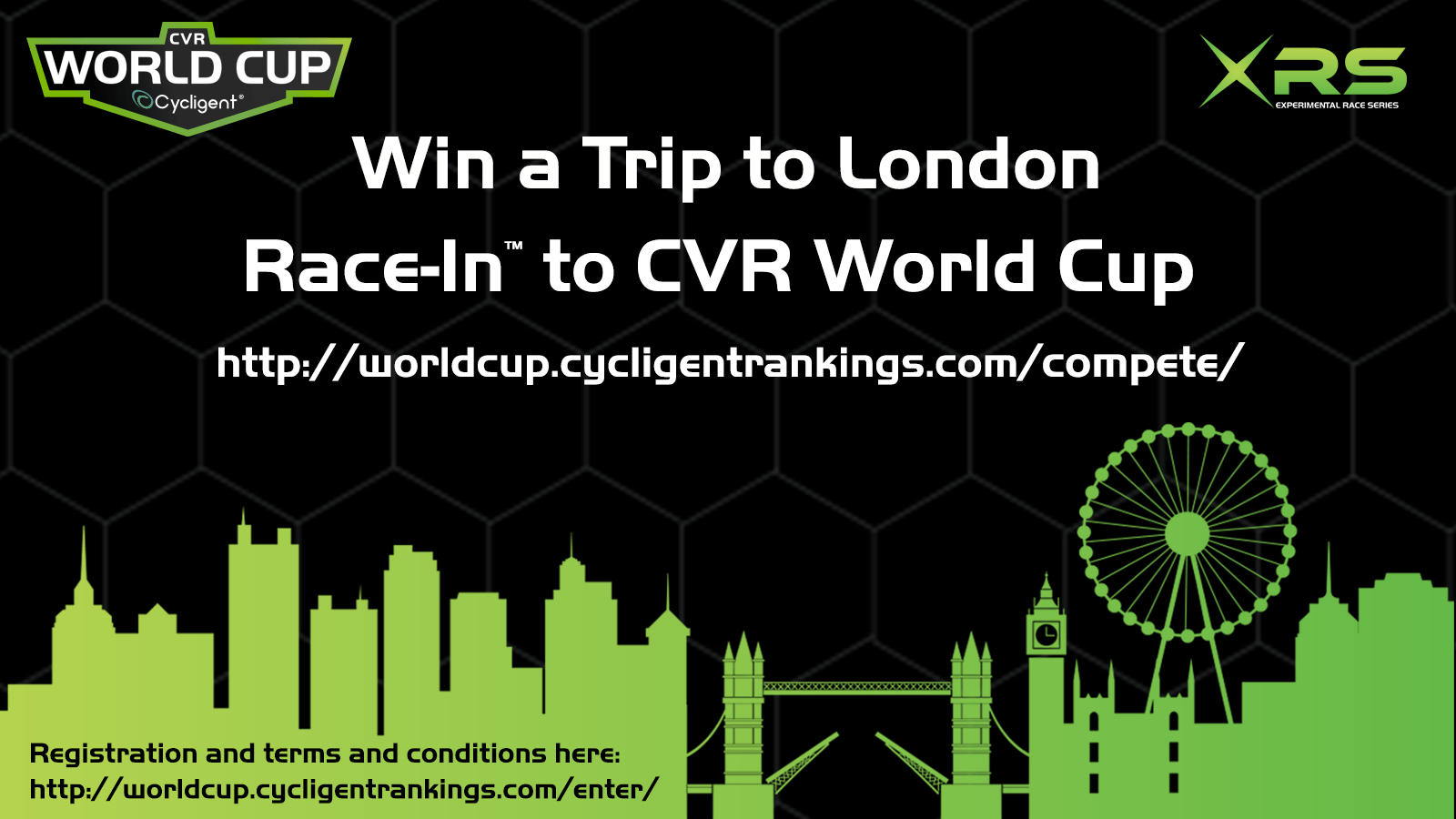 Race Details
On Tuesday, June 6, 2017 at Kachette, 347 Old Street, London EC1V 9LP, the Ladies' race will begin the competition at 6:00 p.m. At 8:30 p.m., the men's race will begin. Racers will showcase their cycling abilities in real life as they push for a win in the Zwift online game. Cycling fans and esport enthusiasts are invited to cheer on the riders, see the real effort and sweat that goes into virtual cycling racing and witness the first CVR certified UK vs. the World competition. The event will be broadcast live in HD at worldcup.cycligentrankings.com/stream/.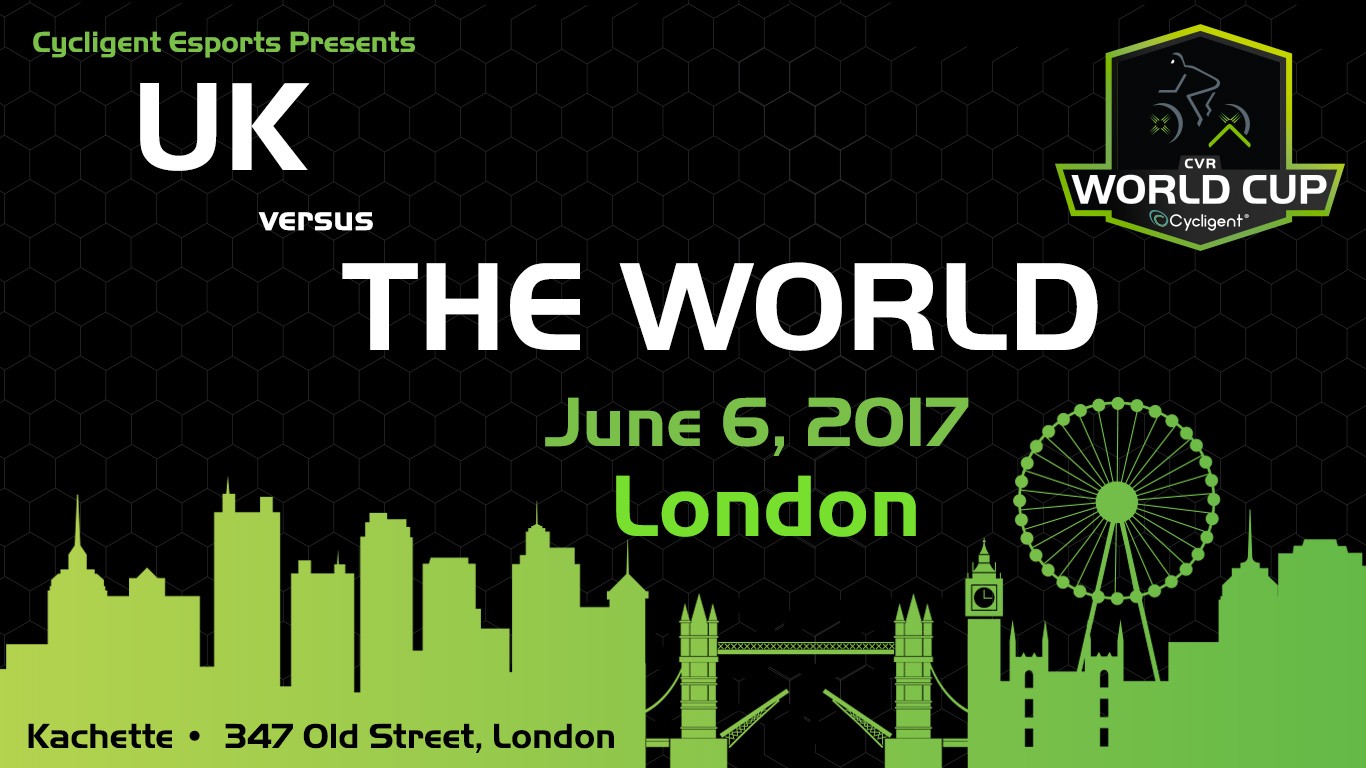 Events are conducted in the Cycligent Esports Arena where bikes are set up on smart trainers and effort is transformed into a virtual environment. CVR's new approach to cycling and riders is already having an impact on the world of cycling. CVR's founder, Frank Garcia, stated:
"This will not only continue but will accelerate in the future. We are bringing cycling to esports and that will change the landscape of cycling forever. It will be better for riders, better for spectators, and better for those who participate online in the virtual landscape."
Tickets to attend are free but donations to World Bicycle Relief are requested. Space is limited. Please confirm your entry by RSVP here.

This premiere event in London is part of a series of events held around the world, culminating at the 2018 World Cup Finals held in April 2018. The events are sanctioned by Cycligent Virtual Rankings (CVR). CVR is an international ranking system that ranks virtual cycling racers and aims not only to identify the top virtual cyclists in the world but also make racing more enjoyable for everyone. Prior to the event, CVR officials ensure that equipment is calibrated properly and participant's height and weight are entered correctly, ensuring their avatars are correctly reflected during the competition and certifying a fair and accurate race.
The event will also benefit World Bicycle Relief, a non-profit organization that serves to address the great need for reliable, affordable transportation in rural areas of developing countries, and is sponsored by Cycligent.