Zwifters have another chance to "ride with reason" during this three-day ride series with the Crohn's & Colitis Foundation and professional cyclist Cory Greenberg.
Millions of people worldwide live with Crohn's disease or ulcerative colitis, known collectively as inflammatory bowel disease (IBD). Ride on Zwift during this series to connect with others and raise awareness and funds towards finding a cure for these painful and devastating diseases.
Live Ride Broadcast Friday, 1 October at 7am PST/10am EST
On Friday, check out Zwift's live ride broadcast of this event on YouTube or Facebook, hosted by Zwift and Cory Greenberg. This live stream will give people an opportunity to meet supporters and patients impacted by the condition.
Jersey Unlock
Complete any ride in the series to unlock the Crohn's & Colitis Foundation kit.

Schedule and Routes
There are two ride options for each day's event. Category A is the longer ride and includes Cory as your ride leader. Category B is a shorter distance ride.
Ride #1: 1 October at 7am PDT/10am EDT/3pm BST/4pm CEST
Ride #2: 2 October at 10am PDT/1pm EDT/6pm BST/7pm CEST
A: 1 Lap of France Petit Boucle (61.8/38.4 miles, 483m/1585′)
B: 1 Lap of France R.G.V. (24.9km/15.5 miles, 133m/436′)
Ride #3: 3 October at 4pm PDT/7pm EDT
About Cory Greenberg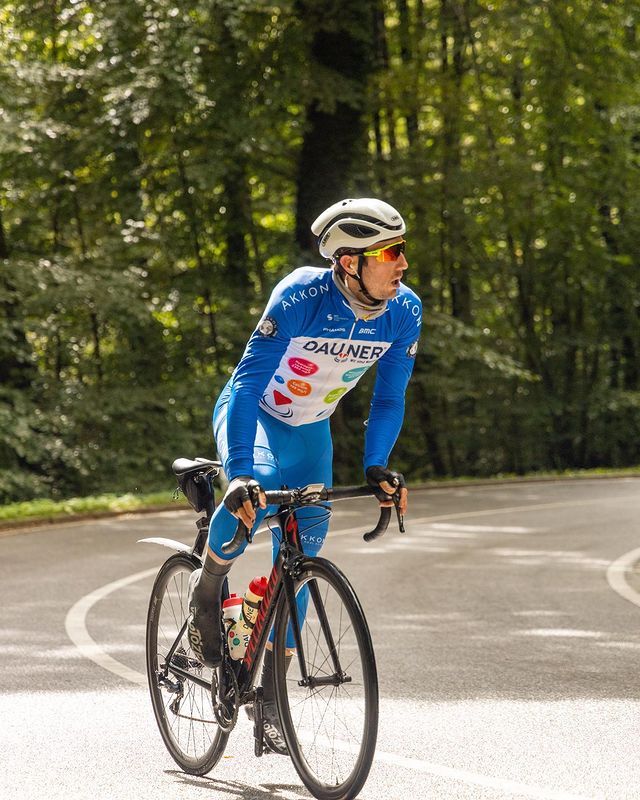 Cory Greenberg is a Southern California-based professional cyclist living with ulcerative colitis and founder of the Ride4IBD.
After being diagnosed with the condition in 2015, he defied doctors who believed becoming a professional athlete would be near impossible and forged his own pathway to health and now rides for Dauner-Akkon Pro Cycling Team.
Now living in remission, he has set his sights on using cycling as a platform to advocate for the IBD community by creating his own initiative in Ride4IBD and encouraging health and fitness for the IBD community.
Corby explained:
"This is my project to build awareness for IBD through cycling, and to give a pathway forward for others to challenge IBD. We are building a platform to help guide folks on their IBD journey, and giving them ways like our Zwift Crohn's and Colitis Foundation Ride to challenge IBD and build community.
The movement was sparked from my story and career, and I am now using that career to push the limits of IBD, while building a path for others to achieve their goals. We are hoping to create more frequency on Zwift, and have more charity events to help raise the funds and support, but also have a fun place for people to come together."
About Crohn's & Colitis Foundation
The Crohn's & Colitis Foundation is a volunteer-driven non-profit organization dedicated to finding cures for Crohn's disease and ulcerative colitis and improving the quality of life for children and adults affected by these digestive diseases.
The Foundation does this by funding innovative research, advocating for public policies that support patients, and providing extensive education and support resources for patients, their families, medical professionals, and the public.
Learn more about the Crohn's & Colitis Foundation at crohncolitisfoundation.org.
Donations
Donate to the Crohn's & Colitis Foundation here: https://givebutter.com/zwift