Yesterday, Zwift released a Companion app update (version 3.51.0) with the most concise release notes ever:
General bug fixes and stability improvements
That's it. That's all it said.
But here's the odd thing: unlike most recent Companion app updates (which really have just included general bug fixes and stability improvements), yesterday's included some really useful stuff!
Download Zwift Companion: iOS / Android
The new Companion app now includes a guest map calendar and route details. In the new "Explore" section on the homescreen you can see the three featured maps for the day. Tapping any map brings up a list of routes, and tapping a route brings up details including length, elevation, and timed segments which you can tap to see your historic performance on those segments.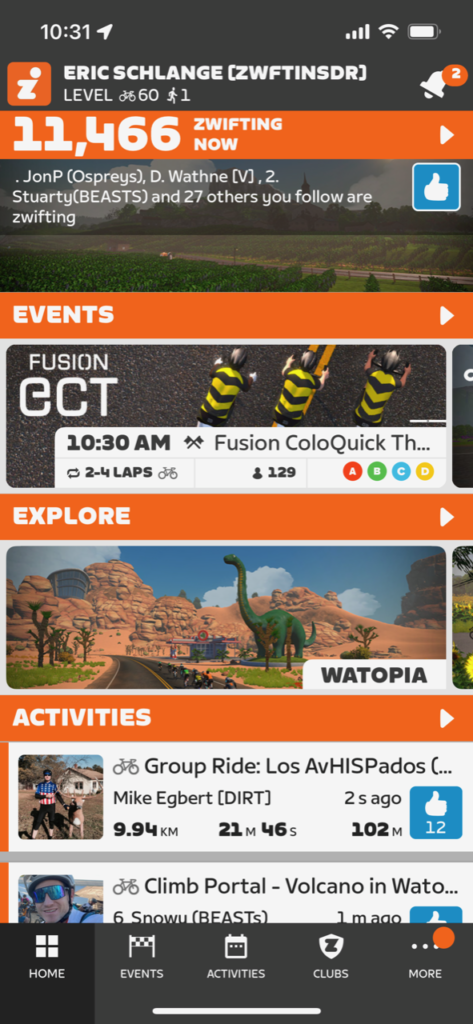 Tapping the orange "Explore" bar lets you access a complete list of Zwift routes, which you can search by title, filter, or sort in various ways. There's even a little calendar icon at the top-right which you can tap in order to see the guest map calendar!
(The routes lists and historic performance charts aren't new features, but Zwift has redesigned them and put them front and center with more powerful searching/filtering, effectively turning their original "Leaderboards" feature into a World/Route browser.)
Here's a quick walkthrough:
Giving Zwifters easy access to the map schedule and route details may make this the most significant Companion app update in years, so we're not sure why Zwift didn't announce it.
Whatever their reasons, we wanted to share it here, because we're sure lots of Zwifters will find the new features useful!
Your Thoughts
What do you think of the updated Companion app's "Explore" section? Share your thoughts below!