Zwift issued two important updates this week, but neither arrived in the form of a downloaded game update, so they could easily be missed.
The first update came with the latest version of the Companion app, enabling push notifications for Club Chat and Event Creation. And the second set of updates locks riders' height and weight during events, preventing them from cheating by making mid-race changes.
Club Notifications
A new pair of notification options was added to Companion on iOS and Android. You can now toggle notifications for "Club Chat" and "Club Event":
Club Chat notifies you when someone posts a message on your club's discussion board
Club Event notifies you when a new event has been created for any club you're a part of
These notifications are enabled by default. Change settings via Settings>Notifications in the Companion app.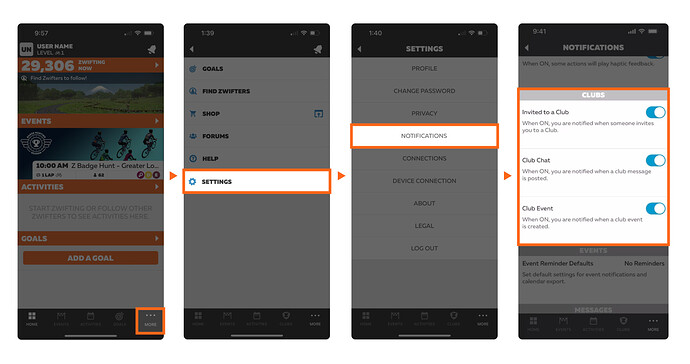 The "Club Event" notification is especially useful for small clubs holding club-only events. It allows members to learn about new events without organizers having to manually reach out to members by some other means.
These notifications were a popular request among Zwifters, so it's good to see Zwift further developing the just-expanded Clubs functionality.
For more info on these new notifications, see this post from Shuji in the Zwift Forum.
Weight/Height Lock In Events
Zwift's dev team responded quickly to last week's kerfuffle over racers' ability to change their weight and height mid-race. The exploit needed quick fixing, because racers could change their settings back before the event ended, making it difficult to detect the "doping".
Yesterday, Shuji announced the fix via a Zwift forum post. Here's the post in its entirety:
---
Today we are beginning a series of security changes to address an exploit in game where a Zwifter could change their weight while in an activity in an attempt to gain an unfair advantage in competition. This exploit could be detected on Zwift servers, but would be hidden from public view, therefore impacting community racing. The first fix, which is live today, addresses competitive integrity and ensures greater fairness, specifically in events.

What does today's fix entail?
Starting today, weight and height will remain locked when you are in an event.

If you are in an event and you try to make a change to your weight or height via your zwift.com web profile, you may be presented with a generic error message. If you try on Zwift Companion, changes will not save, and therefore performance in game will not be impacted.

When can I change my height and weight?
You'll still be able to change your height and weight when you are logged out of the game, or when you are logged in, but not active in an event.

What about the bug bounty program that was mentioned?
We know a lot of you are also interested to hear more about the bug bounty program. This will take time to develop but as with this fix, we will keep you updated as soon as we have news.

This is the first step of many we are taking to address game integrity. We look forward to updating you on additional efforts
We've tested the changes and they are working as described above.
This is a welcome fix and a fast response from Zwift's team, so kudos to them for good work. It's worth noting that Shuji says, "… we are beginning a series of security changes…" which means further changes are planned to address this exploit.
Our guess would be those plans simply involve making the UI more elegant, perhaps explaining why a rider isn't allowed to change their height or weight.
It's also interesting to note the post says, "This is the first step of many we are taking to address game integrity." So Zwift has additional work planned in the broader area of "game integrity". We'll just have to wait and see how it all unfolds.
Questions or Comments?
Share below!