David Lipscomb of CIS Training Systems is very well-known in the Zwift community. Known by many simply as "Coach," David leads two different popular weekly rides which are open to his coaching clients and all Zwifters.
David's positive attitude and purposeful drive radiate through everything he does, but these attributes didn't come by accident–he is also an accomplished student of the martial arts with a long-time successful career in leadership and professional development. Read below to learn more about him and the philosophies he uses to steer the CIS Training Systems team.
---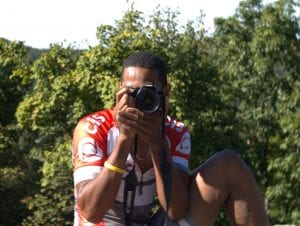 Tell me about your cycling background. What sort of riding have you done, for how long, etc?
I came into cycling later in life when I began riding as cross training during my Black Belt journey. (I am a certified expert in combat practice, having earned 1 Black Belt and 2 Brown Belts in three martial arts disciplines.)
In 1993, I began training and racing with purpose. Hard work and commitment to excellence has led me to become a successful category 2 cyclist.
When and why did you begin coaching?
After many successful years in banking and financial services as an HR Leadership and Professional Development Executive, I wanted to channel my entrepreneurial spirit and love for the sport of cycling into a second and more fulfilling career.
In the spring of 2006, I decided to leverage my breadth of knowledge spanning over 25+ years of professional and entrepreneurial consulting with my extensive competitive cycling background. I turned my passions for cycling, mentoring and coaching into a full-time career.
Every coach has particular philosophies which define their methods. How would you describe yours?
My coaching philosophy is about finding innovative ways to get the best out of each athlete. The real art of coaching to me is getting athletes to buy into a process, breaking down barriers that impede prime level performance and help them reach their goals be it ON or OFF the bike, personally or professionally.
With that said, Prime Level Performance is all about developing mental skills around:
Drive: The determination and motivation to achieve and surpass your goals. Motivation is everything.
Confidence: Belief in your ability to achieve your goals. Confidence is a skill to be learned and is the most important mental factor.
Intensity: The ability to gauge your effort over short, medium and long distances. Intensity is understanding how to monitor and adjust your fuel consumption.
Focus: Concentration on quality, efficiency and consistency are aspects that will help you avoid distractions that may hinder prime level performance.
Emotion: The ability to maintain impulse control and composure relating to your emotional self awareness.
Toughness: To go the extra mile, to never give up and be willingness to manage a high level of discomfort.
It is these mental skills that drive sustainable success on and off the bike, because these mental skills deal with all aspect of life.
Do you use Zwift personally, and if so what for?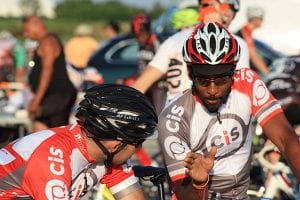 Zwift is a staple for me all year round for structured training and development. Just recently, as of December 12, 2016, I reached 10,000 miles for the year, and of those 10k, 6,032 miles were completed on Zwift. In addition, I unlocked the Tron Bike a day prior. This achievement took just under 1 year to complete.
In addition, I lead vGroup Rides on Monday Night 8pm EST – Back to Work USA, a 2.0 to 3.0 w/kg vGroup Ride which is a popular event, as well as Wednesday Night 7:00 PM EST – CIS Training Ride focusing on skills development training. The Zwift Community at large that joins this event train side by side with other CISCYCLING and CISRACING members that I coach throughout the week reflective their weekly programs.
As far competing in Zwift races, I did compete in a ZTR (B) race in October of 2016 where I placed 1st after bridging a gap of over 1 minute to the lead group that came down to a sprint finish, and the rest is history. Now I coach 4 other Zwift Riders from USA and Canada under the brand CISRACING (B) category that are doing really well.
How is Zwift a useful tool from a coach's perspective?
Zwift is a very effective tool for coaching as it gives me the ability to do a number of things. First, it gives me the opportunity to know actually when my clients are training, via mobile app, as all CIS Training Systems Members train on Zwift all year round. Secondly, when I am vCoaching a client or vGroup, I am able to see all the pertinent information to ensure that the proper training zones are being met. And lastly, which goes back to my first point, that Coach is Always watching. So if you see coach pop up out of nowhere all lit up in orange behind you, 9 times out of 10, I am coming for you.
If you had just one piece of advice you could share with all Zwifters, what would it be?
Setbacks are inevitable; failures are not. The right attitude can help you overcome and achieve anything. This is my motto.
Learn more at ciscyclingnyc.com >
Testimonials
I knew Coach David was the real deal after just one session. He is at once a warm and engaging person with an exceptionally positive attitude which is to say the least, quite infectious. He quickly assesses your strengths and weaknesses through a series of questions and observations and then brings considerable experience to bear in developing a personalized approach that truly maximizes your potential on the bike. I'm really looking forward to my next session with Coach David not only because I'm sure that even my modest abilities will be further enhanced, but also because his positive attitude makes me love riding my bike even more that I do already – and that's really saying something.
– Murray Hardie