My first race on Zwift was the Tuesday Night Worlds, which happens each Tuesday at 3PM my time. I loved it–I was hooked! I wasn't very impressed with the neutral start, though, and posted a comment about it on the Zwift Riders Facebook group. Much to my surprise Christian Wiedmann, the organizer of the race, responded and explained (graciously) why the races begin with a neutral start. I was impressed with Christian's patience and obvious desire to get as many folks racing as possible.
Since that time I've interacted with Christian on a number of occasions and he has consistently shown himself to be a gracious and helpful guy, one who sees the value of competition but understands the limitations of a virtual platform like Zwift.
Because of all this, I thought it would be fitting if Christian Wiedmann was the first race organizer I interviewed on Zwift Insider. 
---
 
Tell me a little about yourself–how long you've been riding, what sort of riding you do, when you discovered Zwift, where you live, etc.
I live in San Mateo, California, which is in the San Francisco Bay Area. I'm a software engineer working mostly from home, which gives me the freedom to take some time to ride during the day.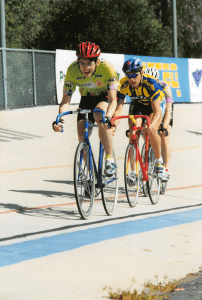 I've been riding since I was a kid, but mostly casually. I didn't get into competitive cycling until I was in my late 20s. I raced in amateur races out here for about 5 years, mostly as a Cat 4 rider. I raced both on the road and on the track. I really enjoy the competition even though I was mostly a mid-pack rider.
Since I've always worked at small startups, my work schedule eventually made it impossible to train enough to keep racing. I always tried to stay fit by commuting on the bicycle, though.
More recently, I've started working part-time so I can spend more time with my kids (ages 7, 4, and 4). This has the side effect of also allowing me to spend a little time on the bike each day. I usually ride indoors because it saves time and allows me to get off and stop the ride any time if something comes up. Before Zwift, I would probably average one outdoor ride a week. Since Zwift I rarely ride outside any more.
I discovered Zwift in late 2014 and was very interested because I have played online games and the melding of gaming and cycling seemed like something I would enjoy. I signed up for the closed beta and was accepted into the beta around Christmas that year. Since then I've ridden more than 7200 virtual miles on Zwift.
How would you describe your philosophy as a race organizer? What is most important to you when organizing Zwift races?
My goal is for the Zwift training races to recreate the intensity and excitement of real-world mass-start bicycle racing as much as possible in Zwift. I want to make these races open and accessible to as many Zwifters as possible. Above all, I want these to be a fun experience for all who join.I see these races primarily as training races right now. With the variety of equipment out there, we have to accept that performance isn't necessarily the same as in real life, but the feel of the racing can be similar in many ways. While the results are not real, the intensity and fun are most definitely realistic.
What race(s) are you currently organizing on Zwift, and how long have you been doing them? What makes these races different than other Zwift races?
I organize three of the ZTR races – the Tuesday Night Worlds for North America and the two ZTR races on Thursday – UK/Europe and Americas. The Tuesday Night Worlds ride is probably the longest-running race in Zwift. It was started by Nate Robinson and Chris Pippy during beta on Jarvis Island.
The ZTRs try to be somewhat realistic races with rules that are intended to help make the racing more interesting. Our power-up rules are intended to help groups stay together so the racing doesn't just become a time-trial. We try to do slightly longer races on Tuesdays (in the A and B groups) and keep the Thursday races closer to an hour so people can recover for weekend rides or races.

What suggestions would you give to someone interested in joining your races for the first time?
Don't be afraid to join in. The ZTR races have four different groups to try to make them accessible to a wide range of abilities. Feel free to try out the race group you think most appropriate and adjust to a different group if it seems too slow or too fast.
If you've never tried racing before, the key to mass-start racing is to save as much energy as possible. Try to stay with the pack at all costs because the draft is what will get you to the end of the race in good position. You will sometimes need to sprint to catch up to the pack. It's worth doing this because the energy you save in the pack is much greater than the energy it takes to catch back up.
Getting dropped is part of racing too. I get dropped in almost every race I join. The key at that point is to find others who are also dropped and work with them to get to the finish. Don't be afraid to communicate. Check behind you to see if there is someone close you can work with and let them know you will work with them.
If the folks at Zwift HQ could add one feature to Zwift to make your job easier, what would it be and why?
I think they are already working on one of the key features: a holding pen for the starts. Right now we try to make the starts as fair as possible by having a short neutral roll-out that lets the pack form. Unfortunately it is hard to control this neutral as many times racers ride off the front of the pack without letting stragglers catch up. The holding pen will eliminate the need for the neutral section by releasing all riders at the same time, meaning the pack will be together from the start.
---
To learn more about the races Christian organizes, as well as other races and group rides, visit ZwiftCalendar.com.