2 days, 2 races, and for each, 2 riders above the pack. Saturday's BRS Ibex, on the London 8 course saw Jordan Cheyne and "Le Monstre" (BRT) go head-to-head into the decisive Box Hill, whereas Sunday's BRS Crit saw Tim Cartwright (KissRT) and Alexandre Koop (Race WBR) join forces to avoid a massive sprint on the Watopian volcano.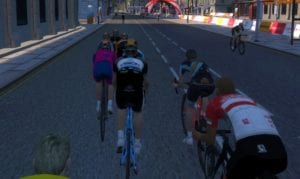 On the London 8 course (which riders had to complete twice in the Ibex race) Cheyne and Le Monstre (BRT) made their first move coming along The Mall, gaining almost 10″ over the peloton. They were soon joined by Quentin Lafaye (Vision) and Neil Duffy (RservoirCogZ). But in the first climb of Box Hill, the Canadian pro rider and Le Monstre dropped Duffy and Lafaye and took over a minute on the pack within a few kilometers. Behind them, the pack was formed by Beck (Tem ODZ), Viberg, Ciurzynski (Team Poland), Lorenz, Skipper (MTCT), Kusnsken, Lewis, Lafaye (Vision) and Biggelaar. In their final showdown, Cheyne managed to drop Le Monstre in the slopes of Box Hill to take the win. In the pack, Lafaye (Vision) made his move at the top of the stairs, going solo to the finish line, with Viberg winning the bunch sprint a couple of seconds later.
A relentless n°1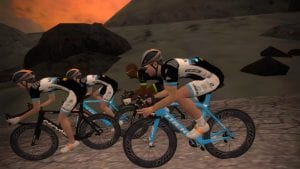 On Sunday, the "flat-ish" Volcano (counter-clockwise) course seemed to be made for a bunch sprint. With 3 laps to go, Tim Cartwright (KissRT), along with Alexander Koop (Race WBR) and Adam Webb (Vision), launched the winning breakaway. Quickly gaining over 10 seconds on the pack, the break was almost caught by Quentin Lafaye (Vision), but the Frenchman couldn't close the last 11 meters as Cartwright and Koop upped the tempo. A few kilometers later, Webb (Vision) was dropped from the break, paying for his 100k race earlier that day. It was, once again, a 2-man finish on that BRS race, with Tim Cartwright (KissRT) ultimately outsprinting Koop (Race WBR) in the final uphill sprint and solodifying his 1st place in the Cycligent Virtual Rankings. In the pack, coming 8 seconds later, the Vision Cycling team took over with Aarron Locks taking 3rd, Quentin Lafaye 4th and Adam Webb 5th.
In the B category, Steffen Brocks took the win on Saturday, before Breton Smith and Alf Erik Hagebakken (GTD). And on Sunday, Pier Vidar Avlesbug outsprinted Havard Thomassen (Vikings) and (the Colossal) BathSalts for the win. For the Cs, Nick Gaunt took the win in London, over Martin Blomberg and Andrew Csencsits, whereas Martin Lund (Vikings) got 1st on the Volcano, coming a few seconds before Dean Macleod (BRTeam) and Phil Pattenden. Finally, in the D Category, Darek W (Team Poland) was the fastest around Box Hill on Saturday, taking first before Steven Moe and Andy Wall. On the Volcano course, Nate Furman was the fastest, crossing the line a few seconds before Ken Dufour and Dominik Kaczmarek (Team Poland).
Full results on ZwiftPower.com >>>
BRS Ibex, Feb. 18th :
1- J.Cheyne (CAN-U/A)
2- Le Monstre (GBR-BRTeam)
3- Q.Lafaye (FRA-Vision)
4- S.Viberg (NOR-U/A)
5- D.Lewis (GBR-U/A)
BRS Crit Race, Feb. 19th :
1- T.Cartwright (GBR-KissRT)
2- A.Koop (GER-Race WBR)
3- A.Locks (GBR-Vision)
4- Q.Lafaye (FRA-Vision)
5- A.Webb (GBR-Vision)
-the q/l Report-