Today Zwift added a much-requested option: annual membership! That's right: you can now change your monthly membership into an annual one and receive a solid discount for doing so. Read all the details below…
Annual Pricing
Zwift's new annual membership pricing gives you 12 months for the price of 10, which works out to a 17% discount. Annual pricing in popular currencies:
UK – 129.99
EUR – 149.99
CAD – 189.99 per year plus tax
US – 149.99 per year plus tax
JPY – 15,000.00 per year plus tax
AUS – 199.99 per year plus tax

Switching from Monthly to Annual Membership
To switch your monthly membership to annual, sign into your account zwift.com/sign-in and visit Account>Membership. Click "Switch Membership" beneath your Monthly Membership badge: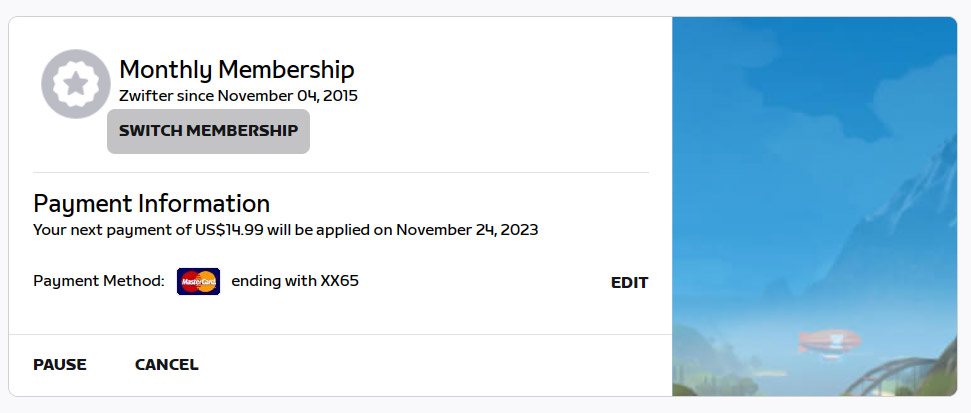 Confirm your choice on the next few screens, and you're all done:

Your annual membership will begin at the end of your current billing cycle. Example: if your monthly membership is paid through November 23rd, 2023 like mine and you switch to annual membership today, your annual membership payment will begin on November 24th, 2023 and be billed that same day.
iOS Subscribers: How to Switch
You cannot change to annual billing via your Apple subscription, so if you are currently subscribed through your iOS device and want to move from monthly to annual membership, you'll need to cancel your Apple subscription and sign up for your annual membership via Zwift.com (see instructions above).
Canceling your Apple subscription will keep your membership alive through the end of your current billing cycle. It's unclear whether Zwift's system will let you subscribe today for an annual membership that should only kick in once your Apple subscription ends, so we recommend waiting to set up your annual membership on Zwift.com until your Apple subscription expires.
$99 Annual Memberships from Wahoo Trainer Purchases
Want an even better discount on one year of Zwift? If you purchased an eligible Wahoo KICKR smart trainer or smart bike from an authorized Wahoo retailer on or after September 13, 2023, you can contact Wahoo support to purchase an annual Zwift membership for just $99. That's a big discount on Zwift's new annual membership pricing!
Learn how it works on this support page from Wahoo >
While all trainers sold through Zwift.com and some trainers sold via Wahoo.com now include a bundled annual Zwift membership, most Wahoo trainers are sold through retailers. So Wahoo and Zwift have worked out a deal to get those dealer customers the same $99 deal.
New Subscribers, Cancellations, and Refunds
First-time subscribers who join using the annual membership option will receive a 30-day money-back guarantee. If you cancel before the end of 30 days you will receive a full refund.
Existing subscribers who pay for an annual membership are not eligible for a refund. Whether you are a monthly or annual member, when you cancel your Zwift account it will stay active until the end of your billing cycle.
Questions or Comments?
What do you think of Zwift's annual membership option? Are you going to switch? Share below!