Did you realize that Zwift has over 100 "mixed-use" (ride and run) routes? 108, to be exact! See the full list here >
When it comes to choosing a route, Zwifters cover the full spectrum from "I didn't even know there was a way to choose my route" to "I have a specific route I want to finish each time I zwift." Some Zwifters stick to just a few routes, while others like to explore.
Whatever your style, it's all good. But here are some tips to help the more "route choosy" among us access the route you want, when you want it.
How To Select a Route
There are two methods for selecting a route to ride or run in Zwift.
Method 1: Choose from Route List
Zwifters can manually select a route it from a list of available options within a given map. This is done before you begin your activity: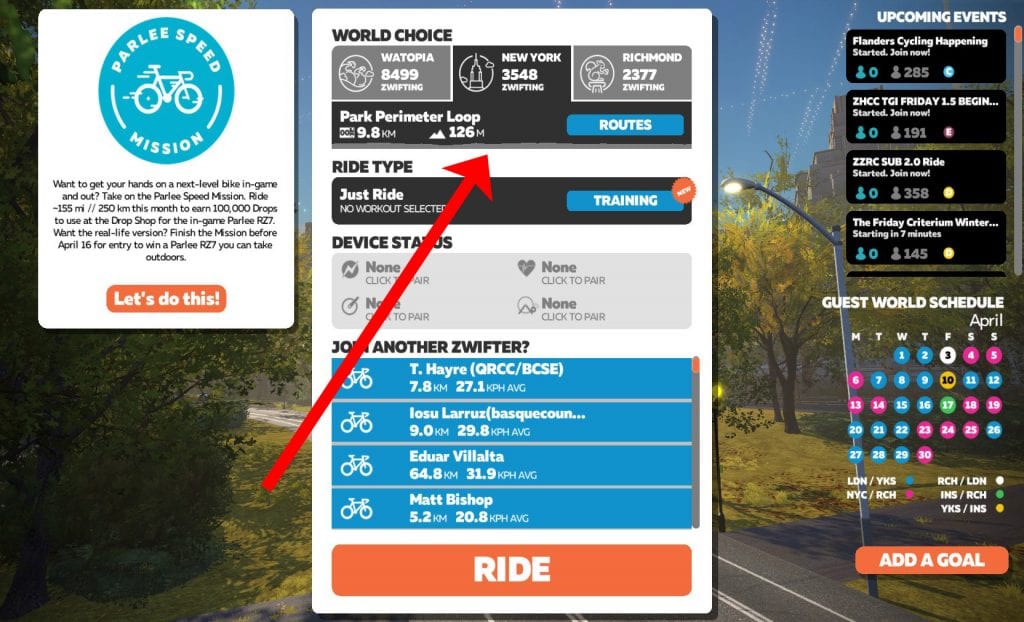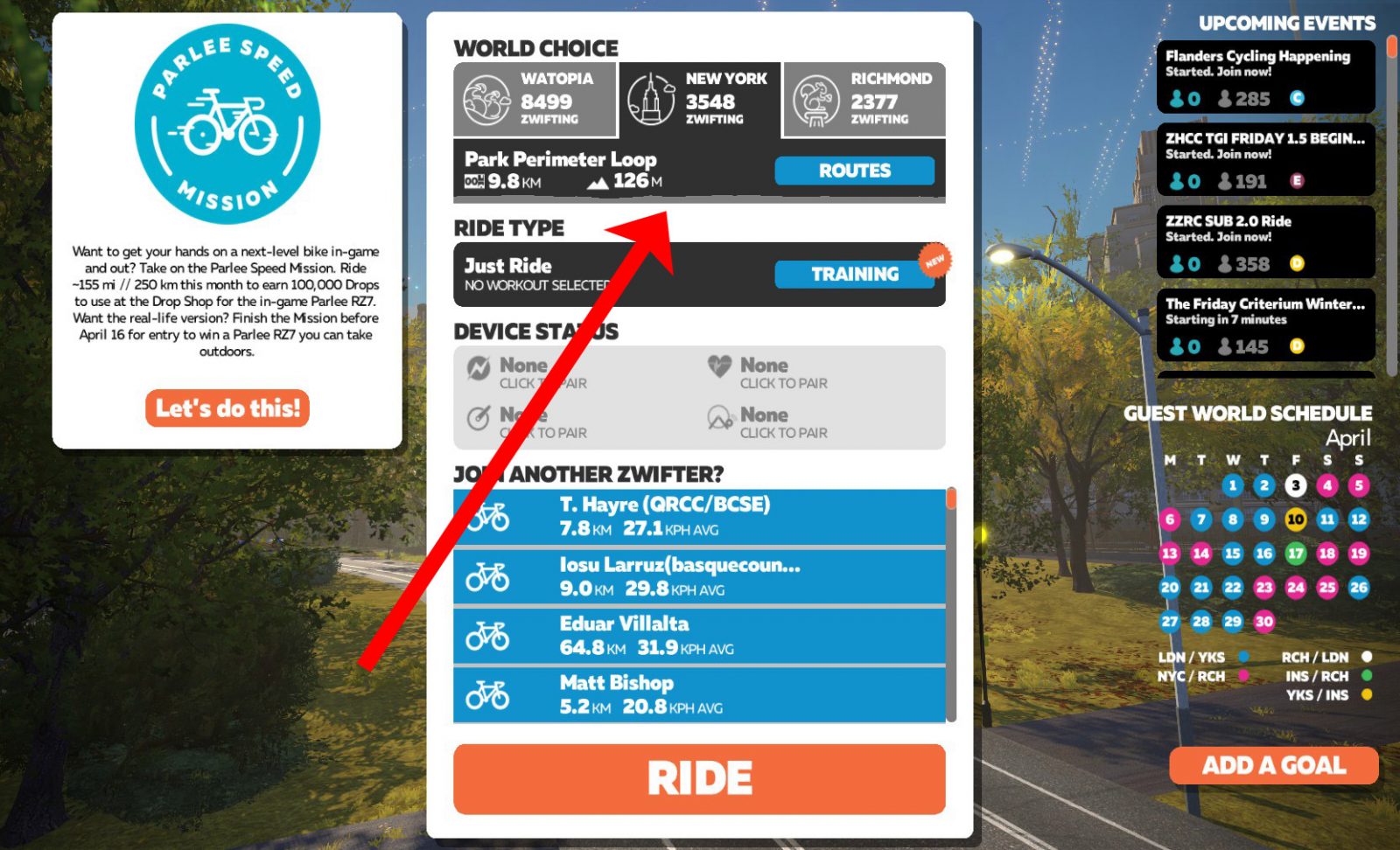 Method 2: Joining an Event
The other method of selecting is route is by joining an event. Every Zwift event that occurs, whether it's an official calendar event or a Meetup, is held on a single, specific route. That route is selected when the event is set up, and you can see that route in the event's details. Here are two sample events (a calendar event and a Meetup) showing the selected route:
How To Ride Any Route
While public events can be held on all 8 of Zwift's maps, and privately-organized Meetups can be held on all 6 of Zwift's "open" maps (thanks to a recent change), the routes available to choose from within Zwift on your own (Method 1 above) are restricted to just three maps each day.
Why? Because Zwift doesn't want to open up all maps to free-riding, since they don't want maps to feel "empty" because Zwift is a social platform. Therefore, Zwift has three maps available each day: Watopia plus two guest maps. The monthly schedule can be found here.
If you want to ride a particular route, but that map isn't on the schedule today, here are a few ways to get it done.
Option 1: World Tag Hack
Zwifters have been using this option for years, and even though Zwift has made it easier than ever whichever route we'd like for a given sessions, sometimes world hacking is the easiest way to get it done. This solution is quite easy on Mac and PC, but more of a hassle on Android and iOS. AppleTV? Don't even try it!
Option 2: Use the Zwift-Preferences App from ZwiftHacks (PC Only)
This little bit of software from Jesper at ZwiftHacks basically gives you a visual interface for world tag hacking, as well as access to many other Zwift preferences.
Visit the Zwift-Preferences homepage for details/download >
Option 3: Select a Public Event On Your Desired Route
If you're not into world tag hacking, or would rather complete your desired route in a group event, you can join an event being held on that route. Unfortunately, Zwift's event tools (Companion app and zwift.com/events) don't all us to filter events based on route at this time.
The good news is, you can search for upcoming events on particular routes using the ZwiftHacks Events app. Just enter the route name in the "Search in route name" box and viola! all upcoming events appear.


ZwiftPower also allows you to filter events by route.
if you don't actually want to participate in the group ride, but just ride the route, you can click to exit the event at any time after it has started. This will keep you on the same route, but remove you from the group ride. A good solution if the group ride pace doesn't match your goals for the day.
Option 4: Create a Meetup on Your Desired Route
Thanks to the recent update which allows us to create Meetups on all 6 open maps, any Zwifter can create a Meetup on any open route!
Note: Meetups cannot be held on "event only" routes, or on the event-only maps Crit City and Bologna.
The only caveat here is that you must invite at least one follower to your Meetup before the event can be created. So if you're only creating the Meetup because you're you're wanting to ride a particular route, you'll still need to invite a friend to join you.
AppleTV users: since you're unable to do the world tag hack, Meetups are currently the only way for you to access off-schedule routes, apart from joining a public event.
Learn how to create a Meetup >
Conclusion
Zwift's restriction of the daily map calendar can be a bit confusing, and even annoying, if you're wanting to ride a particular route. But there are ways to get access to that route, no matter what platform you're using to run Zwift.
So get out there and do a little exploring! And if you're really looking for a challenge, see if you can get all the route badges – here's a good place to start.
Your Thoughts
What method do you use to access the routes you'd like? Share your thoughts below!