Dutchman Bart Brentjens, 1996 Olympic gold medallist in mountain biking and a former Absa Cape Epic winner, described the event as the "Tour de France of mountain biking." For 2021 the event is moving entirely indoors, on Zwift!
This event lasts 4 stages, totaling 73.5km/45.7 miles with an elevation again of 789.4m/2,590' and will be raced solely on mountain bikes. The race will also include a competition for the GC, with a leaderboard being created using ZwiftPower, keeping in the spirit of racing for the Cape Epic.
The four stages will include a TT on the second stage and span from March 7-14. There will be 3 events per day to serve worldwide timezones.
Stage Details

Race categories for the "Open" race events follow the standard ZwiftPower categorization scheme (A, B, C, and D). There are also women's only events with their own women's categories (A, B, C, and D).
Stage 1 p/b Oakley
Stage 2 TT p/b Dimension Data
Stage 3 p/b ABUS
Stage 4 – Race p/b ASSOS
Signup and event schedule at zwift.com/events/series/2021-absa-cape-epic-stage-race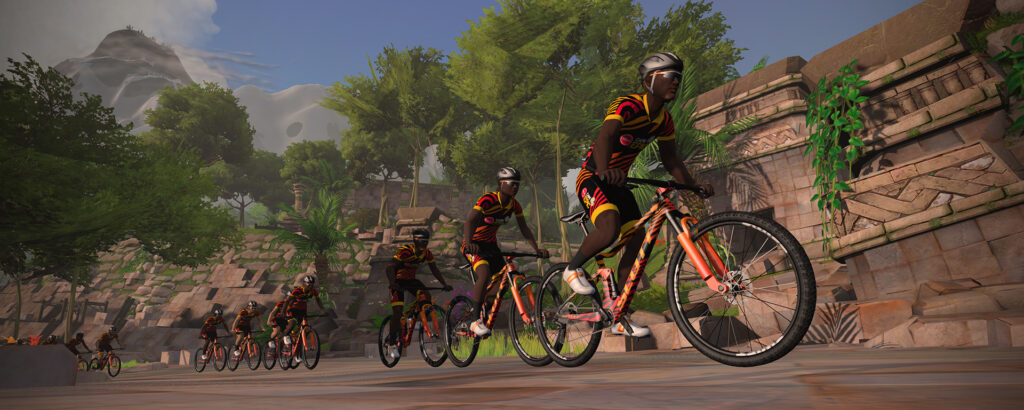 Event Unlocks and Prizes
Given the scale of this event, there are of course unlocks and prizes!
Be sure to read the official rules for details.
Absa Cape Epic Exhibition Pro/Am Race
The Cape Epic is the most televised mountain bike race in the world, and in keeping with the tradition, Cape Epic is going to be televising the Absa Cape Epic Exhibition Pro/Am Race hosted on Zwift's Serpentine 8 course on March 17th
Want to race the pros? Make sure you complete all 4 stages above so you can take part in the Pro/Am race! This will be a handicapped race, so the amateurs will start before the pro men and women, then try to stay away.
Podcast Rides
In addition, there will be Absa Cape Epic Podcast Rides presented by Payson McElveen on his Adventure Stache Podcast from March 1-6.
The podcast will be focused around the Cape Epic and the athlete's experiences of their time at the races, including discussing the race, the racing, team dynamics, kit, preparation, and the competition in general.
Questions or Comments?
Share below!