It's been one day since I rode for 25 hours on the smart trainer, covering 1000km. This is my story…
Planning and Preparation
One of my goals this year was to try pedaling for 1000km non-stop. My wife, who is involved with the Red Cross, suggested that I do it for charity, and I didn't think twice! I called the Red Cross, explained to them the project, and the event was planned before the call was finished.
I only had 8 days to organize everything, but luckily I'm in a period of excellent form this year. Due to the various lockdowns we have had, I will have covered (between indoor and outdoor rides) a personal record of 40,000km this year!
In the week before the big ride I only rode have my usual time each day. I usually train 3 hours a day, waking up at 3:30, but for this week I tried to wake up later, around 5. I also decided to ride in my comfortable living room instead of the basement.
Among other firsts, this would also be the first time in my life where there would be Red Cross staff to monitor and assist me for the entire duration of the ride, to ensure my health and safety. The day before the event my wife and I were invited to meet the president of the Red Cross, who thanked us for our work and handed me the jersey and shorts that I wore throughout the event (they performed admirably over 25 hours, with no bad consequences.)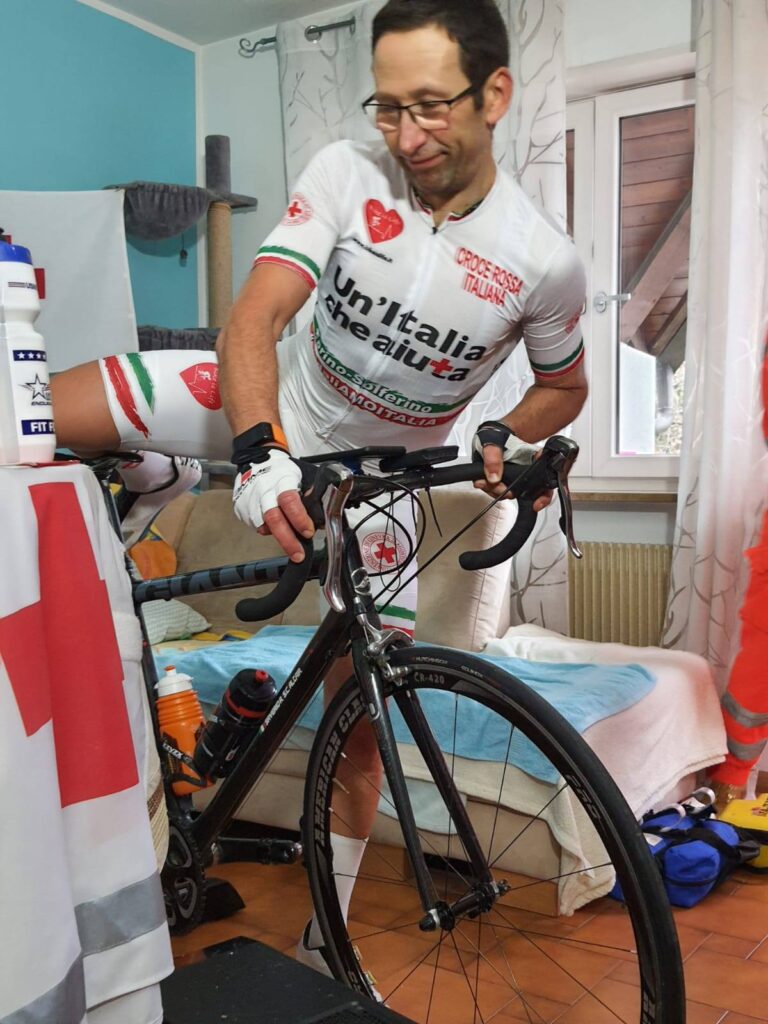 The Day Arrives
On the day of the event, Saturday 19 December I woke up at 6 and ate breakfast with a nice big slice of panettone, an orange juice, and a multivitamin. I had avoided drinking coffee for the previous 3 days so I could use it during the night, which would be the hardest time of the day to ride.
After the last hardware and software check, at 7:59 am I started my long adventure. The goal was to ride 1000km on Zwift non-stop except for some normal physiological breaks and all within 26/27 hours total. The route I chose was the Tempus Fugit in Watopia. At about 17.7km in length, it would be covered 57 times!
The plan was to stay in the company of the C. Cadence pacer bot, which usually goes at a speed of 39-42km/h. What was difficult about this feat was that, in addition to pedaling continuously for 25 hours, I would have to maintain a constant solid pace for the entire duration without ever giving up!
The event was also live-streamed on Facebook, where while I was pedaling, I interacted with those who were watching me, answering their questions. This helped me pedal a lot without thinking too much about the fatigue and boredom.
25 hours of pedaling are long to describe I will limit myself only to the highlights. Let me start by saying that I was surprised by how many people supported me in every way, both by pedaling with me, by donating, by writing me messages… I was very impressed by all of this. I apologize if I couldn't reply to all the messages and thank you in the moment.
The first hours passed quickly, between emotion and adrenaline I didn't really feel them. Seeing the low number of kilometers and thinking about the final finish line made me feel a little discouraged, but I'm used to this kind of enterprise where the head counts as well as the legs.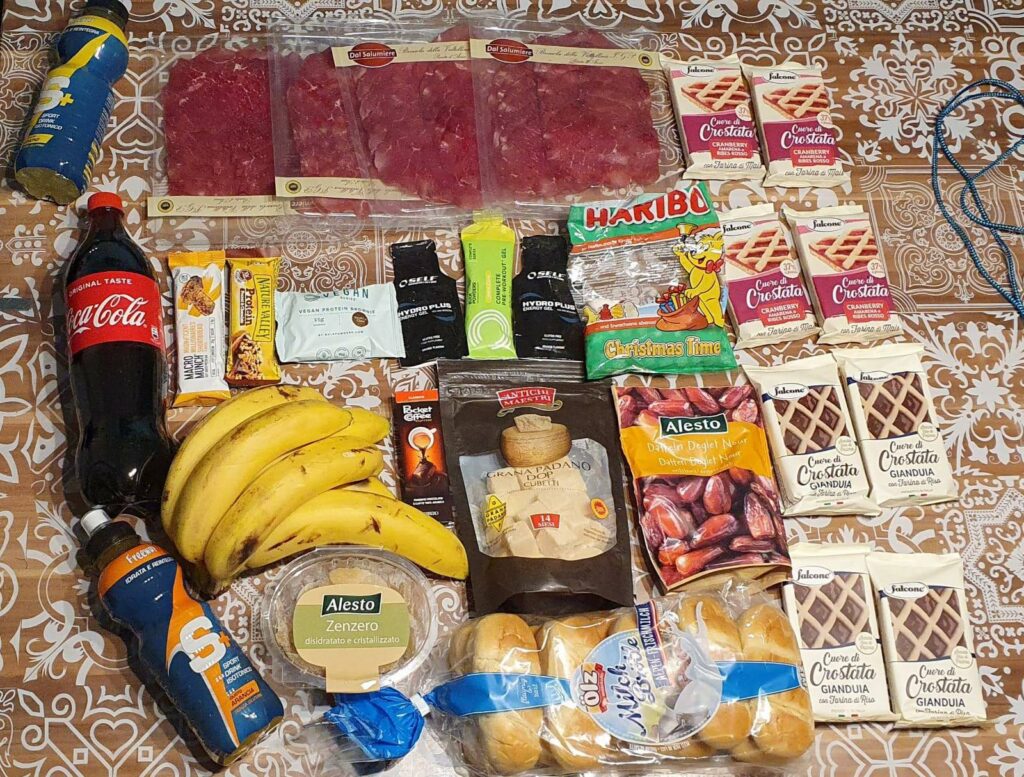 Eat, Sweat, Gab
Every hour I ate something, trying to alternate the salty with the sweet and also trying to eat proteins and fats and not just carbohydrates. For an effort and duration of this kind, it is necessary to eat proteins and fats to avoid muscle catabolism (the body destroying muscles for energy). Drinking is as fundamental as eating. Never get dehydrated! Every hour I tried to drink at least half a liter of liquids,
In the house it was 17 degrees and 45% humidity, which was the perfect environment. In fact, with the fan always on and oriented on me I did not sweat that much.
Looking back at my videos I realize that I was squinting – this was due to the sweat salt that accumulated near my eyes. I pedaled and talked, ate and drank. A nice loop, interrupted only by the Red Cross checking my vitals while I continued pedaling. Kilometer after kilometer, the goal was getting closer…
Finding something to say for 25 hours is not so simple! But it was rather easy because I always had numerous questions or curiosities to answer as well as greet the many friends from all over the world who follow me and encouraged me with their messages.
For lunch, I decided to eat a plate of dry pasta seasoned only with a little Parmesan, all while continuing to pedal. The problem was my portion was too abundant, and in the following hours, I felt affected. The blood goes to the stomach and muscles don't feel so strong anymore. I made a small mistake but fortunately, apart from a bit of difficulty in staying with my pace group, I survived and had no performance drops.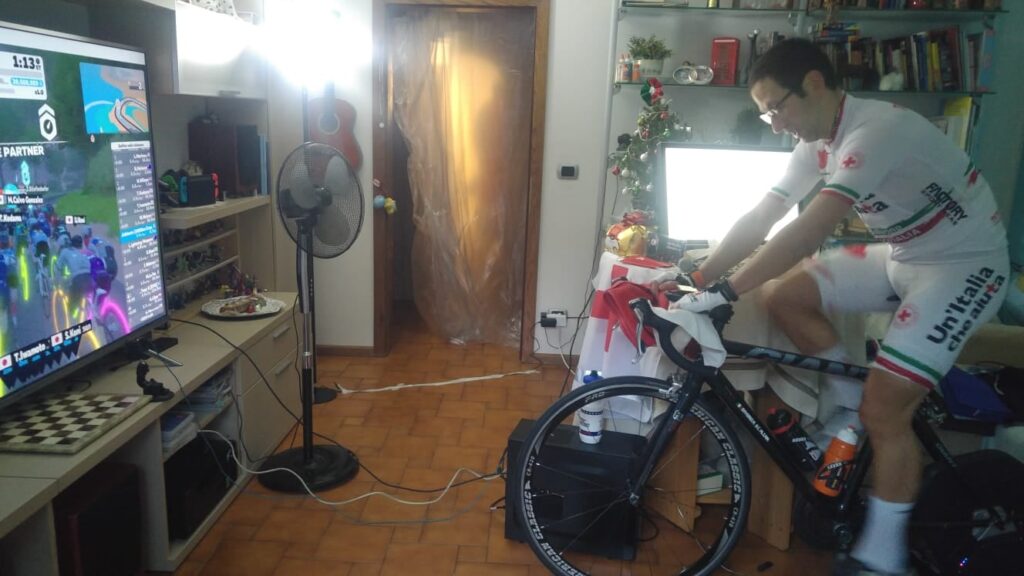 Hanging In with Friends
Miles and time passed, among other things on Zwift I was accompanied by several friends who accompanied me from all over the world. In my difficult moments they helped by pulling me back into the main group. I do not hide the fact that in the central part of the day the group was very large: the average speed was always around 42km per hour and I had to focus on not losing it due to the constant changes in speed.
The first 12 hours flew by. My dinner was 2 small slices of margherita pizza that I enjoyed like never before. I would have eaten two whole pizzas but then I would have been off the bike!
Around midnight I had my only brief crisis of the whole ride. My feet were quite sore, I couldn't push as much as I should, and I was struggling to keep up with the expected speed. So I decided to lie down on the sofa for 5 minutes and take off my shoes. After that, I got up immediately and I never stopped except for another very short pee stop until the end.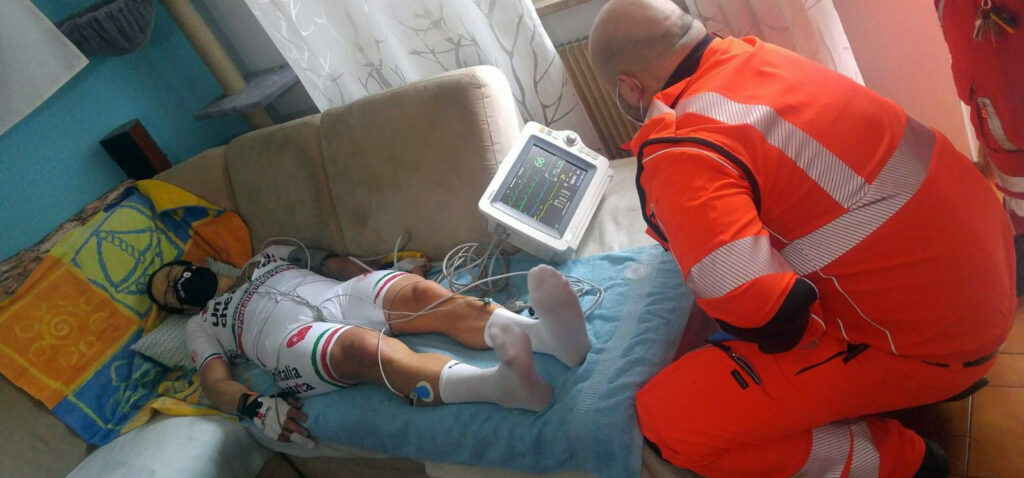 The boys of the Red Cross measured my blood pressure, oxygen saturation, and BPM 8 different times. Each time it was the same values: 170/60, 99%, and 125-135bpm.
From 1-3am I thought I might have another crisis, but instead the hours passed smoothly. My legs were spinning well. During the night, many American friends of Team USMES kept me company, but also many other friends that I've met when training. I took some coffees to keep my body stimulated, wanting to keep a good pedal stroke.
The Final Hours
The last 3 hours were the hardest in every sense, but I always had someone pedaling with me and helping me. If they saw me in trouble, they would help me rejoin the group or lend me a wheel to help maintain my average speed.
In the last 2 hours, I came detached from the pace partner group., it was hard to stay in the group, and when you detach it's difficult to come back unless you can pedal at 4-5 watts per kilo. I did not have enough energy to do it, but when I came detached so did some other friends, many from Team Italy.
We ended up as a real team, crossing the 1000km finish line with applause from the people who were present in the house. The president and vice president of the Red Cross of Bolzano also arrived for the occasion.
Wrapping It Up
Although it was the most tiring experience on a bike of my life, at the same time it was also the most exciting from all points of view.
In the end we managed to collect 2500 euros and for this I sincerely thank everyone. I also thank my family who allowed me to do all this by supporting me at all times when I needed it, and I thank all those who followed and encouraged me from their homes, and all the staff of the Italian Red Cross in Bolzano.
For data lovers, here are some key numbers from the event:
FUNDS RAISED FOR RED CROSS: €2520
KM COVERED: 1000.53
ELAPSED TIME: 25 hours 19 minutes
AVERAGE SPEED: 39.5KM / H MAX 48 KM / H
ELEVATION GAIN: 1458 meters
AVERAGE BPM: 136
MAX BPM: 161BPM
AVERAGE POWER: 152
MAX POWER: 541
AVERAGE CADENCE: 73RPM
MAX CADENCE: 101RPM
CALORIES BURNED: 13891 + 3200 METABOLISM
WATER DRANK: 10 LITERS
FOOD EATEN: 5 BANANAS 5 MILK BUNS WITH PEANUT BUTTER AND JAM 5 MILK BUNS WITH BRESAOLA 4 SLICES OF PIZZA 2 CROSTATIN 1 SLICE OF PANETTONE 4 SLICES BLACK BREAD WITH BRESAOLA AND SLIMS 6 CUBES OF GRANA 1 PLATE OF PASTA MIT PARMESAN DRIED DATES 2 GEL 2 COFFEE 1 GINSENG COFFEE 6 SQUARES OF DARK CHOCOLATE 1 POCKET COFFEE
I would like to emphasize that the whole event was carried out in total safety with regard to the anti-COVID provisions. At home, the people present wore masks, except for me who was pedaling – I wore it when the safety distance was not guaranteed (photos and greetings). In addition, the whole apartment was constantly ventilated with the windows open. Thank you all for the affection you gave me!
Want to Donate?
Since this post went live, I've had multiple requests for a donation link. Here it is: http://gofund.me/a1eea9a5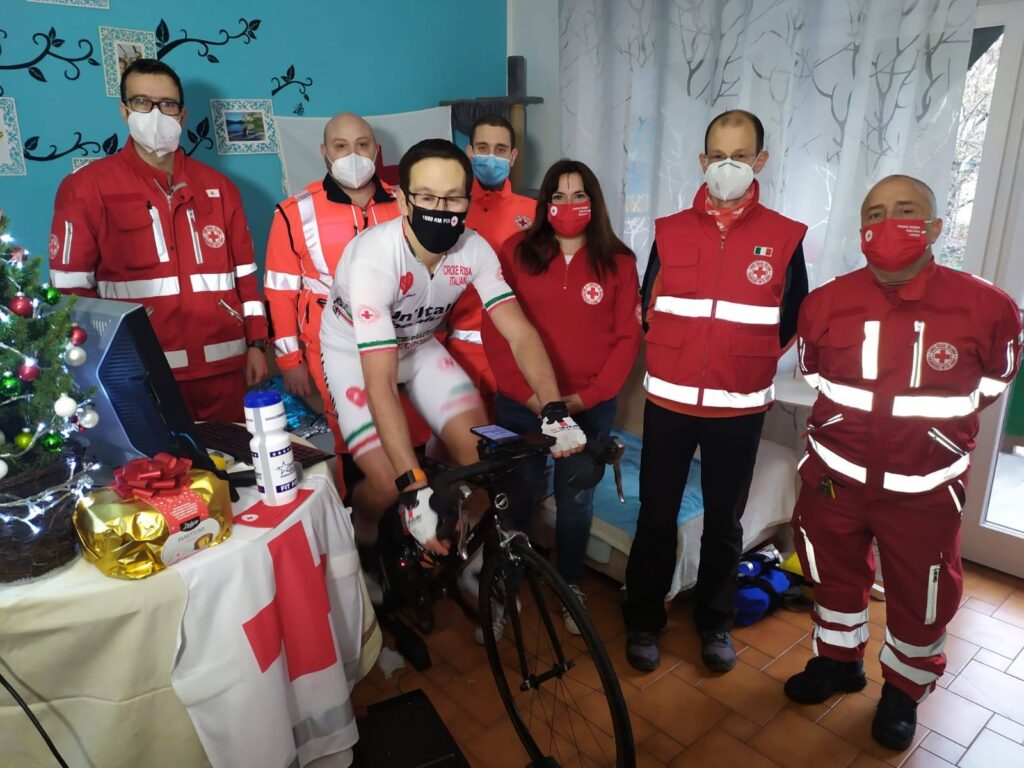 Questions or Comments
Thinking of doing a long ride on Zwift? Or perhaps you already have? Share your thoughts below!