The main issue with Zwift's workout editor is that you need to run Zwift in order to create a workout. I've already written an article on how to manually create or edit ZWO files, but fortunately the community has a much simpler answer – ZWOfactory!
The author (Matt McNeil) has this to say about his tool:
ZWOfactory.com is an editor for Zwift workouts. Zwift has an official built-in editor but it is quirky and has some bugs. It also requires installing and running the full Zwift application, loading a course, and pairing your equipment.

zwofactory.com aims to be an easy to use and lightweight (yet feature-complete) replacement for the built-in editor with none of the quirks or requirements. Another aim is to do all this without any server-side logic, user logins, advertisements, or other such nonsense. Just a zwift workout editor!
I've always find the Zwift editor clunky and slow when it came to creating something like multiple 30sec/15sec on off intervals so was keen to see how zwofactory would compare.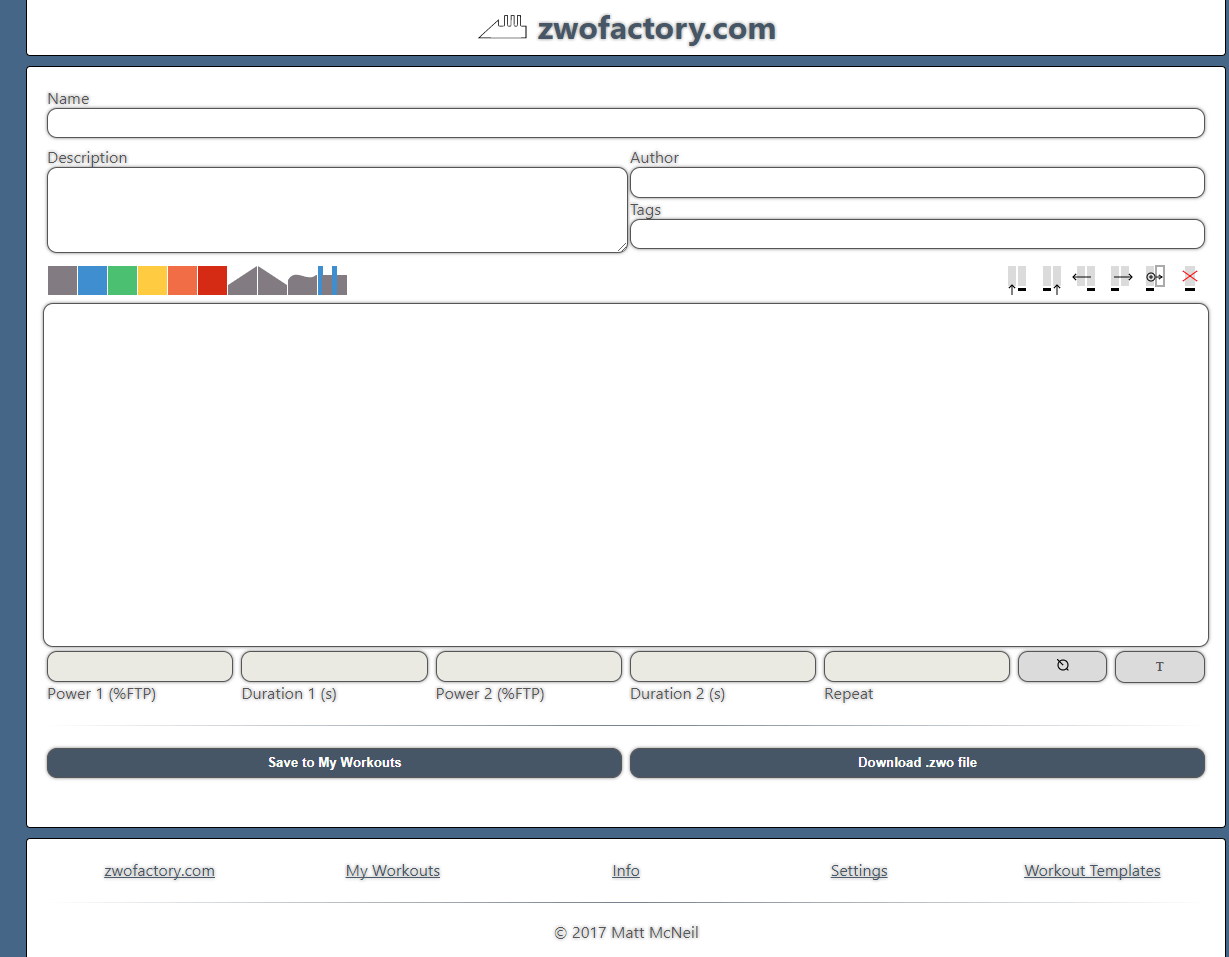 On entering the website you are presented with a blank canvas. Clicking info gives you a bit more detail on what each button does so I won't repeat it here, but let's just say Matt has addressed most of the deficiencies in the standard Zwift editor with buttons to repeat whole sections as well as the ability to have cadence targets as well as power targets.
If you are familiar with the Zwift editor then you have the standard warmup/cooldown, zone and interval buttons. Clicking a button drops the chosen section into the main editor. I was really pleased to see that I could set up one interval the way I liked including work/rest effort then simply change the Repeat field to have it duplicated, and use the copy button to replicate the whole section as the pics below show. This was super quick and easy.
Matt has explained the save function pretty well on the webpage as follows: "You have the option of saving workouts to "My Workouts". These workouts are saved in your browser, and are persisted as long as you don't clear your browser settings or reinstall, etc.
You can find your saved workouts with the "My Workouts" link, where you can manage the list of saved workouts as well as downloading them to your local computer (which I'd recommend doing before powering off your device.)
To clone one of your saved workouts, just click its edit button, change the name of the workout in the editor, and save.
There is also a host of pre-populated workouts under the Workout Templates link which you could use to simply follow or customise to suit your needs. These weren't working as I finalised this review, but were working fine a few days ago.
You can change some settings, if you want to get a load more workouts onto the single screen.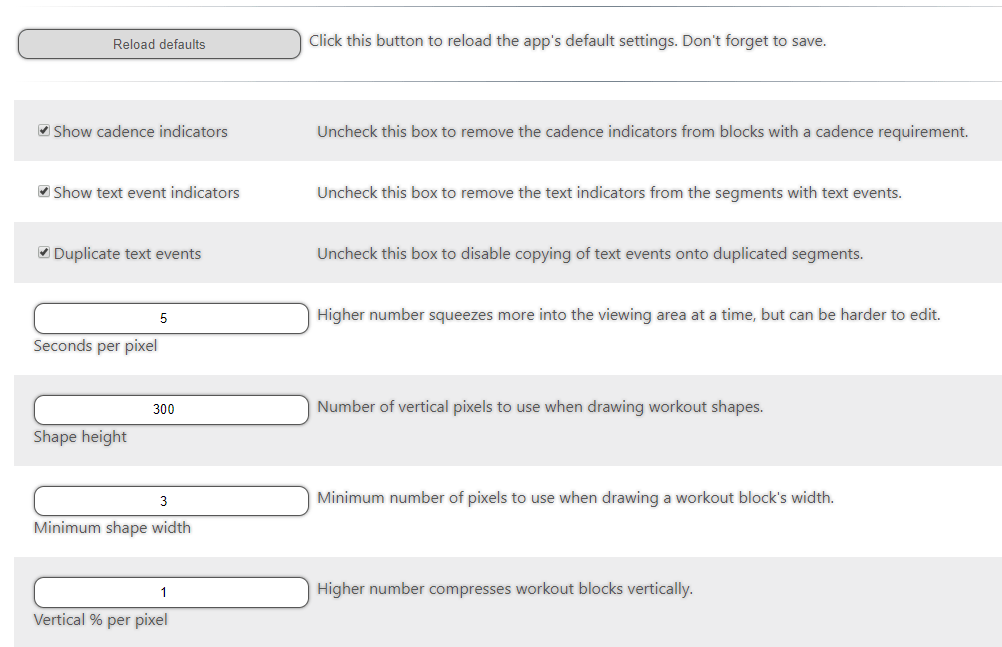 In summary, it's fast and easy to use and will be my go-to tool moving forward. I'll combine this tool with saving workouts into Dropbox, meaning I can easily create workouts from my browser, and have my workouts available on whatever device I am using at the time!