About this Series
Since March I have become obsessed with the weekly Team Time Trial… so I asked Eric if I could share my obsession with you all, in weekly doses.
Each week on a Friday I will give you a profile of the upcoming route, guidance on bike choice and some target times if you want to aim for the Premiere League (top-10 in each coffee class get to be in a special race televised on YouTube).
If you can't ride, or even if you can ride, but want more action! Don't forget to tune in to the live TV show on Zwift Community Live's YouTube Channel at 6:15 (UK time).
This year, World Bicycle Relief celebrates 15 years of changing people's lives in 21 countries around the world by providing the infamous Buffalo Bikes. These invaluable bikes provide entrepreneurs, students, doctors, and healthcare workers a means to cover the distances necessary to attend school, collect water or food, visit patients, or even just visit their own families. The tireless work of WBR empowers communities to improve access to education, livelihoods, families, and well-being which in turn breaks the cycle of poverty for years to come.
A single Buffalo Bike can make a world of difference to these communities and costs just USD147/GBP120. WTRL TTT #87 will be dedicated to this cause! More details to follow but there will be trophies and prizes available as well as fundraising related time initiatives for every team that enters. The home page at wtrl.racing has all the information.
Review of WTRL TTT #86 Greater London Flat
Not a decent hill in sight last week… the worst we had was the drag up Piccadilly. So speeds were fast all the way to the end. Before looking at this week's performance, here is a reminder of the historic times:
| | | | | |
| --- | --- | --- | --- | --- |
| Category | Jan 23rd #40 | April 30th #54 | July 16th #65 | December 10th |
| Vienna | 49:25 | 42:47 | 42:41 | 41:40 |
| Doppio | | | | 37:05 |
| Espresso | 40:58 (5 teams) | 37:09 | 37:10 | 37:39 |
| Frappe | 40:16 | 39:06 | 39:17 | 38:42 |
| Latte | 43:25 | 42:09 | 42:08 | 41:35 |
| Mocha | 52:37 | 47:38 | 47:22 | 46:48 |
R&K Hyenas only had 7 this week but a good 7. All the guys that were really hurting in Harrogate came into their own on the flat… and it was nice to see our hill-climbing Cat complaining about the flatness of it all! Only kidding… we love Cat. Ahead of the race I set us a time target that was a minute faster than we did in July – 44:10. We have been bouncing closer and closer to the 40th percentile in Latte and I really wanted to get past 60% this week.
Well… that last paragraph was written on Tuesday… we ended up with 6 on the field… but a good 6. Unfortunately we lost one to a technical halfway through. Still – our ending position in the GC table was pretty much where it was last week so I'm pretty happy overall.
Hyenas Heckle. Only six Hyenas made it to the pen – with Martin stuck in France somewhere… he may still be there! We nailed the start – and were immediately in a paceline. No worries at all getting to the start/finish straight first time around where we passed the team in front. Midway through lap one we were passed by a Cryo-Gen team who immediately backed off, forcing us to re-pass them… then a little later they came past again… that's always frustrating but it happens! Regardless, by the time we hit Hyde Park Corner tunnels we were 10 seconds ahead of the self-imposed split time. Helen hit IT issues and lost power temporarily but when it came back we got her back on the train – but it happened again and she told us to carry on. Being the unmerciful group that we are, we left her for the wolves. The remainder of the race was uneventful with strong efforts from everyone. As usual POD came first in the sprint finish!
Enough of the Hyenas race – here is where the PL contenders landed.
| | | | |
| --- | --- | --- | --- |
| Category | PL Spot | My prediction | Place |
| Vienna | 41:40 | 42:30 | 13th |
| Doppio | 37:05 | 38:00 | 12th (of 12) |
| Espresso | 37:39 | 38:30 | 28th |
| Frappe | 38:42 | 40:30 | 75th |
| Latte | 41:35 | 41:50 | 18th |
| Mocha | 46:48 | 46:00 | 9th |
All-in-all a pretty disastrous set of predictions… 75th in Frappe?!? I thought you would be faster than July, slower than April – but across the board you blew away the April numbers. Amazing work everyone!

WTRL TTT #87 Sand and Sequoias (2 laps)
This week is two laps of Sand and Sequioas. This route is a regular on TTT – I have ridden it three times (once with CICC, twice with R&K). In fact, this was the route of my first TTT. Prior to that it was the route four times – #51, #39, #26, and #19!
Two laps at 20km plus a lead in make this a 43km ride – add in a KOM and what we have here is one of the longest and hardest TTTs (at least until the TTT visits Alpe Du Zwift on New Years Eve). Even top-flight teams will be in the saddle for 55 minutes, and the rest of us should expect well over an hour.
Essentially the route is out from the pens on the Fuego Flats desert then back via the Titans Grove sequoia forest – then repeat it all. This route ticks all the boxes – the flat of the desert, the KOM itself, and the rollers that bookend the KOM. And it's long at 43km, too.
From the desert pens we head straight for the Sprint then through the start/finish gate. Through the desert for 10km (including the lead-in) before heading up the hill and into the Titans Grove. From here it's a sequence of rollers before heading up the KOM (2.6km at a pretty steady 3%) then more rollers. It flattens out as you hit the desert again for the remaining 3.5km to the start/finish banner – then do it again.
What to ride?
Bike recommendation on this route is tricky… for the Fuego Flats aero is king… but for Titans Grove the rollers give an edge to something more balanced. I will be on my Tron bike this week, leaving the Venge in the garage.
Here are some recommendations on equipment at various levels:
Level 6 Zwift Aero frame and DT Swiss ARC 62 wheels
Level 13 Canyon Aeroad 2021 and Zipp 808s
Level 18 Specialized Venge with Zipp 808s
Level 25 Cervelo S5 with Zipp 808s
Level 33 S-Works Venge with ENVE SES 8.9
Level 35 S-Works Venge with Zipp 808/Super 9
Level 45 get those 858/Super 9 wheels and pair them with the S-Works Venge
In this case though, if you have a Tron, use it… it beats every other bike on this route hands down. I cannot stress highly enough that if you are racing you need to be working on Tron. It'll take a while, but just set the Everest Challenge and forget about it for nine months… like having a baby.
Route Recon Rides
The last couple of weeks I have struggled to find good recce rides – but Sand and Sequoias is everywhere! – check for yourself on the event listing on zwifthacks.com.
If you don't want to go on an organized ride, but you do want to do some skills practice, always remember you can create a meetup in the Companion and bring the team.
Race Breakdown
As you can see from the route map courtesy of VeloViewer, the route is divided into two parts – flat in the desert, hilly in Titans Grove. There is an official Zwift race recon – but I didn't think this one translates well to a TTT.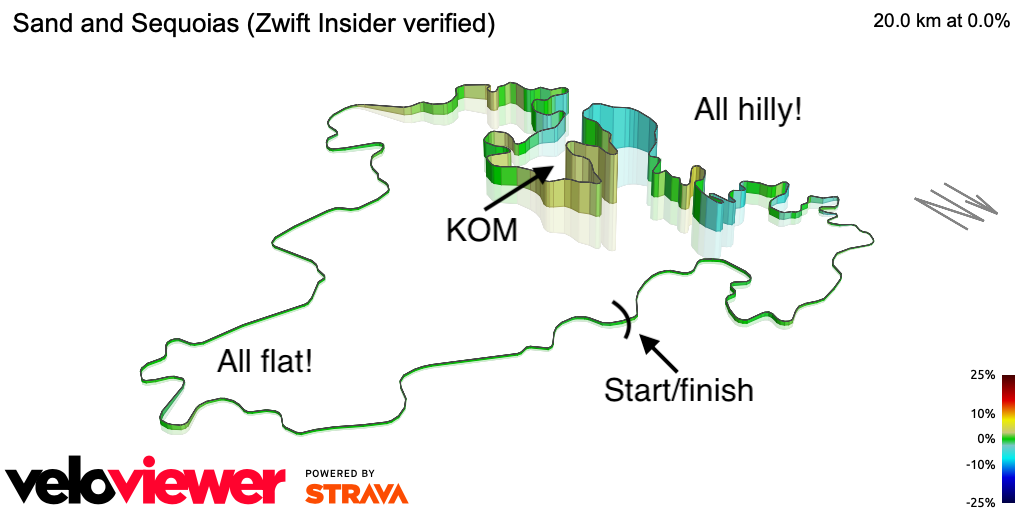 Start through the end of the Flats
It's 10k from the pens to the start of the rise into the sequoias. There are a couple of tiny rises but you won't notice them as you speed through.
Col du Saddle Springs
Some wag on Strava coined this term for a segment and I couldn't resist using it. After 10km flat this is the first real rise – a perfect opportunity for your lighter, stronger climbers to jump ahead and create a split! Rein in those riders and keep everyone together. This first little hill is just 2% for 900m up to the turn into Titans Grove.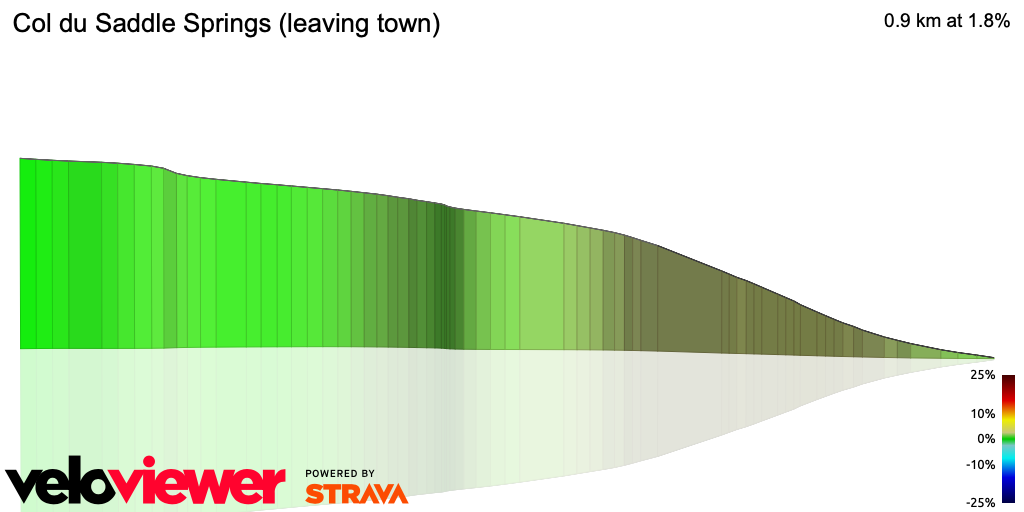 More up than down – the approach to the KOM
Rounding the bend from the Col you head into Titans Grove – a very pretty section, although you won't have the energy for sightseeing. Before the KOM itself are a jagged series of bumps heading upwards before the descent that marks the approach to the KOM itself. This segment feels just like The Esses to me – plenty of opportunity to gain momentum and increase the team's speed, but also a risk of splitting up.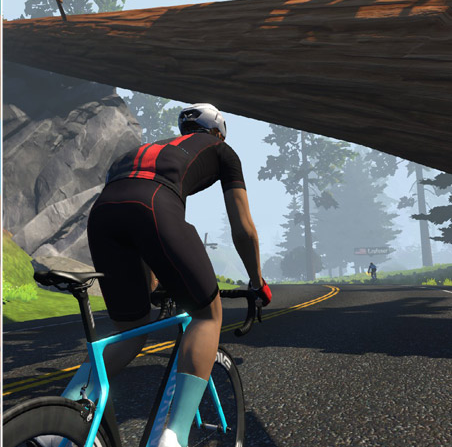 Titans Grove KOM
On the face of it, this is a 2.5km drag at 2%, winding up and around the mountain with three beautiful switchbacks. But the top and bottom are kinda flat… so the middle is steeper. Think of this as 1km at 4%. That's enough height and distance to create a split – particularly on the second time around.
I have raced this on two TTTs and in both we lost someone on this segment. Depending on your race strategy that might be fine on the second time through, of course.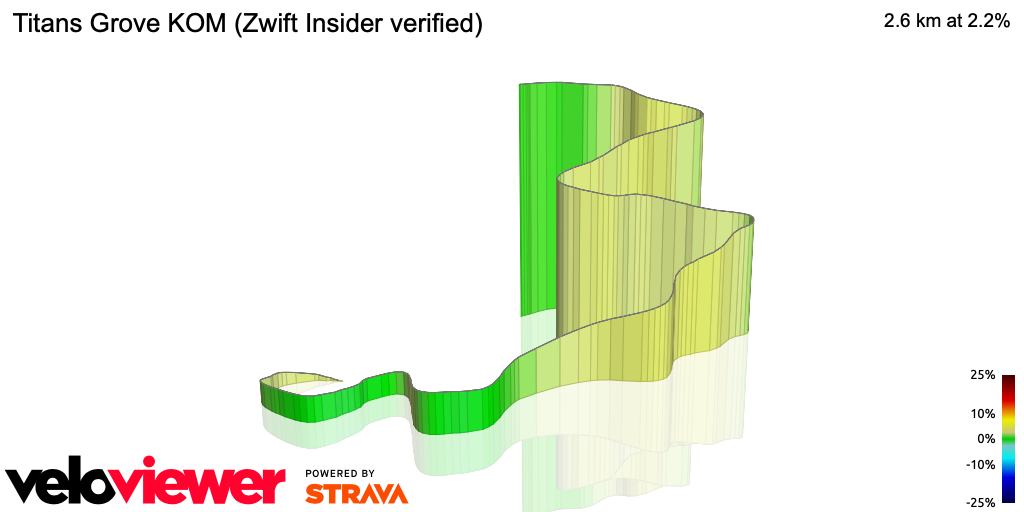 More down than up… after the KOM and back to the desert
Once you go through the KOM the grade heads downwards. There's a 4% downhill for a 1.4 km where you will pick up speed, then a series of rollers. With tired legs after the KOM (particularly on lap 2) this will put strain on the team. Keep an eye out for splits in the group.
After the rollers it flattens out as you speed back into the desert, through the sprint and on to the Start/Finish banner.

Target times
The WTRL splits here are at 10, 20 and 30 kilometers.
Split 1 (10km) – Just before the Col du Saddle Springs
Split 2 (20km) – As you reconnect to the Desert from Titans Grove on Lap 1
Split 3 (30km) – Passing the LAX Control Tower in Saddle Springs on Lap 2
How have you done in the last few attempts on this course? Here are the PL time markers from the past three rides on this course.
| | | | |
| --- | --- | --- | --- |
| Class | 9th April / #51 | 9th July / #64 | 8th October / #77 |
| Vienna | 1:11:12 | 1:04:14 | 1:03:17 |
| Espresso | 57:04 | 55:38 | 56:07 |
| Frappe | 59:42 | 58:55 | 58:44 |
| Latte | 1:04:51 | 1:04:03 | 1:03:10 |
| Mocha | 1:22:45 | 1:11:06 | 1:11:39 |
The last few weeks have been really competitive. The speeds have gone up far beyond my expectations – I don't know if it is wattage, TTT race craft, or a combination of the two. I do know it's fantastic to watch.
| | | | | |
| --- | --- | --- | --- | --- |
| Class | Split 1 (10km) | Split 2 (20km) | Split 3 (30km) | Finish |
| Vienna | 15:00 | 30:10 | 45:30 | 1:04:00 |
| Doppio | 12:45 | 25:40 | 38:30 | 55:00 |
| Espresso | 13:00 | 26:10 | 39:20 | 55:45 |
| Frappe | 13:30 | 27:30 | 41:00 | 58:00 |
| Latte | 14:20 | 30:15 | 44:30 | 1:03:00 |
| Mocha | 16:00 | 33:30 | 49:30 | 1:11:00 |
The Hyenas are 8 riders this week and a great mix for this course. We had a 1:05 time in October – but lost a couple of riders and a couple of minutes the first time over the KOM so were compromised from then on. I think if we are disciplined we can bring that time down by a minute or more this time around.
Wrap up
This race is all about decision-making. You will be flat out on the flat, and the hills will strain the team… people will get dropped. But for me, the critical sections are the rollers before and after the KOM. Hold together on those and everything else will come together.