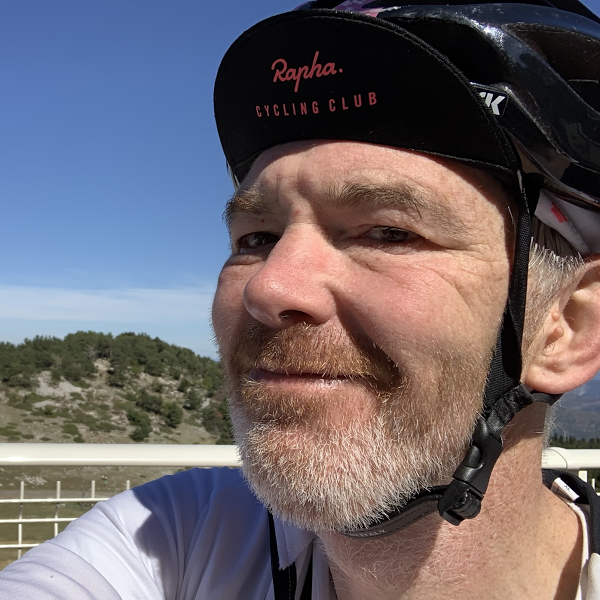 My passion for cycling started in a hotel bar when I was 49 years old, tipped the scales at 120kg and never exercised. Three years later I've lost the weight (down to "almost" 75kg) and I'm on Zwift most days! I climbed real-world Ventoux twice in a day, and I vEverested Alpe Du Zwift. I love the WTRL TTT, and each week I publish a recce with a course profile, bike recommendations, and even some target times. I have also started posting video recces and highlight reels, and you can find me on YouTube here.
For over a year now, the Thursday WTRL TTT has been the center of my week and Eric has been wonderful in letting me share that obsession with you here on Zwift Insider.
The TTT is an amazing ride… but if you can't ride (or even if you can ride, but want more action) don't forget to tune in to the live stream on Zwift Community Live's YouTube Channel at 6:15 (UK time)… or even my own livestream event.
Review of TTT #102: Watopia's Waistland
Remember, I'm trying to hit 11th place with my predictions. Apologies to Vienna, Frappe, and Mocha – I was way out! But well done Doppio and Espresso.
| | | | | |
| --- | --- | --- | --- | --- |
| Category | #80 | Prediction | Actual PL Time | My position |
| Vienna | 39:44 | 38:00 | 39:53 | 3rd |
| Doppio | 36:10 | 35:50 | 35:44 | 12th |
| Espresso | 36:20 | 36:10 | 36:24 | 11th |
| Frappe | 37:08 | 36:45 | 37:31 | 1st |
| Latte | 40:03 | 39:30 | 40:09 | 6th |
| Mocha | 44:28 | 43:00 | 44:56 | 2nd |
Our regular columnists from Team Giant Camden filed the following report on their trip around Watopia:
Thursday rolls round again the Giant Camden team machine winds into top gear to get the teams ready for the start line. As a regular in the Livin on a Prayer team I thought I would have to sit out this week's ride due to family commitments and with one or two other regulars doubtful LoaP was retired from the roster and the riders reallocated, Captain Diego went up a notch to the Eagles and the remainder went to help the Holy Rollers. Come Thursday and I'm back in the reckoning along with Jo so we both go to the Rollers. At the last minute Rollers captain Debs got stuck at work so the five-strong team were 4 LoaPers and one Roller.
On the start line (without the Trikes), banner up and a 9-minute delay to discuss tactics (maybe we should have done that a bit earlier?). Time to go and we're pedaling – something very odd…, all riders are together no glitches!
A tidy pace line held through the first 10km, a slight hitch as Bernard lost his Discord connection and 10 seconds while reconnecting then a furious sprint to catch the group. Franky held his own throughout despite the colorful comments, Rob and Pete pulled us along and used their superior physiques to help on the downward inclines. All five of us together the whole way and then to the final 500m sprint finish.
Harrogate Circuit Reverse
Next Thursday we have a 27km ride around the Yorkshire countryside. This is a technical course with nowhere to hide. It is a sequence of hills and descents with few stretches of flat to regroup.
Each lap is 13.8km with 240 grueling meters of climbing. Simon Schofield, head voice on the Zwiftcast comes from Harrogate has a nice race recon of the forward route… I dunno… read it backward or something. Alternatively, you can watch my recon ride of Harrogate Circuit Reverse. I've been practicing with my new video editor so let me know if you like what you see!
This course is best described as lumpy. It's not a mountain, but goes up and down throughout the ride. If you're practiced maybe you can balance the relative masses of your riders so the lighter ones lead you up the hills and the heavier ones lead you back down… but there's no getting away from the fact that heavier riders will have their suffer-faces on.
The ride starts with a nice easy 2% decline, but don't let that fool you into a false sense of security. DO use it (and the slight incline that follows) to get into formation and sort yourselves out. After that it's a sequence of hills; the first is the sprint hill (because the Sprint is on it) at just 2.5% to test the legs, then the Reverse KOM is 1.1km at 4.5% to sap your strength, and a little bump up Penny Pot Lane (1km at 4%). Next comes the aptly named Pot Bank Wall which is 750M at 8% and then a bump up Otley Rd (500M at 5%) before descending down to finish the lap back in the center of Harrogate.

What to ride?
Which bike should you use? When Eric tested this it came out a complete tie between S-Works Venge versus Tron. I've ridden this on both and frankly neither bike seems to make any difference.
My suggestion is pick a bike that mitigates your weaknesses – if you hate the hills go lighter weight, if you are a weight weenie yourself pick something aero to help on the descents.
Route Recon Rides
There aren't many rides or races on this course – check out the event listing on zwifthacks.com to see for yourself. Your best bet is just to watch me suffer through this ride in my video recon above!
Race breakdown
Race breakdown here is tricky. This ride isn't about knowing the route for me – it's about knowing your team and managing the effort. For each hill there is a descent, so there is a corresponding recovery – but only if your fellow teammates can manage their effort in sync with you.
Every one of these hills and the descents can cause splits in the team – make sure you stay together.
Start to the sprint banner
The ride starts with a nice easy 2% decline… don't let that fool you into a false sense of security. Do use it (and the slight incline that follows) to get into formation and sort yourselves out.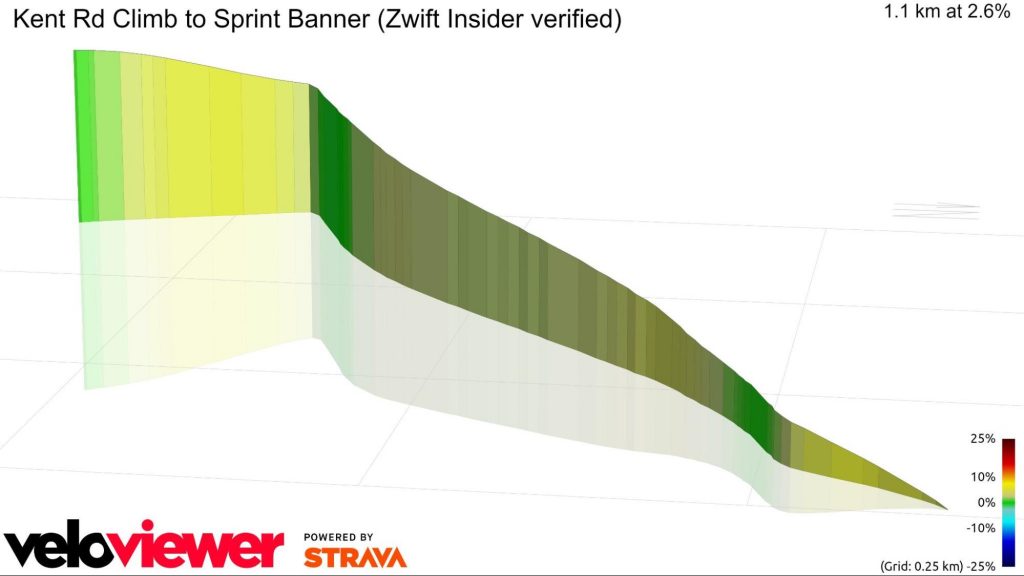 The first proper hill is Kent Hill, which appears at 1.6km (and 15.4km). This is a 1.1km hill averaging 2.5% but actually broken into three 3% rises as you can see from the Veloviewer profile. This hill ends at the sprint banner, then you descend towards the KOM.
The Kent Road Climb shouldn't give you too much trouble – just watch your friends!
Up and down the KOM
Descend from the Sprint Banner to 3.7km where the Reverse KOM starts.
Reverse KOM is a hill in three parts – part 1 is just 100m at 5% then it eases for 200m to 2.5km before the long steady 600m climb to the KOM banner at 5%. After the KOM banner the incline turns to a decline and you head towards Penny Pot lane.
Unlike the gentle Kent Hill Climb this is a proper gradient. There is benefit to sticking together as it is below 5% for significant parts, but to do that you will have to be disciplined.
The descent is 5%. Group together and get your speed up… maybe you can supertuck a little.
Penny Pot Lane
The descent from the KOM turns upward into the Penny Pot Lane at 6.3km – no flat here! Penny Pot Lane is in 2 parts, a 400 meters at 7% then 600m at 2.5%. You reach the top when you turn sharp left from Penny Pot Lane on to the B6161 and take the short descent to Pot Bank.
Pot Bank Wall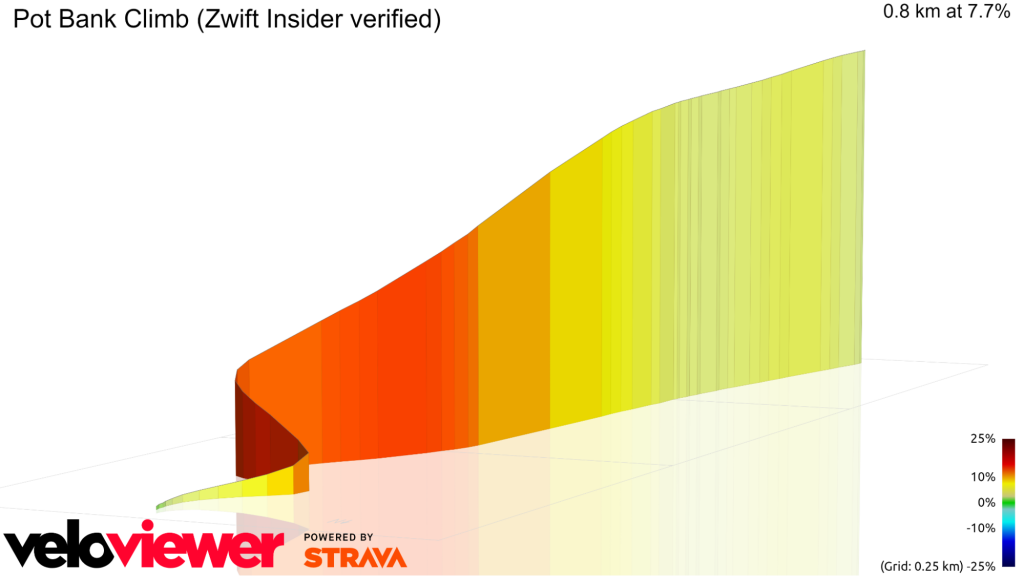 There is no easy answer to Pot Bank. I swear doing the recon ride I saw the gradient clock 24% for a moment.
The climb starts at 8.6km and it is the first 300m that's the worst, averaging over 10%. Then the climb eases back to a much more manageable 4%.
I've done this climb in two different TTTs. Both times my team crumbled on the second lap. In a way that is OK – let the 4 riders with something left in the tank take it to the finish while everyone else limps home!
Otley Road to the start
On its own, the Otley road climb isn't bad at all – its just 500 meters at 5% – but after the rest of this route it kills. Gather yourself after Pot Bank and work at the best speed you can. Be disciplined!
After the top of the hill it's a lovely 2.2km 2.5% descent to the start finish gate, where you get to do it again for one more lap!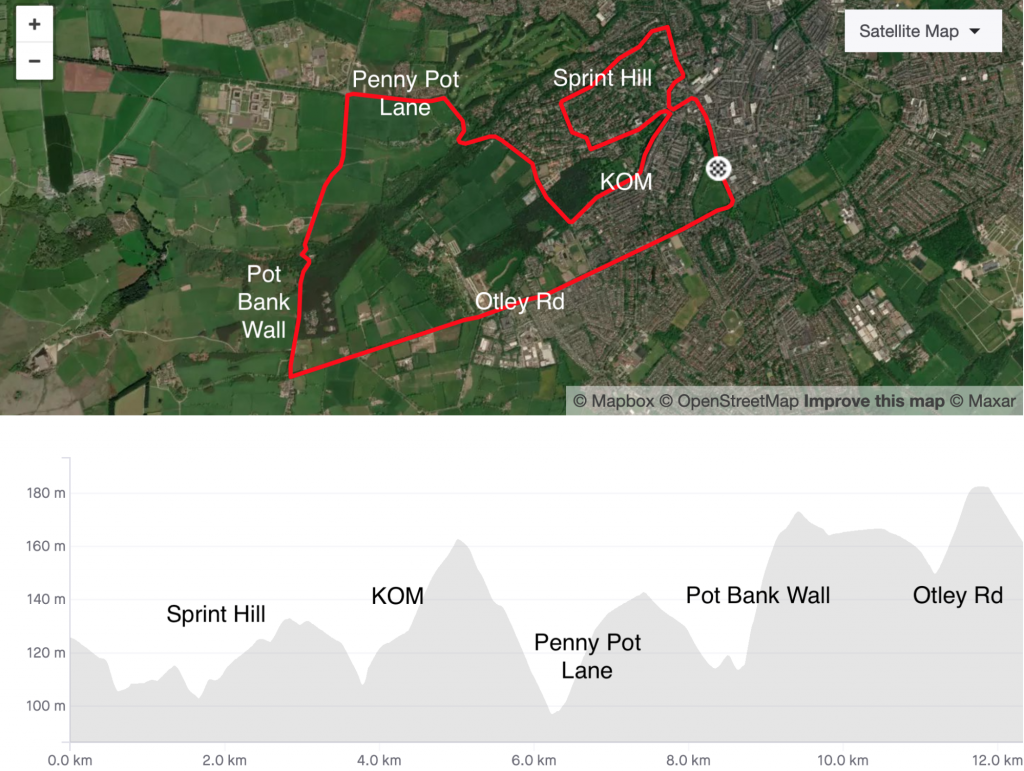 Target times
Here are my predictions for this week!
| | | |
| --- | --- | --- |
| Category | #85 | My Prediction |
| Vienna | 44:41 | 44:30 |
| Doppio | 39:18 | 38:45 |
| Espresso | 39:44 | 39:45 |
| Frappe | 41:13 | 41:00 |
| Latte | 45:37 | 45:15 |
| Mocha | 53:45 | 53:30 |
Wrap up
This is a technical, lumpy course. There is no defining feature of this course, rather, it is a sequence of hills that will sap the energy of the whole team. If you know your fellow riders, and modulate effort to stay together, you will deliver a great result.