Tough Times
I have spent a lot more time on Zwift over the past 5 months than I ever planned to and initially at least, that had nothing to do with the pandemic. At the beginning of December just a day after arriving in sun-swept Tucson for winter training I had the worst crash of my life. I was riding on a straight section of road about 20 minutes from home when I hit "the perfect storm" crack in the bike lane just right and was catapulted onto the dusty tarmac. In the words of the selfless female cyclist who had been following behind and called the ambulance: "Your bike just stopped in that crack". My body didn't stop though, and ended up with six rib fractures, a punctured lung, broken hand, and lights-out concussion as recompense for being on inertia's bad side.
It was a complete mess and despite excellent care from physicians in Tucson, I spent 22 days in the St Joseph's and St Mary's recovery units. When I finally got out for the final time, I couldn't ride outside or even think about it.  The vibrations caused too much pain and there was still a risk of internal re-injury if I had any mishap. Still, I was compelled to get moving. I had my last surgery on January 12th and by the 15th I had Zwift set up on the back patio in our Tucson rental house. The sun was shining, the season was only 6 weeks away and there I was pedaling slow circles and occasionally scolding our dog when he tried to dig new holes in the garden.  I didn't ride outside for 54 days (if I remember correctly) but thanks to Zwift I was still getting somewhere.
With the help of my family, my team, and the limitless empathy of my wife Emily I got back into shape fairly quickly once my injuries healed and I thought I had a chance at my early season goal at the Redlands Bicycle Classic. We all know what happened next and that is what brought my Elevate-Webiplex teammates and me to the start line of the Zwift Virtual Tour of the Gila.
Catching Up
The whole COVID thing really took the wind out of our team's sails motivationally. Virtual racing came up in conversation but I think the prevailing attitude was apprehension and confusion over the whole thing. Personally I hadn't raced on Zwift in about 4 years after I began racing as a pro on the road and spending the bulk of my winters in warm weather camps. For me the light bulb went off when I watched the Zwift Redlands Bicycle Classic and saw almost all of my usual competitors trading virtual attacks with the familiar and iconic Dave Towle commentating the action. That sure looked like real racing and I knew I wanted in.
Over the next 4 weeks we organized as a team and everyone dedicated a lot of energy, frustration, and four-letter words to figuring out the technology and tactics involved. We did several TTTs together to work out the draft effect and raced some smaller Zwift Tour for All races as a team using Discord voice chat. By the time Gila rolled around, we had come a very long way.
"This is so HARD!"
That phrase was yelled, muttered, and gasped more than once in our build-up and as we started Gila on Friday. The opening Team Time Trial was a virtual bloodbath. We had practiced well but it is an entirely different feeling when you add a full watt/kg to the effort. We ended up keeping 4 finishers together and turning in a fine 6th place result out of 25 teams. On the road, we might expect to win an event like that but with our lack of experience online and missing a few of our strongest IRL riders I was really proud of our effort.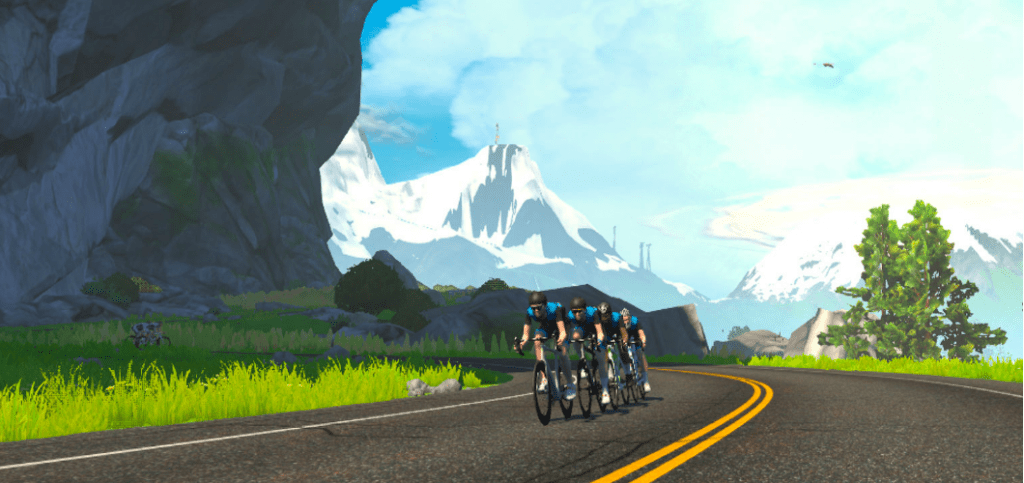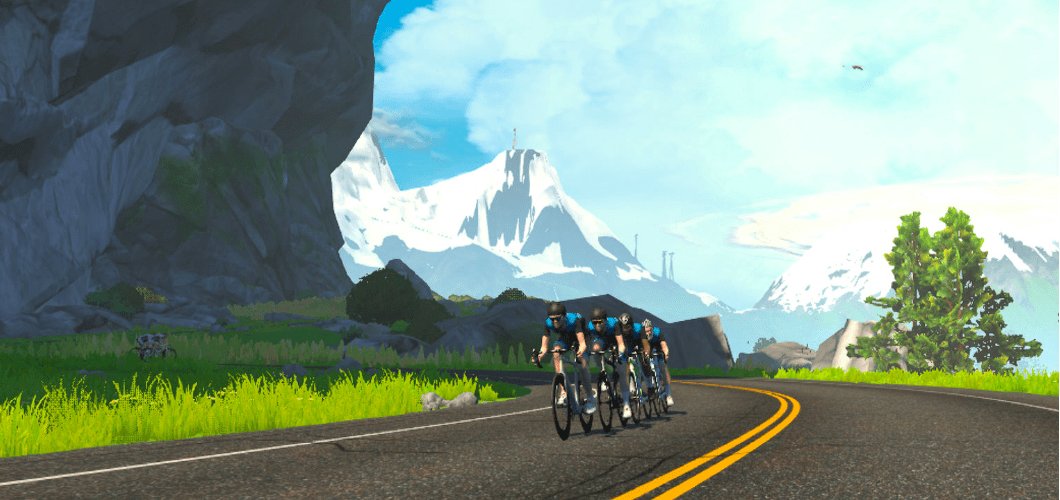 On the second stage the realities of a 150-rider pack, a hilly course, and racing with some of the best e-racers in the world hit home for us. I managed to hang on to the lead group and sprint for 14th, but the field had been decimated by the finish. We didn't have many cards to play with as a team and it felt like we were at the mercy of the more experienced squads. I was happy with my own ride but I knew my teammates would have faired far better than my measly 700w sprint to the line. Next time.
How the Race was Lost.
On the final stage I felt from the start I was on a good day and I mentally rehearsed my move on the final climb to the Epic KOM. "Hit out early. Find some help. Build a gap." Those were my directives to myself that rang over and over in my mind as we approached the 9km mountain pass. I knew the climb was steepest at the bottom and if I left it to the second half, the rolling terrain would favor the group over an attacker. I really didn't want it to come down to a 1-minute sprint up the final ramp to the line.
At first I didn't hit it that hard at the bottom, punching into the orange numbers only as much as the eager field around me. But then as the peloton seemed to exhale and settle into a steadier climbing rhythm I decided to bear down and stay on the same pace. Soon I was joined by Chris McGlinchey of the Vitus team and we started to stretch the gap to 5 or 8s as the climb eased off to steadier 3-6% gradients. Parts 1 and 2 of the plan were complete and I was working furiously on part 3, building a gap.
Unfortunately, part 3 stalled out as we struggled on. McGlinchey mostly sat on, knowing that I was behind him on GC. And despite holding good power, the group kept us within 3-9s the rest of the way. I didn't really see a choice other than to press on. Starting the final ramp to the line with a small advantage would still be better for my odds than going back to the group and sprinting.
Attacks flew, the group swarmed to within touching distance of our back wheels, but as we came off the short descent into the last kilometer there was still the smallest of separations between us and everyone else. I just went for it, trying to hold them off with a prolonged burst at 480-500w. I was still leading within 100m of the line! McGlinchey had played the smarter hand though, falling back into the chasing group for a moment, recouping energy in the draft, then launching again. He passed me like a rocket but I was able to hold off the rest. Second place.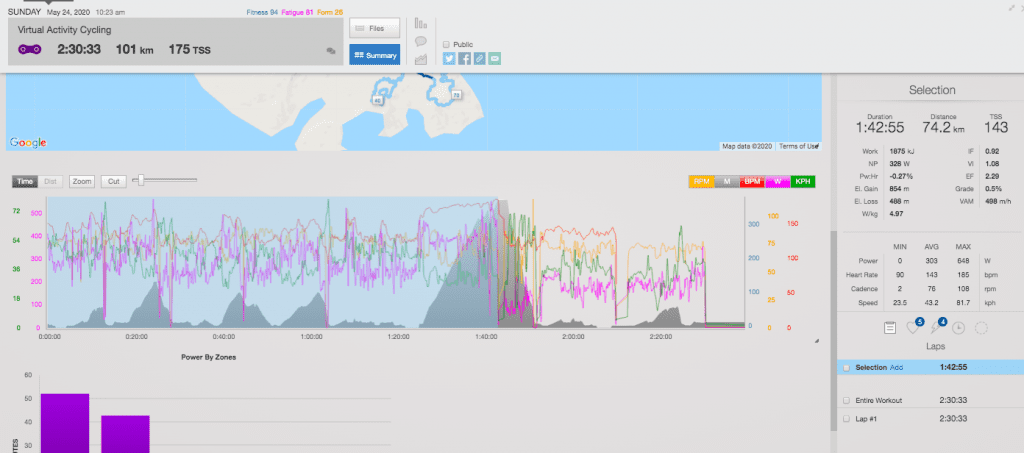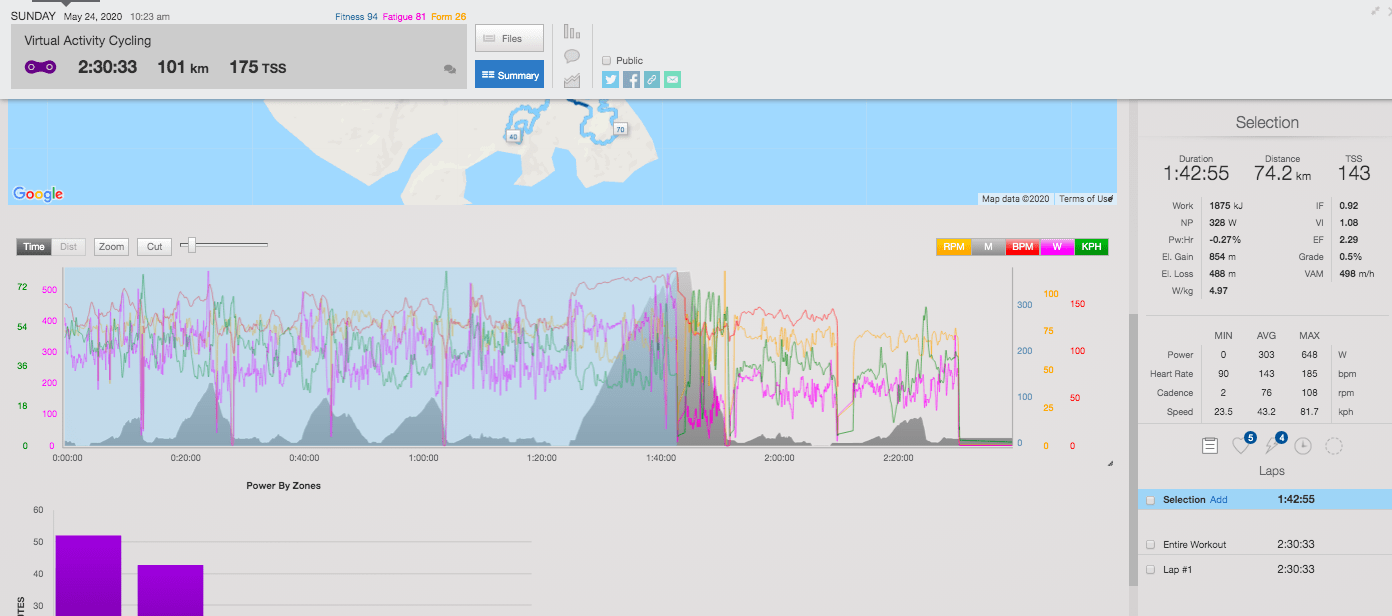 I guess I made it back…
I had turned in one of my better 20-minute power outputs, set a 4-year PR for max heart rate, fulfilled my game plan… and it just wasn't quite enough. Still, I was beaming, my mind adrift in the pleasant wash of adrenaline, relief, and satisfaction that only comes with racing success. It sure felt like the real thing just then even if I collapsed onto a nearby futon and not into the arms of a waiting soigneur. And the pounding in my ears was gradually replaced by a new refrain: "I guess I made it back".
I'd been struggling for months with the idea that I would never be the same rider again after my accident. COVID and a lack of racing only made the self-doubt worse as I couldn't prove myself in competition. I didn't know if virtual racing could fill that gap for me, but at least for a day it really did.
I can't wait for the next one. 
Questions or Comments for Jordan?
Share below!