Last week's Tiny Races resulted in some very close overall points competitions. In fact, we awarded the first ever DOUBLE WIN (aka, a draw) to the D category mixed group in Time Zone 3, where the two top riders both won 2 firsts and 2 seconds in their races.
(Typically we give the overall win to the rider with the highest single race placings, but in this case we couldn't since they both had the same single race placings!)
Rather than bringing it down to finishing times, we decided to award the first-ever overall tie, to celebrate this unique occurrence. Well done, David White (EVO) and Craig Harcombe!
Last Week's Results
Overall Winners
A: Joakim Lisson (POAUTO-CeramicSpeed)
B: Westley Yates
C: Gertjan Van Schelvergem (BZR)
D: Damo (EVO)
A: Jon Werme (eSRT)
B: P. Vignol (FFZ)*
C: Peter Enserer (WLBB)
D: Cody Chandler (DraftingDinos)
A: Sam Crofts (DIRT)
B: Colin B. (DIRT)
C: James Balloch (Coalition)
D: TIE: David White (EVO) and Craig Harcombe**
* Vignol tied with "Mark R" in points, but Vignol gets the overall win since he had the highest single race finish.
** David and Craig both achieved 2 1st place wins and 2 2nd place wins, tying them for points. We considered looking at finish times to declare the winner, but decided to give them both the win instead!
Women's Winners
A: Emilia Welte (SYNERGY)
B: Maria Marb (Beastmode pb ROSE)
C: Jessica Hamilton (KittyHawk)
D: –
A: –
B: Amanda Wendorff (IRACELIKEAGIRL)
C: Jill Sarginson (Synergy)
D: Darja Vavpetic (VirtuSlo)
A: –
B: –
C: Carly Graham (CrushPod)
D: Mina S (ZSUNR)
This Week's Races: 1 Route, 4 Powerups
To celebrate/highlight/test Zwift's newly rebalanced powerups, this week, for the first time, we're racing the same route for all four races. The only difference between the races is the powerup you will receive near the start of the race.
How will powerups change the race? And will riders learn and improve on this very technical finish after taking it on race after race? Let's find out!

Sign up at zwift.com/events/tag/tinyraces
ZwiftPower Results
Zwift displays preliminary race results in game when you cross the line, but points are computed after all four races are finished, with final results on ZwiftPower. (We have to do some data processing on our side to compute results, so if your rankings don't show up right away, be patient.)
Riders will earn points based on finish position in each of the 4 Tiny Races. The category winner of each week's series is the rider with the most points across their timezone's 4 races. Here are the links for each timezone's results on ZwiftPower:
Rules
Tiny Race rules are simple, but still every week 7-10% of registered ZwiftPower racers get disqualified and removed from the final results. Don't let that be you! Four races, four rules:
You must have a ZwiftPower account, because final results are processed by ZwiftPower (learn how to sign up)
No skipping then returning. These races are meant to be raced as a set of 4. If you need to leave early, that's fine… but once you miss a race in your hour's set of 4, don't come back and race another or you'll be disqualified from that race since you rested while others were racing! (Example: racing only races 1 and 2 is fine. Racing 1, 2, and 4 is not – you will be DQ from race 4. And if you race 2, 3, and 4, you'll be DQ from all those races, since you skipped race 1!)
Heart rate monitors are required for podium finishers
ZPower/Virtual power is not allowed. Smart trainer/smart bike or power meter required.
Join a Chat & Chill Cooldown
Immediately following each hour's racing, we've scheduled 30-minute "Chat & Chill" events where riders from all categories can spin their legs together and chat about how it all went down. Find them at zwift.com/events/tag/tinyraces.
Zwift Insider Kit Unlock
Finish any Tiny Race or a Chat & Chill ride and unlock the Zwift Insider "Ride Smarter // Ride Harder" in-game kit.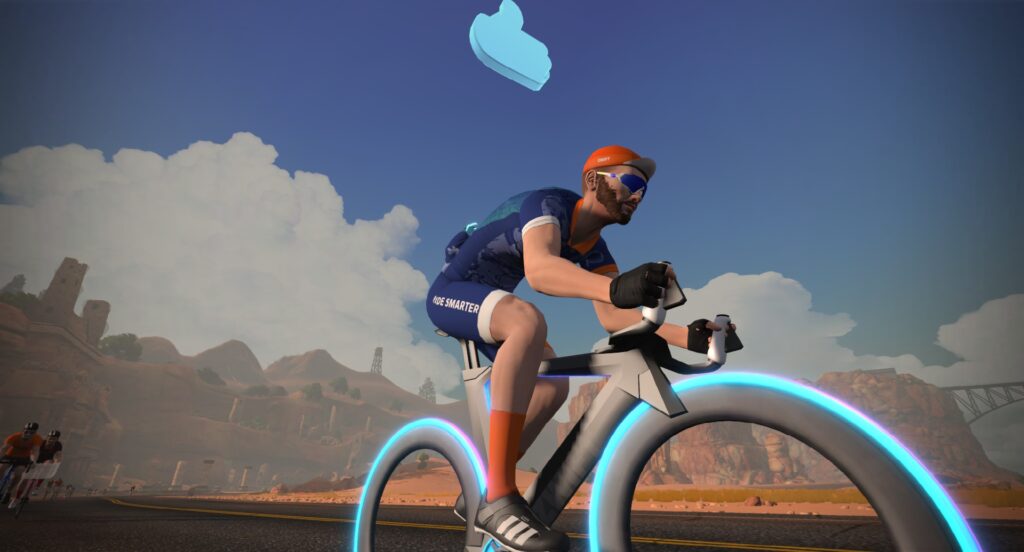 Questions or Comments
Post below!