Make no mistake: Tiny Races are tough! The races are short, the fields are strong, and the effort level is high. As Tiny Races have grown in popularity, we've seen an increase in the number of riders "sniping" races: racing just one or two events, hoping to grab some easy ZwiftPower ranking points.
No More Sniping
This weekend I've knocked together some code in order to try something new: if you don't finish all four Tiny Races in the timezone you race, you'll be disqualified from ZwiftPower results for whatever races you did finish. That's right: no more points sniping!
My guess is this will cause a decrease in signup numbers, but an increase in race fairness and quality. That's a trade I'm willing to make!
Last Week's Results
I raced the zone 2 B's last week, and Zwift Academy winner and current EF Education-TIBCO-SVB pro rider Tanja Erath was in the field, smashing all four races. She took the win for the ladies, while Nathan Guerra's better half Gabriela took the A win in zone 1 for the ladies. Super fun!
Overall Podiums
A: Ethan Treacy (BL13)
B: Anders D. Christiansen (DZR)
C: Carl (CycleChat)
D: Dan Bekker (DBR)
A: Johannes Randrop Keiding (Fusion)
B: Greg Alexander (ZRScot)
C: Gary McGeehin (ART)
D: Henrik Rothenbücher
A: Fabian D'Evola (dPAC-ELITE)
B: Eben Swart (DIRT)
C: David Hivey (ART)
D: David White (EVO)
Women's Podiums
A: Gabriela Schumann (Beastmode p/b ROSE)
B: Sara Lundin SZ
C: Marjolein de Vliegher (Herd)
D: Linda Winkens (Team NL)
A: Åsa Fast-Berglund (SZ)
B: Tanja Erath (TIBCO/SVB)
C: Mona Kangasniemi (ZZRC)
D: Darja Vavpetic (VirtuSlo)
A: none
B: none
C: Kelsey Tranel (KRT)
D: Jadene White
This Week's Routes: Going Downtown
We've got four fresh routes this week, all in Watopia, all beginning from the downtown start pens. But each route heads in a different direction, and they'll get harder (read: more climby) with each race!
Here are photos so you can see the precise location of the custom finish line for race 1: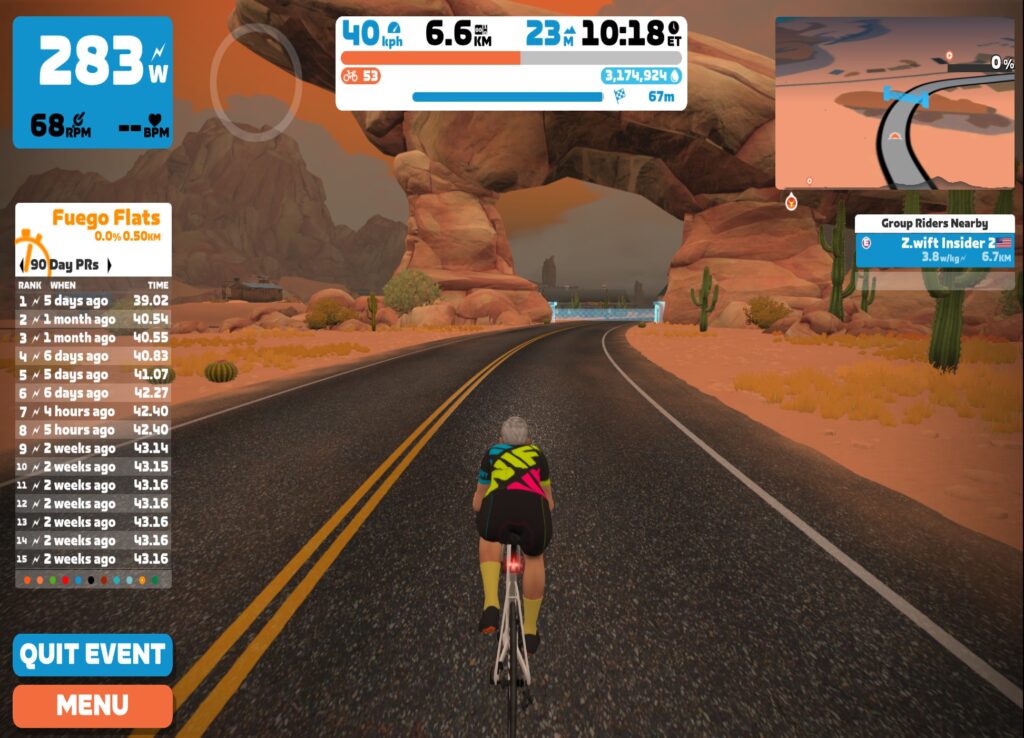 Sign up at zwift.com/events/tag/tinyraces
ZwiftPower Results
Zwift displays preliminary race results in game when you cross the line, but points are computed after all four races are finished, with final results on ZwiftPower. (We have to do some data processing on our side to compute results, so if your rankings don't show up right away, just be patient.)
Riders will earn points based on finish position in each of the 4 Tiny Races. The category winner of each week's series is the rider with the most points across their timezone's 4 races. Here are the links for each timezone's results on ZwiftPower:
Rules
Tiny Race rules are simple. Final results live on ZwiftPower, and:
Heart rate monitors are required
You must finish all 4 Tiny Races in your timezone, otherwise you will be disqualified from whatever Tiny Races you did finish. No points sniping!
Join a Chat & Chill Cooldown
Immediately following each hour's racing, we've scheduled 30-minute "Chat & Chill" events where riders from all categories can spin out their legs together and have some fun chatting about how it all went down. Find them at zwift.com/events/tag/tinyraces.
Questions or Comments
Post below!