From the editor: now that April 1 has passed, we're adding a note here to let you know that yes, this was an April Fools' Day post. But we're keeping it up posterity… and because we think it's fun.
If single isn't your speed, Zwift's new matchmaking service may be just what you're looking for.
Announced today, Zwift's "Tandem" uses the company's vast database of rider metrics and its aptly-named Companion app to match riders looking to mingle. Zwift's press release claims Tandem "matches eligible Zwifters with startling accuracy while providing a safe virtual hangout space."
How does it all work? While we don't have access to the closed beta app just yet, Zwift's sparse press release and some extra details from inside sources give us a good idea of how it all works. Let's dig in…

Multi-Metric Matchmaking
Dating site eharmony took online dating to the next level when they released their survey-based matchmaking services in the early 2000's. While eharmony asks new users numerous questions about religious background, career aspirations, and weekend hobbies, Tandem makes it easy, using the metrics Zwift already has in order to make a match.
While Zwift is keeping the complete Tandem formula under wraps, we do know matches are being made on these key metrics:
FTP: for those looking for something long-term and steady, compatible FTP is crucial.
VO2Max: if you're looking for a more sprightly fling, checking VO2Max compatibility is a no-brainer.
Course Affinity: the couple that rides together, stays together. Looking at your favorite routes says a lot about compatible partners.
Tron Ownership: simply put, Tron ownership status needs to match. Two non-Tron owners? No big deal. Two Tron owners? Perfect. But you're just looking for jealousy if only half the couple can ride Zwift's most coveted bike.
Team Membership: Zwift is home to hundreds of teams, and studies show that riding for the same team gives couples shared goals.
Max HR: some studies show that max heart rate is an indicator of compatibility between partners.
Getting Started
Once Zwift's phased rollout is complete, all Zwifters should see an on/off toggle in their main settings window for "Tandem Matchmaking". Ready to test the waters? Turn it on and let Zwift's algorithms work their magic!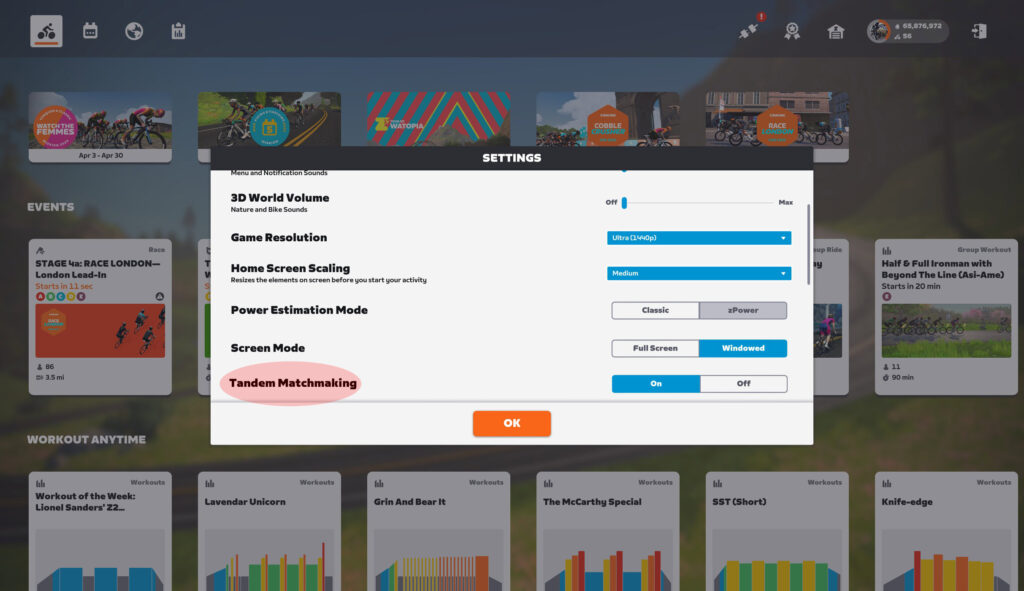 Efficient and Safe
Tandem is a "Zwifty" version of dating, bringing efficiencies to an activity that can be time-consuming and intimidating, much like riding a bike outdoors.
"Kitting up, braving the weather, and riding in traffic intimidates some riders. Zwift took those issues away," explains Mark Cote, new head of Tandem's product team. "Now we're doing the same with dating by making it easy to meet potential partners while sticking to your workout goals."
Zwift's matchmaking algorithms do all the heavy lifting, even going so far as to suggest virtual meetups on favorite courses. "Ride together virtually, chat using the Companion app, and see if you want to pursue things further," says James Bailey, Zwift's new Director/Ambassador of Tandem Events. "If it doesn't work out, just flip a u-turn. There are plenty more real fish in Zwift's virtual sea."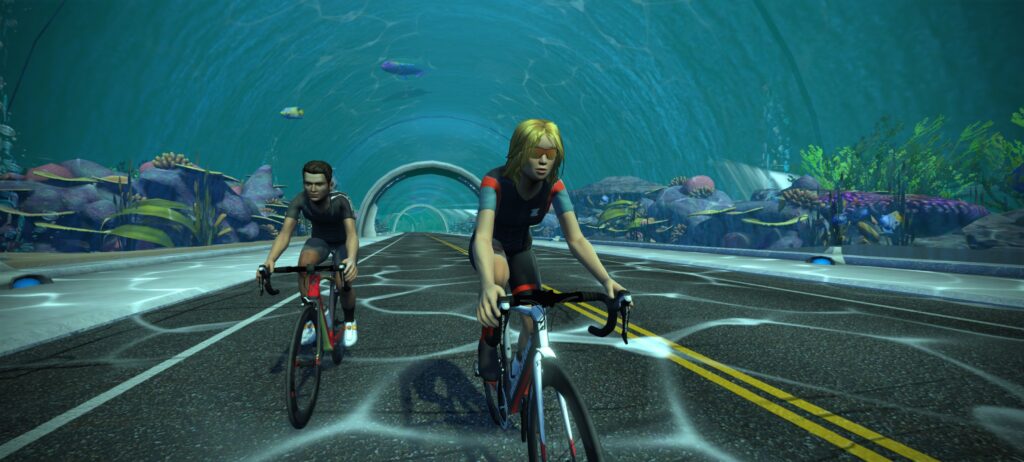 The Backstory
Zwift has been making some big C-suite moves in recent months, notably bringing on Amazon's Kurt Beidler as Co-CEO alongside co-founder Eric Min. In announcing Tandem, Zwift also announced Min's move to CM (Chief Matchmaker), a role he's unabashedly excited about.
"I've always said that Zwift had to expand to other indoor fitness activities, so this move is a natural evolution for the platform," Eric said. "Early testing with Tandem has shown much promise, and I know Zwift can help more singles find more love more often."
Pricing
While Tandem is planned as a paid add-on service to Zwift's monthly subscription, it will be free to all Zwifters in the initial beta phase (much like Zwift was free during its beta phase in 2014-2015).
Final pricing has not yet been disclosed, but inside sources tell us pricing will be "much more affordable than Strava."
Questions or Comments?
Post below!