Kinetic Rock and Roll Control
Wheel On Trainer

Built on Kinetic's innovative and proven Rock and Roll frame, the Rock and Roll Control brings interactive and smart capabilities to a proven platform.
Key Specs
MSRP: $599 USD
Accuracy: +-3%
Flywheel: 12lb
Max Wattage: 1800 W
Max Incline: 10%
Where to Buy
This trainer is no longer in production, but you may find a good deal on used or old stock.
More Details
Brand:

Kinetic

Year Released: 2017 (No longer in production)
Axle Compatibility: 130/135mm quick release
Requires Calibration
Weight: 24kg
Communication: ANT+ and Bluetooth
Physical Dimensions: 30" x 12" (76 cm x 30 cm)
Overall Rating
4 stars
based on 5 reviews
Easy setup
80%
Accurate power
60%
Realistic inertia
80%
Well-built
80%
Helpful support
60%
Portable/storable
20%
Quiet
60%
Budget-friendly
80%

Good ride but build problems from cycleoptic October 18, 2020 


I love the feel of the rock and roll. gives the core something to do.
I added an (expensive) control unit to my older smart R&R fluid

Often wheels slip problems, but when this get bad ( with a new tyre) usually caused by welds starting to giving way.

I'ver got through several frames, over the years. The welds on the rock and roll mechanism break.
The frame has a "life time guarantee" but requires customer to pay postage for the heavy replacement unit from the USA, very expensive if you live in Europe.
The upper weight limit is 115 Kg ( inc bike) i'm close to this.

Only 10% virtual incline, my older unit is only bluetooth. cadence is un-useable

Slow to react to resistance changes.

Power accuracy not that good( and often fails spin down tests) but I now use Garmin V3 pedal for power and cadence measurements.

Would be happy, and not considering alternatives if frames did not break.

Realistic inertia Quiet Budget-friendly
Great First Smart Trainer from Robin.Craigen September 30, 2020 


This trainer is great value for a non-direct drive smart trainer. Easy to set up and use and the ride feel is actually something I miss with my rigid direct drive trainer. My only reason to change was the occasional slippage between the back wheel and flywheel on steep climbs or sprints, but this was mostly awesome and my wife still loves it!

Easy setup Accurate power Well-built Budget-friendly
Ability to lean the bike without stressing over your seat stays! from mpalanza September 22, 2020 


I personally love this trainer, for a wheel on smart trainer it works really well. Addition of the rock-n-roll feature really makes this a top winner for me. I purchased this before the Direct mount trainer came out so I'll only be looking to upgrade for the direct mount option but I would without a doubt highly recommend the rock-n-roll smart. On a plus side the customer service with Kinetic has been top notch the few times I've had to check-in!

Easy setup Accurate power Realistic inertiaWell-built Helpful support Portable/storable Quiet Budget-friendly
Great wheel-on trainer from marc_dorval September 8, 2020 


2 years in and still love the rock-and-roll feel. This was an upgrade from the Smart (not control) unit.

It's noisy, though (squeaky - needs regular lube), and I'm starting to like the idea of a direct-drive trainer. But, I won't give up on the rock-and-roll feature.

Easy setup Realistic inertiaWell-built Helpful support
Very solid choice at the price point from TheHeavyCyclist August 28, 2020 


I purchased my Kinetic Rock-n-Roll trainer on sale in May of 2020 for $524. I started on Zwift at the same time and am now level 16 (that's about 2.5 months of riding). I downloaded the Zwift app, watched the video's on the Kurt Kinetic site on how to set the machine up and get going. Everything worked just like it should have.

In order to race I also purchased a cadence sensor and a Heart Rate Monitor (also from Kurt Kinetic). I highly recommend their turnable riser ring for your front wheel whether you use their trainer or not. It has varied positions for height and the turning just seems, well, not entirely natural, but I like it.

On that note of "natural" the big thing these days is movement. All the smart trainers are doing stuff which they claim makes the feel more "natural." Look...In my opinion this ain't natural. That being said I do believe that having a trainer that moves is ESSENTIAL! With my old non-smart, non-moveable trainer it was like my butt was glued to the seat. It was very difficult to get out of the saddle...it just didn't seem natural! Ha!

The movement of the Rock-n-Roll can be adjusted to move more or less. Depending on your pedal stroke you might bob up and down a little bit. I either got smoother on it or got used to it because I don't notice it anymore.

Where this unit shines is on constant steady state rides and sprints (unless you are a super sprinter). I'm 51 and have lost 20 lbs riding and watching what I eat so I'm not churning out 1500 watts on a sprint. My max sprint is around 750 watts. I think the unit can take a good bit more than that as well.

Where the unit struggles a little bit is rapid changes in cadence and or power. The electric resistance I feel pretty sure is just not as responsive as direct drive (having never ridden a direct drive). Where I feel it most is in climbing, going around sharp curves where the grade changes suddenly several times. It's not awful, but you can tell the unit is kind of behind adjusting things trying to figure out where the resistance should be.

All in all I highly recommend this trainer for someone on a budget that is a "normal" person, not an elite athlete. Or if you are on your path to becoming elite it might be a good equipment step along the way.

Easy setup Accurate power Realistic inertiaWell-built Helpful support Quiet Budget-friendly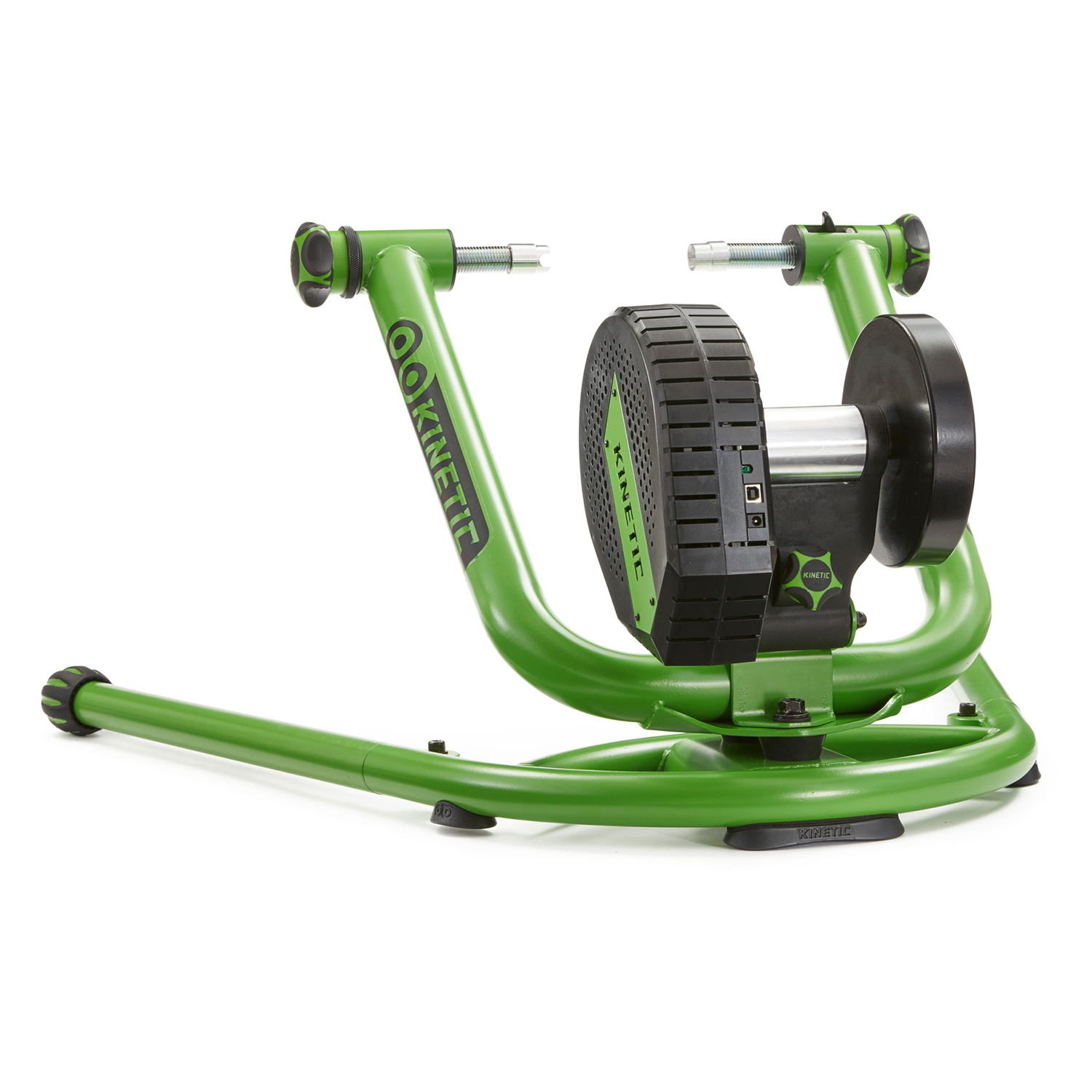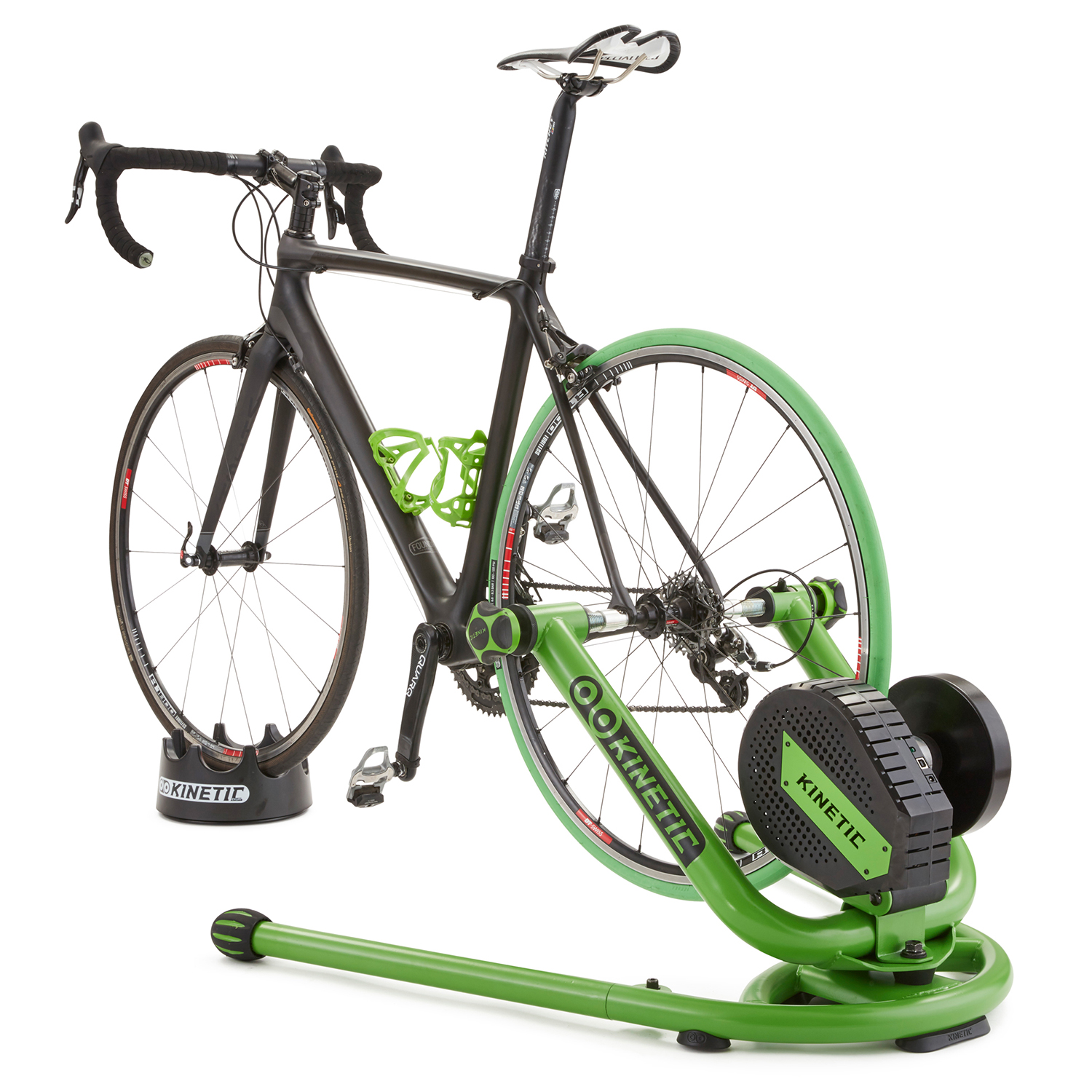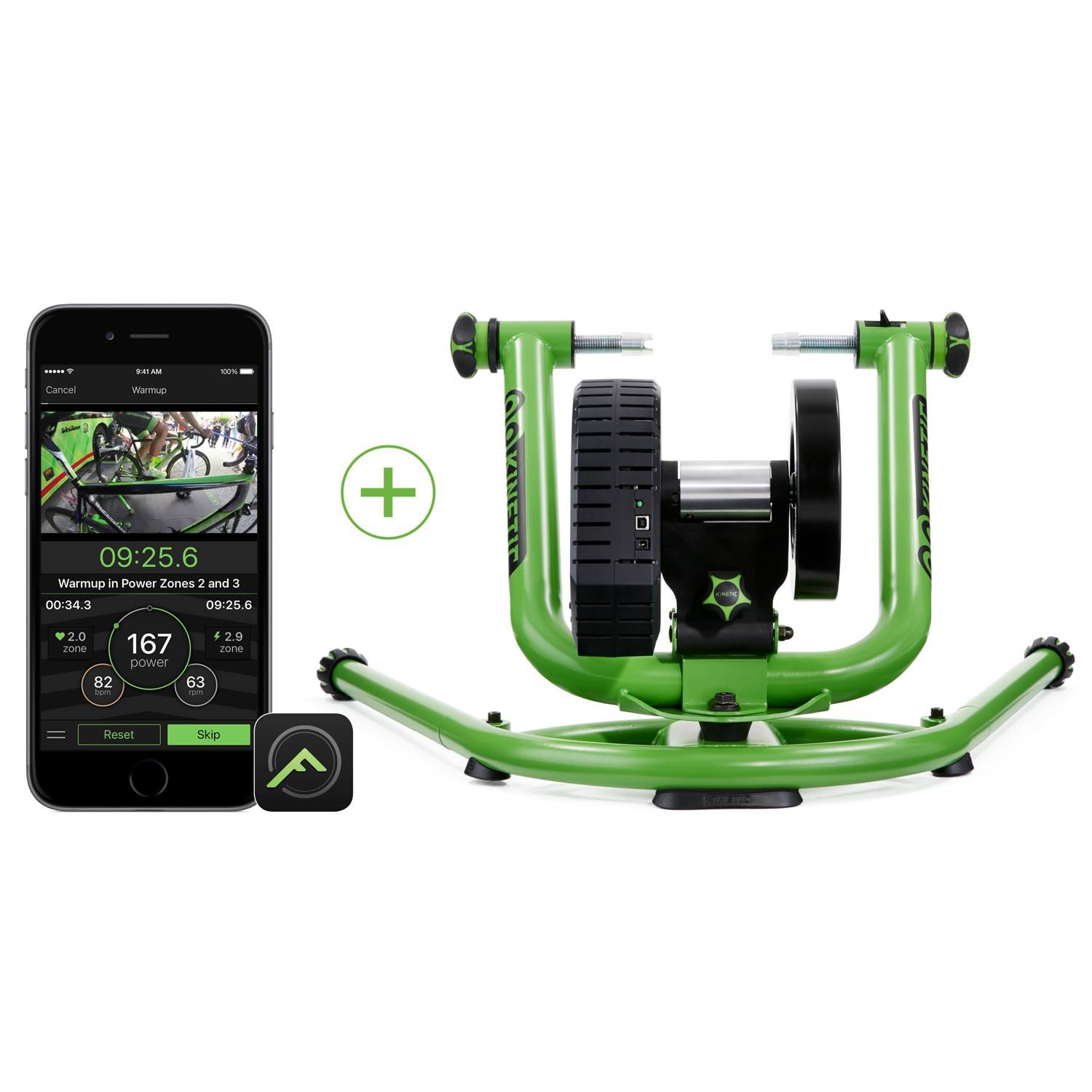 More Kinetic Rock and Roll Control Reviews
Own this trainer? Post a review!

Good ride but build problems from cycleoptic October 18, 2020 


I love the feel of the rock and roll. gives the core something to do.
I added an (expensive) control unit to my older smart R&R fluid

Often wheels slip problems, but when this get bad ( with a new tyre) usually caused by welds starting to giving way.

I'ver got through several frames, over the years. The welds on the rock and roll mechanism break.
The frame has a "life time guarantee" but requires customer to pay postage for the heavy replacement unit from the USA, very expensive if you live in Europe.
The upper weight limit is 115 Kg ( inc bike) i'm close to this.

Only 10% virtual incline, my older unit is only bluetooth. cadence is un-useable

Slow to react to resistance changes.

Power accuracy not that good( and often fails spin down tests) but I now use Garmin V3 pedal for power and cadence measurements.

Would be happy, and not considering alternatives if frames did not break.

Realistic inertia Quiet Budget-friendly
Great First Smart Trainer from Robin.Craigen September 30, 2020 


This trainer is great value for a non-direct drive smart trainer. Easy to set up and use and the ride feel is actually something I miss with my rigid direct drive trainer. My only reason to change was the occasional slippage between the back wheel and flywheel on steep climbs or sprints, but this was mostly awesome and my wife still loves it!

Easy setup Accurate power Well-built Budget-friendly
Ability to lean the bike without stressing over your seat stays! from mpalanza September 22, 2020 


I personally love this trainer, for a wheel on smart trainer it works really well. Addition of the rock-n-roll feature really makes this a top winner for me. I purchased this before the Direct mount trainer came out so I'll only be looking to upgrade for the direct mount option but I would without a doubt highly recommend the rock-n-roll smart. On a plus side the customer service with Kinetic has been top notch the few times I've had to check-in!

Easy setup Accurate power Realistic inertiaWell-built Helpful support Portable/storable Quiet Budget-friendly
Great wheel-on trainer from marc_dorval September 8, 2020 


2 years in and still love the rock-and-roll feel. This was an upgrade from the Smart (not control) unit.

It's noisy, though (squeaky - needs regular lube), and I'm starting to like the idea of a direct-drive trainer. But, I won't give up on the rock-and-roll feature.

Easy setup Realistic inertiaWell-built Helpful support
Very solid choice at the price point from TheHeavyCyclist August 28, 2020 


I purchased my Kinetic Rock-n-Roll trainer on sale in May of 2020 for $524. I started on Zwift at the same time and am now level 16 (that's about 2.5 months of riding). I downloaded the Zwift app, watched the video's on the Kurt Kinetic site on how to set the machine up and get going. Everything worked just like it should have.

In order to race I also purchased a cadence sensor and a Heart Rate Monitor (also from Kurt Kinetic). I highly recommend their turnable riser ring for your front wheel whether you use their trainer or not. It has varied positions for height and the turning just seems, well, not entirely natural, but I like it.

On that note of "natural" the big thing these days is movement. All the smart trainers are doing stuff which they claim makes the feel more "natural." Look...In my opinion this ain't natural. That being said I do believe that having a trainer that moves is ESSENTIAL! With my old non-smart, non-moveable trainer it was like my butt was glued to the seat. It was very difficult to get out of the saddle...it just didn't seem natural! Ha!

The movement of the Rock-n-Roll can be adjusted to move more or less. Depending on your pedal stroke you might bob up and down a little bit. I either got smoother on it or got used to it because I don't notice it anymore.

Where this unit shines is on constant steady state rides and sprints (unless you are a super sprinter). I'm 51 and have lost 20 lbs riding and watching what I eat so I'm not churning out 1500 watts on a sprint. My max sprint is around 750 watts. I think the unit can take a good bit more than that as well.

Where the unit struggles a little bit is rapid changes in cadence and or power. The electric resistance I feel pretty sure is just not as responsive as direct drive (having never ridden a direct drive). Where I feel it most is in climbing, going around sharp curves where the grade changes suddenly several times. It's not awful, but you can tell the unit is kind of behind adjusting things trying to figure out where the resistance should be.

All in all I highly recommend this trainer for someone on a budget that is a "normal" person, not an elite athlete. Or if you are on your path to becoming elite it might be a good equipment step along the way.

Easy setup Accurate power Realistic inertiaWell-built Helpful support Quiet Budget-friendly