JetBlack Volt
Direct Drive Trainer

Key Specs
MSRP: $799 USD
Accuracy: +-2.5%
Flywheel: 4.7kg
Max Wattage: 1800 W
Max Incline: 16%
Where to Buy
This trainer is no longer in production, but you may find a good deal on used or old stock.
More Details
Brand:

JetBlack

Year Released: 2020 (No longer in production)
Requires Calibration
Weight: 15.4kg
Cadence: Built in
Communication: ANT+ and Bluetooth
Cassette Included: 11 speed included, installed
Overall Rating

4.3 stars
based on 6 reviews
Easy setup
100%
Accurate power
83%
Realistic inertia
83%
Well-built
67%
Helpful support
17%
Portable/storable
17%
Quiet
100%
Budget-friendly
33%

My first direct drive trainer from docherty_b April 14, 2021 


I was initially very happy with my new JetBlack Volt, nice and quiet, came with an 11 speed cassette and felt really great. I was targeting a Kickr Core, but at 100GBP less for a very similar trainer I gave it a chance.
I did wonder how accurate my previous trainer (Saris M2) was and it felt very close, so was very happy.

The trainer then broke during Zwift ride after a couple of months, resistance wheel popped out and trainer seized up. The trainer was sent away for warranty repair, after a month the trainer was returned, but then did not show any watts, cadence, etc so has now gone back again for a refund. I won't be buying another of these.

Easy setup Accurate power Realistic inertia Quiet
Extremely Quiet and Smooth from Bas99 March 31, 2021 


Purchased in March 2021. It's so quiet my wife has to check if I'm still working out or dead. Out of the box, attach the two legs (4 bolts) and you're setup. Update the firmware. Warm it up for 10 minutes then do the spin down calibration via the app.
On the negative, trying to sort out why the cassette appears like a badly out of true wheel when in motion. - 1 star. The Jet Black app has lots of features but has some glitches that need fixing - specifically the Android version. I wish there was a PC version of the app.

Easy setup Accurate power Realistic inertiaWell-built Quiet
Quiet, accurate, helpful and fast support! from JonDon March 1, 2021 


Have been using the trainer for about a month. The performance is very good overall. At the beginning I had problems with the accuracy. However, this was fixed by the current firmware (2.12). Now the measurement runs very accurately. The deviation to my Favero ASSIOMA DUO Powermeter is -1.1% (test via Zwift-Power). A plus point is the noise level: the trainer is absolutely quiet and hardly any vibrations are transmitted. It is well suited for use in apartment buildings. Connectivity problems did not occur with me (use Android 10 and iPad with BT and Win 10 with ANT+). The absolutely helpful and fast sales team in Germany should be emphasized; the guys do a good job. Also the developers from Australia are always available and help with questions. Thumbs up!

Easy setup Accurate power Realistic inertia Helpful support Portable/storable Quiet
Really THE perfect trainer for a correct price. from patrickdesnijder February 2, 2021 


My previous direct drive trainer (Elite Suito) only lasted 1 month and already had a faulty bearing. Then replaced it with the Jetblack Volt and what a pleasant surprise. Perhaps not immediately relevant in a review, but still worth mentioning for me: The trainer is packed very well and is even covered with an air cushion inside the box. When shopping online, this is not a superfluous luxury since your precious package travels the whole world. Mounting is very easy and online you will find the necessary videos if you already have problems with this.
The 11-speed cassette is already pre-assembled and all that is needed is to attach your bike and then drive. Pairing was completed in a few clicks at both Zwift and RGT.
With the first pedal strokes I immediately experienced how smooth and silent this trainer is. It also reacts immediately to the changes in gradients and it also seems as if you are really driving downhill. At first I thought there was an engine in it because this is so smooth.
All in all, a fantastic device that can compete with the big brands. The Australian developers have done a fantastic job.

Easy setup Accurate power Realistic inertiaWell-built Quiet Budget-friendly
Great trainer from Adam September 20, 2020 


This is my first direct drive trainer and it is great. The trainer it's self is completely silent, very easy to setup (for both rim and disc brakes), comes with an 11 speed cassette. It is extremely smooth and so much easier to put down the power than my previous wheel engaged trainer. Highly recommend

Easy setup Accurate power Realistic inertiaWell-built Quiet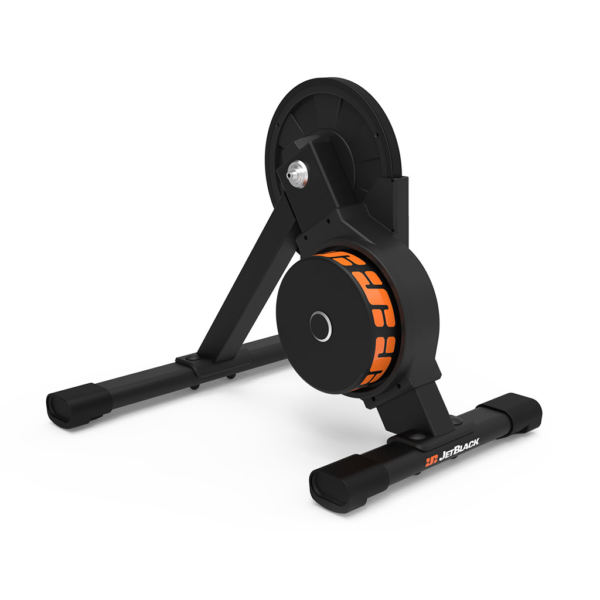 More JetBlack Volt Reviews
Own this trainer? Post a review!

My first direct drive trainer from docherty_b April 14, 2021 


I was initially very happy with my new JetBlack Volt, nice and quiet, came with an 11 speed cassette and felt really great. I was targeting a Kickr Core, but at 100GBP less for a very similar trainer I gave it a chance.
I did wonder how accurate my previous trainer (Saris M2) was and it felt very close, so was very happy.

The trainer then broke during Zwift ride after a couple of months, resistance wheel popped out and trainer seized up. The trainer was sent away for warranty repair, after a month the trainer was returned, but then did not show any watts, cadence, etc so has now gone back again for a refund. I won't be buying another of these.

Easy setup Accurate power Realistic inertia Quiet
Extremely Quiet and Smooth from Bas99 March 31, 2021 


Purchased in March 2021. It's so quiet my wife has to check if I'm still working out or dead. Out of the box, attach the two legs (4 bolts) and you're setup. Update the firmware. Warm it up for 10 minutes then do the spin down calibration via the app.
On the negative, trying to sort out why the cassette appears like a badly out of true wheel when in motion. - 1 star. The Jet Black app has lots of features but has some glitches that need fixing - specifically the Android version. I wish there was a PC version of the app.

Easy setup Accurate power Realistic inertiaWell-built Quiet
Quiet, accurate, helpful and fast support! from JonDon March 1, 2021 


Have been using the trainer for about a month. The performance is very good overall. At the beginning I had problems with the accuracy. However, this was fixed by the current firmware (2.12). Now the measurement runs very accurately. The deviation to my Favero ASSIOMA DUO Powermeter is -1.1% (test via Zwift-Power). A plus point is the noise level: the trainer is absolutely quiet and hardly any vibrations are transmitted. It is well suited for use in apartment buildings. Connectivity problems did not occur with me (use Android 10 and iPad with BT and Win 10 with ANT+). The absolutely helpful and fast sales team in Germany should be emphasized; the guys do a good job. Also the developers from Australia are always available and help with questions. Thumbs up!

Easy setup Accurate power Realistic inertia Helpful support Portable/storable Quiet
Really THE perfect trainer for a correct price. from patrickdesnijder February 2, 2021 


My previous direct drive trainer (Elite Suito) only lasted 1 month and already had a faulty bearing. Then replaced it with the Jetblack Volt and what a pleasant surprise. Perhaps not immediately relevant in a review, but still worth mentioning for me: The trainer is packed very well and is even covered with an air cushion inside the box. When shopping online, this is not a superfluous luxury since your precious package travels the whole world. Mounting is very easy and online you will find the necessary videos if you already have problems with this.
The 11-speed cassette is already pre-assembled and all that is needed is to attach your bike and then drive. Pairing was completed in a few clicks at both Zwift and RGT.
With the first pedal strokes I immediately experienced how smooth and silent this trainer is. It also reacts immediately to the changes in gradients and it also seems as if you are really driving downhill. At first I thought there was an engine in it because this is so smooth.
All in all, a fantastic device that can compete with the big brands. The Australian developers have done a fantastic job.

Easy setup Accurate power Realistic inertiaWell-built Quiet Budget-friendly
Great trainer from Adam September 20, 2020 


This is my first direct drive trainer and it is great. The trainer it's self is completely silent, very easy to setup (for both rim and disc brakes), comes with an 11 speed cassette. It is extremely smooth and so much easier to put down the power than my previous wheel engaged trainer. Highly recommend

Easy setup Accurate power Realistic inertiaWell-built Quiet
First smart trainer, comes with everything from sbr.Bumble.B September 8, 2020 


I've been using a classic trainer for several years and only recently upgraded to a smart resistance trainer. The Jetblack is booked as being silent and, it is a lot quieter than my old Cyclops Magneto trainer; i and n the box you will find everything you need to get started. The trainer comes with a skewer (I actually got two) as well as adapters for the main through axle systems, there is also an 11 speed cassette pre-installed and a spacer should you want to switch to a 10 speed instead.
All you need to do is booked on the legs, choose your axle adaptor, plug it in and your ready to go.
System connects via Bluetooth or Ant+ and the comms are solid as I'll yet to have a connection drop out even whilst connecting to a laptop in front of the bike (haven't needed an extended usb to close the transmitter/receiver gap)
Jetblack have an app for the trainer as well where you can directly control the system and perform workouts, and it's here you do the sounded calibration as required. The resistance is soothe and you can really feel the changes. I am nothing I need to do some micro-adjustments between my rear wheel cassette and the Jetblack supplied one, once doing shifted if clean, will have to look into this too reply have it as a hot swap wheel in/out switch (could be my derailleur hanging is bent)
I wish it had a handle for easy moving of the house unit, and I got an with when telling to check for updated firmware but, the until is only just launched so, I think I'm up to date

Easy setup Well-built Quiet Budget-friendly