Bkool Smart Pro 2
Wheel On Trainer
Key Specs
Max Wattage: 1200 W
Max Incline: 20%
Where to Buy
This trainer is no longer in production, but you may find a good deal on used or old stock.
More Details
Brand:

Bkool

Axle Compatibility: 130mm/135mm quick release
Requires Calibration
Weight: 39kg
Communication: ANT+ Bluetooth
Overall Rating

3.6 stars
based on 9 reviews
Easy setup
78%
Accurate power
22%
Realistic inertia
11%
Well-built
78%
Helpful support
22%
Portable/storable
44%
Quiet
22%
Budget-friendly
89%
Good budget trainer from egzo November 24, 2020 


I bought it new for a very good price (250Euro on bike-discout). I had to do a flash during the first set up in order to work with Zwift but I found all I needed on zwift forums.

I can only compare it to a Elite Qubo that I previously used and the feeling is more realistic. There resistance is smooth even at higher power.

One problem is when riding at low cadence and high power the wheel starts to slip but I think this happens with all trainers that do not use direct drive.

The noise is ok but when starting to spin faster it becomes too loud. When using ERG mode it works great.

The wheel holding system is not so friendly the screw needs some force but it holds the wheel well. I prefer the clamp system that Elite or Tacx are using.

Accurate power Portable/storable Budget-friendly
Good budget trainer if used with power pedals from Benji October 1, 2020 


I've been using the Bkool Smart Pro 2 trainer for over 2 years and have been very happy. I was originally looking for something that was inexpensive, quiet and could be stored away easily (this one folds up). This ticked all the boxes and I found a re-conditioned unit on ebay for $200. I was aware that the power readings were not at all accurate; this was no issue as I had already decided to buy power pedals, which zwift uses instead of the trainer readings. The reason for this was 2-fold: 1. I read that power pedals would be more accurate than any smart trainer (and they also give you left and right power); 2. I do the fair weather riding outdoors and wanted to be able to measure my power there and do similar training sessions. In fact, the cost of me buying this smart trainer and the dual-sided power pedals was comparable with the cost of a top of the range smart trainer.

In terms of performance, I find the ride very smooth and the trainer can pretty much cope with doing Alpe du Zwift at 100% trainer difficulty (at around 270 watts). There is a slight delay between what you see on the zwift screen and the trainer resistance, but not much. I have not tried any direct drive trainers, so can't say if this is significanlty inferior... but I can say that I had no issues with traction or comfort.

In summary, this is a good option for anyone who has power pedals and wants a unit that stores away... especially if you can pick one up cheaply.

Easy setup Well-built Portable/storable Quiet Budget-friendly

OK, but odd in erg and not robust! from TonyH36 September 30, 2020 


This is my first smart turbo so hopefully I'm not dishing out a slating where it's not due!

Starting with the really bad I only owned this about 15 months and it's now broken. The fly wheel seems to have detached from the roller so when pedaling there is an awful racket and no real resistance of note. Tried to claim on warranty and they were more than happy to talk and quite responsive, however, not considered warrantable for fair reasons. I have no reason to doubt the customer support in this regard.

Next in erg mode I found the resistance odd. If i was sat in sweet spot (320W) at 94rpm the resistance felt way too easy. If I dropped my cadence to 85rpm the resistance ramped up significantly despite still saying 320W, and when i increased cadence to 94rpm again the resistance remained savage. Very odd and meant I didn't do much in the way of structured training as a result. I contacted Bkool who did a remote help session to check calibration etc but with no luck. Not very happy with the experience here.

Other than that I loved the trainer. It was pretty kind to the tyres and was good fun to race on, join groups and jsut cruise on Zwift. The other annoyance was that you cannot have sim mode on zwift if connecting on bluetooth. This wasn't a problem for me as I was already on an ant+ set up, but would have been a real deal breaker if I was an ipad user.

Over all I liked riding the trainer, but the erg mode and robustness puts me off another.

Easy setup Helpful support Budget-friendly
Bkool smart Pro2 from Coni F. September 29, 2020 


3 years of use, and it works perfect.

Easy setup Well-built

Decent starting trainer from Kysada September 22, 2020 


Cheap price, decent performances but still far from a direct-drive trainer.

Easy setup Accurate power Well-built Portable/storable Budget-friendly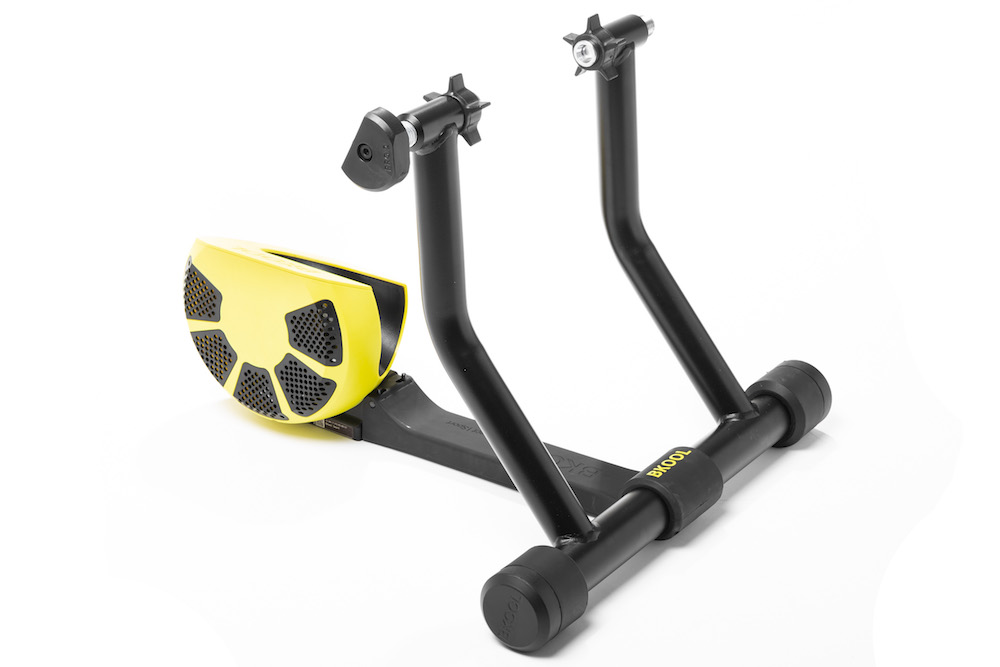 More Bkool Smart Pro 2 Reviews
Own this trainer? Post a review!
Good budget trainer from egzo November 24, 2020 


I bought it new for a very good price (250Euro on bike-discout). I had to do a flash during the first set up in order to work with Zwift but I found all I needed on zwift forums.

I can only compare it to a Elite Qubo that I previously used and the feeling is more realistic. There resistance is smooth even at higher power.

One problem is when riding at low cadence and high power the wheel starts to slip but I think this happens with all trainers that do not use direct drive.

The noise is ok but when starting to spin faster it becomes too loud. When using ERG mode it works great.

The wheel holding system is not so friendly the screw needs some force but it holds the wheel well. I prefer the clamp system that Elite or Tacx are using.

Accurate power Portable/storable Budget-friendly
Good budget trainer if used with power pedals from Benji October 1, 2020 


I've been using the Bkool Smart Pro 2 trainer for over 2 years and have been very happy. I was originally looking for something that was inexpensive, quiet and could be stored away easily (this one folds up). This ticked all the boxes and I found a re-conditioned unit on ebay for $200. I was aware that the power readings were not at all accurate; this was no issue as I had already decided to buy power pedals, which zwift uses instead of the trainer readings. The reason for this was 2-fold: 1. I read that power pedals would be more accurate than any smart trainer (and they also give you left and right power); 2. I do the fair weather riding outdoors and wanted to be able to measure my power there and do similar training sessions. In fact, the cost of me buying this smart trainer and the dual-sided power pedals was comparable with the cost of a top of the range smart trainer.

In terms of performance, I find the ride very smooth and the trainer can pretty much cope with doing Alpe du Zwift at 100% trainer difficulty (at around 270 watts). There is a slight delay between what you see on the zwift screen and the trainer resistance, but not much. I have not tried any direct drive trainers, so can't say if this is significanlty inferior... but I can say that I had no issues with traction or comfort.

In summary, this is a good option for anyone who has power pedals and wants a unit that stores away... especially if you can pick one up cheaply.

Easy setup Well-built Portable/storable Quiet Budget-friendly

OK, but odd in erg and not robust! from TonyH36 September 30, 2020 


This is my first smart turbo so hopefully I'm not dishing out a slating where it's not due!

Starting with the really bad I only owned this about 15 months and it's now broken. The fly wheel seems to have detached from the roller so when pedaling there is an awful racket and no real resistance of note. Tried to claim on warranty and they were more than happy to talk and quite responsive, however, not considered warrantable for fair reasons. I have no reason to doubt the customer support in this regard.

Next in erg mode I found the resistance odd. If i was sat in sweet spot (320W) at 94rpm the resistance felt way too easy. If I dropped my cadence to 85rpm the resistance ramped up significantly despite still saying 320W, and when i increased cadence to 94rpm again the resistance remained savage. Very odd and meant I didn't do much in the way of structured training as a result. I contacted Bkool who did a remote help session to check calibration etc but with no luck. Not very happy with the experience here.

Other than that I loved the trainer. It was pretty kind to the tyres and was good fun to race on, join groups and jsut cruise on Zwift. The other annoyance was that you cannot have sim mode on zwift if connecting on bluetooth. This wasn't a problem for me as I was already on an ant+ set up, but would have been a real deal breaker if I was an ipad user.

Over all I liked riding the trainer, but the erg mode and robustness puts me off another.

Easy setup Helpful support Budget-friendly
Bkool smart Pro2 from Coni F. September 29, 2020 


3 years of use, and it works perfect.

Easy setup Well-built

Decent starting trainer from Kysada September 22, 2020 


Cheap price, decent performances but still far from a direct-drive trainer.

Easy setup Accurate power Well-built Portable/storable Budget-friendly

Good beginner's trainer from jschultzdanmark September 16, 2020 


Somewhat inaccurate w. Watts and a tendency to tire slipping when going up-hill

Easy setup Well-built Budget-friendly
BKoool Smart Pro 2 from vdaluz September 16, 2020 


I have had this trainer for almost 3 years and it has worked perfectly ever since. I have been using it 5+ times a week on zwift for most of this year with no issues.

I do want to upgrade to a less noisy and more modern flywheel type one eventually but this one has been extremely reliable.

Easy setup Well-built Budget-friendly
Bkool Smart Pro 2 from Libor Tomáš September 9, 2020 


Trenažer Bkool Smart Pro 2, dnes značka změnila název na Zycle, tento trenažer překvapil výbavou, v balení je jak samotný trenažer, tak i podložka pod přední kolo, ale i USB ANT+ stick pro připojení k PC. Snadno spárovatelný, nastavitelný přes mobilní aplikaci co se týká aktualizací, ale pořád je to trenažer pod zadní kolo. Sice umí vyšší watty a simulaci sklonu kopce až 20% (uvádí výrobce), při takto vysokých stupních se spíše prosmekává zadní plášť kola. Ikdyž je váleček hrubší, nezamezí tomu. Obyčejný plášť takto rychle ubývá, nebo se přímo drbe a za trenažérem po jedné jízdě máte černý prach. V porovnání s ostatními trenažéry (Elite, Tacx) pod zadní kola byl Bkool nejlepší. Wattově si myslím, že trochu jezdci přidával v porovnání s wattmetrem, ale jinak za mě dobrý.

Easy setup Realistic inertiaWell-built Helpful support Budget-friendly

Good entry level smart trainer from Lauren12213 September 6, 2020 


Once setup this is an easy to use and reliable smart trainer. Compact, quiet and attractive unit. Only issue was the technical setup to connect to Zwift. It required an ant+ dongle and some tweaking to pair it. Now it's set up, its simply jump on; log into Zwift and ride on! I've had it for 6 months and still on original tyre. No need to calibrate it before riding. I feel it's a good value robust trainer for the money. We paid $750AUD on sale. It's own Bkool riding platform is also quite fun but lacks the community and socialization of Zwift and advsnced graphics. It is quick to remove the bike from the trainer and put back on. Only takes a few seconds to unscrew the fitting on the rear axle. I enjoy riding on the Bkool trainer and feel like my RPM, power and speed meters are pretty accurate. It's can be hard work but that's riding!

Well-built Portable/storable Quiet Budget-friendly