Sepp Kuss, the young American pro-tour cyclist, has been described as "the Greatest American Climber of His Generation." Upon hearing that Sepp was going to be climbing Alpe du Zwift during a Zwift-sanctioned group ride I signed up on my Companion app.
Apparently, I wasn't the only Zwifter excited by the prospect of climbing the Alpe with Sepp…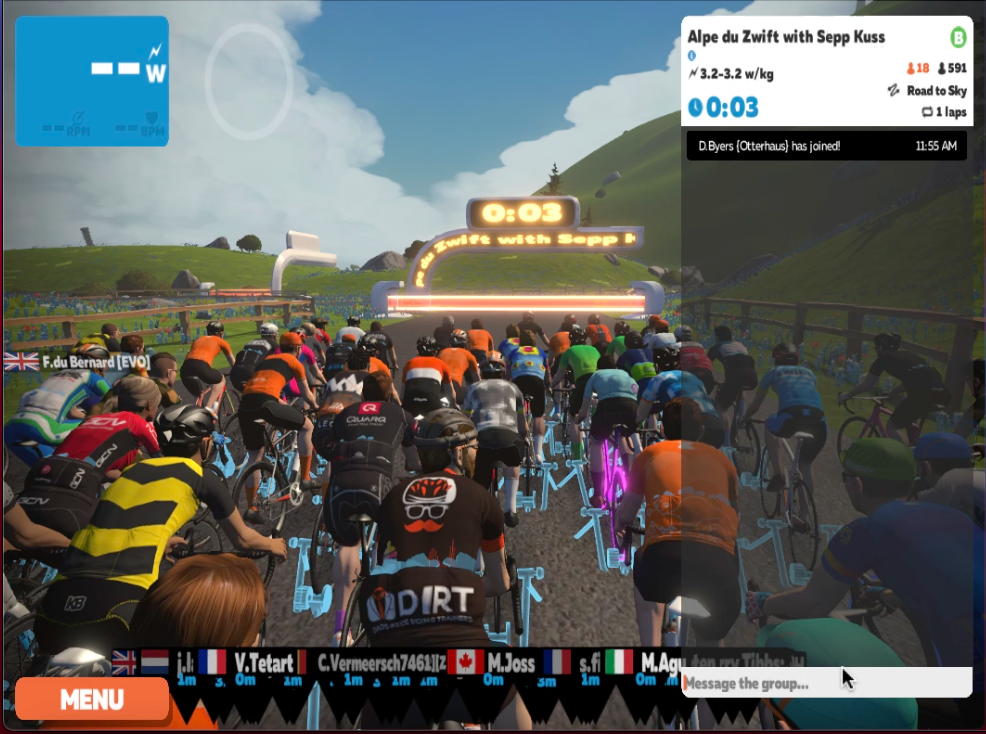 Sepp is an American pro cyclist racing for WorldTour team Jumbo-Visma. Kuss grew up competing in cross country skiing, mountain biking, kayaking, and ice hockey. He discovered road cycling while studying at the University of Colorado. After racing with Rally Cycling in 2016/2017, he signed with LottoNL-Jumbo. Sepp's biggest wins include the 2018 Tour of Utah, stage 15 of the 2019 Vuelta España, and stage 5 of the 2020 Criterium du Dauphiné.

The description of the Zwift event, hosted by Aidan Charles (founder and head coach of Charles Coaching & Nutrition Services) and Peter Thomson (founder of Thomson Bike Tours) was:
"Join Aidan as he rides with USA's cycling superstar Sepp Kuss and Thomson Bike Tour's Head Honcho Peter Thomson as they pedal up the Alpe du Zwift with the goal of finishing the climb in 60 minutes (3.2w/kg average). Aidan may hope to pester Sepp with 20 questions about his life, childhood memories, and life's most embarrassing moments, but Peter will probably help keep him on track with questions about Sepp's banner year on the bike and plans for 2021."
I was sure it would be interesting learning about his life and pro cycling, so I hooked up Discord and clipped in!
Sepp's Cycling Start
AC: You started out mountain biking with the Durango Devo Development program?
SK: At the time it was more of a hobby, which I combined with skiing, hockey, kayaking, and everything else that you do in Durango. Towards the end of high school I realized I really liked cycling and wanted to focus on that.
AC: You started road cycling in college?
SK: Yes, I remember my first collegiate crit was in the city park in Denver and I was scared to death.
AC: You won a couple of mountain bike National Championships as a collegiate?
SK: Yes, the collegiate nationals.
AC: Growing up in Durango, who did you look up to at the time? There were some really great mountain bikers rising through the ranks.
SK: Ned Overend, John Tomack, Todd Wells, and Travis Brown. The cool thing was that even though they were pros they were riding with us. They were just normal guys. They were very inspirational.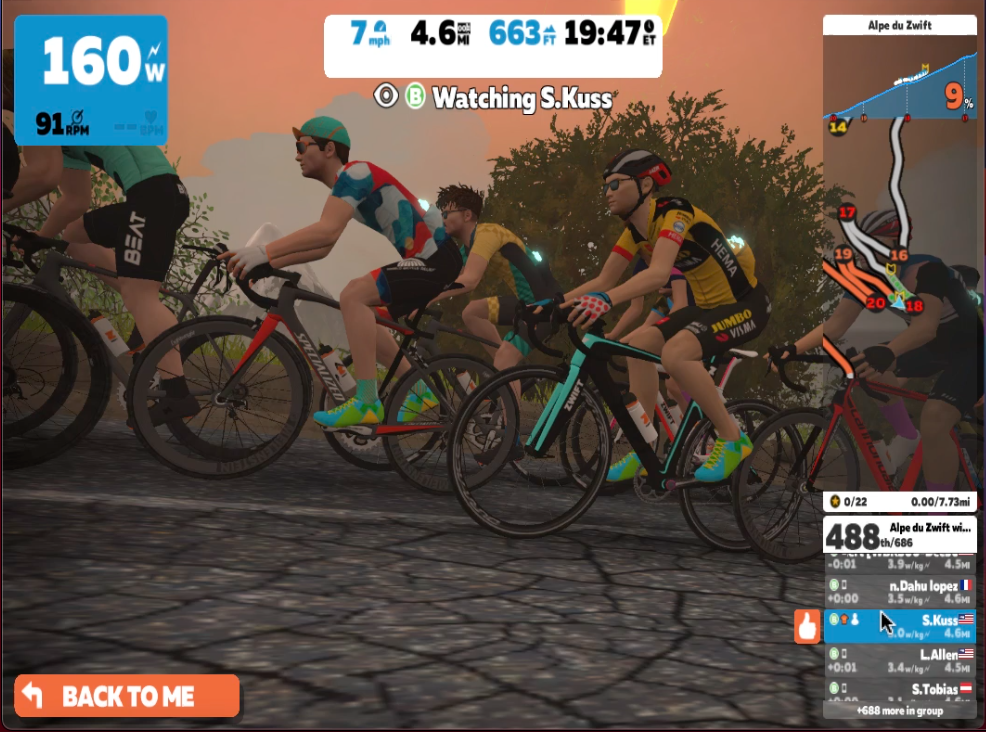 Sepp's Father and His Influence Upon His Early Cycling Career
PT: How did your father feel about you giving up skiing and focusing on cycling? He was a coach for the USA ski team?
SK: He never pushed skiing. As long as I did something active and went to college. That was more than enough for him.
AC: Having a Father as a high level coach must have helped you to develop as an athlete?
SK: He was a strong advocate for athletics in general, a healthy lifestyle, and knowing what to do in the outdoors. He took us hiking for multiple days in the snow in igloos.
PT: Cycling must have been easy after all that?
SK: Yes, since I was a newborn I was in a backpack going up 14ers in Colorado.
The Race That Convinced Sepp He Had Potential
PT: Is there any one day that helped to convince you that you really could be a pro?
SK: The 2016 Redlands Classic Stage 2 to Oak Glen was one of the few races I have won. Being inexperienced in the road racing scene and being able to do that, I thought, okay, at least I have some potential.
SK: It is hard to say because there are many more days that convince you that you are not. You need those moments to keep moving forward and build on. Most of the time it is overcoming the voices in your head, the negative thoughts.
Sepp's Most and Least Favorite Training Rides
AC: What is your favorite training day or workout? Or the one that you dread the most?
SK: A really long endurance ride of 6 or 7 hours in the mountains is always fun. Or longer intervals where you are changing the pace and cadence are always more interesting and stimulating mentally. Least favorite are recovery rides. Some days I wake up and just don't want to put on my kit to take a recovery ride.
Even Sepp Has Tough Days on the Bike
AC: What has been your hardest day on the bike?
SK: I have had a lot of bad days in The Tour of the Basque Country. Just suffering all of the time. It's one of the hardest races in the world. It is usually wet, cold, and with steep climbs. Everybody is in peak form. I think if you ask most riders what the hardest race is they will say Basque Country.
Sepp's Favorite Climbs
AC: What is your favorite climb?
SK: In the US it would be Coal Bank Pass or Red Mountain Pass, North of Durango. In Europe, I really like the Col du Pradel. It is really beautiful. But most of the climbs in a race are really a blur.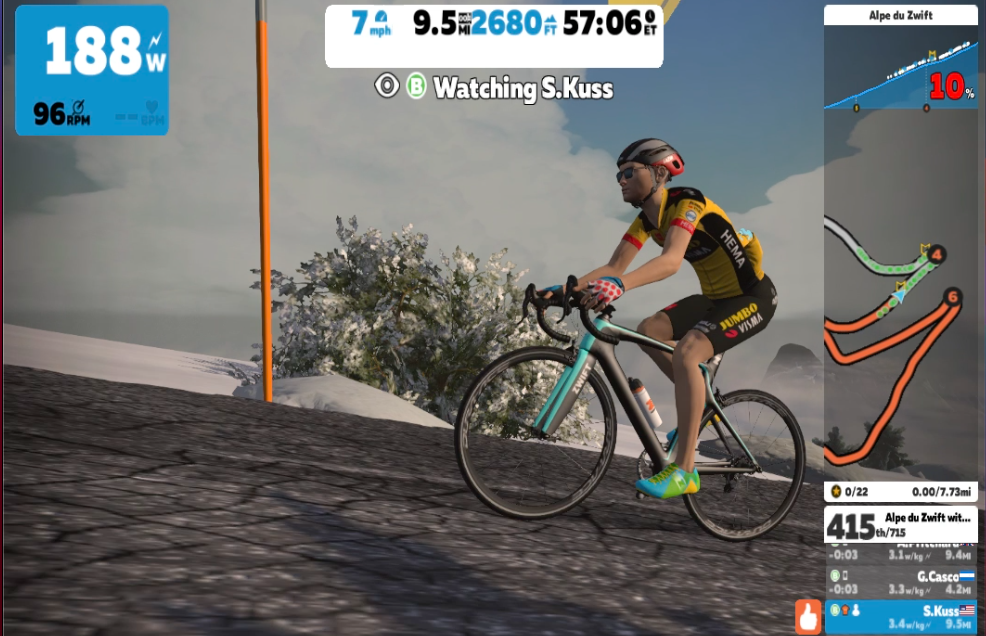 Sepp's Thoughts on Grand Tour Training
AC: When preparing for a tour what does a big week of training look like for you?
SK: In between races like the Tour and Vuelta it's nothing too extreme because you already have the tour in your legs. Before the Tour, it is mostly endurance, a lot of strength and cadence work on the bike below threshold, and short VO2 intervals once in the week. More 20-minute efforts are saved for closer to the race because they are pretty taxing on the body.
AC: What will you do for those 20-minute efforts wattage wise?
SK: Threshold training would be two 20-minute efforts with 3 minutes below threshold at 350W, 1 minute a bit over at between 420 and 450W, and then back down to the under, For 20 minutes or so.
AC: Do you work with a personal coach or is there a Jumbo-Visma coaching team?
SK: All of the riders have a team coach, there are 6 or 7 coaches, and I work with one of them. Nothing overly complicated.
AC: Any Zwift racing?
SK: It would be a really good workout actually (laughs).
Sepp's Thoughts on Nutrition
PT: What is your typical breakfast before a ride?
SK: Breakfast for a harder day is pancakes. Most days it is eggs, toast, and cereal on the side. At a race it is usually rice.
AC: The Jumbo Visma team works hard to dial in their racers' nutrition?
SK: In terms of race nutrition, it is specific weighing of food relative to what we have done that day and making sure we are not gaining weight during the race. Which is a lot harder than it sounds. Having the right amount of carbs, especially during the ride. Typically 90-120g/carb per hour which is 3-4 gels an hour.
Sepp's Thoughts on Being In Race Form
AC: Do you have any benchmarks which tell you that are ready for a big race like the Dauphine?
SK: For me it's not super quantitative. The numbers are always there more or less. I think it's more of the sensation you have during training. If I can do the numbers I normally do and feel in control and am okay, then I think I am ready. But for me it is always a bit of an unknown going into the first race because it could go really well or really badly. You just never know.
Sepp's 2021 Olympic Plans
AC: It seems the Tour de France is conflicting with the Olympics? Any thoughts around whether you have a choice between the two?
SK: If I want to do a good Vuelta it is not really the best to go to the Olympics. We'll see because it is a really big honor to go, but there are also a lot of other big races.
AC: Thankfully you are young enough so you will probably have multiple chances.
SK: Yes, but for me it is not the end all be all, but it is definitely an honor.
AC: How much is that a Jumbo-Visma team decision?
SK: It just comes down to what races suit me and how that fits into what we do with the team. At the end of the day it's my decision.
Sepp Tells What Would Make 2021 a Successful Year
AC: To sum it up, if you could only accomplish one thing that would make it a good year what would it be?
SK: I would love to be a part of the team that wins the Tour. I think it would be a huge career highlight to be a part of that.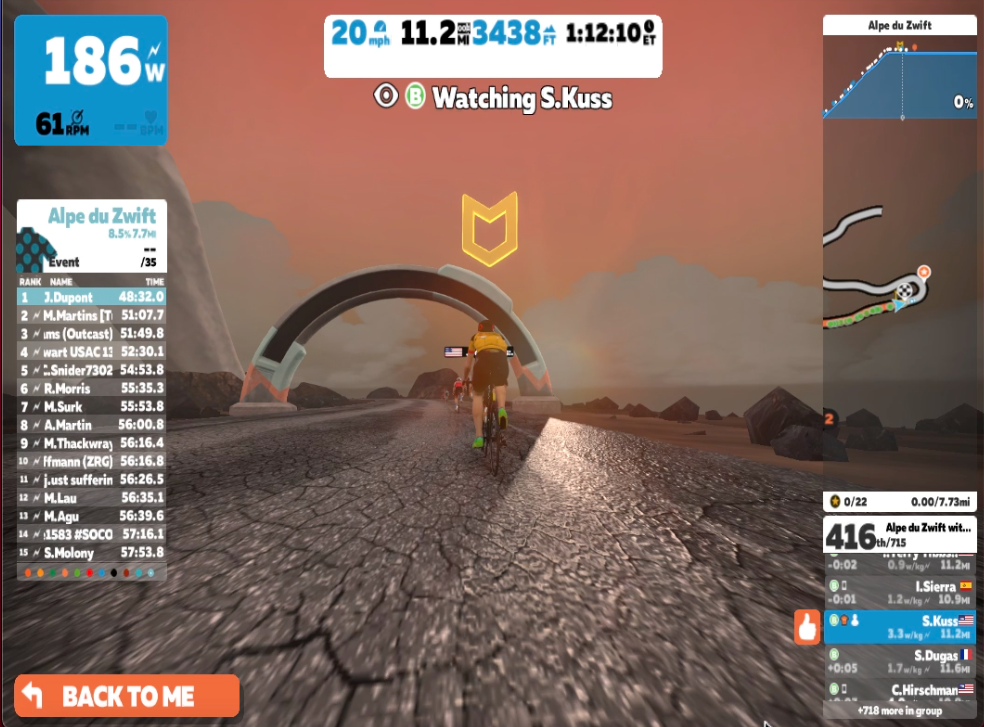 When the climb was through, and it was apparent that Sepp may not have been going his hardest, I was satisfied that my goal of learning about this exciting racer had been met. Although, I am not sure that Sepp agreed when I heard him say as we crossed the line, "what a leaderboard here? I'm 25 minutes back!" Good luck on the real Alpe Sepp! Ride On!