Our newest Rebel Route is a pitchy, dirty little loop that is best tackled on a mountain bike. It may be the most scenic loop on Zwift, too, thanks to all the Mayan Jungle's plants, animals, ruins, and water features.
About Rebel Routes
"Rebel Routes" are Zwift rides which are not available on Zwift's routes list, thus requiring manual navigation.
The reward for your rebel ride? Exploring a new route, knowing you've gone where few Zwifters have gone before. And a Strava segment rank in the tens or hundreds instead of the thousands! They are included as a separate category on our Veloviewer Route Hunter leaderboard.
Route Description
You'll have a decently long lead-in before you can begin the loops. Select the "Jungle Circuit" route, which starts you near the Jungle start pens. Ride the tarmac down to the dirt road of the Jungle, then continue descending to the bottom of the Jungle valley. You'll go through a cavern then the Jungle Circuit start/finish banner, which marks the start (and end) of the Mayan Bridge Loop.
From the start/finish banner you'll begin climbing up the dirt road, then turn left onto the Mayan Bridge road. This new section was added in Zwift's December 2020 update and is a mixture of dirt, brick, and wood road. Zwift's artists really outdid themselves, too! They created massive temple architecture, flaming torches, and plenty of ruins for us to ride through.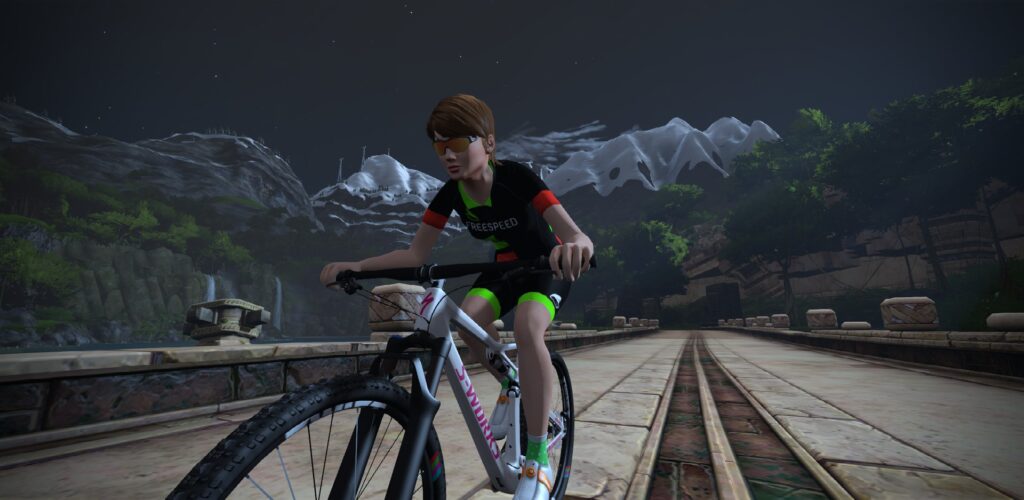 The Mayan Bridge road begins with a descent down to the bridge, then you'll have to climb your way back up to the Jungle road. Then it's a descent back to the cavern and through the start/finish banner. That's one lap!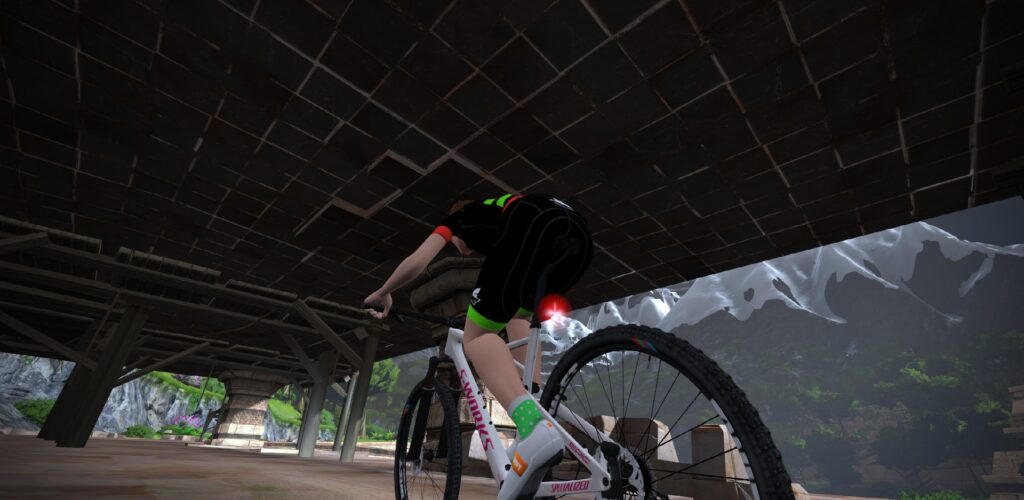 Profile
The route's two short climbs are fairly symmetrical, providing nice structure for an interval session. Hammer the climb, recover on the descent… repeat!

Getting Started + Lead-In
The easiest way to begin this route is by selecting the Jungle Circuit route. This gives you a 5.7km (3.5 mile) lead-in.
Turn by Turn
Here are the turns you'll need to make to successfully complete the Mayan Bridges Loop, beginning at the Jungle pens by selecting the Jungle Circuit route.
Right to Jungle/Alpe (automatic)
Straight to Mayan Loop (automatic)
Straight to Jungle Loop (automatic)
Left to Mayan Bridge
Left to Mayan Loop
Straight to Jungle Loop (automatic)
Route details:
Distance: 5.27km (3.3 miles)
Elevation Gain: 47m (153′)
Strava Segment
Rebel Route Suggestions
Got an idea for a great rebel route? Share it below and maybe we'll publish a post about it!