Zwift has announced the imminent release of an update to homescreens which adds a "For You" row near the top of the screen.
"For You" Details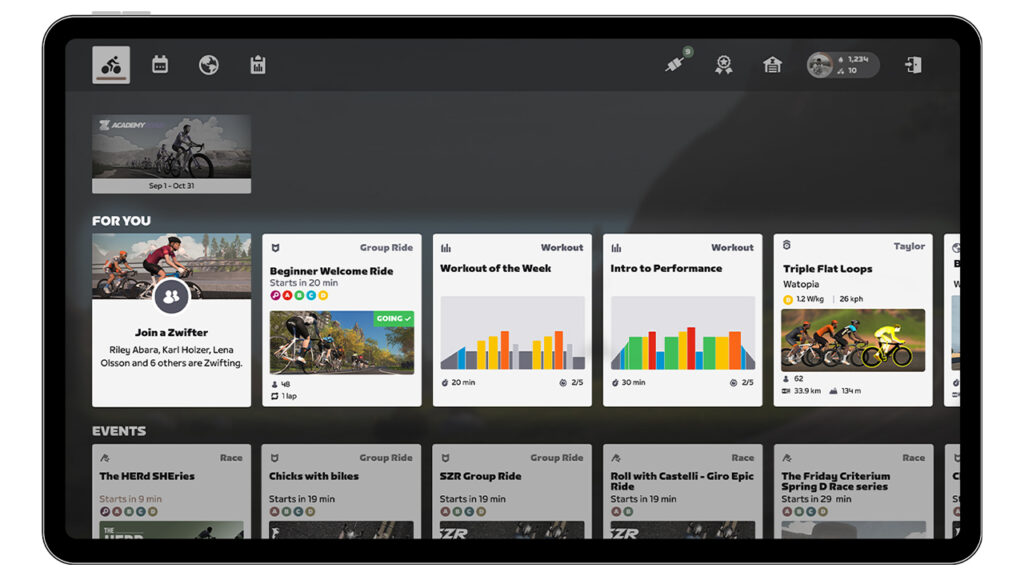 The new "For You" carousel will appear at the top of the homescreen, just below the list of major Zwift campaigns. It will feature activities Zwift thinks you're most interested in (or "preferred in-game content, as Zwift calls it): your favorite RoboPacer, the "Join a Zwifter" box, the next workout in your training plan, group rides, etc.
Do Recommendations Work?
In the previous version of Zwift's homescreen, certain activities weren't "recommended" by the interface in any way. It was up to Zwifters to decide what they wanted to do, with free riding, workouts, and other activities basically getting equal exposure (although we would argue that events got relatively minor exposure).
But Zwift knew that getting riders into events was an important part of the Zwift experience. And we know this as Zwifters: it's the community, the ability to plug into others, that makes Zwift extra-special.
So the new homescreen emphasizes events. And guess what? Event participation has soared! (Zwift has shared some event participation metrics with us, but we aren't at liberty to share them here.)
With those learnings, Zwift is using "For You" to take the next step of surfacing content which you'll be most interested in, to make your Zwift experience rewarding for you. So you'll keep coming back for more!
Just the Beginning?
There's been a lot of talk lately about artificial intelligence, thanks to the recent release of chatGPT. You could say the "For You" row is Zwift's first foray into AI, as they look at your recent activities and attempt to predict what you'd like to do next.
There's so much potential here. We don't expect "For You" to be super-smart initially, but imagine if it could really learn about you as a cyclist and recommend events, workouts, and other activities.
Or take it a step further: what if Zwift could detect your fitness levels, then recommend effective activities to make you faster/stronger/fitter… an AI coach?
There are already services doing this, and the quality of their content is only going to improve. As we see it, it's not a question of if but when Zwift will make it happen on their platform.
Release Date
Zwift says "For You" will gradually roll out to all Zwifters starting in December. With the holidays upon us and "For You" not yet visible on our screens, we're guessing most Zwifters won't see this feature until the new year.
Your Thoughts
Share below!